When you want to land an HR job but you have no experience, it's important to learn how to write a great entry-level HR resume.
Human Resources, often referred to as HR, is a competitive industry, so standing out can be difficult.
Fortunately, hiring managers know that entry-level applicants are not likely to have much work experience. Instead, they will be looking for the transferable skills, technical skills, and education that will help you succeed in HR. In this article, we will show you how to focus on your most impressive and most relevant HR skills.
To write an entry-level HR resume:
Write an impressive summary
Highlight your most relevant skills
Showcase your academic credentials
Customize your resume for every application
How to write an Entry Level HR Resume
To write a great entry-level HR resume, it's important to make sure to use all the right sections. To do this:
1. Write a great HR resume Summary Section
The first step to writing a great HR resume is creating a strong summary. On a resume, a summary is a short paragraph or bulleted list highlighting your most relevant skills or experience. This might include key achievements, important performance metrics, or the tools you have expertise in.
A Summary section is optional on a resume, but an effective summary is the best way to introduce yourself to an employer. When you don't have much experience in HR, an impressive summary with transferable skills, notable classwork, or impressive accomplishments may be what encourages a hiring manager to keep reading.
No Experience HR Resume Summary Example
Taylor Smith is a highly skilled professional with a focus on Human Resources, possessing expertise in HR analysis, recruiting, leadership, and personnel management. As an Assistant Coordinator at White Wave Foods, Taylor successfully bid on projects, maintained financial details, and updated databases. Additionally, as an Intern at AECOM, Taylor utilized Microsoft Office and QuickBooks to organize contact data, budget clients' portfolios, and conduct economic research. Taylor holds a Certificate in Human Resource Management from State University, showcasing a comprehensive understanding of HR principles and practices. With a commitment to professional development and a strong work ethic, Taylor is well-equipped to tackle HR challenges and propose effective solutions.
2. List your Work Experience
Even if you don't have much experience, it's important to include a Work Experience section on your resume. This section is mandatory, and any HR resume with no Work Experience section will be ignored.
If you have held jobs in the past, but they don't seem relevant to an HR position, you should still add them to your resume. Simply brainstorm any skills or activities that might have prepared you for an HR role and focus on the most relevant aspects of the job. Administrative tasks, people management, and conflict resolution are all things that will be relevant to your future HR career.
If you are a student, there may be student clubs or organizations that you are involved in. If you held a position in a particular group, like treasurer or general secretary, you likely gained experience that will be relevant to an HR role.
Your Work Experience section may be short, as you have no experience, but that's not a dealbreaker for most entry-level positions. As long as you include the section and show your experience as well as you can, you can make up for your lack of experience in your other sections, like Skills and Education.
HR No Experience Resume Work Experience Example
Human Resources Intern Praxair, Inc
Assisted the Human Resources Manager in the selection process by conducting thorough background checks and verifying credentials, ensuring the hiring of qualified candidates.
Collaborated with the HR team to define staff compensation and benefits ranges, ensuring competitive and fair remuneration packages.
Streamlined the hiring process by implementing an efficient system for background checks and credentials verification, reducing time and effort required for candidate evaluation.
Maintained accurate and up-to-date records of applicant information, ensuring compliance with company policies and legal requirements.
Actively participated in team meetings and discussions, providing valuable insights and suggestions for improving HR processes and procedures.
Demonstrated strong attention to detail and accuracy in all aspects of work, ensuring the integrity and reliability of candidate information and compensation data.
Communicated effectively with candidates and employees, providing clear and concise information regarding hiring processes, compensation, and benefits.
Proofread all documentation and reports, ensuring they were error-free and presented a professional image of the HR department.
Data Entry Intern AECOM
Utilized advanced Microsoft Office skills to efficiently organize contact data, build databases, and design mass marketing mailings, resulting in a 20% improvement in efficiency and accuracy of client communications.
Demonstrated proficiency in financial management software, including QuickBooks and PC Law, to organize, review, and budget clients' portfolios, ensuring accurate and timely financial reporting.
Maintained meticulous records and documentation, ensuring the integrity and security of sensitive client information.
Consistently met deadlines and managed multiple tasks simultaneously, demonstrating strong organizational and time management skills.
Collaborated effectively with team members, providing support and assistance as needed to ensure the smooth operation of daily tasks and projects.asd
3. Highlight your HR Education
If you don't have much work experience, your Education section is a great opportunity to showcase some of your HR skills. If you have a Human Resources Management certificate or degree from an accredited post-secondary institution, or even if you have simply taken some HR classes as a part of a different degree, it is important to include them in your resume.
Because you don't have much work experience, you can give more space to your Education section on your HR resume. Fill out the section with details like relevant classes or coursework, any important projects, or some of the important HR skills you learned in school.
4. List your HR Skills
In an entry-level HR resume, skills are integral. When you don't have much experience, your skills are what hiring managers will be looking for to see whether you can do the job. This means you should pay special attention to your Skills section, and make it the most impressive part of your resume.
HR skills might include:
Interviewing
Change Management
Recruiting
Training
Microsoft Office
Strategic Planning
Team Building
Organizational Development
HRIS
To write a simple Skills section, list your skills in order of relevance in a bulleted list. This is the quickest and easiest way to display your skills, and it will work for most resumes. For added detail, some job-seekers will split their Skills section in two: Soft Skills and Technical Skills.
If you want to emphasize your skills further, make each skill its own heading within your Skills section and add bullets below it with examples or explanations of that skill area. This could include highlighting accomplishments, classwork, or experience relevant to that skill.

If you really want to emphasize your skills, you may even want to write a skills-based resume. In a skills-based resume, your Skill section is the largest and most prominent part of the resume, and the Work Experience section can be smaller and less detailed. When done well, this resume format can be very effective for job-seekers who don't have much experience, as well as people who are changing careers or returning to work after an absence.
5. Include additional HR resume sections
While the sections described above are the most important and will be enough for many job-seekers, you may want to add some additional sections to your entry-level HR resume. Additional HR resume sections might include:
Volunteering experience
Certifications
Awards
Interests and activities
Professional memberships
HR No Experience Resume Memberships Section Example
PROFESSIONAL MEMBERSHIPS
TEAM LEAD, STUDENTS IN FREE ENTERPRISE
Led a team of dedicated individuals in planning and organizing networking events for regional competitions, ensuring smooth execution and successful outcomes.
Collaborated with team members to develop event strategies, resulting in increased participation and engagement from stakeholders.
Implemented efficient event management processes, resulting in improved coordination and timely execution of tasks.
Collaborated effectively with other board members, fostering a supportive and inclusive environment that facilitated consensus-building and problem-solving.
MEMBER AND AV SPECIALIST, SOCIETY FOR HUMAN RESOURCE MANAGEMENT
Provided audio/visual support during events, ensuring seamless delivery of presentations and enhancing the overall attendee experience.
Documented event details and outcomes, facilitating post-event analysis and continuous improvement.
Entry Level HR Resume with No Experience Examples
Writing a no-experience HR resume might seem impossible, but remember: everyone has no experience at first. You can still get a job with an entry-level HR resume, you just need to make sure to highlight the right skills and experience. Use these entry-level HR resume examples to get inspired:
Entry Level HR Resume Example 1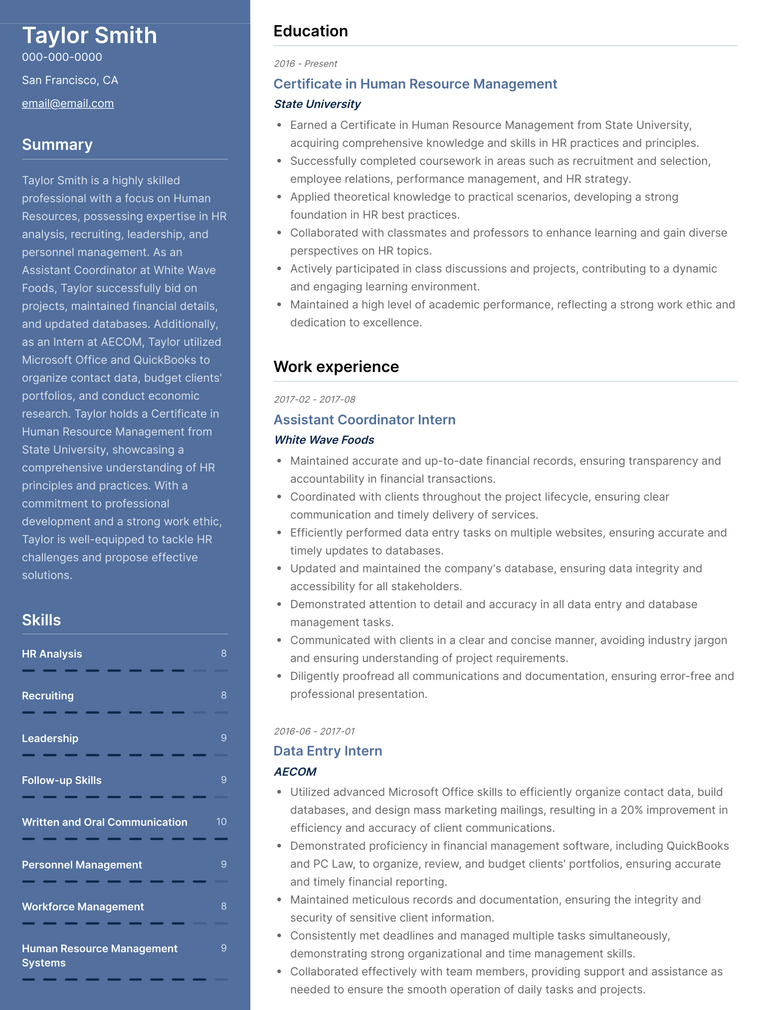 Entry Level HR Resume Example 2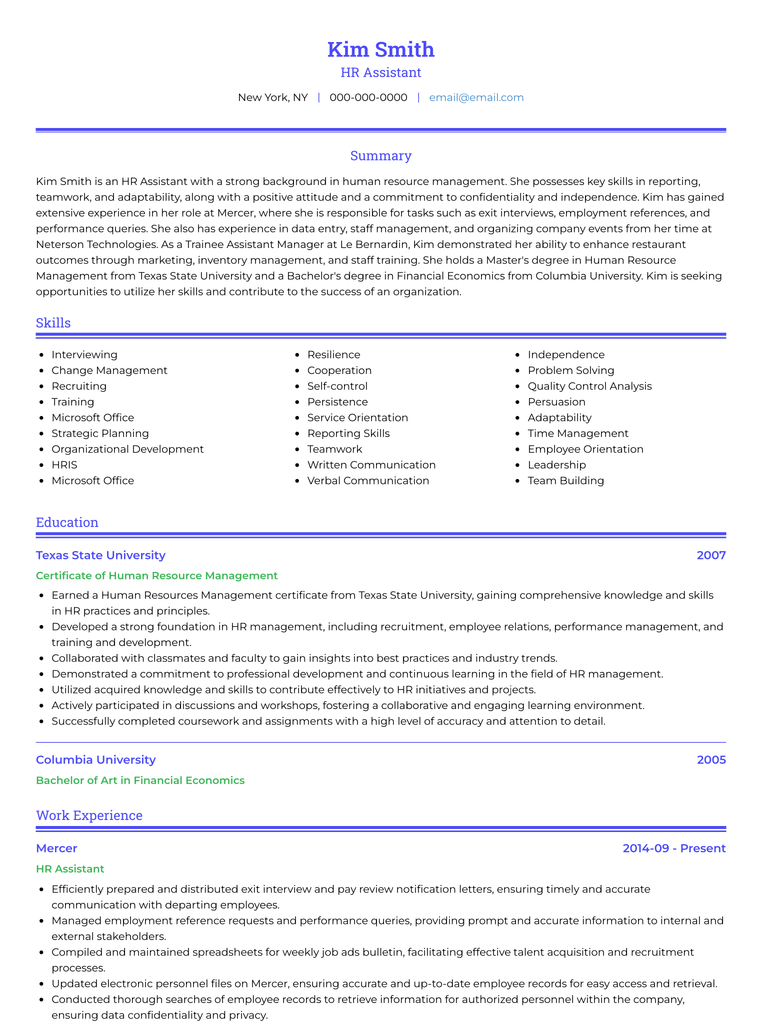 Entry Level HR Resume Example 3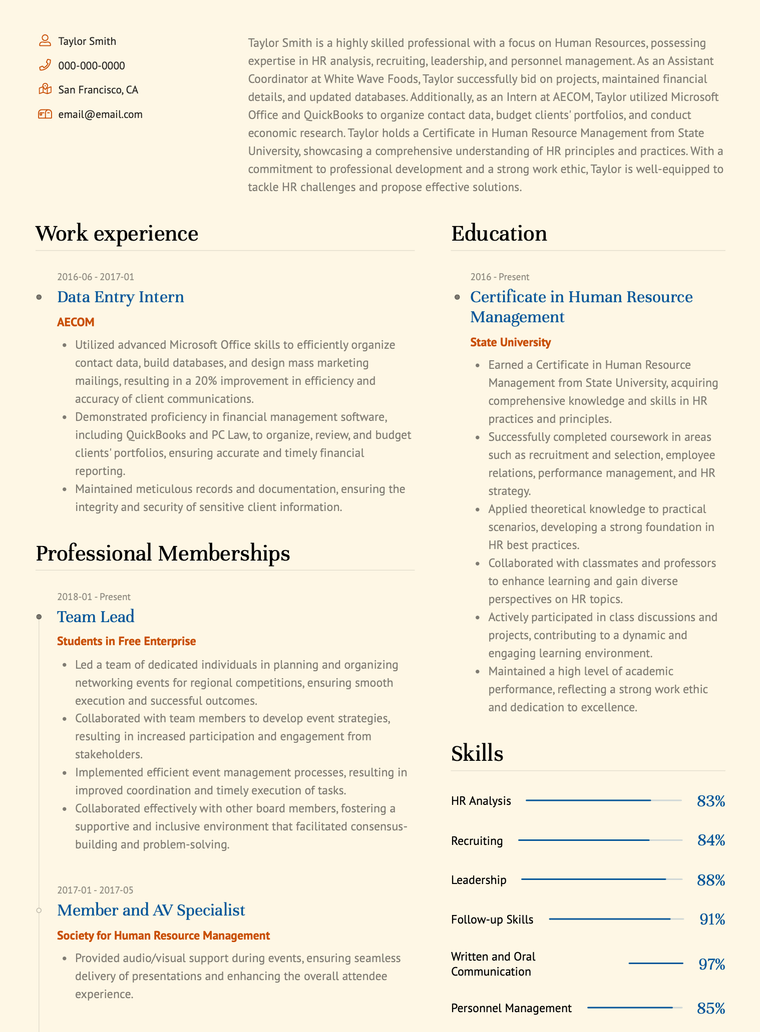 Entry Level HR Resume FAQs
If you have some lingering questions about writing a no-experience HR resume, these FAQs may answer them:
Summary or Objective for your Entry-level HR Resume with No Experience?
When you write an entry level HR resume, you should use a Summary instead of an Objective. Objective sections were once common, but are now rarely included in resumes and may seem old fashioned.
What is an Example Entry Level HR Resume Summary for 0-1 Year Experience HR Professionals?
An example resume summary for an entry-level HR resume may be:
Taylor Smith is an HR professional with a strong education in recruitment, payroll management, vendor management, change management, employee engagement, and international recruitment. With an MBA in Human Resources Management from Northwestern University, Taylor is equipped with the knowledge and skills to drive HR excellence. With a proven track record in attaining high grades and peer reviews at [school name], Taylor has successfully studied strategies for HR management and development, supported talent management initiatives, and led change management projects.
What is the Right Way to Fill Work History When You have No HR Experience?
If you have never held a job in the HR field, consider any internships or work placements you may have completed during your education. You may need to include unrelated jobs or summer jobs, even if they aren't directly relevant. If you have no previous positions at all, consider any personal projects, volunteer roles, or activities that might have taught you transferable skills. Anything that seems relevant to HR is a candidate for inclusion in your resume.
For more tips on writing an HR resume when you don't have experience, check out our article How to Write a Student No Experience Resume.
How Do You Add Keywords to Your Entry-Level HR Resume?
When you are applying for entry-level HR jobs, it's important to make sure that your resume has the right keywords so it is selected by the Applicant Tracking System (ATS).
To ensure your HR resume has the right keywords, customize your resume for every application. To do this, study the job posting closely, and take note of the specific skills, tools, technologies, and experience it is asking for. These are likely the keywords that the company is looking for.
Then, use those exact keywords in your resume as you write it. You can't include any false details, of course, but as long as the keywords genuinely apply to you, include them in your resume where they are relevant. This way, your resume will be a better match for the job posting, and the hiring manager will be more likely to see it.
What are the Best Certifications for an Entry-Level HR Resume?
If you want to enter the Human Resources field, you will likely start by getting an education. There are many institutions that offer HR certifications, including organizations like Human Resources Certification Institute (HRCI), as well as many universities and colleges. Possible HR certifications include:
Professional in Human Resources
Certified Compensation Professional
Human Resource Information Professional
Certificate in Human Resources Management
SHRM Senior Certified Professional
Strategic Human Resources Leadership Certification
Certified Employee Benefit Specialist