Your resume technical skills section will be an employer's first look at what you're capable of. One of the first things they look for when they read an application is the right skill set.
Companies are looking for talented candidates, and the technical skills you put on your resume may be the difference between getting rejected and getting the interview.
The right list of technical skills for your resume will depend on the job posting, however. Your skills list should always be based on the application.
With that in mind, here are some easy tips for displaying technical skills on your resume.
What are technical skills?
Technical skills are the specific abilities that are needed to complete particular tasks. They are usually job-specific, and are often related to technology, like a type of software or machine.
Resume skills may be physical in nature, such as TIG welding or machining, or digital, such as C++ or data analysis. Technical skills require practise and experience to develop, and are highly sought after by employers. Even entry-level jobs, like retail or food service, may require technical skills, such as cash handling or using point-of-service systems.
Unlike soft skills, which are strengths that help you to work hard, collaborate, and solve problems, technical skills may require certifications or education.
Technical skills can be learned in school, at workshops, or on the job, but it's important to be able to back up any claims you make in your resume. Companies will likely test or measure your technical abilities as a part of the interview process. For example, if you interview for a job in computer programming, you will likely be asked to complete a technical interview where your competence with the tools of the job will be evaluated.
Why do you need a technical skills section on your resume?
It's important to let employers know that you have the right skills for the job. When you apply for a role, the company will be checking your resume to see if you have what it takes. The better your skills, the faster you will adapt to the new job and the less time the company can spend training you. Candidates who can handle the responsibilities of that specific position are much more likely to be hired.
Employers only spend a few seconds reading each resume, so it's important to make sure your skills section draws their eye. Your Work History Section and descriptions of past roles may show what expertise you have to offer, but to ensure employers know exactly what skills you bring to the table it's best to create a distinct list. This makes your skills easy to find and gives employers an overview of your skill set without making them read the entire resume.
Displaying your technical skills
The best way to display your technical skills is in a distinct Skills section. You should show your skills in the rest of your resume throughout your qualifications and job descriptions, but it's important to have a concise list as well. This allows readers to quickly skim your application and see your resume technical skills in one place. To create a Skills section:
1: Create a skills section (or two)
To display your technical skills, start by creating a Skills section in your resume. Give this section a heading like "Skills", "Core Competencies", or something similar. You can then list your skills beneath that heading. Most job seekers list all of their skills under one title, both technical skills and soft skills.
If you would like to keep your technical skills separate from your soft skills, you can create two different Skills sections. For your technical skills, title one of the sections "Technical Skills" or something related to your field, like "Financial Skills". For your soft skills, create another section called "Soft Skills", "Leadership Skills", or something similar. This way, you can keep your skill set organized and make your technical skills even easier to find.
2: Choose your most relevant and impressive technical skills
Not all jobs require the same skills, so it's important to remember to customize your resume technical skills every time you apply for a new job.
To customize your resume, research the company and the role. You should know exactly what the company is looking for, what their company culture is like, and what kind of skills are in demand in your industry.

The best technical skills to put on your resume are the skills listed in the job posting. The company will have specific needs for the role, and your resume should reflect this. Use the language of the job posting in your Technical Skills section to show that you have exactly what they're looking for. For example, if the posting asks for candidates with experience in jQuery, POS systems, or TIG welding, make sure to use that exact phrase in your resume technical skills (as long as it's true!).
3: List your technical skills
In your Skills section, display your technical skills in a simple list. They should be well-organized and easy to read.
Place the most impressive and most relevant skills at the top of the list. The skills explicitly asked for in the job posting are the ones you should emphasize most.
Technical Skills
C++
SQL
Java
JavaScript
Corel Draw
Photoshop
Illustrator
If you would like to create categories in your skills list, you can use each bullet in the list as a separate category. For example, use one bullet to display programming skills and the next to show design skills:
Programming: C++, SQL, Java, JavaScript
Design: Corel Draw, Photoshop, Illustrator
For a list of skills that really stands out, you can also include a strength rating out of 10 for each skill. With skill strength bars, like those offered in an online CV builder, you can visually demonstrate your abilities with each skill.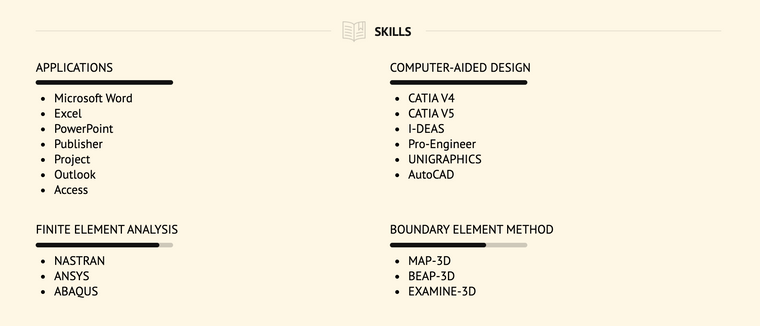 4: Show your skills throughout the resume
Your Skills section is the most succinct list of your skills, but the rest of your resume should show your skills as well. Throughout your Summary section, Work History section, and other parts of your resume, emphasize achievements that demonstrate your abilities.
If you list Agile methodology as a technical skill, for example, you can emphasize this in your Work Experience section by noting that you "led an Agile team of 5 developers" or "implemented Agile methodology throughout development department teams." Every part of your resume must contribute to showcasing your skills.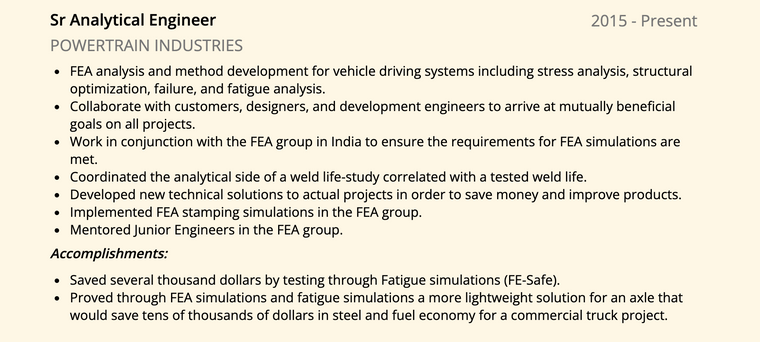 Technical skills examples for your resume
The specific technical skills that you display on your resume will depend on your skill set, your industry, and the job you're applying to. When deciding which skills to foreground, it's important to know what the company is looking for and what you're best at.
(And if you find throughout your job search that many companies are looking for technical skills that you don't have, there is never a bad time to upskill.)
With that in mind, here are some technical skills that may work for your career:
Programming technical skills examples for resumes
When looking for a job in computer programming, it's important to highlight the programming languages and technologies that you have experience in. Most job postings for programming roles will list the languages that the role requires, so be sure to prominently feature the programming technical skills that they're looking for.
Javascript
PHP
HTML
REST
Configuration
Debugging
UX
Operating systems
Security
Troubleshooting
Testing
Technical support
Systems analysis
Digital marketing technical skills examples for resumes
Digital marketing roles may include social media management, blogging, SEO, and more. It's important to highlight your specialties and show that you are a skilled marketer with the right digital marketing technical skills for the job.
Search Engine Optimization (SEO)
Blogging
Affiliate marketing
E-commerce
Analytics
Automated Marketing Software
Content Management Systems
Data analysis technical skills examples for resumes
Data analysis is integral to how businesses learn and grow in a fast-paced market. People with the ability to organize data and create data-driven business plans are in high demand. With the right data analysis technical skills, you can become an irreplaceable part of your next company.
Data Mining
Algorithms
Database Design
Database Management
Statistical Analysis
Data Analytics
SQL
Quantitative Research
Documentation
Project management technical skills examples for resumes
Project management technical skills are in high demand. Good management can be the factor that makes or breaks an important project. If you are customizing your resume for a project management position, be sure to showcase the technical skills that make you a great manager.
Performance Review
Benchmarking
Quality Assurance
Budget Planning
Project Planning
Task Delegation
Task Management
Quality Control
Scheduling
Technical writing technical skills examples for resumes
While technical writing itself is often considered a technical skill, there are also many subcategories of technical writing that you may specialize in. When you apply for a role in technical writing, be sure to emphasize the specific skills that the job posting asked for.
Technical Documentation
Subject Matter Experts (SMEs)
Research
Client Management
Requirements Gathering
Grant Writing
Standard Operating Procedures
Healthcare technical skills examples for resume writing
Healthcare workers are always in demand. Whether you're a medical assistant, health care aid, Licensed Practical Nurse, Registered Nurse, radiologist assistant, or hold any other health care role, there is plenty of demand for skilled workers in your field. When you write your healthcare resume, make sure it has the right technical skills for a healthcare role.
Medical billing
Patient care
Record-keeping
Electronic medical record software
Sonography
CPR
BLS
Performing EKGs
Product management technical skills examples for resumes
In addition to strong people skills and communication abilities, product managers need to have the right technical skills to be effective. As product manager you will be expected to lead teams, ship new features, maintain strong communication between different departments (including development, design, and marketing), develop revenue models, and drive user adoption. For a great product management resume, include skills like:
Product roadmaps
User experience design
SCRUM methodology
Agile methodology
Product lifecycle
Negotiation
Quality Assurance
Stakeholder management
Design technical skills examples for resume success
When an employer is hiring for design roles, whether in graphic design, product design, or even interior design, they will be looking for certain technical skills. You can't score an interview on good taste alone. It's important to reassure employers that you are familiar with all the tools of the trade. Technical skills to put on your resume include:
HTML
CSS
Interactive media
Wireframing
UX research
Prototyping
Responsive design
Photoshop
Illustrator
InDesign
User modeling
Customer journey mapping
Research technical skills examples for your resume
Research is an important skill in many industries. Even if the role you're applying to isn't explicitly a research role, like fact checker, journalist, or research assistant, research skills can be important. No matter where you work, you could be tasked with researching competitors, products, processes, and more. If you want to include your research abilities in your next application, consider this list of technical skills for your resume:
Data collection
Networking
Source checking
Intellectual property rights
Report writing
Interviewing
Focus groups
Web search
Troubleshooting technical skills examples for resumes
Troubleshooting is an important part of using any technology. You don't truly understand a product if you can't find and fix common problems, or at least work around them. Even if you aren't applying to a QA role, troubleshooting skills can look good on your resume. Troubleshooting technical skills to put on your resume include:
Quality Assurance
System knowledge
Testing
Research
Communication
Analysis
Video technical skills examples for resumes
Video creation is a powerful skill for people in many industries, whether it's film, marketing, or customer support. The right resume technical skills will depend on your specific role, whether it's director, editor, set designer, or any video-related role, but it's important to make it clear what skills you have and what tools you can use. Video technical skills examples for your resume include:
Shooting
Directing
Lighting
Video editing
Sound editing
Writing
Script supervision
Final Cut Pro
Computer science technical skills examples for resume writing
Computer science technical skills are very useful in the modern workplace and can be an asset in many different careers. Data scientists, software developers, IT experts, Research and Development specialists, database administrators, and more, all need computer science skills to be successful in their careers. Resume technical skills for computer science professionals include:
CAD Software
System design
Statistics
Technical reporting
MATLAB
Visual Studio
Emacs
Dreamweaver
R
AWS
SketchUp
Data modeling
Eclipse
Engineering technical skills examples for resumes
The right engineering resume technical skills for you will depend on what you specialize in. There is some overlap between civic engineers and materials engineers, but the tools they work with may not be identical. Even so, here are some possible engineering technical skills you can consider for your resume:
Casting
Machining
Assembling
SolidWorks
AutoCAD
Python
Structural Analysis
Journalism technical skills examples for resume writing
Journalism can be an uncertain career, but it's irresistible to those who hear its call. In a competitive media landscape, your journalism resume should to have everything it needs to impress employers. Whether you're a freelancer, an editor, or looking to become a star reporter for the New York Times, it's important to develop your technical skills as much as possible. Resume technical skills for journalists include:
Interviewing
Reporting
Note-taking
Fact-checking
Editing
Research
Self-promotion
Time management
Logistics technical skills examples for resume writing
Logistics coordinators are integral to the functioning of many businesses. Any time products need to be shipped, tracked, and sold, someone has to be keeping an eye on the supply chain. This can require expertise in billing, developing relationships with clients and customers, coordinating suppliers, and optimizing costs and ship times. Logistics technical skills to put on your resume include:
Invoicing
Freight monitoring
Document distribution
Quoting
Customs
Route selection
Track and trace
Account management
Dispute resolution
Process development
Administration technical skills examples for resume success
Office administrators, program administrators, executive assistants, secretaries, and more, all need administration technical skills to put on their resume. Administration can mean different things depending on your role, field, and department, but any employer with an open administrator position will be looking for specific abilities. As you write your administration resume, consider these technical skills:
Production planning
Microsoft Excel
Scheduling
Document preparation
Processing invoices
Phone operation
Event coordination
Bookkeeping
Payroll
Filing
Architecture technical skills examples for resume writing
Architects are primarily responsible for designing buildings. Architects have to pay attention to the aesthetic, function, and safety of built structures, both new and existing. Depending on the role, architects may design a building using software, design parts of a structure as a part of a larger project, supervise new construction, inspect older buildings, and more. Some resume technical skills for architects include:
Drafting
Industrial design
Budgeting
Materials science
AutoCAD
Rendering
Revit
Zoning codes
Building codes
Help desk technical skills examples for your resume
The specific duties of a help desk specialist will depend on the company and the role. Some help desk specialists work remotely, assisting customers with product questions and billing problems, while others work on-site, helping clients use products, services, and hardware. This role relies on strong soft skills, like communication, teamwork, and time management, but there are many technical skills to put on your resume as well, such as:
Troubleshooting
Zendesk
Helpscout
Self-management
Product expertise
Billing systems
Software
Password administration
Booking and scheduling
Phone systems
Device configuration
Product onboarding
Information security technical skills examples for your resume
Cybersecurity is an important and growing field. Nearly all employers use the internet in one way or another, and they all need to make sure their data is safe and secure. If you want a meaningful and future-proof career, information security is a good choice. Whether you want to work in-house for a large company, or work with clients at an information security firm, it's important to develop impressive technical skills to display on your resume. Information security technical skills include:
SIEM Management
FISMA Compliance
HIPAA Compliance
Intrusion Detection Systems
Intrusion Prevention Systems
Security analysis
Incident response
Automation
Data science
Content management technical skills examples for your resume
All businesses need websites, and all websites need content. If you want to create a great career in the digital age, developing a robust set of content management technical skills to put on your resume is a great place to start. Content managers write, edit, and curate content that is published online. This involves working with copywriters, contractors, marketing specialists, and designers. It may require some management abilities, social media savvy, an eye for detail, and more. Content manager resume technical skills include:
Writing
Editing
Proofreading
Content creation
Social media management
Content management system (CMS) proficiency
Search engine optimization
Scheduling
Sales technical skills examples for your resume
Sales is a demanding field, but it can be rewarding for the right kind of person. More than just selling products and services, sales jobs require you to create relationships with customers and clients, keeping them informed of your company's offerings and ensuring that they feel supported and looked-after as they use the services. Sales roles can entail inside sales, B2B, cold calls, travelling, and more. If you're creating a resume for a sales role, consider this list of technical skills for your resume:
Salesforce
Cold calls
Client management
Billing
Sales prospecting
Social selling
Product knowledge
Territory management
Objection handling
Presentation software
Negotiation
Customer relationship management tools
Buyer research
Productivity software
Accounting technical skills examples for resumes
When hiring an accountant, employers look for an understanding of accounting regulations, proficiency in particular tools, and strong technical skills. While you should always research potential employers and customize your resume to suit the type of accounting you specialize in, there are plenty of accountant resume technical skills that can look good on a resume:
QuickBooks
Intrax ProcedureNet
Microsoft Dynamics
Microsoft Excel
Regulatory standards
SAP
Oracle
FINRA
ERP systems
Cost and trend analysis
GAAP
Auditing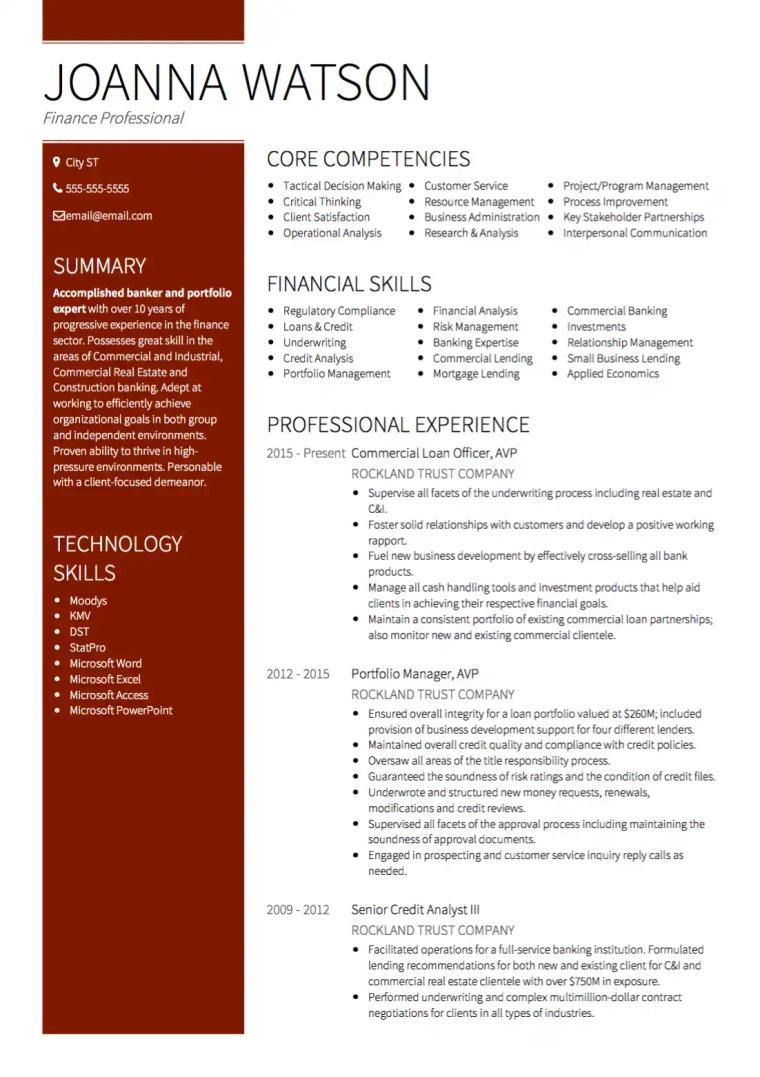 Warehouse technical skills examples for resume success
Many organizations need to ship, receive, and store items, all of which require warehouses. As online shopping becomes more popular, warehouses become even more important. Someone has to be there to organize, pack, and store all the items that are delivered to peoples' doors. Whether you're a labourer, forklift driver, or manager, warehouse jobs can be very physical and require some specialized knowledge. Warehouse technical skills examples for resumes include:
Spreadsheets
Microsoft Excel
Supplies procurement
Scheduling
Personnel management
Inventory
Preventative maintenance
Forklift license
Regulation knowledge
Shipping and receiving
Scheduling
Pallet jack
Retail technical skills examples for your resume
Retail workers spend long hours on their feet, working the sales floor, operating the cash register, and assisting customers. Retail work is a field that requires good people skills, stamina, and a lot of patience, but for the right person, it can be very rewarding. Soft skills like communication and patience aren't all it takes for a successful retail resume, however. You also need to have the hard skills that go with the job. Retail resume technical skills include:
Math
Cash handling
Point of Sale systems
Product knowledge
Industry knowledge
Scheduling
Merchandising
Inventory
Sales
Active listening
Ecommerce technical skills examples for resume writing
Ecommerce is a broad field that encompasses all of marketing and selling online. It involves advertising, email marketing, search engine optimization, data collection, analytics, design, and development. As there is no sign that people are about to stop buying things online, ecommerce is a great field to get into to ensure a long career. If you're applying for an ecommerce job, consider this list of technical skills for your resume:
Email marketing
Search engine optimization
Data analytics
Web development
Web design
Social media savvy
Content writing
Editing
Customer relationship management
Point of sale technology
Welding technical skills examples for resumes
Welding is the process of using heat to fuse pieces of metal together. It is integral to many manufacturing and construction processes. If you're looking to become a welder, you will likely need to get certified, but even with a certification your resume needs to list your skills. Welding technical skills to put on your resume include:
TIG welding
MIG welding
Stick welding
Angle grinding
Measuring
Blueprints
PPE
Arc welding
Secretary technical skills examples for resumes
Secretaries are responsible for professional administrative duties like taking calls, managing correspondence, scheduling meetings, and greeting guests. Whether you're at the front desk of an office, act as an office administrator, or work as a private secretary, it's important to have the right organizational skills and multitasking abilities. Secretary technical skills to put on your resume include:
Operating phones
Scheduling software
Office hardware knowledge
Note Taking
Typing
Filing
Appointment booking
Industry knowledge
Microsoft Office Suite
Invoicing
Expensing
Calendar software
More technical skills
Your skill set is unique, and the competencies that you have developed throughout your career will depend on your interests, your education, and your previous jobs. When writing your resume, make sure that you understand your own abilities and what companies in your industry are looking for. With a well-targeted resume and the right technical skills, you can make your resume irresistible to employers.
Accounting Software
Enterprise Resource Planning (ERP) Software
Database Software
Information Security
Video Editing and Creation
Cloud/SaaS Services
Database Management
Telecommunications
Microsoft Office Certifications
Kanban
Business intelligence
PMP
Metallurgy
Manufacturing process
Engineering drawing
Calculus