Looking for cover letter examples that you can use?
You are at the right place!
We understand that writing a cover letter can be hard, that's why we have added these highly customizable cover letter samples that you can copy and use.
In this article you are going to find the following examples:
Generic cover letter examples for anyone
Professional cover letter examples for experienced professionals
Creative cover letter examples to help you stand out
Entry level cover letter examples for professionals starting out their journey
Inspirational and great cover letter samples from various industries to inspire you
What a Cover Letter Should Include?
Overall a good cover letter should say that "I am applying for this position because…" and "this is what makes me the best candidate for this position…". But in order to say it right, you need to add these 5 sections in your cover letter:
Salutation - This should be addressed to the hiring manager. If you don't know the hiring manager and are applying at a very large company, use a salutation like "Dear [xyz] team" instead.
An introductory paragraph - Make sure to leave a good first impression here. Introduce yourself and briefly explain that you would like to apply for the position. Make it easier for the hiring manager to scan, this paragraph should be of maximum 2-3 lines.
Body paragraph(s) - This is where you help them understand why you are the perfect fit for the role. This is where your relevant experience, skills and achievements would shine.
Vision paragraph - Add how you feel you can add value to the organisation and if possible share how your vision aligns with the company's vision.
Formal closing - Use this to prompt next steps for your job application. And add a sign-off.
Optionally, you can also include these two to your cover letter:
Postscript - If you have something of value that adds value to your cover letter, consider adding it by adding a "PS: …" at the end of your cover letter.
A portfolio paragraph - If you have a portfolio to share, consider adding a short paragraph of 1-2 lines with links to your portfolio added in it.
The Perfect Cover Letter Example Template
Salutation Dear [First name of hiring manager]/Dear [XYZ] Team
Introductory Paragraph Add your cover letter's introduction here. Give a brief description of who you are, what you specialise in, and what makes you apply for the position. Keep it to a maximum of 2-3 lines.
Body Paragraph(s) The body paragraph(s) should highlight three things: relevant work experience, relevant skills and professional achievements. While writing these paragraphs, ensure that you only add relevant skills and experience as information overload would overwhelm the hiring manager.
Best practice is to use the combination of paragraph and bulleted list to make it easier for the hiring manager to scan for the right information as shown below in this cover letter example:
"As the lead auditor for KPMG West Coast, I managed a team of 15+ auditors independently and achieved the following results: Reached 100% compliance levels with zero errors in FY 2022 audit reports. Won award for …"
Vision Paragraph It often helps a hiring manager to see what the job applicant envisions they would do if they were hired. Adding your vision can help you stand out from the crowd.
Formal Closing Add a formal closing statement. Adding "Sincerely" followed by your name should be more than sufficient for most job applications.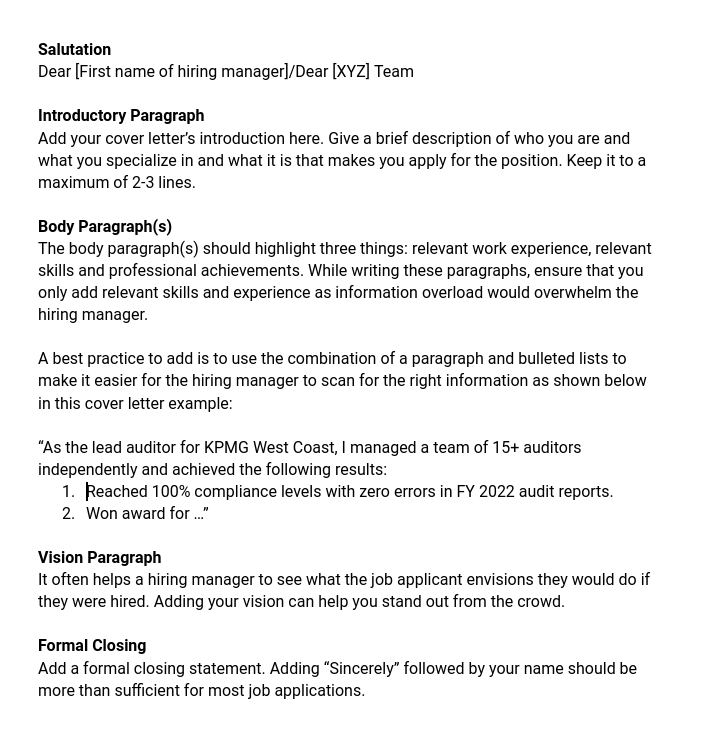 Our Cover Letter Guides
A cover letter is often the very first thing a recruiter sees when you apply for a job. Even if you don't have any job experience, making sure your cover letter is in the best shape possible gets you off to a great start on the hunt for your dream job! Take a look at our cover letter examples and guides when you're a little light on work experience:
A Sample Generic Cover Letter for Employment
We have written a lot about how to customise your cover letter to perfection, but if that's not your strong suit - consider the cover letter example below.
Generic Cover Letter Example - Copy and Use
Dear Jane,
I was excited to see Berg Lansing's Technical Writer position on berglansing.com and really wanted to apply for this role. The idea of playing a pivotal role in delivery of effective support to Berg Lansing's customers through high quality user documentation is very exciting to me.
I currently manage multiple cross functional technical writing programs at ACME. And as a part of my current role I ensure that stakeholders, internal team members and customers are well supported. Some of my technical writing accomplishments at ACME include: Reduction of customer support requests by 25% as a result of simplified documentation.
Helping customer support teams reach 45% higher CSAT scores on closed support requests. Introduction of the idea of maintainable technical documentation to my peers and leading the program at ACME. Reduction of length of technical content by as much as 50%.
In my previous role, I was also responsible for maximizing the visibility of an organization's corporate activities by crafting creative content and working with creative teams for PR.
I am eager to apply my current skill set and knowledge to the Technical Writer position at Berg Lansing. Thank you for considering my application.
Sincerely, Heather T. Wynn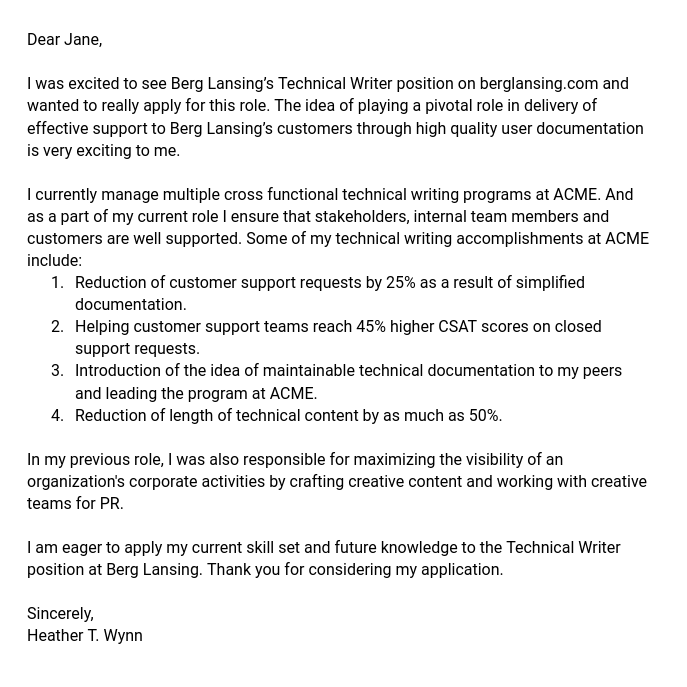 What Makes this a Great Cover Letter Example?
While this cover letter example is a generic one, it doesn't appear to be generic at all. Heather has very smartly picked up key elements that are common across each technical writer job and have written a cover letter around it.
In addition to that, Heather also made the following decisions that make the cover letter look customized for this job:
Using the hiring manager's name instead of a generic salutation
Mentioning the organization's name that she's applying to.
To summarize why it makes a great cover letter example:
It has been intelligently designed to work with multiple job ads with very minor modifications
No part of the cover letter example feels generic.
Two Professional Cover Letter Samples
If you are not applying for an entry level job, consider these professional cover letter examples.
Professional Cover Letter Sample
Jeannine C. Frederick Big 4 Consulting Corp 1901 Norman Street Los Angeles, CA 90042
Dear Jeannine,
My name is Lida and I wish to apply for the auditor position at the Big 4 Consulting Corp office in Los Angeles. I have spoken with several members of Big 4 Consulting Corp's audit teams and was each time impressed by their acuity and passion for both accounting and their firm. I am confident that my accounting skills and passion for efficiency will make me an excellent fit for Big 4 Consulting Corp, just as they are.
My accounting and time management skills will be vital to succeeding at Big 4 Consulting Corp. I was able to apply what I had learned that year to my work at the Corp2, where I was given the opportunity to assist the non-profit accounting department and CFO in their fiscal year-end closing and annual internal and external third party audit.
It was in Corp2 that I found my passion for understanding business operations. I enjoyed understanding how each employee's work helped achieve the organization's goals because I would be able to find ways to perform my own tasks to more efficiently and effectively achieve those goals.
While working full time here, I also took two accounting courses and taught myself Visual Basic programming in order to further optimize my efficiency at work. I was actually able to use the programming I learned this summer to automate several tasks such as bulk emails and manage large spreadsheets.
My passion for accounting and desire to understand clients and their complex businesses and circumstances align with Big 4 Consulting Corp's audit approach to understand a client's business, risks, and internal controls in order to provide the most effective audit procedures. After conversing with several team members about their passions and goals, I believe I am an excellent fit for Big 4 Consulting Corp's culture and philosophy.
I was inspired by audit manager Shanon's dedication and ambition but also humbled by her modesty and kindness. I also clicked well with Derick and look forward to possibly working with him and all the other team members I've spoken with.
Thank you for your time and consideration. I look forward to discussing this position further.
Sincerely, Lida R. Boyles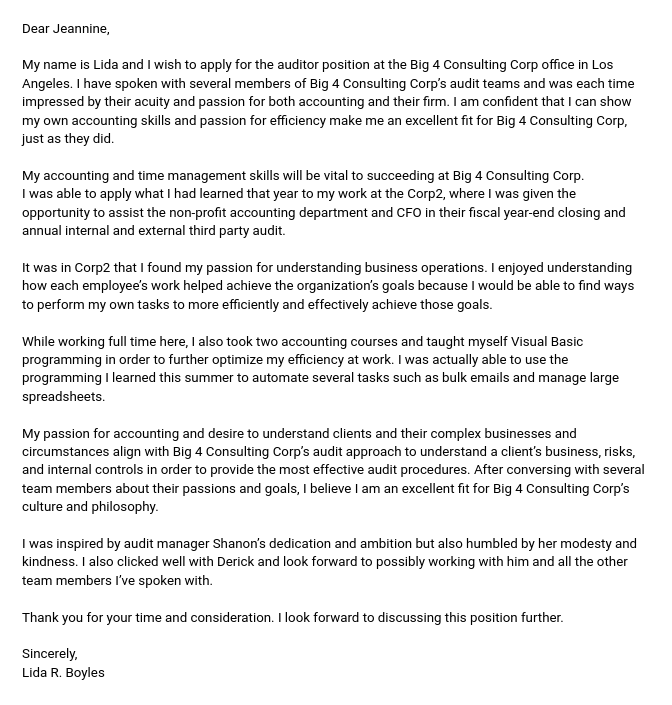 What Makes this Example a Great Cover Letter to Use?
This is a very professional, yet very deeply thought-out cover letter. To take a role at such a large organization, Lida displayed how well she knows the culture and that she had put enough effort to understand the current team as well.
This cover letter example highlights how to impress a hiring manager in large organizations.
Customizable Cover Letter Sample
Here is another professional cover letter sample that you can drive inspiration from.
Dear Lorrie, TeamGIS 1787 Pearlman Avenue South Boston, MA 02127
I am excited to apply for the position of GIS Technician at TeamGIS's New York office. My technical skills in geospatial analysis at large scale, background in data management and visualization makes me an ideal candidate for this position.
Over the last few years, I have worked on extremely challenging remote sensing use cases and LiDAR datasets to derive various indices and statistical measures. My work has been instrumental in helping decision makers with reports and custom visualizations. My key projects involve: Allocation of various types of social housing across the continental United States. Assessing impact of global warming on social housing portfolio. Informing equity research analysts about possible asset value fluctuations based on GIS data.
My professional focus, work experience and research interests significantly overlap with the future vision of TeamGIS and that's why I feel I will be a valuable addition to your team.
I look forward to discussing this opportunity with you in detail.
Sincerely, Evan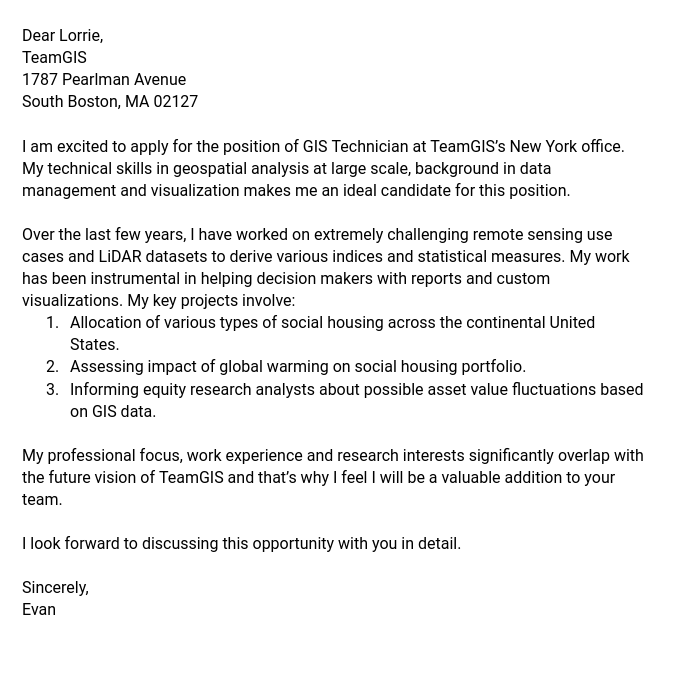 What Makes this Example a Great Cover Letter?
Unlike the previous cover letter example, this cover letter by Evan went in a completely different direction by showcasing the following: It shows that Evan has the right skills to do the job In addition, it also showcases how well Evan's personal goals are aligned with the company goals as well.
A Creative Cover Letter Sample
This creative cover letter example will show you how you can adopt creativity and stand out from the crowd.
Cover Letter Example for Employment Application
Dear Vernon Team,
When I was in the 6th grade I was limited to 3 questions a day in my class because I asked "why" way too much. Thankfully, as an adult, I can ask "why" as many times as I want. My passion to understand the "why" for the user and the company makes me a perfect candidate for the Product Management position.
As an associate product manager, asking "why" and then collecting data to extract insights to improve products is what I truly enjoy. I have been instrumental in lifting XYZ app's adoption from 10% to 43% and implemented a mobile attribution system from the ground up to support acquisition efforts.
I am a very organized, and strategic person who enjoys putting "hypothesis before solutions" and "differentiating with execution". Shopping and payment products excite me a lot as there are numerous opportunities to serve better user experiences and build flow states.
As a Product Manager for Vernon, I will bring my user research skills towards mobile shopping and payment verticals and build the next generation applications.
Thank you for your time and consideration, I look forward to hearing from you about this opportunity.
Sincerely, Devon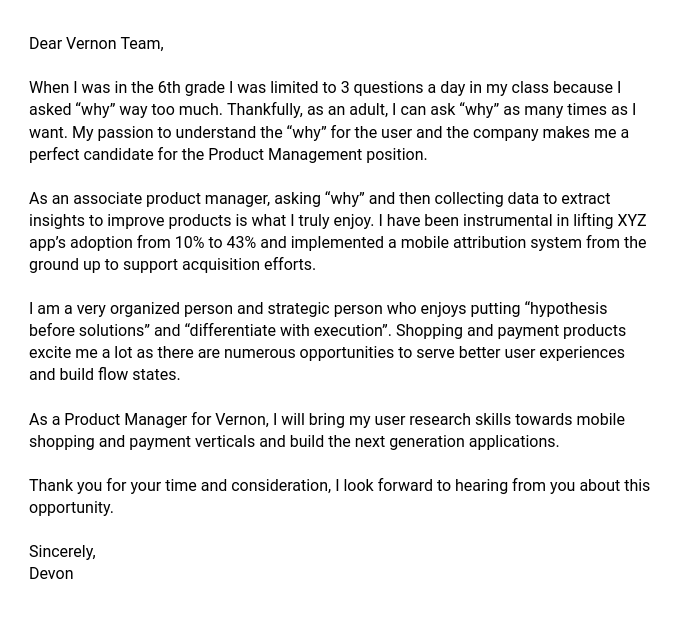 What Makes this a Great Creative Cover Letter Example
The way Devon starts this letter by bridging his habit of asking "why" to what he becomes illustrates his deep passion for being curious and finding solutions instead of assuming everything.
Any hiring manager who is looking for a customer obsessed product manager would love Devon's creative cover letter example.
Cover Letter Example for Career Transition
This cover letter example will help you craft one to support your career transition.
Cover Letter Sample
Dear Susan,
Ever since I started in sales, I enjoyed understanding customer's needs and providing them with the right solutions. It became an obsession as I worked more and what started with me learning email marketing turned me into a self taught marketer. And, that's why I'm interested in applying for the role of Junior Marketer.
From running personal projects to learning marketing to freelance for various clients to gain real world experience I have gained the following skills: PPC - Google Adwords, Facebook Ads (Google and Facebook certified) SEO and Content Marketing Email marketing and Sales enablement
At your organization (especially under Ralf's leadership) I feel I can learn even more and fulfill my dream of working in the marketing team of a cutting edge company.
I am looking forward to hearing from you. Thank you for considering my application.
Sincerely, Jim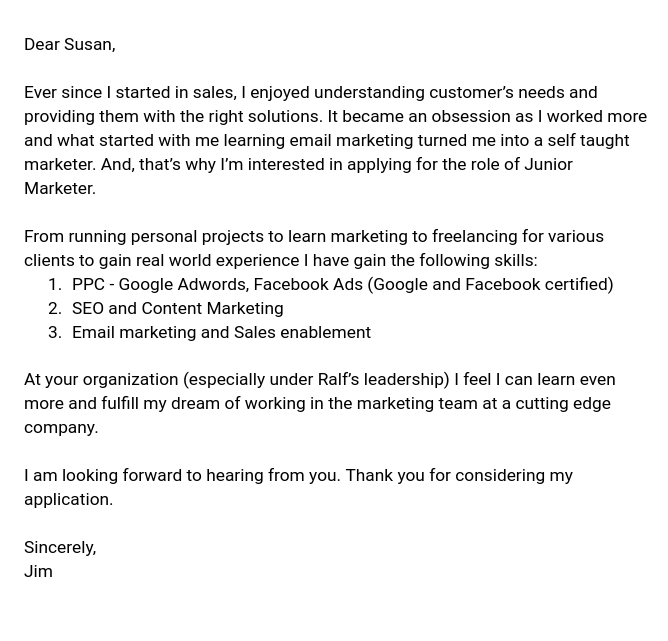 How to Use this Cover Letter Example for Career Change?
Career transitions are very hard to justify. Often hiring managers see applications from an unrelated or adjacent role and can't understand why the candidate has applied for the position. That's why this cover letter example is extremely good. It very clearly justifies:
The motivation to apply for the role despite working in sales.
What Jim has done on his own to support his transition.
Jim's own thoughts on how he expects to thrive under existing leadership
This cover letter example also shows that Jim has spent time and energy considering this job as well.
Cover Letter for Entry Level Roles
This cover letter example will show you how to apply to an entry level position.
Cover Letter Example
Dear Jane,
I am excited to apply for the Mechanical Engineer Intern position at ACME. I found this position through the referral of Lorraine A. Dubreuil, Design Head for FST division at ACME. I am a graduate student pursuing Aerospace Engineering at Texas A&M. With my Bachelor of Science degree in Mechanical Engineering, my extensive R&D experience in mechanical design and structural engineering, I believe I am a strong candidate for this position.
During my time as an undergraduate, I utilized SolidWorks and MATLAB to design and analyze the structure tube frame of chassis. I also assisted with the hand lay-up of our vehicle's carbon fibre monocoque which taught me a lot about working with composite structures.
Additionally, my work with the SAE collegiate design series has provided me with experience in design and manufacturing, while emphasizing teamwork, adaptability and communication.
Now, I am eager to apply my mechanical engineering knowledge and skills at ACME. Thank you for your valuable time and consideration. I am sincerely looking forward to learning more details about the Mechanical Engineer Intern position.
Sincerely, Tom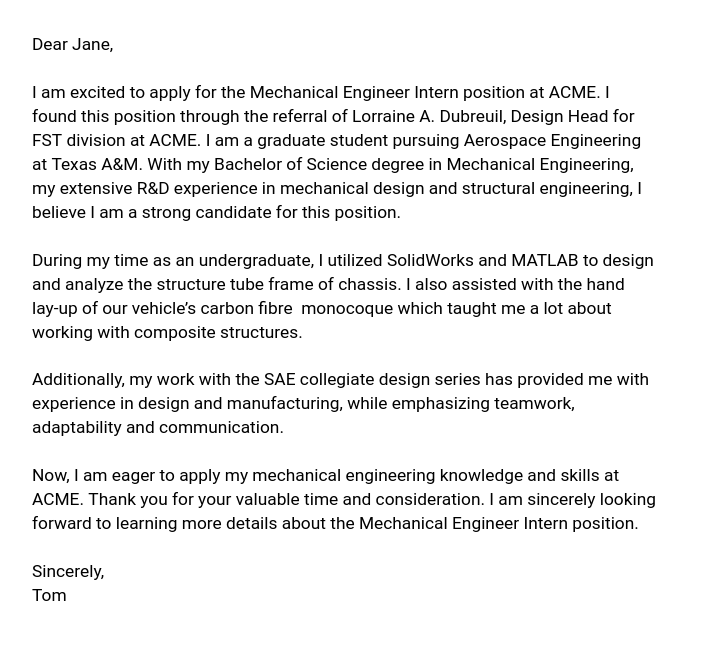 How to Use this Cover Letter Example to Apply for Jobs?
Tom, while being an undergraduate, knows the value of communication. And this cover letter example by Tom highlights how he:
Highlights relevant past R&D project work.
Leaves an impact by providing the reference who referred him for the role.
Wrote a very concise cover letter as shown in the example; this is uncommon where most graduates would overdo their cover letters and fail to leave the same impact.
The Shift Toward Email Cover Letters for Job Applications
The formal cover letter - A PDF attached to the job application with a classic 4 paragraph layout - is quickly becoming obsolete. However, it is being replaced by the "introductory email." A short note explaining to the hiring manager or recruiter why you are the perfect fit. I use the term cover letter interchangeably with introductory email in this article.
A good cover letter is a marketing pitch - it draws the reader in, and encourages them to read more. We've compiled all of the best cover letters on the internet and from our own personal network.
Copying these cover letters will not be effective for you. A cover letter/intro email is a personal document that depends on the employer, the target contact, and your own skillset. If you're a very qualified candidate - a short sentence can suffice. If you're a young, ambitious recent graduate - you might need more real estate to sell yourself.
We have compiled various industry cover letter examples below that you can use as inspiration.
Cover Letter Example Job Categories:
Designer Cover Letter Examples
Design cover letters should focus on the things that matter most when it comes to design. Namely, the designs. However, a good designer needs to communicate well as they will be working with different members of company teams, or external clients. Design cover letters should also of course link to an online portfolio or project that shows their skill. Here are some great examples of design cover letters.
Cover letter for a product designer at Crew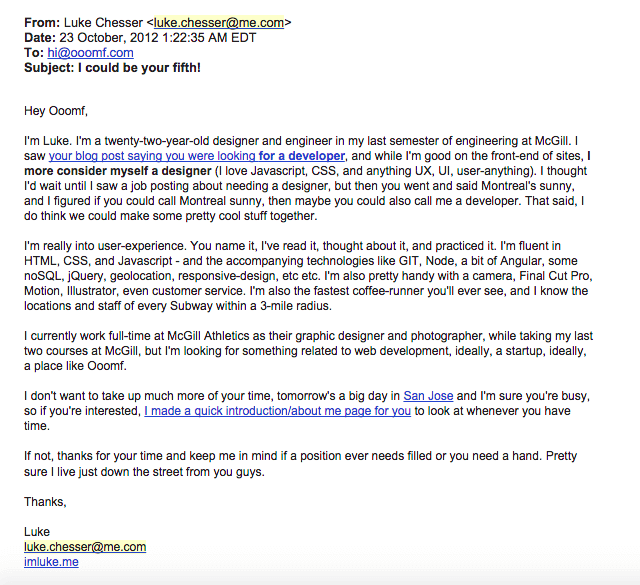 This is a perfect introductory email. It takes the tone of the job post in question, and matches the company vibe. It then outlines Luke's passion for the position, and that he studies his craft extensively. He also includes links to his online portfolio/resume. You can view the full cover letter, and more examples at the blog post by Michael Cho of Crew at the following blog post: Why I didn't look at your resume.
Cover letter for a design director at 37 Signals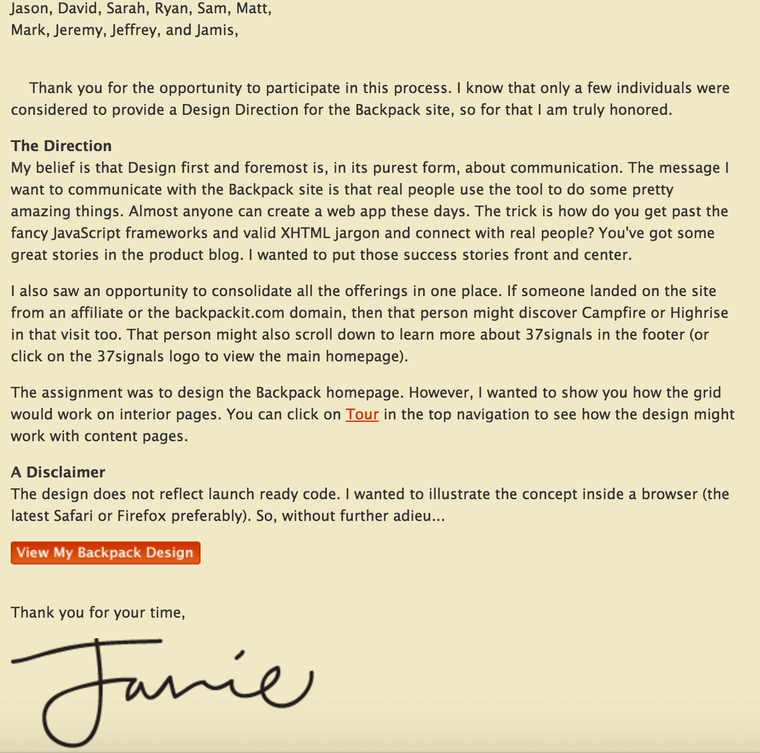 This cover letter matches 37 Signals Philosophy nicely. It explains Jamie's beliefs about design, and why he is unique compared to other designers. He also made a sample work project to share with the team. You can view the full cover letter at the following link.
Cover letter for a graphic designer at 37 Signals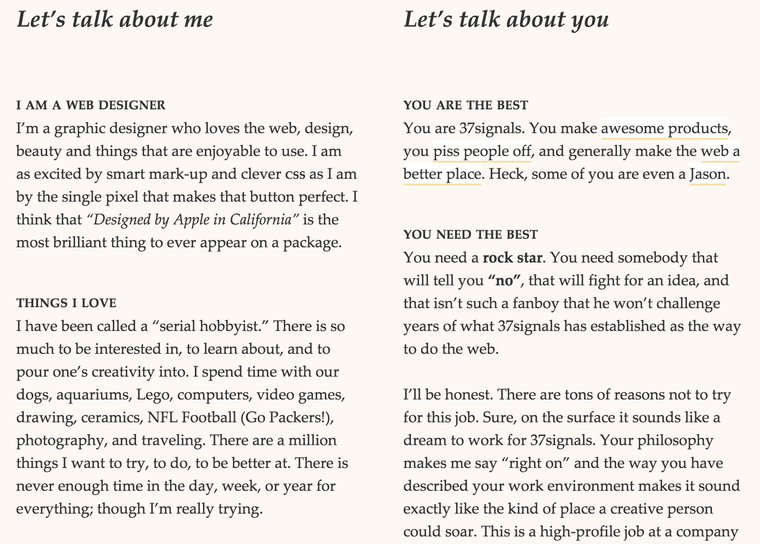 This online cover letter has a nice balance of explaining who Jason is, what he know about the company (and why he is passionate about working for them), and his skills. The full letter can be found here.
Customer Support Cover Letter Examples
The key to a customer support role is a great personality and communication skills. The cover letter is an opportunity to first express those communication skills to your next employer. Note that these letters vary in tone, from professional to more casual. The applicant must make the judgement call based on what they know about the company.
Cover letter for a customer happiness concierge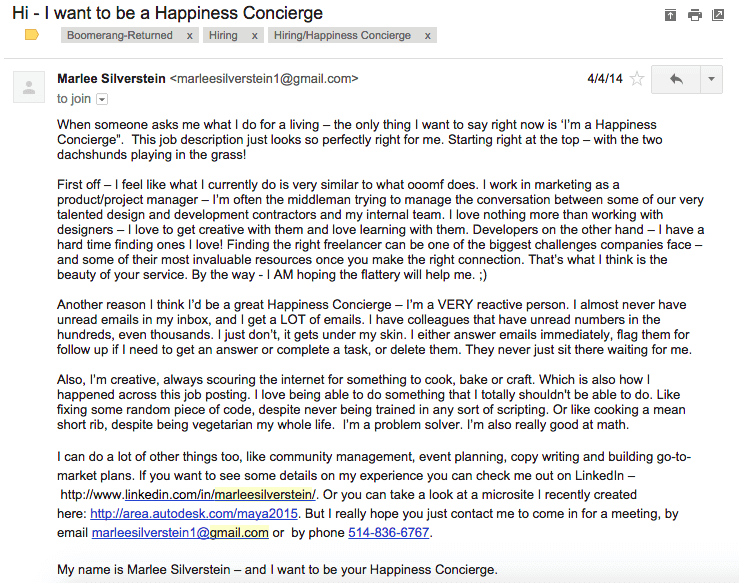 Marlee's cover letter gets the tone right - you can tell she is a happy, personable, and effective person. She outlines why her past experience makes her a great fit for the job, and her personal habits that will ensure her success in the role. The full cover letter can be found here.
Cover letter for a Director of Customer Care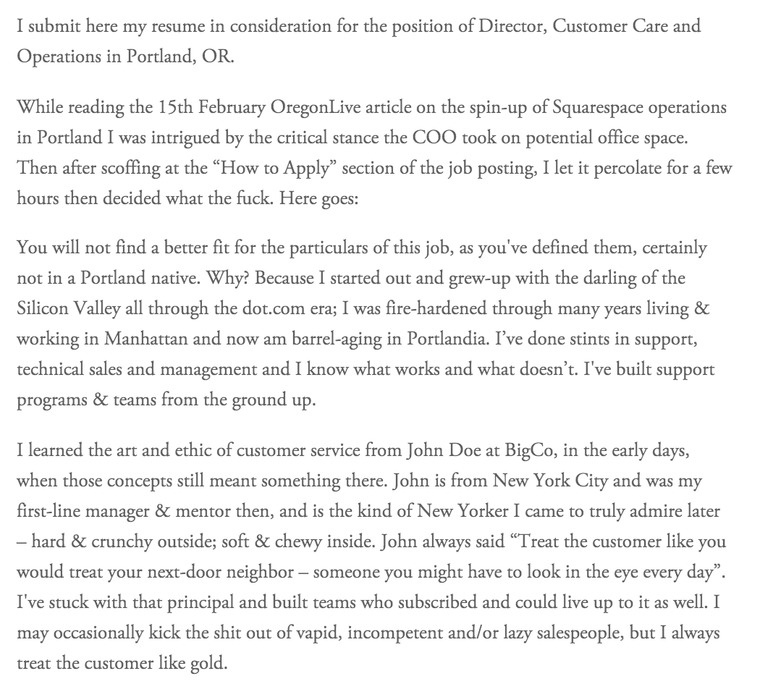 This is an expert from a blog post from the CEO at LiveStream, who said it was the best cover letter he has ever received. It is funny, honest, and confident. Note the applicant takes a few risks with the language and tone - but clearly understands his audience. You can read the full cover letter (along with the job description), at this link.
Cover letter for customer support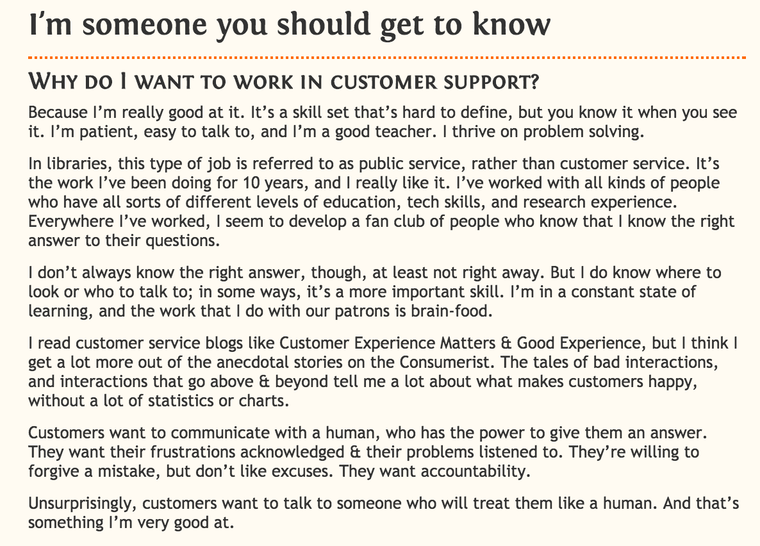 This cover letter gets to the point, and shows deep understanding of what a customer support role is. As it clearly states, "customers want to communicate with a human" - it is clear there is a human behind this letter. View the full letter here.
Cover letter for customer support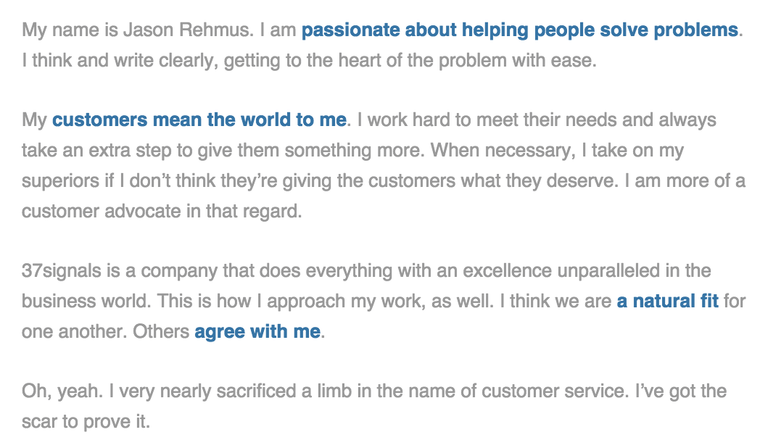 Jason clearly shows his writing skills and passion for the job in this cover letter.
Cover letters for community management positions must understand what a community manager role is. To be a successful community manager, one must be a great communicator, an enthusiastic personality, and a dialed-in social media guru. Here are the best examples of community manager cover letters we found.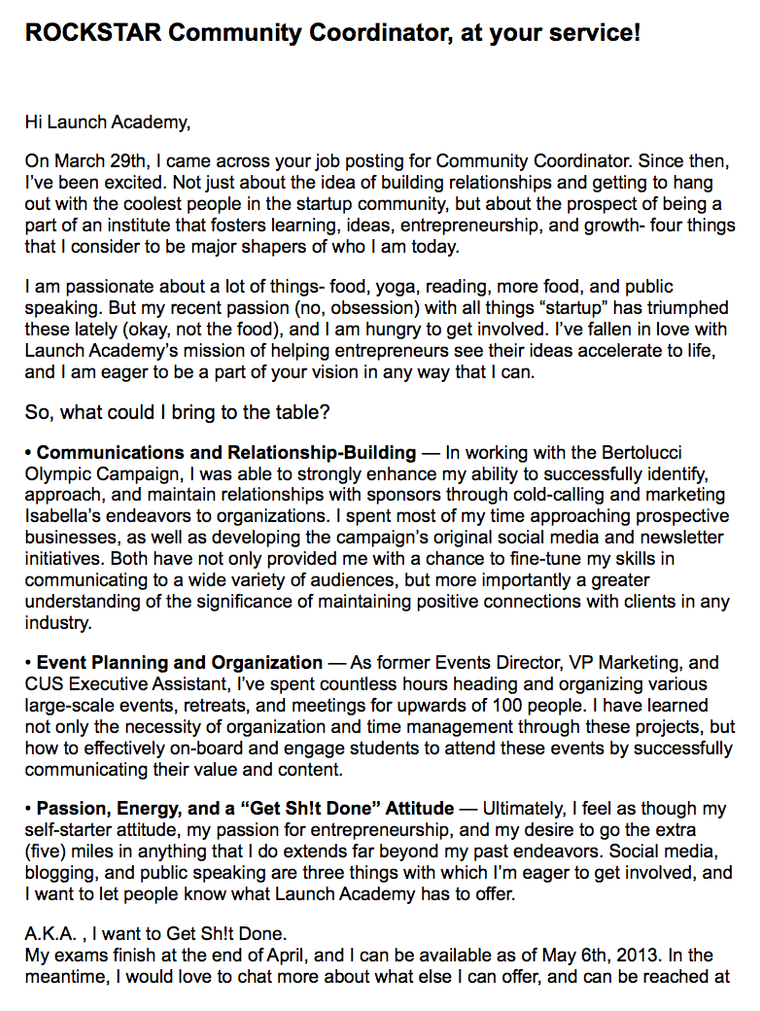 The tone perfectly matches the company that Joanne is applying for. It outlines her enthusiasm, passion, and how her past experience applies to the job.
Software Engineer Cover Letter Examples
Cover letter for a web developer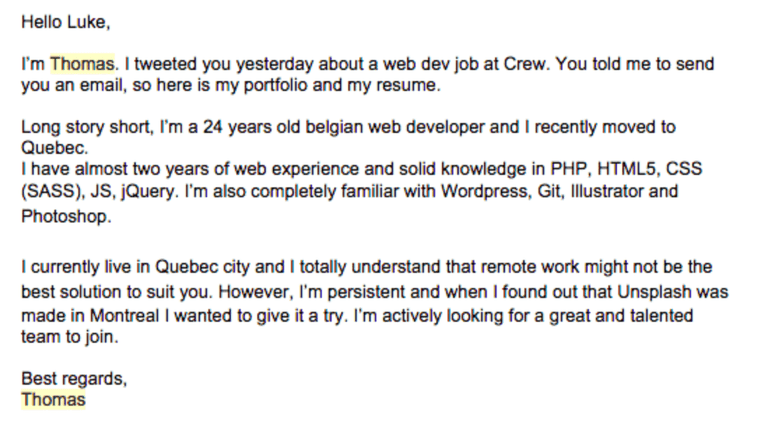 This cover letter shows that an effective introductory email doesn't have to be long. It efficiently lays out the skills that Thomas has, and piques the company's interest about what he can bring to the table. In a hot market for engineers, this is enough to get the interview. It is also from Mikael's article.
Cover letter for a front-end developer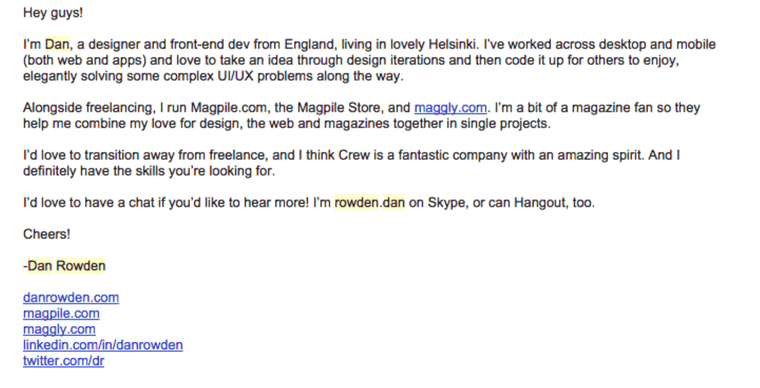 This cover letter is also for Mikael Cho's company, Crew . It emphasizes links to Dan's portfolio and best work - very important for a web developer.
Marketing Cover Letter Examples
Cover letter for a marketing position at google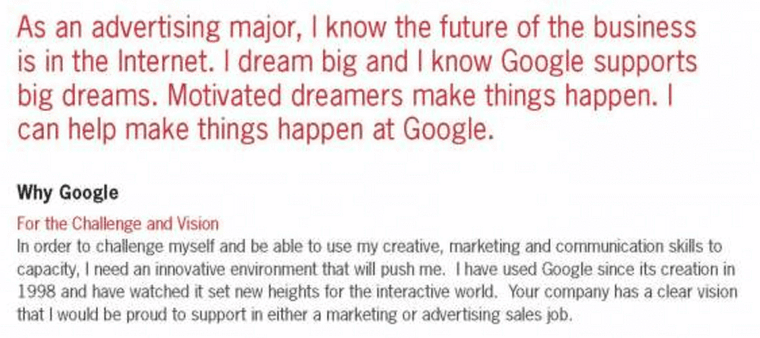 For creative positions, a creative cover letter is necessary. This cover letter mirrored the marketing materials at Google, and got the interview. View the full article here.
Sales & Business Development Cover Letter Examples
Cover letter for a business development/product specialist
Rodolphe shows how persistence and hard work can convince an employer to hire you in this cover letter to work at Buffer - a fast growing social media management platform. The full exchange is worth reading on the Buffer Blog.
Cover letter for a sales coordinator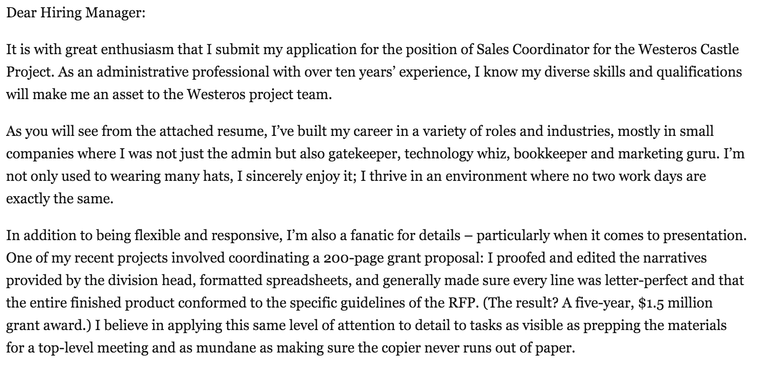 This cover letter for a sales coordinator position is closer to a traditional cover letter than the other examples. It does a fine job of outlining experience and passion for the job. View a full before-and-after analysis of this cover letter on the Ask a Manager Blog.
Cover Letter Examples and Frequently Asked Questions
What is a good opening sentence for a cover letter?
A good opening sentence for a cover letter is "I was excited to see Company's position on Indeed.com and really wanted to apply for this role".
What are some examples of selling points in a cover letter?
Some examples of good selling points in a cover letter are:
"In 2021 I was able to help my company achieve [something]..."
"I was awarded [X] in 2021 due to my exceptional work in [Y]..."
"I built [X] team out from scratch to help [company]..."
"I am currently in the top 1% in [Y]..."
"I have managed large scale projects when it comes to [X]..."
What are the 3 parts of a cover letter?
Three main parts of a cover letter are:
Salutation
Cover letter body
A formal closing
How do you write a perfect cover letter?
To write a perfect cover letter make sure you address the cover letter to the right name, customize the cover letter based on the job ad and show how you are the best candidate for the role.
How to write a cover letter in email?
To write a cover letter in email, simply copy the cover letter you created using the examples above and paste it into your email client.
Use These Examples To Inform Your Own Cover Letter
Remember, the key to a good cover letter is personalization. You must market to your audience. Do the research, write well - and go get hired!
Land your dream job with VisualCV's resume and cover letter builder. Sign up below to try it for free today.
Sign up and create a job winning resume using our free resume-builder
Recommended links:
Our collection of 500+ professional resume examples.
Our gallery of 20+ downloadable resume templates.