A great resume will get you not-rejected, a great cover letter will get you hired.

DHH | Founder of Basecamp
The cover letter. Not since the resume have words struck so much confusion and fear into the hearts of job seekers. The cover letter is for some employers, more important than the resume. It is the other half of the 1-2 punch of the resume/cover letter combination.
That's why we (VisualCV) have included our best cover letter examples below for you to submit with your CV, email or resume. We recently updated our examples for 2021 so whether your looking for a cover letter example for a job application or for an internship, our examples can be adapted for your particluar situation.
We're hoping to add more categories such as examples for students, engineering, interns, retail, customer service, nursing, teachers, sales and receptionists but our existing examples below should help a lot with crafting the perfect cover letter.
A cover letter isn't black magic - it is writing a few paragraphs that tell an employer exactly why you are the right person for the job.
The Shift Toward Email Cover Letters for Job Applications
The formal cover letter - A PDF attached to the job application with a classic 4 paragraph layout - is quickly becoming obsolete. However, it is being replaced by the "introductory email." A short note explaining to the hiring manager or recruiter why you are the perfect fit. I use the term cover letter interchangeably with introductory email in this article.
A good cover letter is a marketing pitch - it draws the reader in, and encourages them to read more. We've compiled all of the best cover letters on the internet and from our own personal network.
Copying these cover letters will not be effective for you. A cover letter/intro email is a personal document that depends on the employer, the target contact, and your own skillset. If you're a very qualified candidate - a short sentence can suffice. If you're a young, ambitious recent graduate - you might need more real estate to sell yourself.
We have compiled various cover letter examples below that you can use as inspiration for your next job applicaton.
Categories:
Designer Cover Letter Examples
Design cover letters should focus on the things that matter most when it comes to design. Namely, the designs. However, a good designer needs to communicate well as they will be working with different members of company teams, or external clients. Design cover letters should also of course link to an online portfolio or project that shows their skill. Here are some great examples of design cover letters.
Cover letter for a product designer at Crew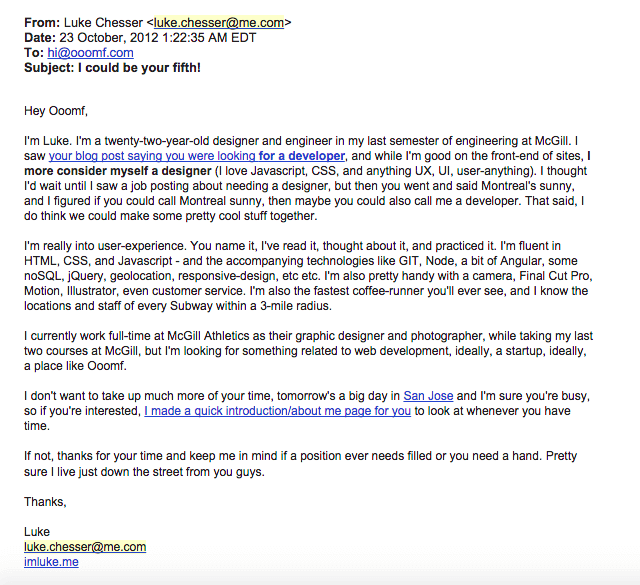 This is a perfect introductory email. It takes the tone of the job post in question, and matches the company vibe. It then outlines Luke's passion for the position, and that he studies his craft extensively. He also includes links to his online portfolio/resume. You can view the full cover letter, and more examples at the blog post by Michael Cho of Crew at the following blog post: Why I didn't look at your resume.
Cover letter for a design director at 37 Signals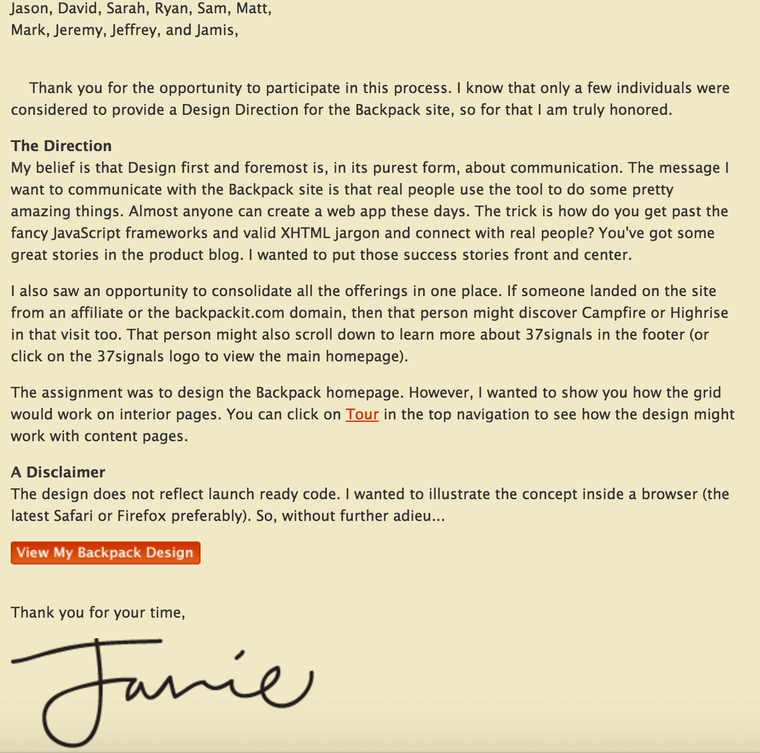 This cover letter matches 37 Signals Philosophy nicely. It explains Jamie's beliefs about design, and why he is unique compared to other designers. He also made a sample work project to share with the team. You can view the full cover letter at the following link.
Cover letter for a graphic designer at 37 Signals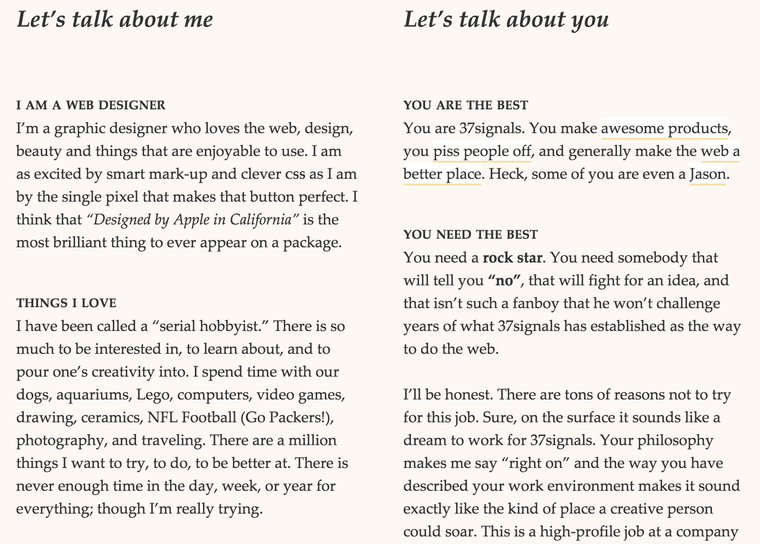 This online cover letter has a nice balance of explaining who Jason is, what he know about the company (and why he is passionate about working for them), and his skills. The full letter can be found here.
Customer Support Cover Letter Examples
The key to a customer support role is a great personality and communication skills. The cover letter is an opportunity to first express those communication skills to your next employer. Note that these letters vary in tone, from professional to more casual. The applicant must make the judgement call based on what they know about the company.
Cover letter for a customer happiness concierge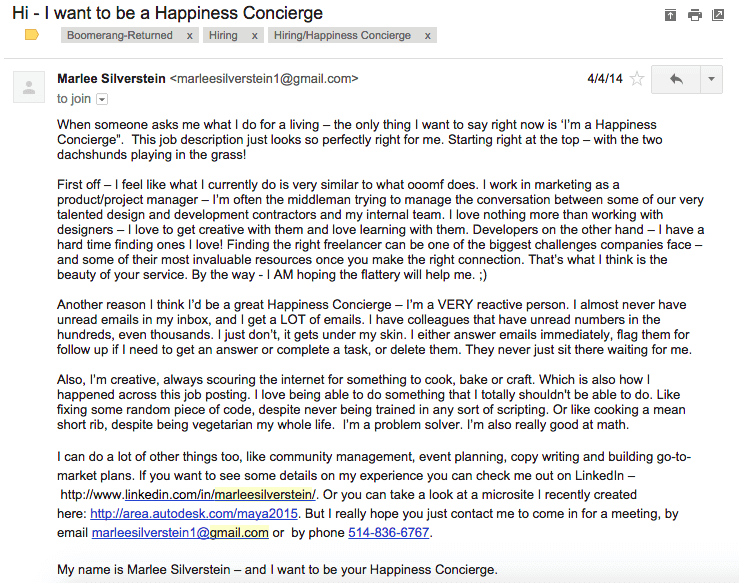 Marlee's cover letter gets the tone right - you can tell she is a happy, personable, and effective person. She outlines why her past experience makes her a great fit for the job, and her personal habits that will ensure her success in the role. The full cover letter can be found here.
Cover letter for a Director of Customer Care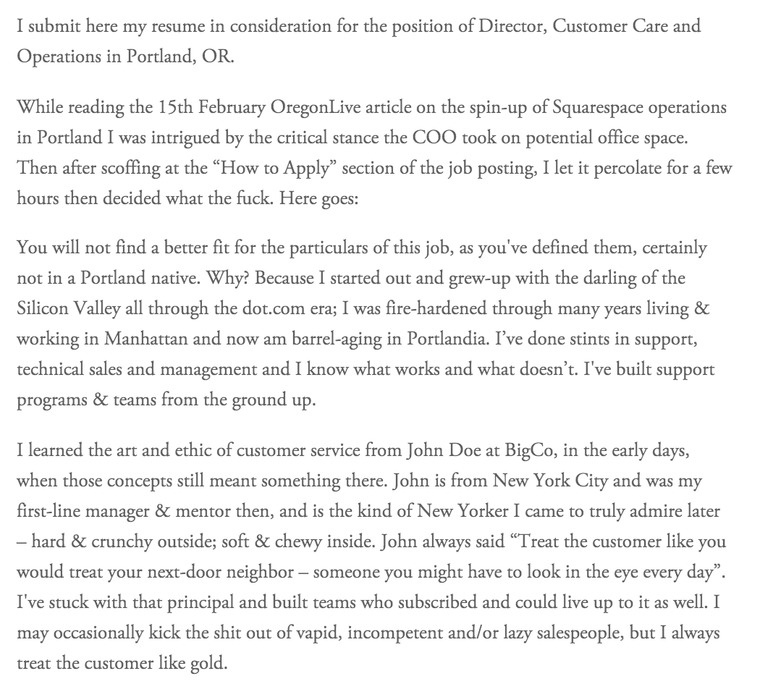 This is an expert from a blog post from the CEO at LiveStream, who said it was the best cover letter he has ever received. It is funny, honest, and confident. Note the applicant takes a few risks with the language and tone - but clearly understands his audience. You can read the full cover letter (along with the job description), at this link.
Cover letter for customer support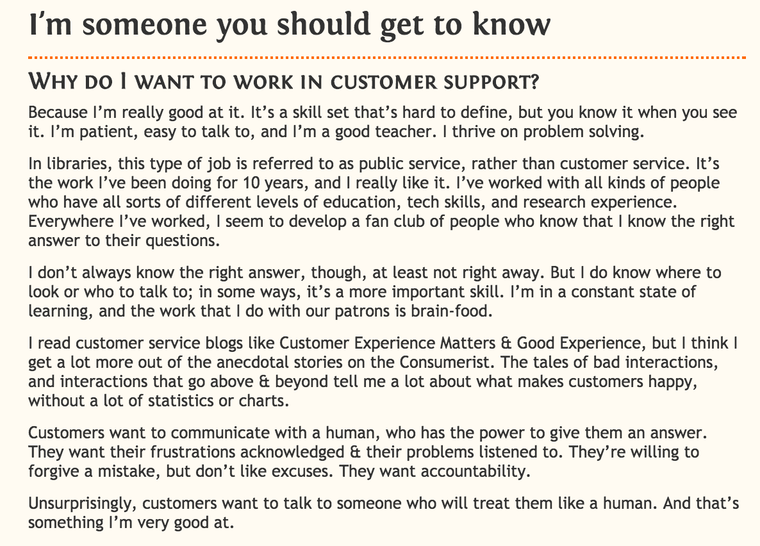 This cover letter gets to the point, and shows deep understanding of what a customer support role is. As it clearly states, "customers want to communicate with a human" - it is clear there is a human behind this letter. View the full letter here.
Cover letter for customer support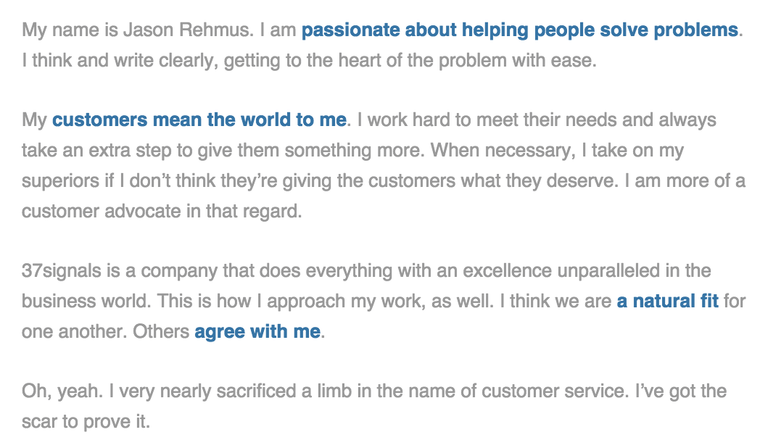 Jason clearly shows his writing skills and passion for the job in this cover letter.
Cover letters for community management positions must understand what a community manager role is. To be a successful community manager, one must be a great communicator, an enthusiastic personality, and a dialed-in social media guru. Here are the best examples of community manager cover letters we found.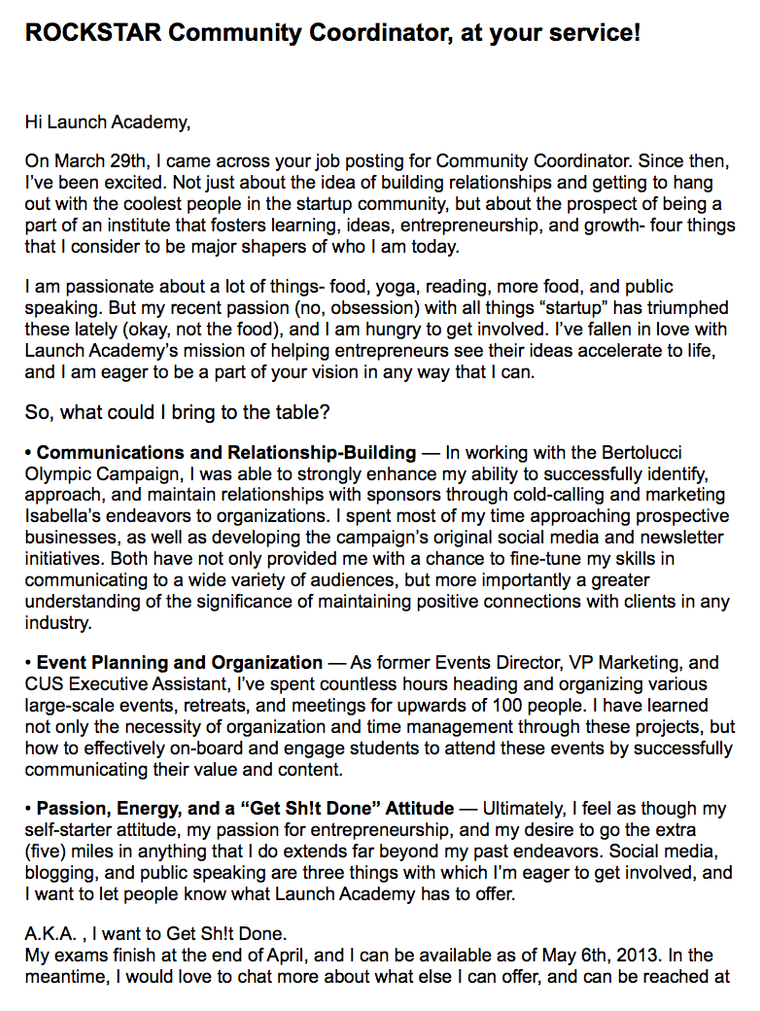 The tone perfectly matches the company that Joanne is applying for. It outlines her enthusiasm, passion, and how her past experience applies to the job.
Software Engineer Cover Letter Examples
Cover letter for a web developer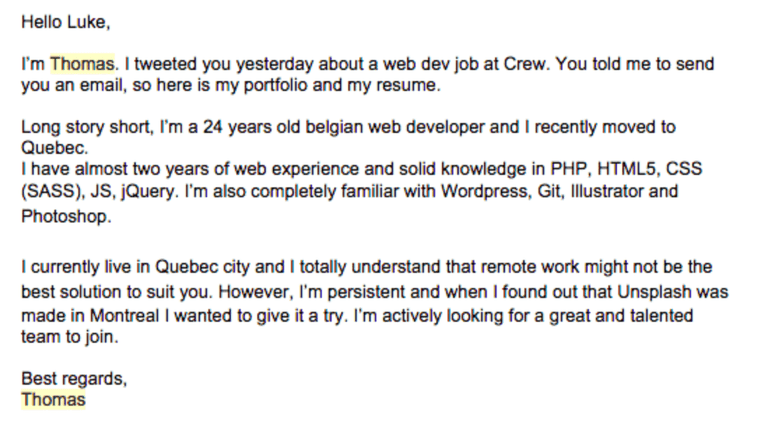 This cover letter shows that an effective introductory email doesn't have to be long. It efficiently lays out the skills that Thomas has, and piques the company's interest about what he can bring to the table. In a hot market for engineers, this is enough to get the interview. It is also from Mikael's article.
Cover letter for a front-end developer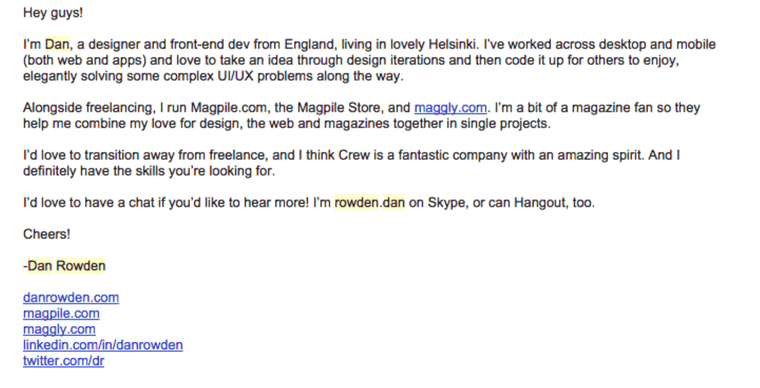 This cover letter is also for Mikael Cho's company, Crew . It emphasizes links to Dan's portfolio and best work - very important for a web developer.
Marketing Cover Letter Examples
Cover letter for a marketing position at google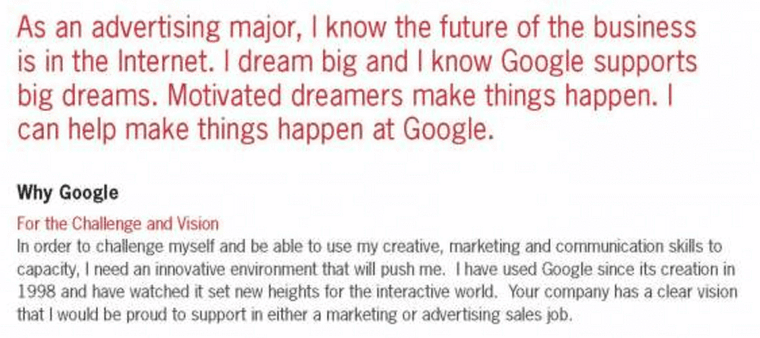 For creative positions, a creative cover letter is necessary. This cover letter mirrored the marketing materials at Google, and got the interview. View the full article here.
Sales & Business Development Cover Letter Examples
Cover letter for a business development/product specialist
Rodolphe shows how persistence and hard work can convince an employer to hire you in this cover letter to work at Buffer - a fast growing social media management platform. The full exchange is worth reading on the Buffer Blog.
Cover letter for a sales coordinator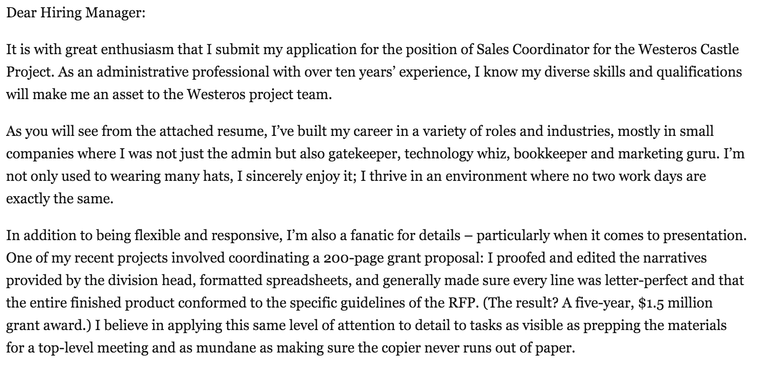 This cover letter for a sales coordinator position is closer to a traditional cover letter than the other examples. It does a fine job of outlining experience and passion for the job. View a full before-and-after analysis of this cover letter on the Ask a Manager Blog.
Use These Examples To Inform Your Own Cover Letter
Remember, the key to a good cover letter is personalization. You must market to your audience. Do the research, write well - and go get hired!
Land your dream job with VisualCV's resume and cover letter builder. Sign up below to try it for free today.