What's the best way to put a face to your resume? Taken literally, adding a headshot is certainly one way to do it—while setting yourself apart from other job seekers. But the real question is whether a CV photo makes you stand out in a positive or negative way. The answer depends on a few factors.
Why you should include a photo:
It will help build your brand.
It's beneficial for some global job seekers.
Hiring managers are drawn to images.
Why you shouldn't include a photo:
It's potentially unprofessional.
You might risk discrimination.
Space is limited.
Browse our gallery of resume examples here.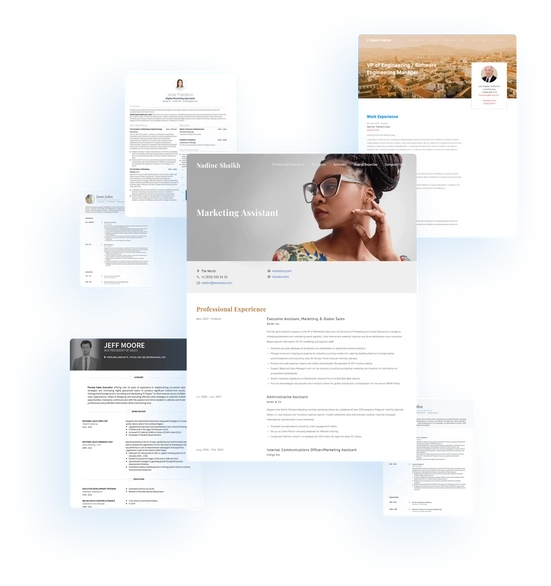 The case for adding a CV photograph
It will help build your brand.
For starters, the specific industry you work in plays an important role. People in a creative field—like graphic design, fashion, architecture, performing arts, or film—often have more freedom to express their personality in the resume, says Atkinson, NC-based professional resume writer Dawn Bugni. In other words, creative professionals have more leeway to deviate from the standard resume, which typically does not include a photograph.
Browse our gallery of resume templates here.
Still, workers in other professions might benefit from adding a cv picture. Including a picture of yourself on your resume can help you develop your personal brand. In fact, research has found that human photos online can help to build trust. And, by using the same photo that appears on your LinkedIn and social media accounts, you're establishing a consistent professional image.
Moreover, photos are commonly used to establish credibility. Case in point: many online newspapers, magazines, and other news sources now include photos of writers with each story. The Washington Post, for example, places the reporter's headshot and bio at the bottom of every article. Other media outlets, like Forbes.com and Inc.com, place the author's photo at the top of the article.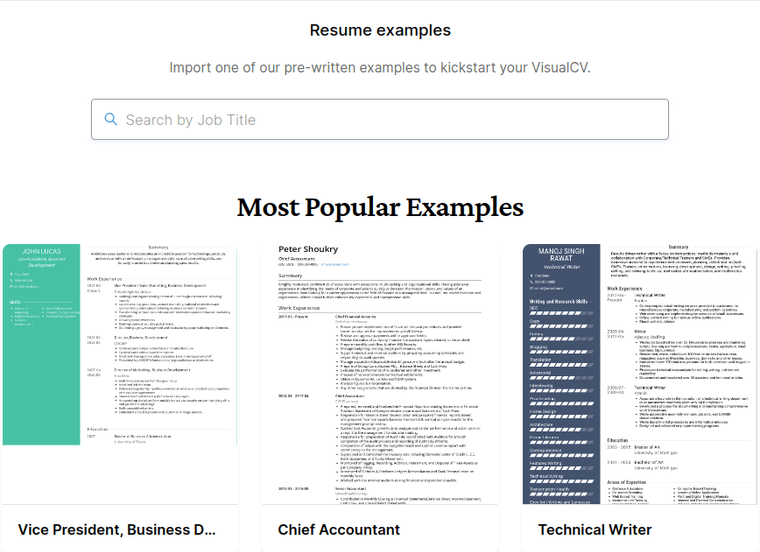 Global job seekers can benefit.
Lisa Rangel, president of Chameleon Resumes, says that while U.S. recruiters typically frown upon resumes with photos, many employers outside the U.S.—especially those in European countries, such as companies in Germany and France—expect a photo on your resume or CV. So determining whether to include a photo definitely hinges on what country you're applying for a job in. (Job seekers in the U.S. who are looking for work abroad will also need to take certain steps to break into a foreign job market.
People are drawn to images.
Today, job seekers and hiring managers alike are living in the visually driven era of social media. Just look at the popularity of platforms like Facebook and Instagram, where eye-catching photos are key to generating clicks and followers online. This directly relates to including a headshot on a CV, since hiring managers are naturally drawn to visual elements. Thus, adding a photo to your resume can potentially capture a hiring manager or recruiter's attention—and lead to a job interview.
The case against adding a photo
It's potentially unprofessional.
Some career coaches like U.S.-based Alison Green, who writes the Ask a Manager blog, say a photo never belongs on a resume—unless you're applying for a job as a model or actor (wherein not including a headshot is actually worse). According to Green, "since your appearance has nothing to do with your ability to do the job, including a photo comes across as naive and unprofessional."
You risk potential discrimination.
Northborough, MA-based resume expert Julie O'Malley says that job seekers need to consider the potential for discrimination: "It's illegal to consider factors like age, race, gender, religion, national origin, sexual orientation, or disability status in hiring decisions. So hiring authorities prefer to not 'officially' know whether you're a member of one of these protected classes," O'Malley writes. Given the possibility of a discrimination claim, some employers flat-out reject resumes with photos, O'Malley says.
In addition, Bugni says recruiters for government jobs are particularly cautious of this: "Because of the regulations governing hiring, a picture on a resume in the U.S. can actually eliminate someone from consideration during the initial screening process," she says. Indeed, according to the U.S. Equal Employment Opportunity Commission, when an employer asks for you a photograph before you're offered a job, it falls under the commission's Prohibited Employment Policies/Practices: "Employers should not ask for a photograph of an applicant. If needed for identification purposes, a photograph may be obtained after an offer of employment is made and accepted."
That being said, it's still relatively easy for recruiters to find out what job applicants look like by simply looking up their social media accounts. As a result, Bugni recommends having a professional headshot on your LinkedIn Profile and including the LinkedIn URL on your CV instead of placing the photo on your resume. (Obviously, your LinkedIn page must also be well crafted.)
You should also expect prospective employers to look you up on Google. Therefore, run a Google search for your name to see what pops up and amend accounts as needed (e.g., you may want to update your profile photo and tighten the privacy settings on your Facebook page.)
You're giving up precious real estate. Oftentimes, job seekers must condense their experience, skills, and career achievements into a one-page resume. In fact, 66% of employers said a resume should be one page long for new college graduates, according to a CareerBuilder survey. (For more seasoned workers, a two-page resume is acceptable, the survey found.) Hence, less-experienced job hunters might not be able to dedicate real estate on their resume to a headshot, since they need the space to highlight their job qualifications.
How to Take a Photo for Resume
While taking a photo for your resume make sure to use a camera that can capture high quality photos, mobile phones with good cameras would work too.
Next, ensure that your posture is right, you have a neutral expression, and are preferably standing against a white or light colored background.
What is the Right Size of a Photo on Resume
A photo for a resume for an A4 size paper typically should be 2x2 inches or less. If the image is any bigger it will overlap with the other content on your resume.
What Photo Should I Put on my CV?
A professionally taken, properly illuminated photo where the attire is either professional or business casual can be added to your CV. Depending on the resume format, you can either put a square CV photo or a circular CV photo.
What to Wear in a CV Photo?
When selecting what to wear, follow these tips:
Make sure you are dressed in a professional attire.
Avoid wearing high contrast clothing. Using neutral colors like black, gray, etc would be better.
In addition to clothing, make sure you are groomed well.
Complement your clothing with a professional demeanor. A confident posture is recommended.
Do a German CV need a Photo?
While not mandatory, a photo on a German CV helps you stand out. Contrary to what we see in North America, German employers commonly expect a photo on a CV.
Should I Include a Photo on my CV for New Zealand?
Adding a photo to your New Zealand CV doesn't hurt your chances to get hired. While including a photo on a New Zealand CV one should ensure that the photograph is professional and taken in a well lit situation.
Should I Put a Photo on my CV for the Netherlands?
It is recommended to add a Photo on CV for applying to jobs in the Netherlands. It also makes it easier for your application to become more memorable in front of employers.
How do you Make a Photo CV?
To make a photo CV simply sign-up for VisualCV and upload your photo to the resume template in a few easy to follow steps.
The verdict
The last thing you want your resume to read is "unprofessional." Translation: if you're looking for work in a conservative field like information technology, health care, or finance, it's probably best to not add a photo to your CV. However, if you're job hunting in a creative industry—or searching for work in a country where resume photos are common custom—including a photo on your resume can be an effective way to make your job application stand out.
Whether you should include a photo on your CV will also depend on where you are job searching, so spend time learning about the expectations within the countries you're applying to jobs in. The prospective employer's company culture can impact this decision as well. Therefore, do your homework on the organization before submitting your job application.
In fact, it may make sense to have two CVs ready—one that includes a headshot and one that doesn't. That way you have the option to submit whichever resume you feel is most appropriate.
CV photo tips
How do I take a CV Photo? If you would like to include a photo on your CV, you'll want to follow some basic guidelines. First, use a professional photographer. You can expect to pay anywhere from $50 to $300, but having a professional headshot will paint you in a significantly better light than if you were to have a friend or family member snap a quick photo of you. (One rule of thumb: don't take a low resolution photo of yourself using your computer's Web camera.)
You'll want to dress appropriately for your specific industry; while a scientist might wear a lab coat, a physician or nurse may be better off wearing scrubs. Photographer Scott R. Kline recommends wearing solid colors that complement your hair or eyes (i.e., someone with brown eyes might wear deep violet or purple.) Also, to prevent distractions, avoid busy backgrounds. (Read: standing against an off-white wall is ideal.)
In terms of placement, Bugni generally recommends putting the photo somewhere in the top third of the page, like this sample resume.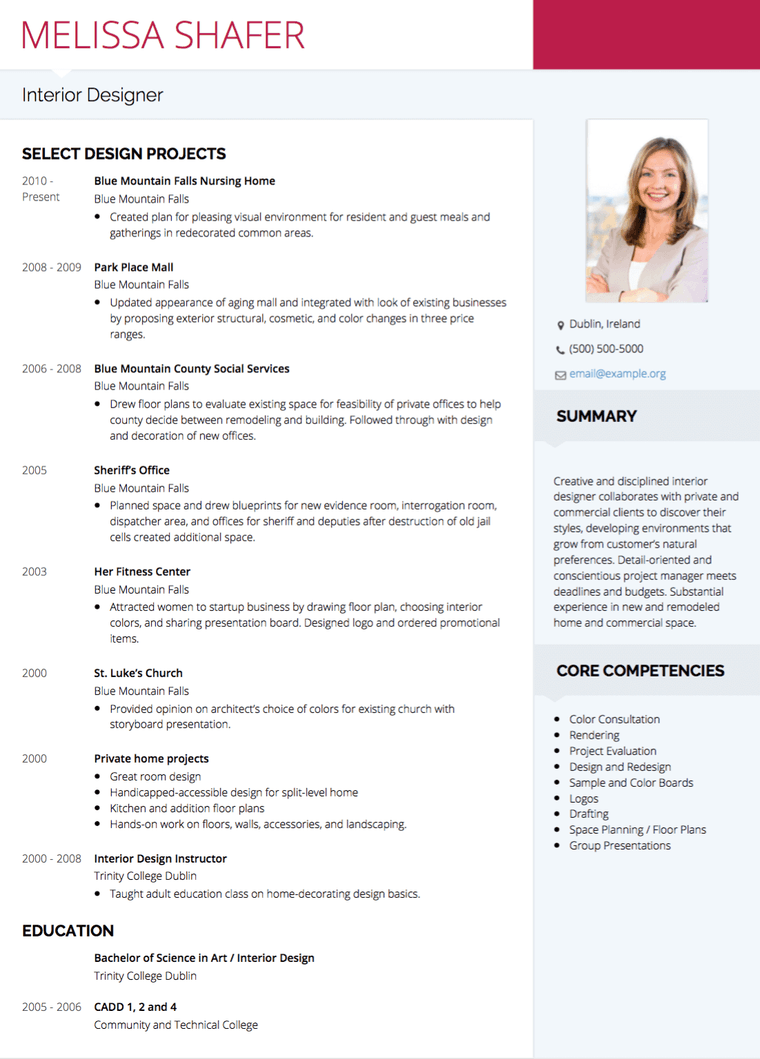 The shortcut
Want to save time? VisualCV.com has some creative solutions that are at your disposal. You can create a customizable resume with a photo using our free Slate template—or sign up for a VisualCV Pro account to gain access to our Brooklyn template, Gallant template, or Air template.
The Slate template offers a simple and efficient two-column structure that's a good fit for experienced professionals and new job seekers alike.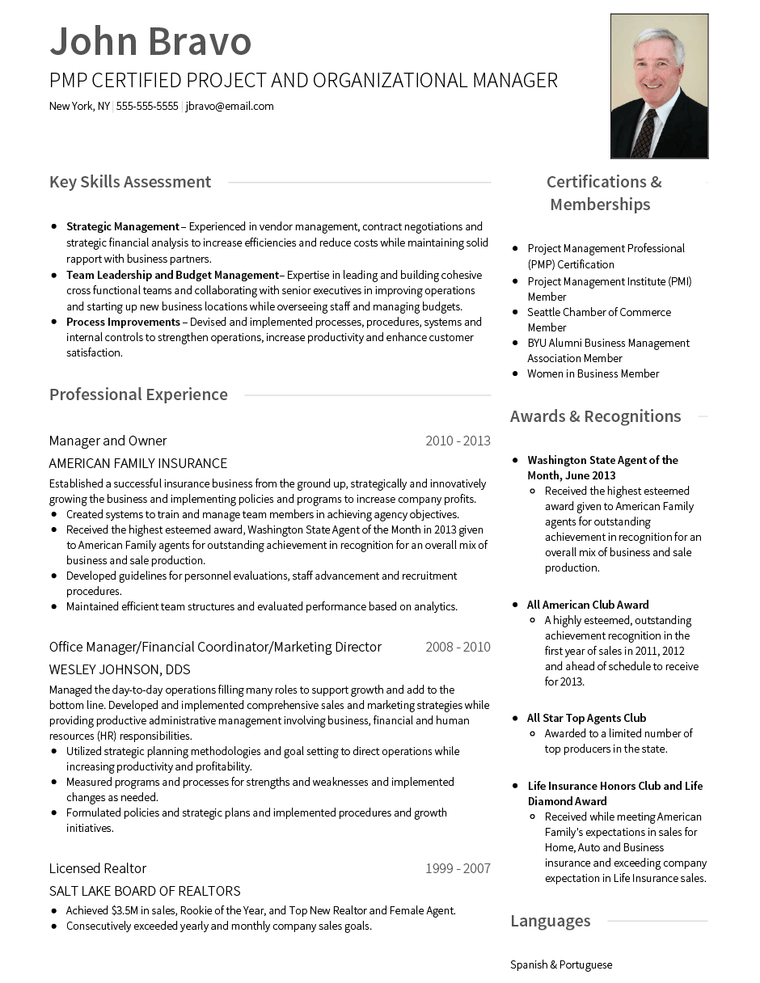 The Brooklyn template showcases skills and experience simply and professionally—and uses a dignified black-and-white header for a modern twist: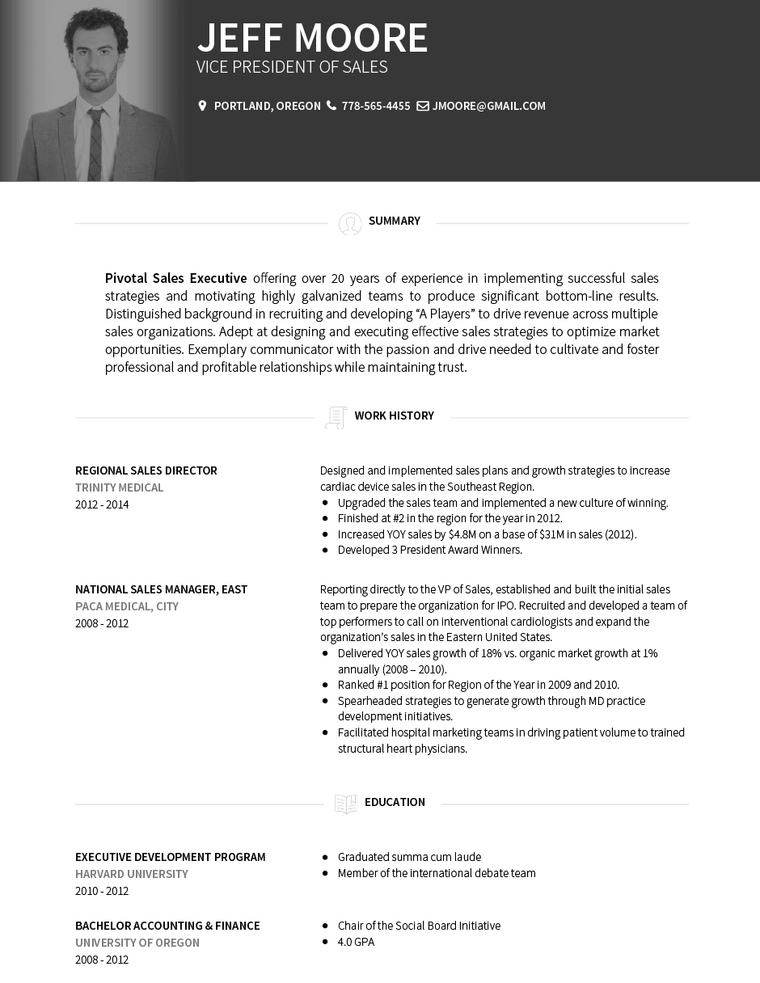 Prefer a splash of color? The Gallant template is a modern, professional template with a full column of customizable color, where you can highlight your skills and expertise: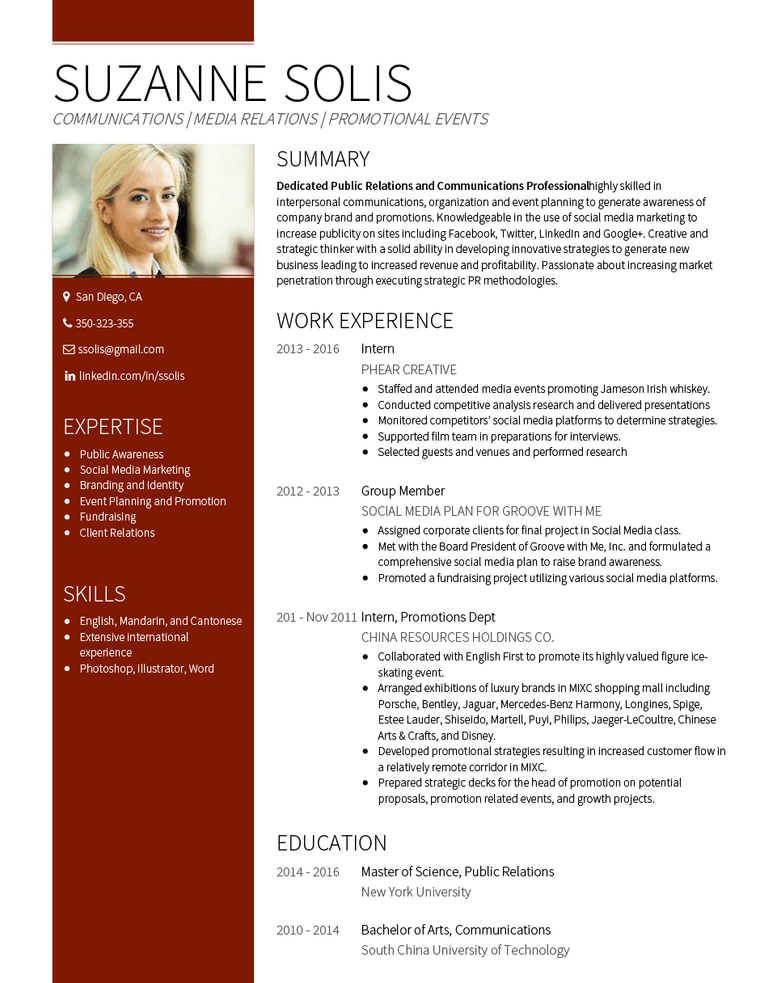 Finally, the Air has a two-tone theme and timeline-like structure that lends itself well to showcasing your experience chronologically: