How to write a student resume with no experience
Remember, no one has experience when they're just starting out in their career. Everyone's first resume has little to no experience, but they still manage to find jobs. Writing a student resume when you don't have experience is a matter of finding the right template, emphasizing the right attributes, and tailoring your skills for each role.
To get started on your resume, follow these steps:
1. Find the right resume template
When you write a student resume with no experience, the right resume template can start you off on the right foot. A template that helps you create an effective one-page resume will be an important asset to your job search.
When choosing a template for a resume with no experience, it's important to think about what industry you are applying for.
If you are applying as an intern at a law firm, or for a data-entry role at a bookkeeping company, you will likely want a more traditional template, like VisualCV's Monte or Corporate templates. These templates are simple, formal, and well-suited for more traditional industries.
If you are applying for a more creative industry, like graphic design or marketing, a more modern template would work better, like the Denali or Chloe templates. These templates feature more modern fonts and a splash of colour, so you can really let your personality show through your application.
The right template, well-designed and well-chosen for your industry, can catch an employer's eye. It can show that you are conscientious, present yourself well, and are willing to make an effort. For entry-level jobs, these qualities can be more important than experience.
2. Include your personal details
At the top of your resume, it's important to include your contact information and personal details. Without these, the employer can't contact you. Contact information includes:
Name
Phone number
Email address
City
Make sure your email address is professional. Ideally, it should use your name: firstname.lastname@email.com. A jokey or difficult email will make it harder for the employer to contact you.
Some applications may ask for a full address, but including your city of residence is usually sufficient. As long as you can make the commute, your exact address shouldn't matter.
If you have any online profiles, you may want to include them as well. If you do, however, make sure they are completely professional and don't include any embarrassing pictures, posts, or memes. Online profiles could include:
LinkedIn
Personal website
Portfolio
Twitter
Remember, anything you include on your resume has to be professional, true, and verifiable. Don't link to anything that won't help your application.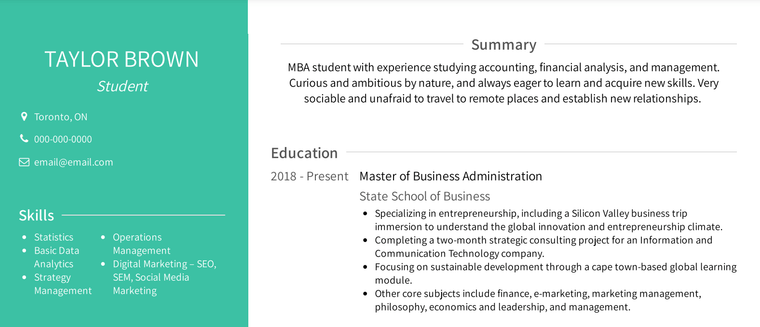 3. Emphasize your education
If you are a student looking for your first job, you have no on-the-job experience to showcase. If this is the case, your best bet is to emphasize education instead of work experience.
This is particularly true if you are a college student or a recent graduate. If you have been studying in college or university, you should have some academic experience that you can emphasize. Including details about your education is a good way to fill out a resume when you don't have experience.
When you write your Education section, begin with your most recent degree and work backwards in reverse-chronological order. If you have any post-secondary degrees, it isn't necessary to include your high school education.
For each item in your Education section, you may want to include information about the experience you had there. This might include coursework, your thesis topic or research area, or projects you were involved in. If you earned high grades, you can include your GPA as well.
When you're a college student with no experience, your education may be where most of your skills and qualifications are drawn from. That means you can afford to let this section take up space on your resume.
If you're a high school student, you may not have much you can include in your Education section. If you are applying for entry-level positions, this won't matter. You can include your GPA (if it's high), or academic awards or honours like inclusion on the Dean's List or attendance awards.
If you've worked on any major projects, you can mention this as well. The ability to work with a team is a strong asset for any resume, especially when you have no experience.
4. List experiences, any experiences
If you are a high school student who has never held a job, you might struggle to think of experience that you can include on your resume. It may well be true that you don't have any; after all, everyone has to start somewhere.
But you might have more experience than you think.
Experience can come from all sorts of places, not just jobs. You might have some resume-worthy experience already, you just hadn't thought of it. When you write your student resume, try to think of anywhere you might have gained employable experience, even if it wasn't a "real" job.
Places you might have some experience include:
Unofficial work
Even if you've never had to give an employer your social insurance number, you may have some paid work under your belt.
For many young people, their first paid work comes from doing odd jobs around the neighbourhood. If you have raked leaves, mowed lawns, painted houses, washed cars, or babysat for your neighbours, then you have work experience.
You were probably paid in cash, but work is work. Including neighbourhood work like this in your resume shows employers that you are responsible, reliable, and have an entrepreneurial spirit. These are important qualities in a first-time job-seeker.
The skills you develop in work like this can also be an asset if they are related to the job you are applying to. For example, your experience mowing neighbourhood lawns transfers directly to a role at a landscaping company.
Extracurricular activities
If you belong to any clubs or sports leagues, or if you help out with other school or community organizations, you can include this on your resume. Besides showing that you're an active member of the community with interests outside of schoolwork, the skills you develop when participating in extracurricular activities can be an important asset in the workplace.
This is particularly true if you held important roles in your extracurricular groups. If you started a school club yourself, note that you are the founder in your resume. If you were club treasurer or team captain, include it in your resume. Leadership roles like this show that you can take initiative and shoulder responsibility.
Chess club, theatre club, yearbook club: any organization where you play an active role is acceptable on your resume. Not only do these memberships show that you can work with others, they show that you are a well-rounded person with interests outside of school work.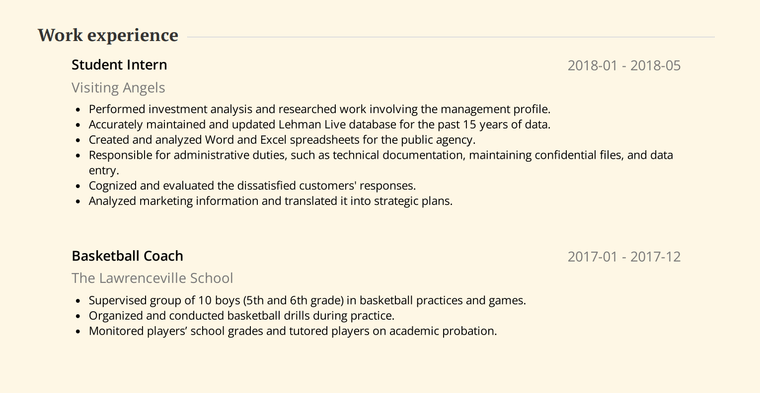 Volunteering experience
Many people get their first taste of work as a volunteer. This could be a regular volunteer position, like taking shifts at a local food bank, animal shelter, soup kitchen, or church. There may also be organizations that you can volunteer with at school, such as an advocacy group, a school club, or a charity initiative.
Even volunteering for a short time, like working the door at a school event or canvassing for a charity group for a day, can be used as experience.
Volunteering experience shows that not only can you work with others and be trusted with responsibilities, you are involved in your community and participate in the world around you.
5. Show your skills
Skills are integral to any resume. A strong set of skills is what makes you a good employee.
You may be a student with no work experience, but that doesn't mean you don't have skills. As a student, you have likely developed soft skills that make you a great employee.
This could include things like time management, teamwork, and communication. It could also include things like leadership, critical thinking, and problem-solving. The skills that make you a great student can also make you a great employee.
You might also have hard skills that you can showcase on your resume. Hard skills are the technical abilities that are specific to a particular task, like web development, welding, or accounting. If you are in school for a specific career path, you should have some hard skills that you can highlight on your resume.
When writing a Skills section for a student resume, most job-seekers use a simple bulleted list. This provides a quick and easy way for employers to scan your resume and see exactly what you are good at.
If you would like to draw more attention to your Skills section, you can format each skill as a heading and provide a description or example of each one below. When using a resume template, you can even provide strength ratings for each one. This is a great way to demonstrate your competence - and fill out the page.
6. Awards and honours
Awards and honours are recognition that you are good at something. Whether it's a Volunteer of the Month award, an award for perfect attendance, or inclusion on your school's honour roll, awards and honours look great on a resume. Even smaller awards from clubs you participate in can be included. Awards show that you excel at something, and your resume is no place for modesty.
Student no experience resume tips
Once you have all the right sections in place, your resume will be nearly finished. But there is still more work to do before you land the perfect role. When looking for jobs as a student with no experience, remember:
Apply no matter what
As a student with no experience, you might think that you just aren't qualified for anything. Well, apply anyway. You never know who else is applying or who is reading your resume. You might be the most qualified candidate, or the employer might be willing to take a chance on you based on your great resume. If you are applying for entry-level positions, the employer might not expect much experience anyway.
Customize your resume
Every time you apply for a job, you should tailor your resume to suit the requirements.
Every job posting will have different skills and qualifications that they are looking for. When you send your application, you have to make sure that your resume is perfect for that position. A generalized resume that you use for all applications won't be specific enough to the position to be successful.
To customize your resume, read the job description carefully. It will have descriptions of the skills and requirements for the position. Then, edit your resume so that it fits the description as closely as possible. Don't lie, or even exaggerate, but make sure your resume uses the same language as the job description to highlight your skills. Targeting the specific role with your resume is the best way to ensure a successful job search.
Beat the ATS
The ATS, or Applicant Tracking System, is a type of software that many companies use to manage their hiring process. The ATS will scan your resume, take note of all the keywords, and decide whether to pass your application along to a hiring manager.
If the company you are applying to uses an ATS, make sure your resume is built to get past it.
To do this, make sure your resume has all the right keywords. The ATS will be scanning your skills and experience for particular words and phrases. Make sure your resume uses similar language to the job description so the ATS finds what it's looking for.
Then, make sure you are using an ATS-friendly resume template. A great ATS template will be simple and well-structured, and avoid complex formatting elements like tables and text boxes. At VisualCV, templates like the ATS template are ideal for ATS applications.