Though less common than other resume formats, a skills-based resume can be useful for some job seekers. Your skill set is the most important aspect of your candidacy, and the strict format of a typical reverse-chronological resume may not suit all career paths.
Recommended links:
Our collection of 500+ professional resume examples.
Our gallery of 20+ downloadable resume templates.
If you would prefer to emphasize skills over your previous roles, writing a skills-based resume can be an effective way to showcase your capabilities and demonstrate that you are right for the job.
What is a skills-based resume?
A skills-based resume is a resume that emphasizes skills and abilities over work history. In a skills-based resume, the Skills section comes before the Work History section and takes up the most space. It is used by job-seekers to foreground their core skills when they feel that those will be more impressive to employers than their previous roles.
Sometimes called a functional resume, a skills-based resume may not have a large, ordered Work History section, unlike the more common reverse-chronological resume. Instead, the Work History is smaller, and previous roles can be grouped according to the type of job. This makes the timeline of your career less clear, but allows relevant skills to take precedence.
By abandoning the reverse-chronological resume, you can be more creative in how your career is displayed, and make sure the right skills are emphasized. Depending on your career, this can be a useful resume strategy.
A skills-based resume is not ideal for most job-seekers, however. Some employers are sceptical of resumes that don't have an ordered Work History section, as they can be used to obscure unfavourable details of your career. If you decide to use a skills-based resume, be certain that it's the right choice for your situation.
For a skills-based resume to work for you, your skills really do need to be impressive enough that they compensate for a de-emphasized Work Experience section. A skills-based resume has to be highly customized, so that the skills are perfect for the specific role, and can't have any vague or irrelevant skills. What you bring to your next role has to be extremely clear to anyone who reads your resume.
(If you want to emphasize skills but prefer not to use a skills-based resume, you may want to write a combination resume instead. A combination resume combines both the functional and reverse-chronological resume formats, giving space to both skills and an ordered work history section.)
When should you write a skills-based resume?
In most situations, it's best to use a reverse-chronological or combination resume. Employers usually expect to see an ordered Work Experience section, and skills can be emphasized easily using a combination format. There are some circumstances, however, where a skills-based resume could be considered.
You are changing careers
If you are in the middle career and looking to enter a new industry, you may want to use a skills-based resume. This format will allow you to emphasize the abilities that you are bringing to your new career, even if your previous positions weren't directly relevant.
You are new to the workforce
If you are a recent graduate or are looking for your first job, a skills-based resume can be a useful format. Even when you don't have much experience, you can emphasize the skills and abilities that you acquired in other areas, such as in school, while volunteering, or in entry-level jobs.
There are long gaps in your work history
If you are entering the workforce after a long sabbatical, or if your work experience contains a noticeable gap that is difficult to explain, leading with your skills can be a good way of putting your best qualities first. This shouldn't be used to hide your work history; it's simply a way of putting emphasis on the right things.
You change jobs frequently
Short stints at several jobs can make employers wary. If you haven't held a job for longer than a year or two, emphasizing skills can help reassure employers that you are worth the investment.
How to write a skills-based resume
The most important section of a skills-based resume is, of course, the skills section, but the other sections should all be great too.
The Skills section
In a skills-based resume, the Skills section (or sections) is the most prominent. Placed at or near the top of your resume, your Skills section should demonstrate the most important and most relevant skills that you will bring to your next role.
It's important to carefully select the skills you emphasize. They should be directly relevant to the job you are applying to and show that you have what the company is looking for. Research the company, the job posting, and similar roles to get a sense of what they need and what you can bring.
Once you have selected the skills you are going to emphasize, use concrete examples and quantifiable data as much as possible. Projects you have led, goals you have met, and sales targets you have exceeded are all accomplishments that can clearly demonstrate some of your skills.

If you have multiple skill areas that you want to showcase, you can also split your skills into multiple sections. For example, you could include a section for leadership and a section for programming specialties, or a section for soft skills and one for technical skills. This gives you the space and structure to cover all of your best qualities.
The Work Experience section
The Work Experience section in a skills-based resume can be shorter than it would be in a reverse-chronological resume. It only needs to give the company and job title of previous positions, with a brief description of each role. The bulk of your achievements will have been shown in the expanded Skills section instead.
This Work Experience section can be organized in the typical reverse-chronological fashion, beginning with your most recent position and working backwards. This is the most common format, and the one employers expect.
If your experience has been varied, or if you have made large career changes, a skills-based format allows you to group your work experience by theme. For example, you could have a Work Experience section containing only your most recent position, followed by a Previous Experience section that quickly notes your older, less relevant experience. This can work for people who are changing careers, or who have held many different types of jobs.
The rest of the resume
The remainder of your skills-based resume can be formatted much like any other resume.
Open your resume with your name and contact information, as well as a great professional summary. Include any other sections that you think will help your application, such as volunteering experience, professional memberships, or a portfolio. Any relevant and impressive detail that shows your skills will look great in a resume, no matter the format.
For more tips on writing a great resume, check out our resume guide.
Skills-based resume example template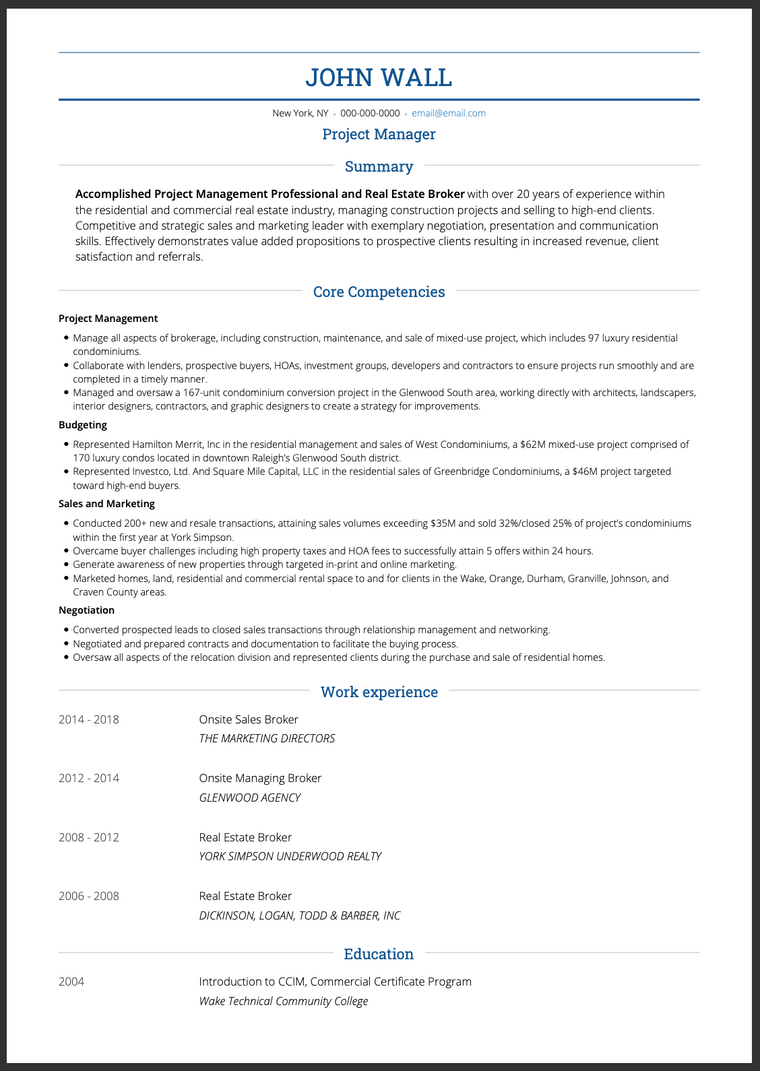 Summary
Accomplished Project Management Professional and Real Estate Broker with over 20 years of experience within the residential and commercial real estate industry, managing construction projects and selling to high-end clients. Competitive and strategic sales and marketing leader with exemplary negotiation, presentation and communication skills. Effectively demonstrates value added propositions to prospective clients resulting in increased revenue, client satisfaction and referrals.
Core Competencies
Project Management
Managed all aspects of brokerage at Glenwood Agency, including construction, maintenance, and sale of mixed-use project, which included 97 luxury residential condominiums.
Collaborated with lenders, prospective buyers, HOAs, investment groups, developers and contractors to ensure projects ran smoothly and were completed in a timely manner.
Managed and oversaw a 167-unit condominium conversion project in the Glenwood South area, working directly with architects, landscapers, interior designers, contractors, and graphic designers to create a strategy for improvements.
Budgeting
Represented Hamilton Merrit, Inc in the residential management and sales of West Condominiums, a $62M mixed-use project comprised of 170 luxury condos located in downtown Raleigh's Glenwood South district.
Represented Investco, Ltd. And Square Mile Capital, LLC in the residential sales of Greenbridge Condominiums, a $46M project targeted toward high-end buyers.
Sales and Marketing
Conducted 200+ new and resale transactions, attaining sales volumes exceeding $35M and sold 32%/closed 25% of project's condominiums within the first year at York Simpson.
Overcame buyer challenges including high property taxes and HOA fees to successfully attain 5 offers within 24 hours at York Simpson.
Generated awareness of new properties through targeted in-print and online marketing.
Marketed homes, land, residential and commercial rental space to and for clients in the Wake, Orange, Durham, Granville, Johnson, and Craven County areas.
Negotiation
Converted prospected leads to closed sales transactions through relationship management and networking.
Negotiated and prepared contracts and documentation to facilitate the buying process.
Oversaw all aspects of the relocation division and represented clients during the purchase and sale of residential homes.
Work experience
Onsite Sales Broker
THE MARKETING DIRECTORS
Onsite Managing Broker
GLENWOOD AGENCY
Real Estate Broker
YORK SIMPSON UNDERWOOD REALTY
Real Estate Broker
DICKINSON, LOGAN, TODD & BARBER, INC
Education
Introduction to CCIM, Commercial Certificate Program
Wake Technical Community College
Skills
Communication
Marketing Acumen
Training & Development
New Product Development
Strategic Business Planning
Team Player & Quick Learner
Account/Program Management
Building Beneficial Relationships
Analysis & Information Gathering