A combination resume joins the best qualities of the reverse-chronological and functional resume formats. It allows job-seekers to foreground their skillset, as with a functional resume, but it doesn't sacrifice the simple organization of a reverse-chronological resume.
Recommended links:
Our collection of 500+ professional resume examples.
Our gallery of 20+ downloadable resume templates.
For the right job-seeker, a combination resume can be an important asset. But before you write a combination resume, it's important to know how to make the most of it.
What is a combination resume?
Combination resumes combine the features of reverse-chronological resumes and functional resumes.
In a reverse-chronological format, the work History section is the most prominent part of the resume. Work experience is listed in order, beginning with the most recent position, and each role is described in detail.
In a functional resume, skills and competencies are emphasized over work experience. Functional resumes foreground the Skills section and group work experience together according to the skills required, rather than in order.
A combination resume emphasizes your skills like a functional resume, but also features a reverse-chronological work experience section. The prominent Skills section allows you to showcase your best and most relevant abilities, and the Work History section gives employers a clear timeline of your past positions.
Why should you write a combination resume?
A combination resume gives you more control over what skills employers will notice when they read your resume. These may be technical skills important for the job you are applying to, transferable skills from a previous career, or any other relevant skill set. By emphasizing your abilities separately from your work experience, you can ensure that employers know what you can do without having to scour previous positions for details.
Further, the reverse-chronological work experience section of a combination resume gives employers a clear picture of your previous positions. Unlike a functional resume, which can make the timeline of your career more confusing, a combination resume ensures that the dates of each position are easy to read.
Who should use a combination resume?
While combination resumes may not be ideal for all job-seekers, there are some circumstances where they can be very useful. If you are in any of these situations, consider using a combination resume for your next job application:
You are changing careers
Combination resumes are a great way to show the transferable skills you gained in a previous industry. With its emphasis on abilities rather than past positions, a combination resume allows you to pick out the best skills from your work history and make sure they are visible right at the top of the resume.
A combination resume should not be used to obscure the fact that you are changing careers, however. It should be used to foreground what you are able to do, while letting your less relevant experience take a back seat.
You have gaps in your work history
If you have had long periods of unemployment, your work history may be difficult to display in a reverse-chronological resume. A combination resume will allow you to begin with a strong skills section that showcases your abilities so that the gaps in your employment won't be the first thing employers see.
The gaps will still be visible in your work history section, and your employer may have questions. A combination resume simply gives you the power to show off your skills right away.
You have a history of job-hopping
If you have held several positions with short tenures, it may be a good idea to emphasize your skills and achievements separately from your work experience. Employers are looking to make long-term investments in their employees, and they can be wary of people who haven't held a job for long. With a combination resume, you can ensure that your most impressive skills are the first thing they read.
You have many years of experience
When you have been working for more than a decade in the same industry, the list of jobs you have held can become long. This is impressive, but the most relevant experience can be difficult to pick out. With a combination resume you can make sure that your most relevant skills and accomplishments are easy to find right at the top of your resume, without the employer having to read through your entire resume.
How to write a combination resume
Now that you know whether or not a combination resume is right for you, it's time to get writing.
Like all resumes, your name, phone number, and email address should all be easy to find at the top of your resume.
2: Skills
The most important section on your combination resume is your Skills section. This section is located near the top of your resume, and it should demonstrate the depth and breadth of your abilities.
You can title it Key Skills, Core Competencies, Qualifications Summary, or whatever best fits your experience and your resume.
If you have more than one skill area you would like to showcase, you can separate the Skills section into different categories. For example, splitting your skills among Web Development, Project Management, and Data Analysis headings lets the employer know where to look for each skill.
Your Skills section can include technical skills and soft skills, and should use active language to describe your abilities. Remember to customize your skills section for every application so you know that the skills you highlight are the right ones for the role.
3: Work History
Your work experience can be shorter than it would be in a reverse-chronological resume, but it is still important. List past positions in order and give each item a brief description. Use quantifiable information to demonstrate your accomplishments and responsibilities, and be sure to include the titles and dates of each role.
4: Education
Your Education is important, but this section can be brief. List your degrees in reverse-chronological order, and only include your GPA if you are a recent graduate and it is higher than 3.5.
5: Optional Sections
If you have other information that doesn't fit into the sections above, new sections can be added to accommodate that. A summary, a portfolio section, a certifications section, or a volunteering experience section can all be great additions to a resume. As long as your resume isn't too long, include the sections you need to make the best case for yourself.
Combination resume example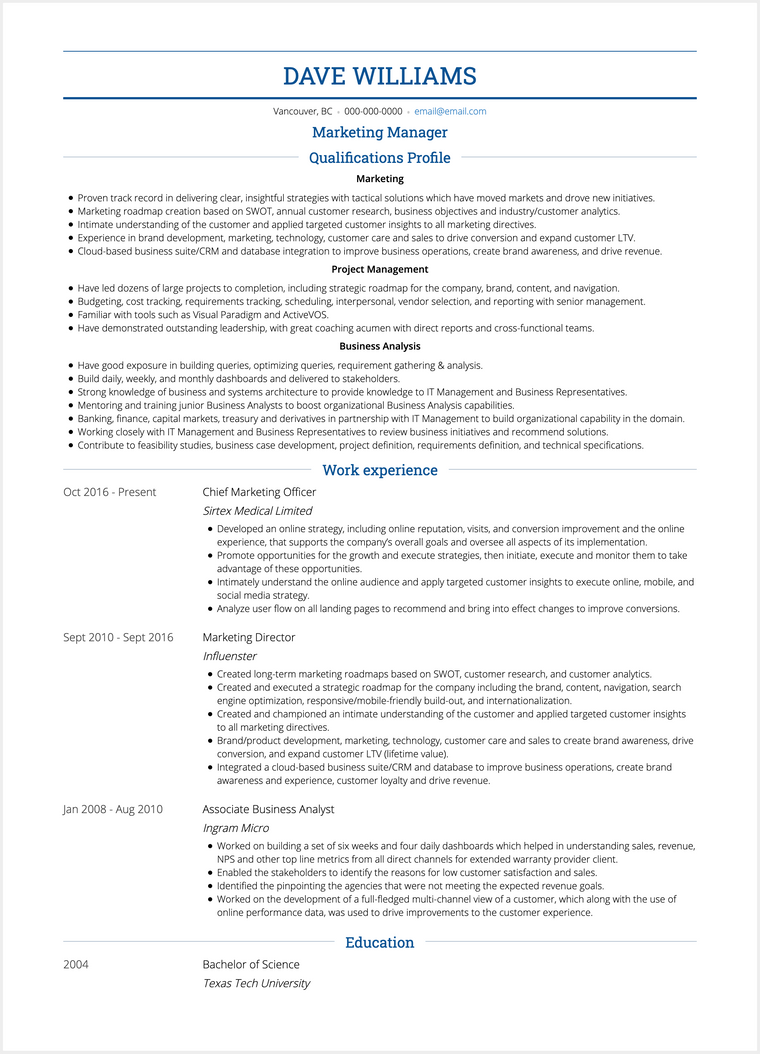 Marketing Manager resume example
Qualifications Profile
Marketing
Proven track record in delivering clear, insightful strategies with tactical solutions which have moved markets and drove new initiatives.
Marketing roadmap creation based on SWOT, annual customer research, business objectives and industry/customer analytics.
Intimate understanding of the customer and applied targeted customer insights to all marketing directives.
Experience in brand development, marketing, technology, customer care and sales to drive conversion and expand customer LTV.
Cloud-based business suite/CRM and database integration to improve business operations, create brand awareness, and drive revenue.
Project Management
Have led dozens of large projects to completion, including strategic roadmap for the company, brand, content, and navigation.
Budgeting, cost tracking, requirements tracking, scheduling, interpersonal, vendor selection, and reporting with senior management.
Familiar with tools such as Visual Paradigm and ActiveVOS.
Have demonstrated outstanding leadership, with great coaching acumen with direct reports and cross-functional teams.
Business Analysis
Have good exposure in building queries, optimizing queries, requirement gathering & analysis.
Build daily, weekly, and monthly dashboards and delivered to stakeholders.
Strong knowledge of business and systems architecture to provide knowledge to IT Management and Business Representatives.
Mentoring and training junior Business Analysts to boost organizational Business Analysis capabilities.
Banking, finance, capital markets, treasury and derivatives in partnership with IT Management to build organizational capability in the domain.
Working closely with IT Management and Business Representatives to review business initiatives and recommend solutions.
Contribute to feasibility studies, business case development, project definition, requirements definition, and technical specifications.
Work experience
Chief Marketing Officer
Sirtex Medical Limited
Developed an online strategy, including online reputation, visits, and conversion improvement and the online experience, that supports the company's overall goals and oversee all aspects of its implementation.
Promote opportunities for the growth and execute strategies, then initiate, execute and monitor them to take advantage of these opportunities.
Intimately understand the online audience and apply targeted customer insights to execute online, mobile, and social media strategy.
Analyze user flow on all landing pages to recommend and bring into effect changes to improve conversions.
Marketing Director
Influenster
Created long-term marketing roadmaps based on SWOT, customer research, and customer analytics.
Created and executed a strategic roadmap for the company including the brand, content, navigation, search engine optimization, responsive/mobile-friendly build-out, and internationalization.
Created and championed an intimate understanding of the customer and applied targeted customer insights to all marketing directives.
Brand/product development, marketing, technology, customer care and sales to create brand awareness, drive conversion, and expand customer LTV (lifetime value).
Integrated a cloud-based business suite/CRM and database to improve business operations, create brand awareness and experience, customer loyalty and drive revenue.
Associate Business Analyst
Ingram Micro
Worked on building a set of six weeks and four daily dashboards which helped in understanding sales, revenue, NPS and other top line metrics from all direct channels for extended warranty provider client.
Enabled the stakeholders to identify the reasons for low customer satisfaction and sales.
Identified the pinpointing the agencies that were not meeting the expected revenue goals.
Worked on the development of a full-fledged multi-channel view of a customer, which along with the use of online performance data, was used to drive improvements to the customer experience.
Education
Bachelor of Science
Texas Tech University