Optometrists are health care professionals that specialize in eye care and vision-related conditions and illnesses. If you are applying for one of these positions, you'll need to know how to write an optometrist CV that showcases your experience, skills, and education. Optometrists need a high level of knowledge and professionalism, and your CV needs to reflect this.
Some optometrists work in private medical practices, while others work for eye care chains. Eye care is an important part of the healthcare system, and there will always be demand for optometrists. As a result, there is a lot of competition for these roles, even though it can take as much as nine years to become qualified.
As this is such an important job, your optometrist CV needs to communicate great attention to detail, impressive education and experience, and sound judgement. These characteristics will be vital if you want a successful career.
This article will discuss:
How to write an optometrist CV
What sections to include in your optometrist CV
Optometrist CV templates
Optometrist CV examples
Tips and tricks to help you impress hiring managers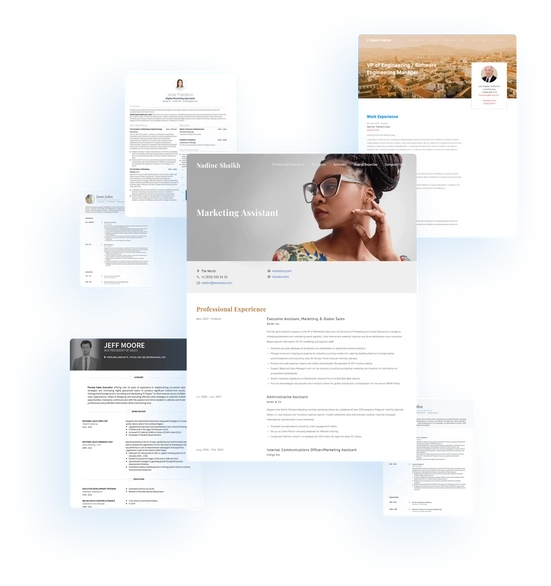 #1. Pick a great optometrist CV template
Presentation is integral to a successful optometrist CV. If you want to make sure your CV looks great, start with a great CV template.
While your skills and experience are ultimately what will land you an interview, you need to make sure those qualifications are easy for hiring managers to quickly scan and understand. Your CV has to be well-organized, readable, and eye-catching.
VisualCV's ATS, Standard, and Corporate templates, for example, offer great designs to get started on your optometrist CV. With these templates, you can ensure that your CV is structured well, uses a modern and legible typeface, and has subtle colours that draw but don't distract the eye.
It's important to start any CV with your contact information. Any hiring manager who sees your CV should know exactly how to reach out to you.
When you write your CV, make sure to include:
Name
Location
Telephone number
Email address
When listing contact information, be smart about which details you include. For example, don't give your work number or your work email address. You don't want to use any of your current company's tools when you're job searching.

When you do use your personal contact information, however, make sure it's appropriate. Your email address should be simple and professional: something like firstname.lastname@email.com. Informal or jokey emails will make you look unprofessional.
If you have professional online profiles, such as LinkedIn or Twitter, you can include them in your contact information section as well. If you do, however, make sure that all of your pictures and posts are appropriate for work. Inappropriate social media content is more than enough to disqualify you for an optometrist position.
#3. Write a great summary
In a CV, a Summary is a short section near the top of the page that offers a snapshot of your qualifications. It is your elevator pitch to employers, consisting of three or four sentences or bullet points that summarize your skills, experience, and a few important highlights.
Your Summary section should appear right below your name and contact details. This section plays a critical function because it is one of the first things a hiring manager will look at when evaluating your CV. Hiring managers only spend a few seconds evaluating each CV, so you want to make sure this section is good enough that they want to keep reading.
One way to do this is to customize your Summary section for the specific job. Read the job posting and research the company so you know exactly what they're looking for, then tailor your summary to suit those requirements. This way, you can highlight the skills and experience that make you an excellent candidate for that particular job.
If you aren't sure what skills or achievements to highlight in your summary, another strategy is to write your summary last. This way, you will already have brainstormed all your best achievements from past positions and you will know which qualifications deserve the most attention.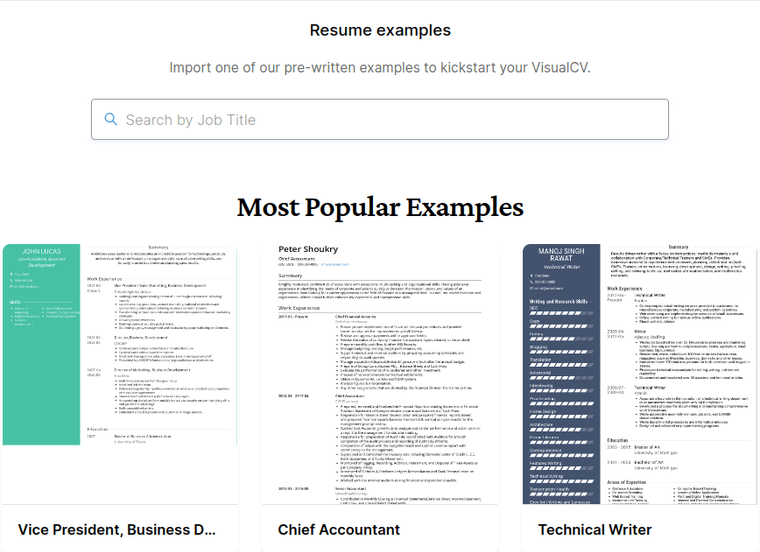 Optometrist CV summary example:
Dedicated and personable optometrist with 10+ years experience in a private optometry facility. Expert at evaluating and treating ocular pathologies with a careful and considered approach. Proven track record with consistently satisfied clients.
#4. Showcase your work experience
Your Work Experience section is the most important part of your CV. This is where you can demonstrate that you have succeeded in previous roles and highlight your most impressive achievements.
When you write your Work Experience section, list past jobs in reverse-chronological order, beginning with your most recent position and working backwards.
For each job in your work history, be sure to include:
Job title
Company name
City and state/province
Dates of employment
Job description and achievements
When you write each job description, remember to make each job sound as impressive as possible. A boring list of responsibilities isn't going to impress an employer. Emphasize the active role you took in being the best employee possible in all of your past roles. Use active language to show that you provided value, improved your work environment, delighted customers, or demonstrated strong leadership. Active verbs like accelerated, built, spearheaded, and oversaw all show that you can take initiative and succeed.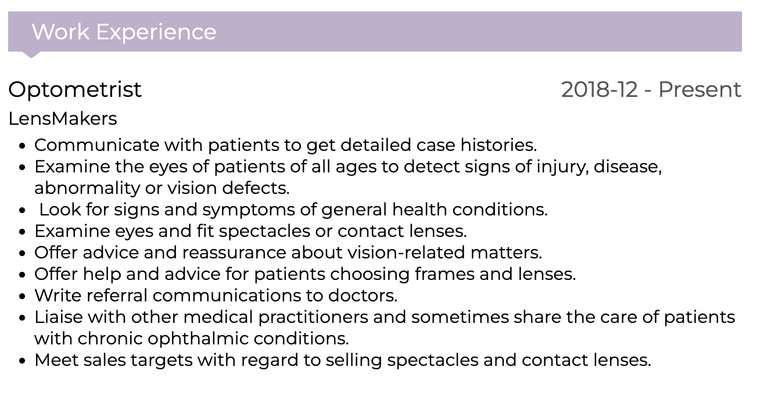 Where possible, you should also provide numbers to prove your accomplishments. Quantifiable achievements, like the number of clients you had, patient satisfaction scores, or eyeglass sales, can all be useful to employers. Numbers and percentages are a concrete way to show that you are a great optometrist.
If you are new to the field, or if you only recently earned your licence, you may want to list internships, work placements, or residencies in your Work Experience section. If you have been in the field for a long time, your previous jobs may be enough.
Optometrist CV work experience example:
Optometrist
The Eye Store
Performed eye examinations to determine prescriptions and treatments
Interviewed and examined an average of 15 patients daily, adhering to a high standard of care
Maintained a strong patient base and increased client visits by 25% due to recommendations and referrals
Diagnosed eye conditions, such as glaucoma, colour blindness, and myopia and provided medical referrals or prescription medicine for treatments with a success rate of 83%
Liaised with local Ophthalmologists to refer patients with pathological conditions
Onboarded and mentored junior and Optometrist technicians
Assisted with administrative tasks and appointment setting when required
#5. Show your education
Becoming an optometrist takes a lot of work. To qualify for a licence, you typically need a graduate degree, as well as a four-year Doctor of Optometry program.
Your education should list both of these qualifications, plus the name of the institutions and the dates you attended. Because you have a degree and postgraduate program, you don't need to include your high school education.

In the US and Canada, optometrists also need a licence from the National Board of Examiners in Optometry. You can include this in your Education section, but if you have a lot of certifications, it may be worth listing them in a dedicated Licences or Certifications section.
Optometrist CV Education section example:
Education
Doctor of Optometry Ferris State University, MI 2012 - 2016
BSc in Biology University of Michigan, MI 2009 - 2012
#6. List your optometry skills
Your Skills section is almost as important as your Work Experience section. I's where you can list your most impressive skills in a simple, readable way.
Your skills section should be a mix of your technical abilities, as well as the soft skills that make you a valuable candidate. Optometry is a people-facing role, so you should emphasize your ability to talk to patients and deliver effective care.
Optometrist CV skills section example:
Skills
Excellent customer service skills
Attention to detail
Patient counselling
Vision therapy
Preventative care
Teamwork
Record keeping
Visual hygiene
Diagnostic testing
Lense fitting
Upselling eye care products
Punctuality
#7. Customize your CV
Every job is unique. Each company has its own office organization, role requirements, and company culture. As a result, the same job title within different businesses could require different skills, tasks, and responsibilities.
This means you need to customize your CV for every application.
Writing a generic CV and using it for every application is a missed opportunity. Hiring managers aren't just looking for any optometrist; they are looking for someone who will suit their specific requirements.
To make sure your CV suits the specific job you are applying to:
Read the job description closely and pick out keywords, phrases, and required responsibilities
Research the company so you know about its culture, mission statement, and future plans
See how current or former employees talk about the company
When you've collected all this information, think about your own work experience and skills. Then customize your CV to reflect the type of employee that the organization wants. Obviously, you should never pretend to be something you are not or make up specific experiences; however, you should highlight the specific things that make you a valuable candidate for this employer. Tailoring your CV for this specific position is the best way to land an interview.
Optometrist CV example
OPTOMETRIST
SUMMARY
Seeking primary care optometry position in an organization where I would can expand my skills into a more medically oriented practice. I like finding and helping children with binocular vision problems that hinder their academic progress. Hard-working, energetic, and flexible persona with excellent critical thinking skills. Perform well in high-pressure, fast-paced environments utilizing exceptional multitasking and time management skills while maintaining strong patient advocacy. A competent team member able to communicate effectively and deliver safely. Paying attention to detail involves listening to what is going on in a patient's life and understanding exactly what the healthcare plan is. I believe optometrists must constantly educate themselves on what the best practices are and share this information with the patient and healthcare team.
WORK EXPERIENCE
LENSMAKERS Optometrist
Communicate with patients to get detailed case histories.
Examine the eyes of patients of all ages to detect signs of injury, disease, abnormality or vision defects.
Look for signs and symptoms of general health conditions.
Examine eyes and fit spectacles or contact lenses.
Offer advice and reassurance about vision-related matters.
Offer help and advice for patients choosing frames and lenses.
Write referral communications to doctors.
Liaise with other medical practitioners and sometimes share the care of patients with chronic ophthalmic conditions.
Meet sales targets with regard to selling spectacles and contact lenses.
AMERICA'S BEST OPTICAL Optometrist
Provided eyeglass and contact exams.
Leased with America's Best Optical.
Worked as relief-fill in for other optometrists with commercial contracts at Lens crafters and Walmart.
Chapter S corporation for optometric fees.
Administered medications and pain management according to care plan instructions.
Implemented patient care in accordance with established policies and procedures.
Monitored and communicated patient conditions using computerized documentation systems.
Delivered thorough patient evaluations, collecting and prioritizing data to effectively provide care for patients.
Assisted in developing care plans and appropriate medical interventions, conferring with physicians.
Performed comprehensive health assessment and health histories.
Trained as a Meditech "Superuser" to assist others in learning how to properly document and find information on a newer version of Meditech live.
EDUCATION
UNIVERSITY OF ALABAMA SCHOOL OF OPTOMETRY Doctor of Optometry
SKILLS
Leadership
Adaptability
Critical thinking
Problem solving
Communication
Strategic thinking
Strong work ethic
Handling pressure
Time management
Relationship building