If you want to apply for a position in the nursing sector, one of the first things you have to do is write a nursing CV. Nurses are always in demand, so with the right nursing CV you'll have your next nursing job in no time.
To learn how to write a nursing CV, you'll have to figure out what CV template to use, what CV sections to include, and how to format them.
This article will discuss:
How to write a CV for nurse practitioner jobs and other nursing roles
How to format a nursing CV
What sections to include on a nursing CV
Nursing CV templates
Nursing CV examples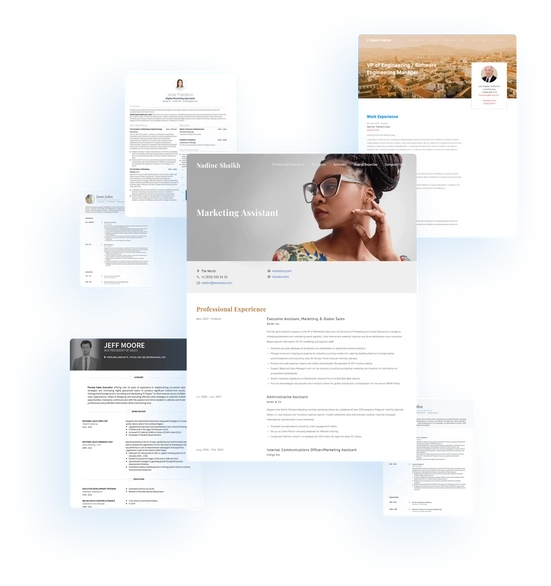 Nurse CV example
Summary
An enthusiastic healthcare provider with experience delivering high quality and patient-centred care in a variety of settings.
Exhibit critical-thinking abilities with excellent interactions with patients, their relatives, and staff.
Demonstrate effective communication and collaboration skills within teams, cultivating team spirit within the workflow.
Perform well in high-pressure conditions
Demonstrates exceptional time management skills while maintaining strong patient advocacy ability.
Dedicated to the protection of patients' dignity, rights, health and well being.
Work Experience
Registered Nurse
Medical Staffing Solutions, USA
Administer medications and pain management in accordance with care plan instructions.
Provide patient care in accordance with established policies and procedures.
Monitor and communicate patient conditions.
Perform patient evaluations.
Collect and prioritize data to effectively provide care for patients.
Assist in developing care plans and appropriate medical procedures for patients.
Collaborate with physicians.
Maintain patient records within the electronic medical record (EMR) system.
Perform comprehensive health assessments and health histories.
Respond to changes in patients' conditions and record any actions taken.
Provide emotional support to patients and their relatives by identifying barriers to effective communication.
Ensure all patients' hygiene needs are met.
Promote confidentiality, dignity, and patient choices at all times.
Assist patients with their nutritional requirements as necessary.
Nursing Assistant
Volunteers of America
Answered patients call signals to determine patient needs.
Provided physical support to patients in performing daily living activities.
Measured and recorded patient food, liquid intake, and urinary and fecal output.
Observed or examined patients to detect symptoms that might require medical attention such as bruises, open wounds, or blood in urine.
Staff Nurse
Berkshire Healthcare
Administered medications and pain management in accordance with care plan.
Implemented patient care in accordance with established policies and procedures.
Monitored and communicated patient conditions.
Delivered through patient evaluations, collecting and prioritizing data to effectively provide care for patients.
Assisted in developing care plans and appropriate medical attention, conferring with physicians.
Maintained patient records within the electronic medical record (EMR) system.
Performed comprehensive health assessment and health histories.
Monitoring and recording routine observations, responding to changes in the patient's condition and reporting any action taken.
Co-operated with other clinical staff as part of the multi-disciplinary team in activities designed to extend personal knowledge and skills.
Achieved to provide emotional support to patients and their relatives by identifying barriers to effective communication.
Ensured all patients' hygiene needs met promoted confidentiality, dignity, and choices at all times.
Effectively participated in the supervision of junior staff in conjunction with the senior nurses and ward managers.
Patient Flow Coordinator
HCR ManorCare Inc.
Supervised 25 union and nonunion full-time employees.
Dispatched transport requests via Teletracking software, Cisco phone system, web paging network.
Responsible for determining overtime staffing needs.
Provided customer service for the department in conjunction with the hospital.
Created daily reports quantifying productivity.
Education
Bachelor of Science
Stanford University
Skills
Administration of medication
Patient education
Catheterization and irrigation
Patient confidentiality
Phlebotomy
Time management
Communication
Certifications
Certificate in Gerontology for Nurse Practitioners
University of Pittsburgh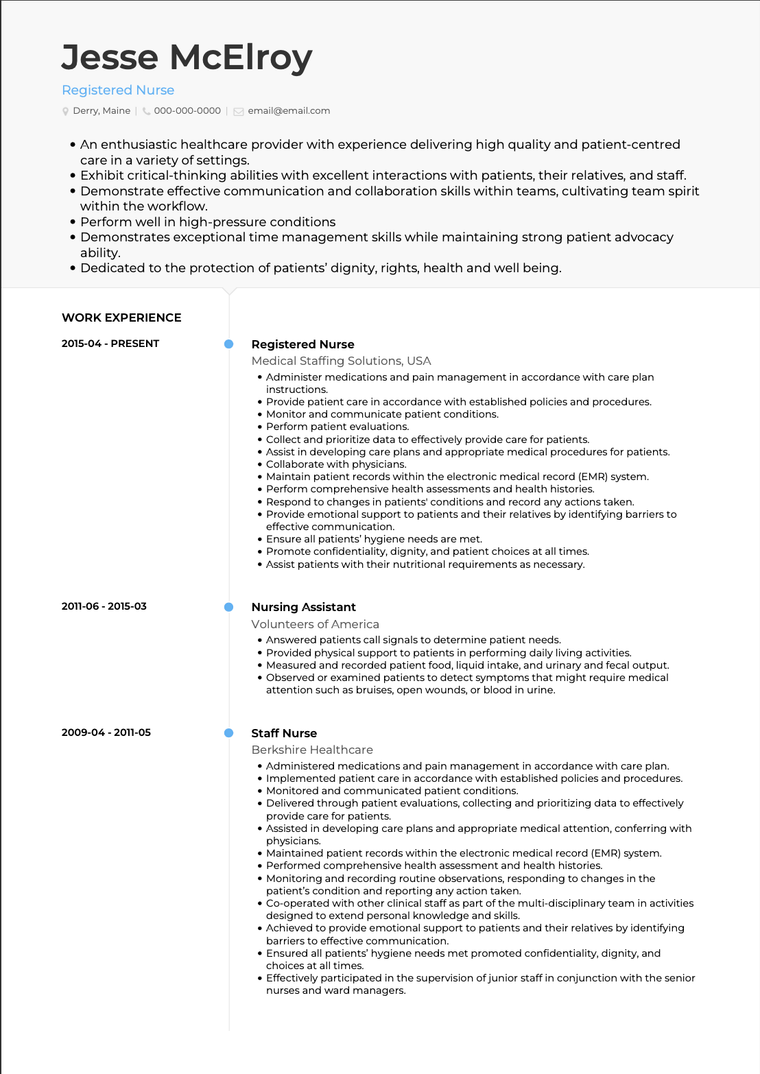 Nursing CV Example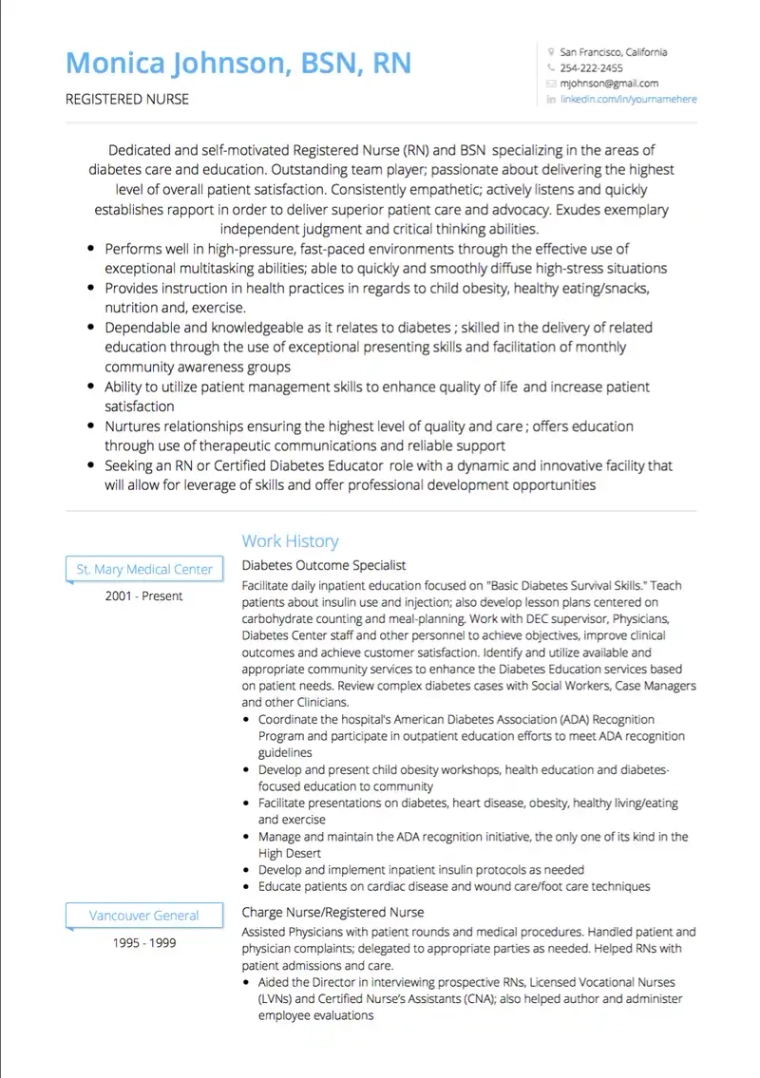 Registered Nurse CV Example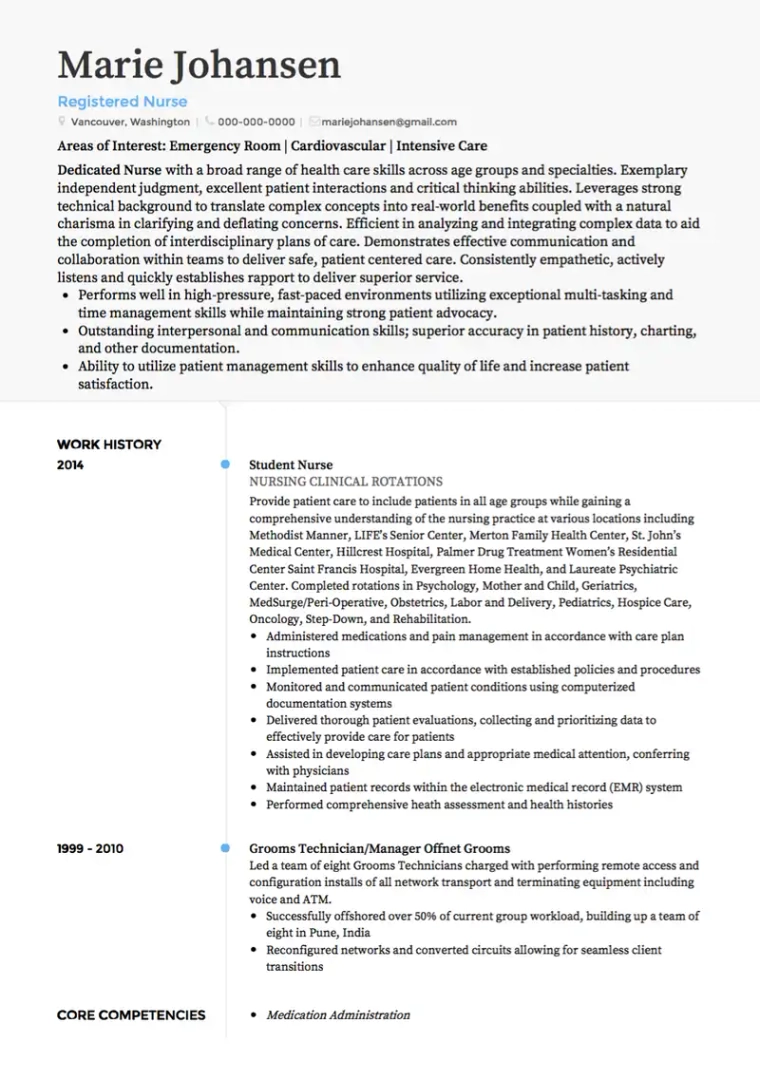 Staff Nurse CV Example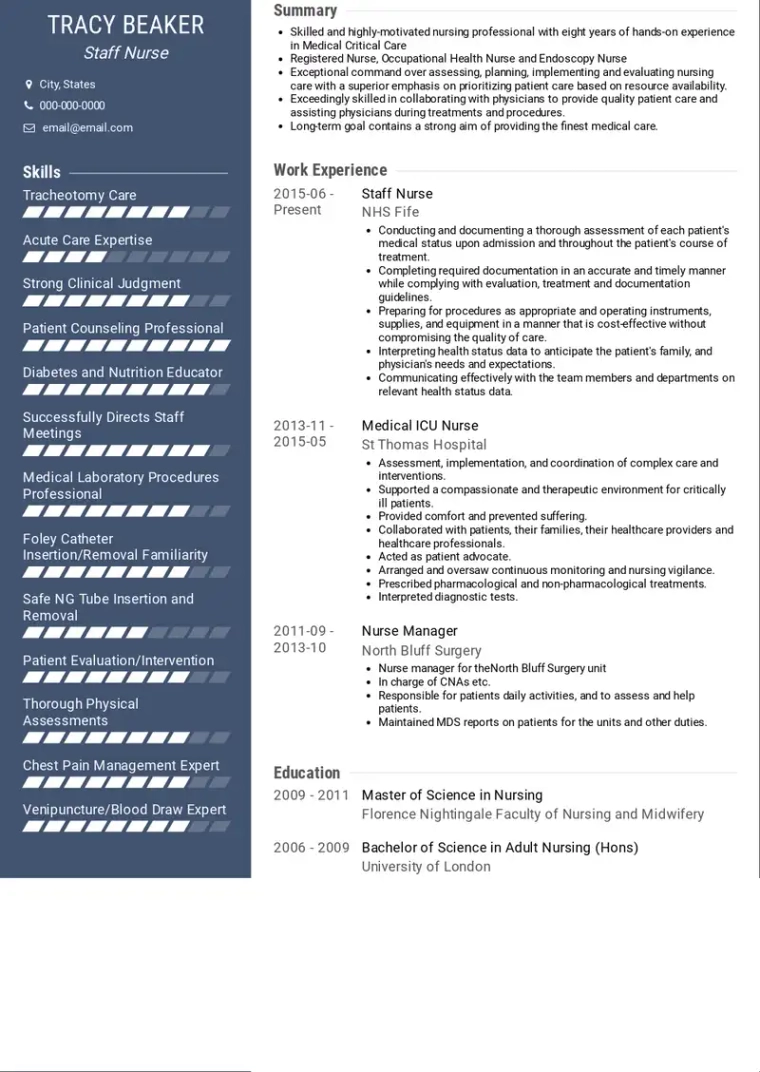 Modern Nurse CV Example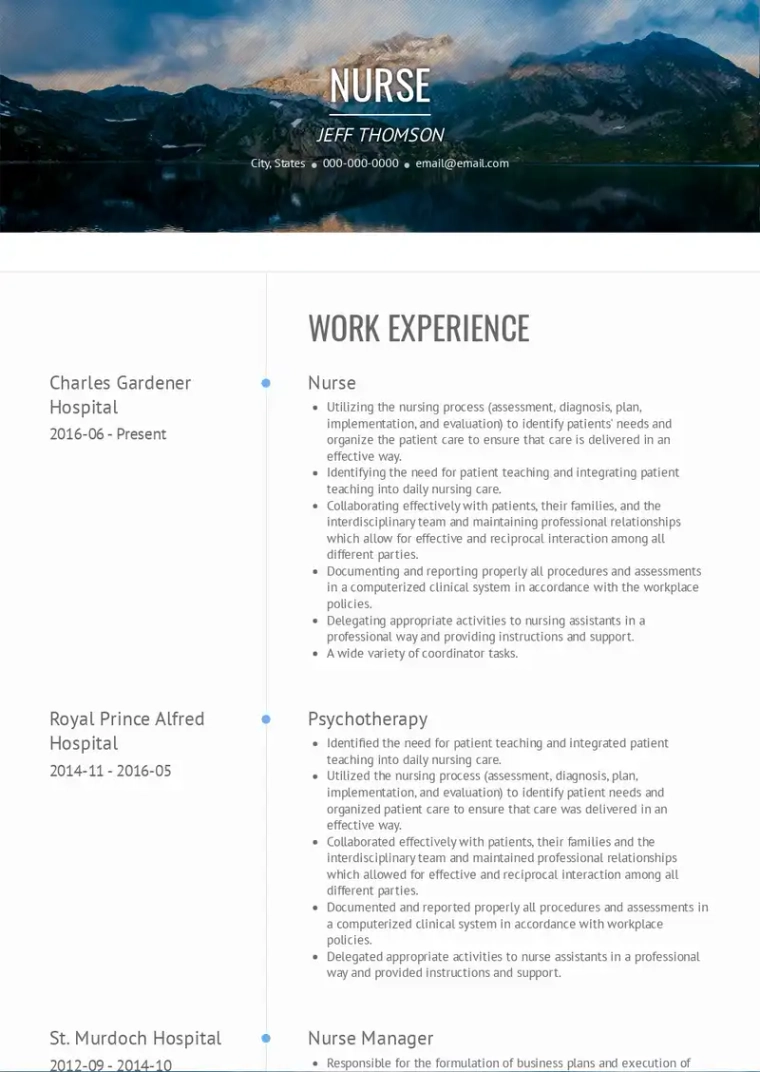 What sections should I include in my Nursing CV?
The key to an organized and readable CV is structure. Dedicated sections with clear headings make it easy for hiring managers to quickly scan your CV for the education, skills, and work experience they are looking for.
A nursing CV should include the following sections:
Contact information
Professional summary
Work experience
Education
Skills
You will likely be able to fit all of your most relevant and impressive credentials within thgese sections. If needed, you can also add other sections, such as:
Awards and certifications
Volunteer experience
Interests
If you prefer, you can try to fit your less important credentials, like awards or volunteering experience, into other sections, such as Work Experience. To really highlight these items, however, giving them their own sections can help.
How to write a nursing CV: A step-by-step guide
With this step-by-step guide to writing a nursing CV, you'll score your next interview in no time.
1. Choose the most suitable CV format
The three main CV formats to are:
Reverse-chronological
Functional
Combination
Let's explore each of these formats and weigh up their pros and cons.
Reverse-chronological
The reverse-chronological format is the most common CV format. It emphasizes your work experience and lists your past jobs in order, beginning with the most recent and working backwards. The reverse-chronological CV is what most job-seekers write, and what most employers expect.
This format is the best option if you have a few years of work experience. For example, if you are writing a Nurse practitioner CV and have held a few positions in the nursing industry, this format will work well for you.
Functional
A functional CV emphasizes skills over work experience, and groups past jobs by subject instead of listing them in order.
This format is best when you want employers to see your skills or education first instead of your work history. This may be because you are changing careers, you just graduated, or you just don't have any experience.
Functional CVs are rare, and most employers aren't expecting them. If you want to emphasize skills or education instead of work history, we recommend using a Combination CV.
Combination
The Combination CV format emphasizes skills like a Functional CV, but still has a reverse-chronological Work Experience section like a Reverse-Chronological CV.
This way, you can highlight the skills you want employers to see first, without sacrificing the timeline of your previous jobs. Your Work Experience section can be shorter and less detailed, but it will still be presented in reverse-chronological order. This makes it easy for employers to read and ensures that your skills are given the most attention.
This format is suitable if you:
Have gaps in your work history
Have changed jobs several times
Are changing careers
Have a lot of skills to highlight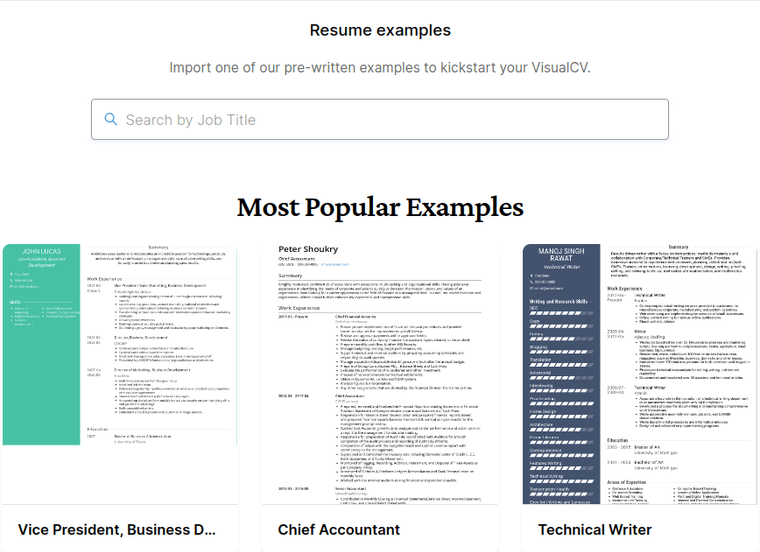 2. Choose a great nursing CV template
One of the most crucial parts of writing a great Nursing CV is finding the right template. The right CV template will ensure that you make a great first impression.
Nurses, just like other caregivers, provide an essential service. You are expected to be professional and display sound judgement. Your Nursing CV should communicate these characteristics, as well as other traits, such as:
Attention to detail
Presentation
Organization
Professionalism
Look for a template with a simple design, clear fonts and headings, and a readable structure.
For example, VisualCV's Monte template is ideal for a nursing CV. With VisualCV, you can have a hiring manager-approved CV template in moments.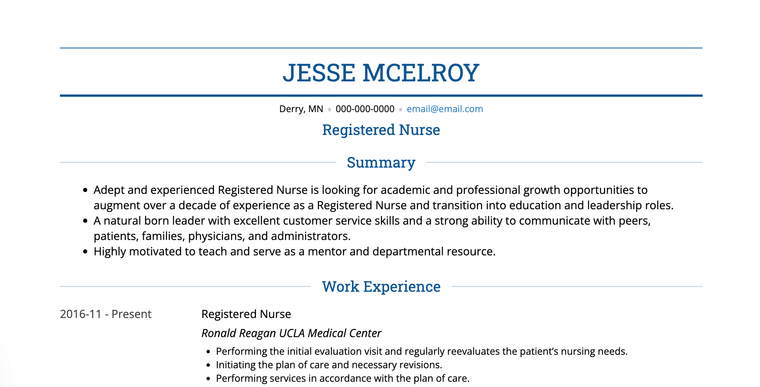 You must include your contact information in your CV if you want potential employers to contact you.
At the top of your CV, it's important to include your:
Name
Email address
Phone number
City of residence
Your name should be written right at the top of your CV in a large, clear font.
Your email address should be professional, ideally using only your name. For example, firstname.lastname@email.com is a common format.
You may also want to link to your social media profiles in your contact information section, like your LinkedIn or Twitter accounts. If you do this, make sure that your online conduct is professional and you only post about work-appropriate topics.
You can also include your job title beneath your name. This will make it clear what position you are qualified for.
Nursing CV contact information example
4. Write a brief summary
A Summary section contains a concise statement that summarizes your nursing skills and experience. It should appear just below your contact information and provide hiring managers with a quick elevator pitch for your application.
Your summary should contain only a handful of sentences or bullet points. Each sentence should highlight a key skills or qualification to help you stand out from the crowd. These may be details from your work history, skills, or education.
It was once common to use an Objective Statement instead of a Summary section, but this is an outdated practice. A summary is a much better way to sell yourself and highlight a few of your most important nursing achievements or credentials.
Nursing summary section example
Motivated nursing college grad seeking a position in home care. Hoping to combine my BSc in Nursing with my enthusiasm and compassion to provide compassionate, high-quality care. Extensive volunteer experience in elder care and working with vulnerable populations.
5. Showcase your work experience
For most job-seekers, the Work Experience section is the centrepiece of the CV. This is where you list past positions and highlight achievements in each role.
Each position in your Work Experience section should include:
Job title
Company name
Dates of employment
Achievements and responsibilities in the role
Your Work Experience section is your best opportunity to show that you have the right experience and accomplishments to succeed at your next job. Make sure to identify the most relevant and impressive achievements in each role, and showcase your areas of expertise.
When describing past jobs, use action words and energetic language as much as possible. Quantify your achievements with numbers when you can, and provide examples of areas where you have succeeded.
Nurse CV Work Experience Example
Nurse Practitioner St Ida's Clinic June '15 - Present
Provide care for 30+ patients per day with chronic illness
Liaise with physicians, nutritionists, and other specialists to develop effective treatment plans for individuals with chronic illnesses
Diagnose and treat patients through interviews, assessments, and testing
Provide patients with detailed frameworks for achieving life changes to help manage chronic illness
Follow laboratory and diagnostic procedures to facilitate treatments based on rigorous testing
Implement COVID-19 safety procedures and protocols
Run bi-monthly community centre events designed to educate the public on heart disease, diabetes, nutrition, and smoking.
How to write a Nursing CV Work Experience section when you don't have experience
Writing a Nursing CV Work Experience section when you don't have a nursing background is a challenge. However, this is a common problem for people breaking into the field.
There are a few ways you can approach this problem.
Firstly, you can draw on any relevant work experience in different areas. For example, if the nursing position you are applying for involves a lot of administration, you could highlight past experience with data entry or other clerical duties.
Secondly, you can use any volunteer work you have done in care work or adjacent sectors.
Finally, you can emphasize your education, relevant classes, and the appropriate skills you have learned.
Remember, all nurses started out with limited experience. No one has experience until they do!
6. List your education
To become a registered nurse, you will likely have either an associate's degree or a BSc in Nursing. Depending on your jurisdiction, you may also need a licence or national certification.
If you have many years of experience, you only need to list the name, date, and institution of each academic credential. If you are a more recent graduate without much work experience, you may want to include more detail, like research projects or specialty areas.
If you have a lot of different licenses or certifications, you may want to include them in a separate section.
Nurse CV Education section example
Education
BSc in Nursing New York University 2022
Licenses and certifications
Registered Nurse, New York Board of Nursing, Licence # 123456
CPR certification
Advanced Life Support Certification (ALS)
7. List your skills
The Skills section of a nursing CV is crucial. It's your opportunity to highlight your core skills and competencies.
If you have a lot of experience, you will have picked up a variety hard and soft skills on your journey. However, not all of them will be relevant to the position you are seeking. It's important to focus on the most relevant and impressive skills when crafting a CV. Read the description of the job you are applying to thoroughly, and identify the areas where your skill set and the job requirements overlap. These are the best skills to include in your nursing CV.
If you don't have any nursing experience, you may need to focus on soft skills. Of course, anything you've picked up from volunteering or transferable skills from past jobs can work too.
Top Nursing CV Skills in 2023
Patient assessment
Medication administration
Wound care
IV therapy
Catheterization
Phlebotomy
Intramuscular injections
Intravenous injections
Ostomy care
Patient education
Electronic health records (EHR)
Care planning
Surgical assistance
Emergency response
CPR
Triage
Pain management
Respiratory therapy
Cardiac monitoring
Diabetes management
Geriatric care
Pediatric care
Obstetric care
Post-operative care
Palliative care
Mental health assessment
Rehabilitation therapy
Infection control
EKG interpretation
Patient advocacy
Fall prevention
Discharge planning
Team collaboration
Laboratory specimen collection
Telemetry monitoring
Medication reconciliation
NG tube insertion
Oxygen therapy
Injections administration (subcutaneous)
Nasotracheal suctioning
Chest tube management
Blood transfusion management
Epidural administration
Dialysis management
Continuous feeding tube care
Intra-aortic balloon pump management
Ventilator management
Central line care
Arterial line monitoring
Intraoperative monitoring
8. Include other sections as needed
There are several optional extra sections you can include on your Nursing CV. For example, you may want include a dedicated section for licenses and certifications. Additionally, you can include things like:
Interests and Hobbies
Awards
Publications
Languages
The key here is to only include sections that will help your application. For example, only list hobbies if your interests show that you could make a great nurse.
Tips for writing a great Nursing CV
Here are a few extra pointers that you can use for creating a Nursing CV that makes an impact.
Do your research
It's important to research each nursing position you apply for. You will have better luck writing your nursing CV when you know exactly what employers are looking for.
Fortunately, the internet has made it simple to find a lot of information about a potential employer. Some of the key questions can ask are:
What is the organization?
What is their mission statement or company culture?
What qualities do they want in an employee?
Do they have social media? If so, what type of content do they tweet about?
What specific qualifications are required by the job posting?
Getting a bit of background on any organization will help you write your Nursing CV. When you understand how they talk about their work, you can use this to influence the tone and text of your CV.
Customize your CV
It's important to customize your CV for every application. Every job has unique requirements, and using the same generic CV for each application will isn't likely to land you an interview.
To do this, study the job posting closely. Identify the key skills and experience that the company is looking for, and see where your own experience matches. These are the key words and phrases you should include in your CV.
Emphasizing the exact skills required by the job posting is key to a successful application.
Beat the Applicant Tracking System
Many organizations use an Applicant Tracking System (ATS) to sort through CVs. An ATS is an automated tool that searches CVs for the keywords and phrases the company is looking for. These might include skills, education, certifications, and job titles. It will then pass the best-matching CVs on to the hiring managers.
While you won't know for sure what the ATS is looking for, the job description should provide you with enough clues to customize your CV with the right keywords. You should also make sure to use a simple CV template without too many tables or images so the ATS can easily parse it.