A professional CV format is integral to a successful job search. Employers are looking for candidates who excel in a professional context, and your CV should demonstrate that you do. Even if you have great skills and years of experience, you won't score an interview if you don't have a great CV.
To write a professional CV, make sure to use a strong format, the right details, and compelling work experience. To help you get ready for your next job application, here's our guide to writing a professional CV.
Recommended links:
Our collection of 500+ professional resume examples.
Our gallery of 20+ downloadable resume templates.
What is a CV?
A CV is a document that outlines your work history, education, and skills. It summarizes your career and showcases your accomplishments.
The exact content of a CV can vary by industry and location. Most CVs contain a Work History section, an Education section, and a Skills section. Other sections can be included as well.
You give your CV to an employer when you apply for a job. The employer then reads your CV and uses it to decide whether or not to bring you in for an interview.
A good CV is integral to your job search. A professional CV format can be the difference between scoring your dream job and being rejected.
What is the difference between a CV and a resume?
The difference between a CV and a resume depends on your location. The term can refer to different things depending on the country you work in, and many people use the terms interchangeably.
In the USA, resumes and CVs are technically two different things. A resume is a short document, usually one or two pages, with a summary of your qualifications for a particular job. A CV is a longer document, usually used in academia, with a detailed account of your previous positions, academic achievements, and research publications.
In the UK, there is no distinction between the two things, although the word CV is much more common. Here, both words usually refer to the shorter, less detailed document.
Related: UK CV Format, Examples and Requirements
When you build your CV, it's important to know exactly what you're writing. Employers have very specific requirements, and it's important to make sure you know exactly what kind of CV you need to submit.
What should I include in my professional CV format?
To make sure your CV has everything it needs to score an interview, be sure to include these CV sections.
Include your name, email address, phone number, and city in your professional CV. It's important to make sure anyone reading your CV knows exactly who you are and how to contact you.
Depending on your location, you may also have to include your exact home address, your date of birth, and other personal details. Be sure to research CV expectations in your country so you know exactly what information to include.
You may also want to include links to any online profiles, like a personal website, LinkedIn profile, or Twitter account. If your accounts are focused on career topics and you mainly post about your industry, online profiles can show that you're engaged and interested in your field. However, you must be 100% certain that everything on that account is professional and appropriate for a business context—even Twitter likes.
Work Experience Section
For most job-seekers, the Work Experience section takes up most of the space in their professional CV format. This is the section that tells your career story by showcasing previous roles and demonstrating your expertise.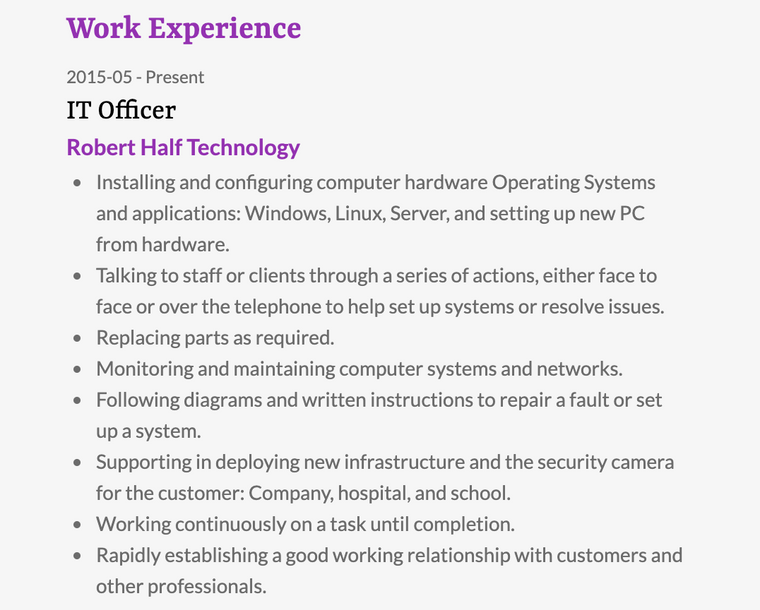 Inside your Work Experience section, list your previous jobs in reverse-chronological order (unless you are writing a Functional or Combination CV), beginning with your most recent role and working backwards in order. For each job, include the job title, company name, and dates of employment. Describe each job using active language in a simple bulleted list.
Education Section
Your education is an important part of your career story. Your CV should include any degrees or diplomas that you've earned throughout your career.
For each entry in your education section, include the name of the degree or diploma, the name of the school, and the year it was awarded.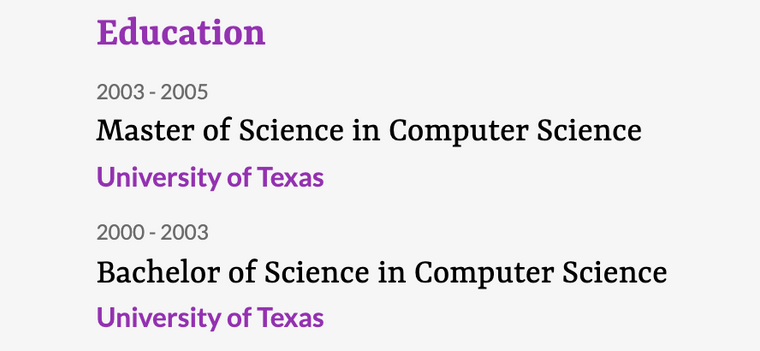 For most job-seekers, a more detailed description of each entry isn't needed. If you're a recent graduate, however, you may want to include details like GPA (if it's high), research topics, or relevant coursework to show what your classes were focused on.
If you're writing an academic or research CV, your education may be more important than your work experience. This means that your Education section can be longer and include more detail. Include things like specialization, dissertation topic, research area, and any other detail that will help you emphasize your academic achievements.
CV Skills Section
To make your professional CV format as impressive as possible, it's important to include a Skills section. Employers want to know what you're capable of and what your specialties are. Your Skills section lets them know what you can do for their company.
Pick your most impressive and most relevant skills and display them on your CV in a simple list. Most people prefer a bulleted list. If you want to include a visual element, a strength rating showing your aptitude for the skill is a great way to add some personality.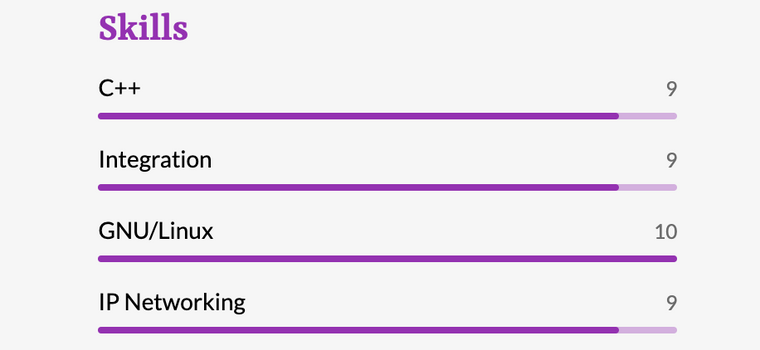 Other CV sections
There are some CV sections that can be useful, but don't apply to everyone. If there are aspects of your career that you want to add to your CV, but they don't fit into the typical sections, you can always create a new section for them. Any relevant qualifications that will help your CV can be added.
Optional CV sections include:
Publications (etc)
If you're writing an academic CV, you will likely need sections for publications, patents, or research articles that you have contributed to. A Publications section is most common.
Academic CVs have very specific needs, so it's important to know exactly what is expected in your field. Research CV expectations in your industry so you know what to include. When listing your publications, make sure to use the appropriate academic citation format.
If you aren't writing an academic CV, you likely won't need a Publications section. If you have published work in another context, like journalism or content marketing, a Portfolio section with hyperlinks is more suitable.
Volunteering experience
Experience working with volunteer organizations can look great on a CV. Volunteering can show that you have interests outside of work, a generous disposition, and are involved in your community.
Not all job-seekers have volunteered, but if you have some relevant or impressive volunteering experience you can add it to your CV in a Volunteering section.
Certifications
Credentials that don't quite fit in with your Education section can be added to a Certifications section. This might include a special drivers license, a trades ticket, a management certificate, and more. Any relevant certifications you have achieved can be added to a Certifications section.
Memberships
You may want your CV to show that you're a member of a club or organization. Whether they're local clubs or international organizations that you participate in online, the right memberships can look good on a CV.
Professional memberships, like a local BIA or mentorship program, can show that you're engaged in your industry. Employers will be impressed to see that you dedicate your free time to your field of work.
Even clubs that aren't necessarily related to your work, like participation in a local baseball league or chess club, can be included if they're impressive enough. If you hold an important position in the club, like President or Treasurer, you can use this to show that you have organizational or leadership skills.
How to write a professional CV
Once you have all the right CV sections in place, it's time to get writing. To get started, check out this step-by-step guide to writing a professional CV.
Step 1: Choose a professional CV format
A professional CV template will give you a head start on a great CV. Your CV needs to be well-formatted and easy to read, and a good CV template can do that work for you. Find a CV builder with templates that suit your career and your industry. A professional CV format ensures that your CV looks great and showcases your experience the right way.
Step 2: Research the company you're applying to
The more you know about the company, the better your job application can be.
To make sure you know exactly what the company is looking for, research them online. Find out everything you can, like the company's values, their market position, and the company culture.
Begin by checking the company website. They should have an About Us page, and other information about the business and the people who work there.
You can then check social media for more information. The company will likely have a LinkedIn profile, as will many of the employees. They may also have a Twitter or Instagram account where they post about company initiatives or events.
You can also check websites like Glassdoor and Salary.com to see what other people are saying about the company.
Step 3: Customize your CV content
Your CV should be perfect for the job. You can't use the same CV for every application.
Now that you have researched the company you can customize your CV to suit their specific needs. Every company has a different perfect candidate, so your CV needs to be adjusted to suit. Make sure your skills and experience are all relevant to the needs of the company. You can use the job description in the job posting to inform how you describe your skills.
This extends to the sections in your CV as well. If you are applying for an academic position, be sure to include a CV section with your Publications or Patents. Use the proper professional CV format expected in your field and make sure you use proper academic language, citation style, and titles.
Your CV can also reflect the culture of the company. Make sure your writing shows that you share their values and will fit right in at their workplace.
For more tips on how to customize a CV, check out our article Customize Your Resume For New Job Applications.
Step 4: Write an effective work experience summary
For most job-seekers, work experience is the centrepiece of the CV. If you want your CV to stand out, you need a Work Experience section that is well-written, targeted, and highly effective.
To write effective job descriptions, focus on your accomplishments in each role rather than duties. If your job descriptions are just lists of tasks with no explanation, your CV will be boring. Focusing on accomplishments shows that you excelled at the job and achieved great things there. Your achievements are more impressive than your responsibilities.
For example, "Responsible for supervising the sales floor" is much less interesting than "Managed 5-person sales team" or "Exceeded annual sales goals by 50%."
When you write about your Work Experience, use active language to describe your past jobs. Proactive words like spearheaded, implemented, and led can show that you're an effective and enthusiastic employee. This way your Work Experience section can show that you are a leader as well as a hard worker.
To give your Work Experience an extra kick, use quantifiable information as much as possible. Numbers and data can make your experience seem more legitimate. Any time your success can be measured with numbers, include it in your CV.
Customer success scores, user ratings, sales, customer retention, and revenue can be shown on your CV. "Exceeded sales goal by 5% in my first year", for example, is an impressive and verifiable achievement that looks great on a CV. Numbers show that you are proactive about tracking your performance and credible when talking about your success.
Proofread and edit your CV carefully. Misspelled words and poorly phrased sentences are common CV mistakes that you should avoid. An error as simple as a typo can be enough to stop your application in its tracks. In a competitive job market, hiring managers have more than enough applicants to reject you for the smallest reason.
Your first line of defence against errors is a spell checker. Most word processors have a spell checker built in, but if yours doesn't, make sure to run everything you write through a software that checks for mistakes. This will catch most typos.
This won't catch all grammar issues, however. If a word is being spelled right but used wrong, spell checking technology won't catch it. Read and re-read your CV to make sure every sentence is perfect. Reading the CV out loud to yourself is a great way to make sure each sentence is easy to understand.
You should also have a friend or colleague read your CV to check it for problems. It's easy to miss mistakes in something you wrote yourself. Another set of eyes can find problems that you hadn't even noticed.
Professional CV samples
As you get started on your CV, use these professional CV samples to inspire you.
IT Officer professional CV sample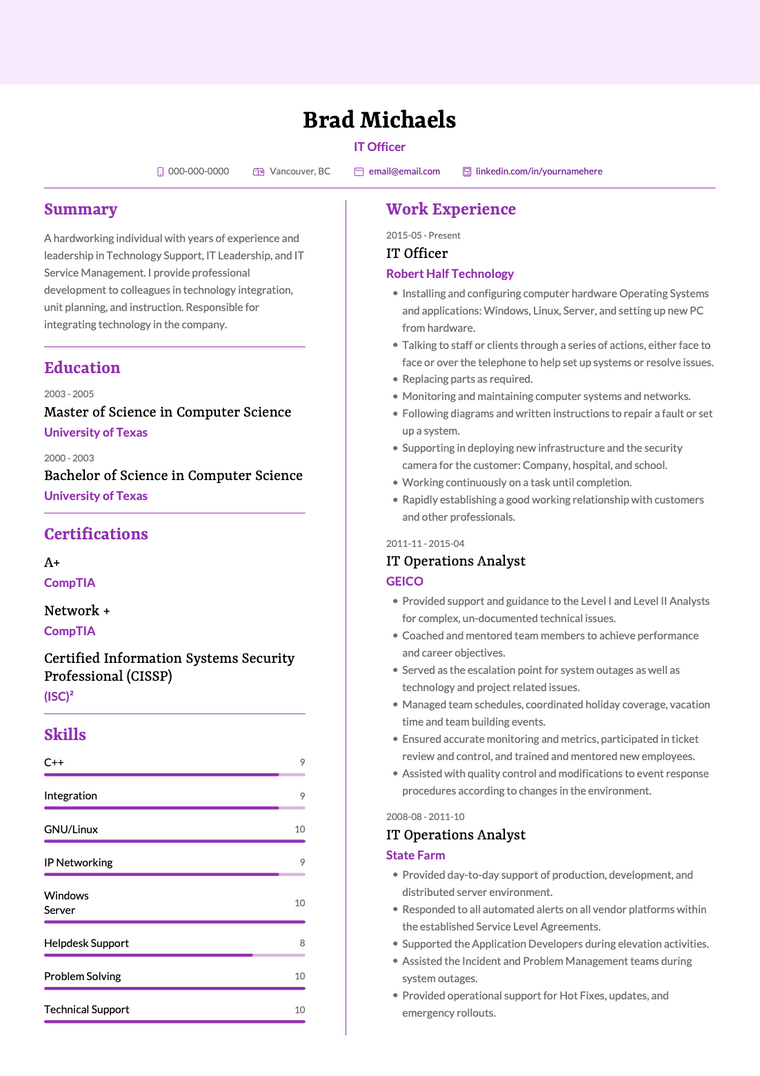 Summary
A hardworking individual with years of experience and leadership in Technology Support, IT Leadership, and IT Service Management. I provide professional development to colleagues in technology integration, unit planning, and instruction. Responsible for integrating technology in the company.
Work Experience
IT Officer
Robert Half Technology
Installing and configuring computer hardware Operating Systems and applications: Windows, Linux, Server, and setting up new PC from hardware.
Talking to staff or clients through a series of actions, either face to face or over the telephone to help set up systems or resolve issues.
Replacing parts as required.
Monitoring and maintaining computer systems and networks.
Following diagrams and written instructions to repair a fault or set up a system.
Supporting in deploying new infrastructure and the security camera for the customer: Company, hospital, and school.
Working continuously on a task until completion.
Rapidly establishing a good working relationship with customers and other professionals.
IT Operations Analyst
GEICO
Provided support and guidance to the Level I and Level II Analysts for complex, un-documented technical issues.
Coached and mentored team members to achieve performance and career objectives.
Served as the escalation point for system outages as well as technology and project related issues.
Managed team schedules, coordinated holiday coverage, vacation time and team building events.
Ensured accurate monitoring and metrics, participated in ticket review and control, and trained and mentored new employees.
Assisted with quality control and modifications to event response procedures according to changes in the environment.
IT Operations Analyst
State Farm
Provided day-to-day support of production, development, and distributed server environment.
Responded to all automated alerts on all vendor platforms within the established Service Level Agreements.
Supported the Application Developers during elevation activities.
Assisted the Incident and Problem Management teams during system outages.
Provided operational support for Hot Fixes, updates, and emergency rollouts.
Installed and updated Client/Server applications.
Made regular suggestions for improvement of support tools and helped design more efficient monitoring strategies.
Collected, maintained and reported monthly inventory statistics for the production server environment.
Lead, User and Systems Administration
Johns Hopkins Hospital
Coordinated and executed desktop support activities for over 200 Scientists and Clinical Investigators at the research arm of University Hospitals of Cleveland.
Maintained configuration records, performed Windows and Macintosh personal computer installations, developed support and upgrade processes for all computer systems and applications using server, workstation, and asset management tools.
Evaluated new technologies to support a full spectrum of users from basic laboratory researchers to clinical trials investigators.
Effectively allocated resources and equipment to Researchers, Administrative and Executive staff.
Developed relationships and established Service Level Agreements with pharmaceutical, biotechnology, and medical device vendors.
Worked closely with Case Western Reserve University Information Technology personnel to successfully integrate Mac OSX and Windows devices to ensure seamless connectivity between UHRI and CWRU Networks.
Education
Master of Science in Computer Science
University of Texas
Bachelor of Science in Computer Science
University of Texas
Certifications
A+
CompTIA
Network +
CompTIA
Certified Information Systems Security Professional (CISSP)
(ISC)²
Skills
C++
Integration
GNU/Linux
IP Networking
Windows Server
Helpdesk Support
Problem Solving
Technical Support
Cisco Networking
Microsoft SQL Server
Computer Maintenance
Network Administration
Computational Thinking
Network Infrastructure
Network Troubleshooting
Computer Hardware Installation
Travel consultant professional CV sample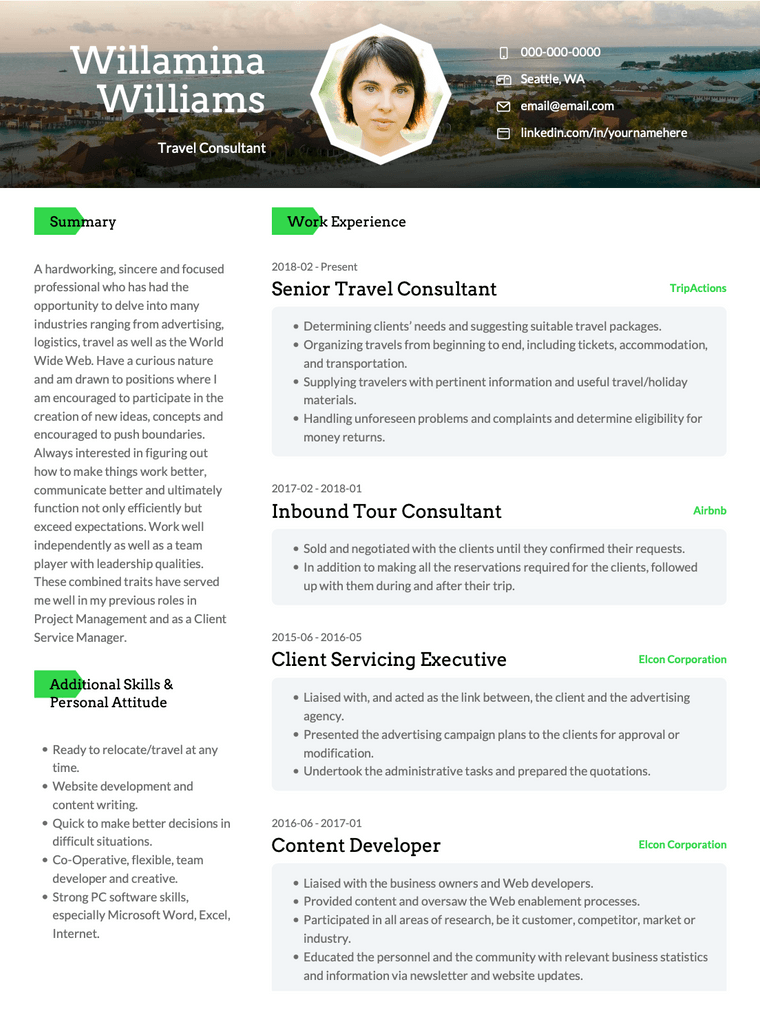 Summary
A hardworking, sincere and focused professional who has had the opportunity to delve into many industries ranging from advertising, logistics, travel as well as the World Wide Web. Have a curious nature and am drawn to positions where I am encouraged to participate in the creation of new ideas, concepts and encouraged to push boundaries. Always interested in figuring out how to make things work better, communicate better and ultimately function not only efficiently but exceed expectations. Work well independently as well as a team player with leadership qualities. These combined traits have served me well in my previous roles in Project Management and as a Client Service Manager.
Work Experience
Senior Travel Consultant
TripActions
Determining clients' needs and suggesting suitable travel packages.
Organizing travels from beginning to end, including tickets, accommodation, and transportation.
Supplying travelers with pertinent information and useful travel/holiday materials.
Handling unforeseen problems and complaints and determine eligibility for money returns.
Inbound Tour Consultant
Airbnb
Sold and negotiated with the clients until they confirmed their requests.
Made all reservations for the clients.
Followed up with clients during and after their trip.
Client Servicing Executive
Elcon Corporation
Liaised with, and acted as the link between, the client and the advertising agency.
Presented the advertising campaign plans to the clients for approval or modification.
Undertook the administrative tasks and prepared the quotations.
Content Developer
Elcon Corporation
Liaised with the business owners and Web developers.
Provided content and oversaw the Web enablement processes.
Participated in all areas of research, be it customer, competitor, market or industry.
Educated the personnel and the community with relevant business statistics and information via newsletter and website updates.
Education
Bachelors of Arts
University of Texas
Additional Skills & Personal Attitude
Ready to relocate/travel at any time.
Website development and content writing.
Quick to make better decisions in difficult situations.
Co-Operative, flexible, team developer and creative.
Strong PC software skills, especially Microsoft Word, Excel, Internet.
Skills
Microsoft Office
Artist, Photographer & Writer