When you apply for a job, it's important to avoid all common resume mistakes. Even simple errors, like a poorly formatted list or a misspelled word, can derail your job search. Recruiters and hiring managers receive hundreds of resumes every day, and it doesn't take much for a resume to be rejected.
Even today, with online resume guides, professional resume writers, and spell check technology, resume mistakes are all too common. It's important to know all possible resume mistakes to avoid.
Recommended links:
Our collection of 500+ professional resume examples.
Our gallery of 20+ downloadable resume templates.
To make sure your resume is application-ready and error-free, keep an eye out for these 18 most common resume mistakes.
Resume writing mistakes
The way you write your resume is important. Resumes are tools to get you a job, and you need to make sure every word and sentence serves that purpose. As you apply for jobs, keep an eye out for these resume writing mistakes.
1. Spelling and grammar errors
Typos, spelling errors, and poorly worded sentences can be all it takes to send your resume to the rejection pile. You might have great experience and the right skills for the job, but in a competitive job market there's sure to be someone with similar qualifications and no typos.
Your spell checking software will catch most spelling errors, but you should still check and double-check your resume for bad grammar, unusual word choice, and any spelling errors the spell checker might have missed.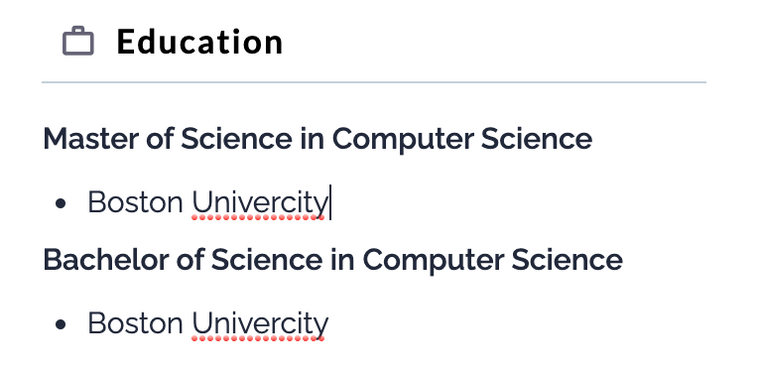 Use spell check
2. Boring job descriptions
Your Work History shouldn't read like a job posting. An uninteresting list of responsibilities won't impress hiring managers. Boring job descriptions are a common resume mistake that can easily cause your application to be rejected.
When describing past jobs in your resume, focus on achievements instead of duties. In each role, think of accomplishments you can showcase, like big sales you made, projects you contributed to, or teams you led. Your successes are more likely to catch an employer's eye than your responsibilities.
Further, try to use numbers as much as possible. If you can measure your success, your experience will have more credibility. Anything that can be quantified looks great in your experience, whether it's sales, revenue, customer acquisition, email outreach, or customer success scores.
Met monthly customer satisfaction target of 95% is a more impressive phrase than Responsible for handling customer inquiries.
Your resume is a marketing tool. It shouldn't just describe you; it should sell you.
3. Unexplained gaps in your work history
Taking time off work isn't necessarily a problem. Whether you're travelling, going back to school, or caring for a family member, there are plenty of reasons to take a break.
The common resume mistake that job-seekers make is letting this gap go unexplained. If you took a year off to travel, say so. No one will fault you for taking time to yourself, as long as you have a good reason.
You don't have to explain every little gap. A month or two between jobs is perfectly normal. But when your time off work is longer than six months or a year, a sentence or two that explains why will help to soothe an employer's worries.

Where were they in 2010?
4. Unexplained job-hopping
Hiring managers can be suspicious of job-seekers who never seem to keep a job for longer than a year or two. Training new employees is expensive, and employers will be hesitant to hire you if they think they'll have to replace you in six months.
Most employees aren't lifers anymore, and changing jobs every few years is more common than it once was, but if you've held too many jobs for a short time, many employers will see it as a red flag. You shouldn't lie about your job-hopping, but do your best to explain it so the employer doesn't have to wonder.
5. Your resume is too generic
Your resume must be customized for every application. No two jobs are the same, and the perfect resume for one position isn't going to be perfect for the next. When your resume suits every job, it's probably too generic to actually land any of them. Using the same resume for every application isn't going to score you any interviews.
To avoid this common resume mistake, make sure every aspect of your resume is targeted to the role and company you are applying to. The skills, experience, and credentials you choose to highlight should be perfect for this specific job.
To target your resume, study the job posting, the company website, and the company's social media presence. This will give you an idea of what company culture is like, what the company's values are, and what skill set they are looking for. You can customize your resume to suit what you learned.
As much as possible, use the same language as the job posting in your resume. You shouldn't lie about your skills, but where they match you can use the same words to describe your qualifications. The company is looking for particular abilities, and your resume should show that you have exactly what they need by using the same terms.
6. Too much work experience
If you're an experienced professional with decades of experience, including every moment of your long career is probably excessive. It can be tempting to try stuffing every single job into your resume, but this can result in a resume that is too long and has too much detail. Don't include things like college jobs or internships on your resume when you have more important experience to display.
Jobs that you did 15 years ago probably aren't relevant to your current career, and they don't need to be included in your resume. Your resume should only be a few pages long, and that space should be dedicated to your most recent, most relevant work experience.
7. Irrelevant work experience
Employers want employees with relevant experience. You should make sure that the work experience you highlight in your resume is related to the job you're applying to.
If you're looking for an accounting position, there is no need to include your summer job as a lifeguard. As long as you have enough experience to fill up your resume without them, don't let irrelevant past jobs take up too much space on your resume.
This doesn't mean you have to completely remove all unrelated jobs from your resume. If doing so would leave a long gap, this would introduce its own problems. It just means you should highlight the most relevant aspects of each job. Focus on transferable skills and accomplishments that show you are a great employee. Irrelevant skills and duties can be ignored, or at least given less space.
8. Irrelevant skills
Your resume should only include skills that are directly relevant to the job you're applying for. If you're changing careers, or have had lots of different jobs, you might have a large and diverse skill set, and it can be tempting to include everything you know in your resume. Your Skills section is an important part of your resume, so it needs to be customized to suit the role you want.
Employers are only interested in the skills that will help you in the position they're hiring for. You might know everything there is to know about selling cars, but that doesn't make you a good programmer. If you are applying for a job that requires a particular set of skills, there is no reason to include skills from previous jobs if they aren't useful.
This doesn't mean you have to hide your skills. It just means you should focus on the skills that really matter to this specific application. Look for transferable skills, like sales, communication, or time management, instead of hard skills that won't translate to a new context.
Resume design mistakes
Resume design is just as important as resume content. If your resume is ugly, many employers won't even bother to read it. To make sure your resume has a good design, avoid these common resume mistakes.
9. Ugly resume templates
It's important to make sure the resume template you use looks good. There are lots of resume and CV templates available online, but not all of them will be right for you. To make sure your resume template is professional and stylish, find a CV builder that can help you create a PDF or Word resume. With the right template, you can create a great-looking resume without any trouble.
10. Bad formatting
Make sure your resume is easy to read. Even when you use a resume template, badly formatted text can make your resume unappealing. It doesn't matter how good your resume is if recruiters can't read it.
As you write your resume, make sure to use clear headings for all sections, with appropriate white space between them. In each section, use bulleted lists and simple sentences when describing your qualifications. This will ensure the resume is well-structured and easy to read.
11. Poor font choices
Any fonts you use in your resume should be professional and readable. Just because you can easily select from thousands of different fonts on any word processor doesn't mean you should. Stick to simple, accessible typefaces like Open Sans or Raleway.
It's also best practice to use no more than one or two fonts. Use one font for headings and one for body text, or use the same font for both. Any more than this can be distracting.
12. Your resume is too long
Your resume should be no more than one or two pages long. This is the length that employers expect, and it should be more than enough space to highlight your skills and experience.
If you're in an academic field with lots of publications to include, or a high-level professional with decades of impressive executive experience, you may be able to get away with a longer resume. For most job-seekers, two pages is enough.
13. Your resume isn't ATS-friendly
When you apply for a job online, your resume has to get past the Applicant Tracking System.
An Applicant Tracking System (ATS) is a type of software that reads and sorts resumes. When you submit an online job application, an ATS will check your resume for the skills and experience the company wants from its candidates. If you want to score an interview, you need to make sure the ATS can read your resume and see that you have the right qualifications.
To write a resume that beats the ATS, your resume should be formatted simply. Tables, charts, and pictures can confuse the ATS. Use a straightforward resume template without too many visual elements to avoid this resume mistake, such as VisualCV's Standard, Monte, or Monaco.
It's also important to make sure your resume has the right keywords. The ATS is looking for specific words and phrases to sort resumes by.
To make sure your resume has the right keywords, read the job posting very closely. It will have a detailed explanation of the skills and experience the company wants. These are the phrases the ATS will be looking for. Use the same language to describe your skills and experience so the ATS will know you have the right qualifications.
Resume details mistakes
Another common resume mistake is including the wrong information. The resume sections, personal information, and contact details are all important parts of the resume, and including the wrong thing could result in a rejection.
14. Including (or not including) a picture
In North America, you should not include your picture on your resume. Employers don't expect one, and some companies will outright reject any resume containing a picture.
In other countries, such as Germany and France, a picture is expected. In those places, employers do expect to see a professional headshot included with the resume, and a resume without one will likely be rejected.
Make sure you know what the expectations are for resumes in your area before you apply.
If you do include a picture, make sure it meets all the requirements (some countries expect a passport photo, for example), and make sure it's high quality.
15. Incorrect personal information
In North America, the only personal details you need to include on your resume are your name, your email address, your phone number, and your city. You can also include links to your social media profiles if desired.
In some places, resumes are expected to include date of birth, home address, and even marital status.
When you write your resume, make sure you understand what personal information employers are expecting. The wrong personal information can lead to your resume being rejected.
16. Objective statements
While it was once common to include an objective statement on your resume, this resume section is now considered old-fashioned and outdated. This section isn't needed in modern resumes.
Instead of an objective statement, include a Summary section at the top of your resume. If you have objectives or goals you would like to share, you can include them here.
17. Unprofessional content
Anything you include with your resume, including anything on the internet you link to, should be appropriate for a professional context.
Don't link to any social media unless you're certain that there is nothing too casual on there. Something as simple as a picture of you at a party could end your application. Any social media you link to, whether it's LinkedIn, Instagram, or Twitter, should be carefully curated.

Your headshot should be professional.
You should also avoid jokes on your resume, and it's time to retire the silly email address you made when you were younger. Your email address should be something simple and professional, such as your name.
18. Keyword stuffing
You can beat the ATS, but you can't trick it. It used to be the case that job-seekers could copy and paste the entire text of the job posting into their resume in an invisible font, so the software would think they had the perfect resume. This is no longer true. ATS developers figured out this trick very quickly, and you can no longer fool applicant tracking systems by stuffing your resume with invisible keywords. To get past the ATS, simply make your resume as good as it can be.
Resume examples
Lawyer resume example
Summary
A results-oriented natural leader, highly skilled in law practice at the state and federal level. Passionate about building high performing legal teams and providing effective solutions to complex problems. A proven ability to provide exemplary customer service and client management . Proficient in criminal and family law.
Work Experience
Lawyer
Beth Silver & Associates, LLC
Family law and domestic relations.
Litigation of divorce cases, custody cases, and other post-decree matters.
Represent clients in divorce, dissolution, custody trials, post-decree matters, mediation, settlement, and other matters.
Legal writing of motions, memoranda, practice articles.
Assisting litigation for high net-worth cases by issuing discovery, preparing exhibits, and interfacing with clients.
Appellate law practice at the state level; Federal law practice.
Associate Attorney
Levy & Harris, A Mother & Son Firm
Advised clients in various criminal and family matters.
Drafted pleadings.
Completed numerous legal research memorandums.
Managed firm's social media presence.
Provided pro bono assistance to low-income clients.
Legal Assistant
Angelo & Harrisson
Assisted attorney in preparing for trials and court proceedings.
Prepared legal arguments.
Tracked hours and billed to clients.
Identified appropriate laws, judicial decisions, and legal articles for assigned cases.
Assisted attorney in trial by taking notes and analyzing witness testimony.
Legal Assistant
Vincent Associates Inc.
Organized client files.
Conducted the legal research for attorney briefs and memorandum.
Assisted attorney in preparing for trials and court proceedings.
Property Lawyer Assistant
Ferguson & Wilson, P.C.
Prepared a variety of descriptive background reports, and written materials about patents, trademarks, industrial copyright, and unfair competition.
Facilitated communication between domestic and foreign clients, attorneys and agents.
Represented more than 500 clients at courts and administrative bodies.
Education
Juris Doctor
American University
Bachelor of Arts in History
University of Illinois at Chicago
Skills
Litigation
Family Law
Juvenile Law
Probate Law
Criminal Law
Civil Rights Law
Collaborative Law
IT Executive resume example
Summary
Decisive, creative, global technology executive with extensive experience leading complex business analysis, consulting and implementation on large-scale IT projects. Experience in investigating business systems, identifying options for improving business systems and bridging the needs of the business with the use of IT solutions. An effective organizer who works comfortably under pressure and readily assumes additional responsibilities. Successfully led large-scale technology initiatives that provided significant returns on investment. Proven track record of delivering positive results by leveraging a unique blend of leadership, organizational development, relationship building, technology innovation, and communication skills.
Work Experience
IT Executive
Galacticus Data
Serve as an IT Executive, leading the creation of the Corporate IT Business Office in Galacticus Data, a $2 billion market cap global marketing services firm.
Leverage experience as a transformation CI, and Services Executive to implement a new strategic technology plan for the data holding company.
Advise the Senior Executive team on its transition to the cloud.
Adopt Big Data capabilities as required by the company.
Junior Business Analyst
Deloitte
Assisted the Senior Business Analyst and IT Manager with system testing, application testing, and reports testing.
Produced SRS documents (Software Requirements Specification) and used case documentation for the systems that the IS (Information Systems) department maintained.
Investigated queries logged (via request tracker application) and assigned the task to a Developer to fix.
Involved in User Acceptance Testing (UAT) for specified projects.
Supported the Operational Manager in the transition of the project into the business.
Worked closely with end users and other business team members in a co-operative environment.
IT Consultant
Deloitte
Assisted in extracting different forms of source data from clients and planning an analytical strategy in order to analyze, investigate and manipulate the client's data.
Compiled reports based on patterns found in the data.
Analyzed data using ACL (Access Control List) and SQL.
Worked for clients in various industries, public sector, telecommunications, and government sectors.
Reported directly to Senior Business Analyst.
Education
Master of Science in Computer Science
Boston University
Bachelor of Science in Computer Science
Boston University
Skills
Languages
ASP
ACL
UML
HTML
VBScript
Rationale Software
Applications
MS Visio
MS Excel
MS Word
MS Project
MS Outlook
MS PowerPoint
Team Player
Broadened my skills as a team player.
Involved in the team sport and have realized the value of co-operation and camaraderie in both an academic and professional environment.
Decision Making
Made crucial decision in crucial times.
Problem-solving and Analytical
Extensive analysis of problems and the provision of possible solutions are important skills in any business environment.
Assisted the CIO in investigating profit loss due to IT-related issues, thorough investigation and discussions with developers I was able to determine the source of the problem i.e. human or system-related errors.
Communication
Communicate with and assist fellow colleagues when a difficulty arises.
Establishing channels between developers, suppliers and the sales team are paramount to solving issues quickly.