Everyone's professional experience and skill set is different, so it can be difficult to know what sections you should include on your resume. Some sections are expected by all employers, but others can be added or removed depending on your career and experience.
The sections you include in your resume will depend on your industry, your experience level, and the resume format you use. Each resume is unique, and what works best for you may not work for everyone else.
Recommended links:
Our collection of 500+ professional resume examples.
Our gallery of 20+ downloadable resume templates.
In this article we will discuss the most important sections to include on a resume, as well as sections that are optional but can still help your candidacy.
Mandatory resume sections
When writing a resume, begin with the most important sections. These sections have the information employers need most, so they shouldn't be left off your resume.

It's important to begin your resume with your name and contact information. These are the details that the employer will use to contact you, so they should be easy to find. This doesn't have to be a titled section with a 'Contact Information' heading, but your details should be prominently positioned at the top of your resume where they will be easy to see.
In America, it is customary to include your name, email address, phone number, and city of residence on your resume. Other countries may have different requirements. For information on what to include in international resumes and CVs, check out our International CV Guide.
Work History
For most job-seekers, the Work History section is the longest and most important part of the resume. In this section, list your previous positions in reverse-chronological order and describe your most impressive skills and achievements in each role. This will give employers a sense of your career journey and showcase your past successes.
As you write your work history section, focus on quantifiable achievements like sales or customer satisfaction scores and use active language to sell yourself as a great candidate. This is the resume section that employers are most interested in, so you should make sure that it is well-written and effective.
The work history section can be tricky for people who are new to the workforce. For tips on writing a work history section when you don't have much experience, check out our guide to writing your first resume.
Education
Though not all positions require a specific education background, most employers prefer to know what level of education you have attained.
If the job you're looking for doesn't require a specific degree or certification, your education section can be short. Simply note the title of your degree and the school you attended and leave it at that.
If your education is an important part of your career, or if you are a recent graduate and your education is currently more impressive than your work history, you can add more information. Relevant coursework, significant projects, and, if it's strong enough, your GPA can all help showcase your academic achievements.
For more tips on writing your education section, check out our article on how to display your education on your resume.
Recommended resume sections:
In today's crowded job market, it's always best practice to go above and beyond the bare minimum. We recommend adding more than just the mandatory resume sections to make sure you have the best possible resume.

Summary
A brief professional summary is a great way to begin a resume. With a summary section you can give an elevator pitch that highlights your job title, your best skills, and your passion for your work. This gives the reader a clear idea of who you are right at the top of the resume, and should hook them so they keep reading.
Skills
Your skill set is an important part of what makes you a great candidate. By dedicating a distinct resume section to your most important and most relevant skills, you can make sure employers can easily see all of your best qualities.
You can even split your skills into multiple sections, so that your technical skills and soft skills are featured separately. This lets you highlight not only the hard skills that make you great at your job, but the leadership and collaborative abilities that make you great to work with.
Optional resume sections:
Depending on your career history and the role you are applying to, there may be other resume sections that can help you showcase your qualifications. Some may even be required by the job posting. Don't be afraid to use any resume section that you think will help you score your next interview.

Certifications
If you have some certifications that don't quite fit in with your education, you may want to display them in a separate section. Your PMP certification, forklift license, or gas fitting ticket, for example, can all go in a certifications section.
Volunteer Work
Volunteer experience looks great on a resume, especially if your role as a volunteer was relevant to your career, but this section can only be included if you actually have volunteering experience. If you have it, keeping your volunteer positions distinct from your work history can emphasize your community spirit and show some of what you do when you aren't at work.
Portfolio
In some fields, a portfolio is integral to a successful application. Programmers, writers, designers, and photographers, for example, will want to include a portfolio with their resume, or, in the case of a PDF or online resume, hyperlinks to samples of their work. A portfolio section allows you to provide real samples of what you are capable of, so the employer doesn't have to rely only on your word.
Professional Organizations
Memberships to clubs or organizations can also look good on a resume. This is especially true if you hold an important position, like secretary or president. If you hold impressive roles on an advisory board, business association, recreational club, or mentorship program, including a Professional Organizations or Memberships section on your resume will help demonstrate your range of experience and your participation in the community.
Additional Experience
If you are writing a functional or combination resume, instead of the more common reverse-chronological resume, you may choose to display your work history in two sections rather than one. This way, you can show your most relevant or most recent work experience in one section at the top of your resume, and your earlier experience in a less detailed Additional Experience section. These resume formats are sometimes used by people who are changing careers, have been working for decades, or have a work history with gaps or inconsistencies.
Example sections to include in a resume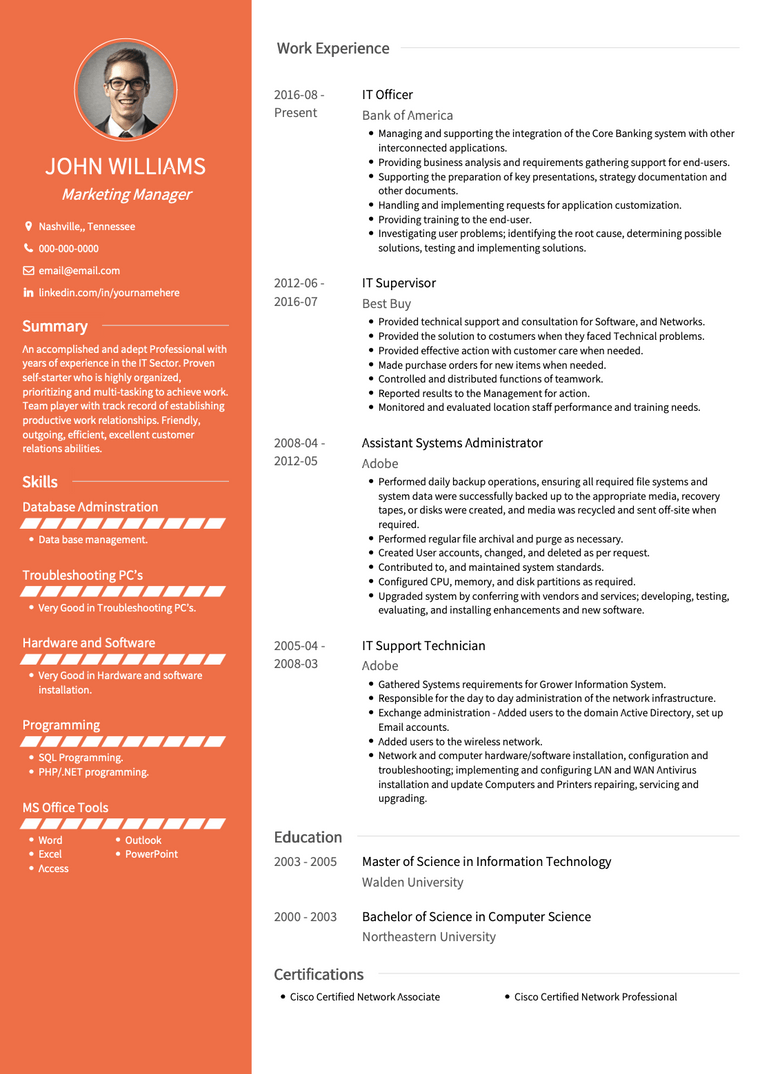 Summary
An accomplished and adept Professional with years of experience in the IT Sector. Proven self-starter who is highly organized, prioritizing and multi-tasking to achieve work. Team player with track record of establishing productive work relationships. Friendly, outgoing, efficient, excellent customer relations abilities.
Work Experience
IT Officer
Bank of America
Managing and supporting the integration of the Core Banking system with other interconnected applications.
Providing business analysis and requirements gathering support for end-users.
Supporting the preparation of key presentations, strategy documentation and other documents.
Handling and implementing requests for application customization.
Providing training to the end-user.
Investigating user problems; identifying the root cause, determining possible solutions, testing and implementing solutions.
IT Supervisor
Best Buy
Provided technical support and consultation for Software, and Networks.
Provided the solution to costumers when they faced Technical problems.
Provided effective action with customer care when needed.
Made purchase orders for new items when needed.
Controlled and distributed functions of teamwork.
Reported results to the Management for action.
Monitored and evaluated location staff performance and training needs.
Assistant Systems Administrator
Adobe
Performed daily backup operations, ensuring all required file systems and system data were successfully backed up to the appropriate media, recovery tapes, or disks were created, and media was recycled and sent off-site when required.
Performed regular file archival and purge as necessary.
Created User accounts, changed, and deleted as per request.
Contributed to, and maintained system standards.
Configured CPU, memory, and disk partitions as required.
Upgraded system by conferring with vendors and services; developing, testing, evaluating, and installing enhancements and new software.
IT Support Technician
Adobe
Gathered Systems requirements for Grower Information System.
Responsible for the day to day administration of the network infrastructure.
Exchange administration - Added users to the domain Active Directory, set up Email accounts.
Added users to the wireless network.
Network and computer hardware/software installation, configuration and troubleshooting; implementing and configuring LAN and WAN Antivirus installation and update Computers and Printers repairing, servicing and upgrading.
Education
Master of Science in Information Technology
Walden University
Bachelor of Science in Computer Science
Northeastern University
Certifications
Cisco Certified Network Associate
Cisco Certified Network Professional
Skills
Database Adminstration
Data base management.
Troubleshooting PC's
Very Good in Troubleshooting PC's.
Hardware and Software
Very Good in Hardware and software installation.
Programming
SQL Programming.
PHP/.NET programming.
MS Office Tools
Word
Excel
Access
Outlook
PowerPoint