UK CV Requirements
Applying for a position in the United Kingdom requires a specific CV format. When you are looking for work in the UK, make sure that your CV is suitable for a UK audience and will meet the expectation of recruiters.
Browse our gallery of resume examples here.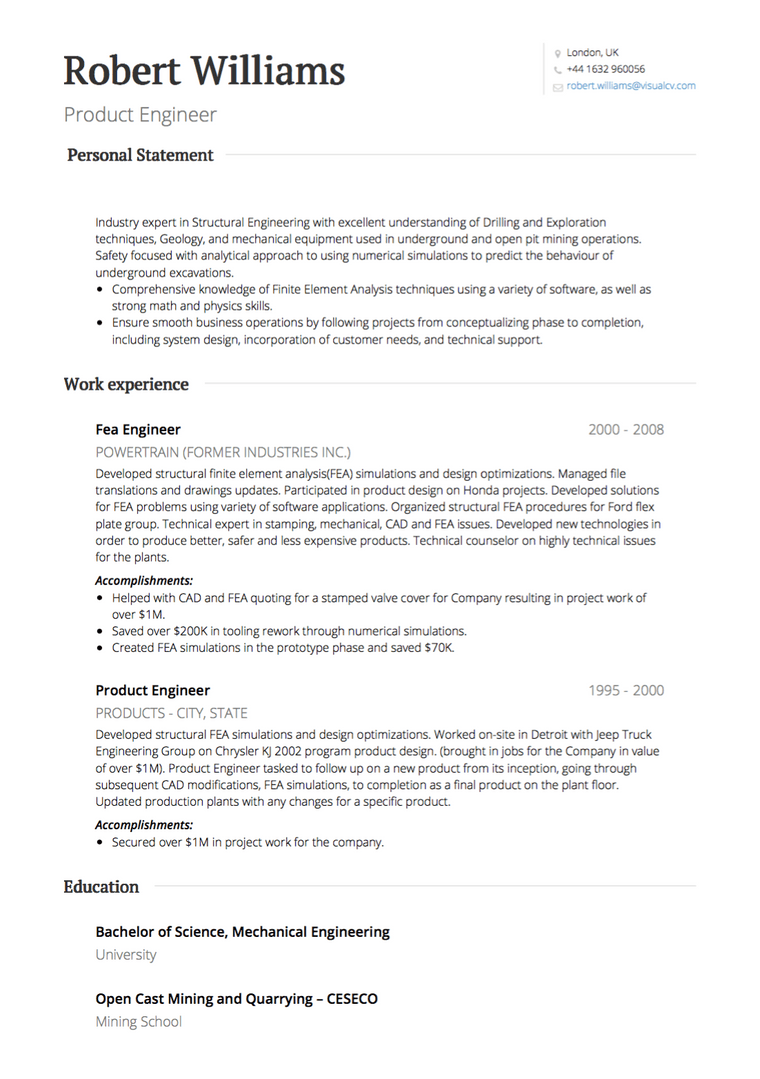 UK CV Tips and rules:
CV, not Resume: The term 'CV' is most common in the United Kingdom. The terms 'resume' and 'curriculum vitae' are rarely used.
Language: Be sure to write your CV in proper British English - for example, write 'labour' rather than 'labor' and 'optimise' rather than 'optimize'.
Length: Your UK CV should not exceed two pages - "no longer than two sides of A4", according to Rachel Swain at Prospects.ac.uk.
Resume template: Browse through our gallery of UK resume templates.
UK CV Format, Order and Layout:
Photo: A photo is not expected on your UK CV. While common in the rest of Europe, it is rare to see a picture on a CV in the United Kingdom. In certain roles, such as some sales positions or a creative job where visual presentation is key, a picture may be acceptable, but be sure to research the company first.
Personal Information: The only personal information required for a UK CV is your contact information - your name, home address, mobile phone number and email address (which should be some variation of your name: firstname.lastname@example.com or something similar). No other personal information should be included.
Personal Statement: Your CV should begin with a brief description, no more than five lines of text, that describes who you are, what you can do, and what you bring to the position you are applying to. Your personal statement should be tailored to the job description - focus on the skills and experience that make you suited for this particular job. Personal statements are not mandatory, but they are a great way to grab an employer's attention. According to Michael Cheary at reed.co.uk, "a well written personal statement can mean the difference between standing out from the crowd and your application being rejected."
Work experience: Display your previous jobs in reverse chronological order, beginning with the most recent. Use this space to showcase your achievements in each position - important milestones and quantifiable data are more impressive than daily duties. Use proactive action words to make your experience sound interesting and dynamic.
Education: Education should also be listed from most recent to least recent. Include all relevant certifications, including institution names and dates. Your education section should come after your work experience, unless you graduated very recently.
Other sections for your UK CV:
Skills: It is common to include a simple list of skills kept separate from your work history. This provides a quick, at-a-glance look at what you excel at, without delving into your experience too much.
Volunteer experience: Volunteering experience should be noted on your CV. If you prefer, you can include volunteer experience in your Work History section, but remember to specify when a role is a volunteer position.
Languages: Feel free to note any languages you are fluent in. This is particularly important when the job calls for multiple languages.
References: It is not necessary to include references in your CV. Instead, follow up with references to an employer separately when asked.
Conclusion:
Though CVs in English-speaking countries are very similar, each country has its own nuances that must be observed for best results. When writing a UK CV, pay attention to the specific requirements of each employer and if possible, have someone you trust read over your CV before submitting your application.