When you make the difficult choice to look for a job in a new industry, it's important to write a career change resume.
Your old resume, tailored to your old career, won't suit your new field. For your job search to succeed when you make a career change, you have to make sure that your resume is tailored to the right positions and highlights the right skills.
Important steps for creating a career change resume include:
Picking the right resume format
Highlighting transferrable skills
Tailoring your resume to suit your new industry
Emphasizing your most relevant experience
Anyone can reach a crossroads in their profession and decide that it's time to make a change. Maybe you've developed new skills, run out of opportunities, or realized that your current career doesn't motivate you like it once did. Whatever the reason, if you want to change jobs, you will need to know how to write a resume for a career change.
What is a career change resume?
A career change resume is a resume for a job-seeker who is leaving one industry and entering another. It highlights the experience that is relevant to the new field, and the skills that are transferrable to future roles. A career change resume is similar to a typical resume, but it is tailored to suit jobs that are different from the previous positions listed in the resume.
With the right tweaks and changes, you can easily turn your existing resume into an effective career change resume.
For example, identifying your transferrable skills is an important part of writing a career change resume. If you're attempting to transition into a new industry, you will need to research what skills you will need in future jobs, and demonstrate in your resume that your previous roles have prepared you with transferrable abilities.
Further, your career change resume should de-emphasize irrelevant job skills, unless they're very impressive and showcase your quality as a candidate.
Your education is another important source of transferrable skills. Consider all of your degrees, diplomas, or other certificates and brainstorm the skills you developed as you studied. If you have relevant academic experience, it's essential to highlight those credentials.
Even hobbies and memberships could be an asset to your career change resume. For example, if you're applying for an accounting position, your role as treasurer for your local lawn bowling club would be perfectly relevant.
Why write a career change resume?
It's important to write a career change resume when you're looking to enter a different industry because your resume must be customized to suit the jobs you want, not the job you have.
Your old resume is tailored for the wrong jobs.
Your resume should always target the job you're applying for. This means that the details you emphasize throughout your work history, education, skills, achievements, and summary must match your new industry.
While your current career experience is important and impressive, it may not be enough to convince a hiring manager that you are the right person for the job if you don't know how to emphasize the right details in your resume.
A resume for changing careers needs to clearly identify transferrable skills and experience from previous positions in order to be successful. This will ensure that when hiring managers read your resume that they can understand that while you might not have directly related experience in the same field, you have relevant skills, varied experience, and can thrive in the position.
How to write a career change resume
Like any resume, a career change resume requires the right resume format, a professional resume template, and clear organization. However, a career change resume also needs to be tailored and focused on transferrable skills to make a real impact.
Here are the steps you should take when writing a resume for changing careers.
1. Choose a resume format
There are three resume formats that you can consider for a career change resume.
Reverse-chronological: This resume format emphasizes work experience and lists your past roles in order, beginning with the most recent and working backwards. This is the most common resume format.
Functional: This format emphasizes skills above work experience, and groups past positions by topic rather than chronologically.
Combination: This format emphasizes your skills, but still uses a reverse-chronological work history section.
We recommend using a combination format for a career change resume. This resume format allows you to showcase your skills while maintaining a clear timeline of your career.
To write a combination resume, create a Skills section near the top of your resume, above your Work Experience section. This is where you can highlight and explain your most impressive and most relevant skills. Your Skills section will be the focus of your resume, as this section is where you can make the case for your skill set, even if your past positions were in a different field.
Your Work Experience section will follow your Skills section. This section can be shorter than in a typical reverse-chronological resume, with less detail than your Skills section, but it should still have a clear timeline. Even if you are changing industries, hiring managers will be interested to see how your career has progressed. A reverse-chronological work experience section allows you to clearly tell that part of your story.
Of course, these aren't hard and fast rules. You can use a typical reverse-chronological resume format if you prefer. Just make sure you can highlight the right skills and experience for your new industry.
2. Pick a great resume template
Any resume for changing careers needs a great template.
Your resume won't do you any good if it's difficult to read, no matter how well-targeted your skill set is. Make sure your resume is easy to read, with simple organization and clear headings.
Additionally, ensure that you choose a resume template suited for the industry you want to work in. If you want to move into a more formal industry, like law or accounting, find a traditional resume template with simple formatting and no colours. If you are moving into a more creative field, like marketing or design, you can look for a more modern template, with pictures or colours.
To find the perfect resume template for your new career, check out these VisualCV resume templates.
Your career change resume should begin with your name and contact information. The hiring manager needs this information to contact you, so you should make it easy to find.
Your resume should include:
Name
Phone number
Email address
City of residence
You can also include hyperlinks to your professional online profiles, such as LinkedIn or Twitter. If you're applying for a software development position, you can link to your GitHub profile. If you are moving into a creative field, you might have an online portfolio to link to.

You may also want to include a headline or job title in this section. However, if you are changing careers, this could confuse the hiring manager. Avoid using a job title that isn't supported by your resume.
4. Write a great summary
An excellent Summary section is essential. Hiring managers only spend a few seconds scanning each resume, so you need to find a way to impress them right at the top of the page.
Your summary should quickly establish that you are changing careers and highlight some key achievements and skills that apply to your new industry.
In no more than a few sentences or bullet points, demonstrate that you are a skilled professional with impressive experience under your belt, and emphasize the aspects of your skill set that will transfer to new roles.
Avoid jargon and abbreviations, even if they are obvious to people who work in your previous industry. It's important that hiring managers in your new industry can easily skim this section.
Career change resume summary example
Former Marketing Specialist moving into a Project Manager position having completed CAPM certification. Dedicated, innovative individual with over 10+ years experience in digital marketing. Managed several marketing campaigns with budgets of over $500,000, partnering with sales and creative teams to complete projects on time. Two years experience managing a team of 5 people and liaising with C-Suite executives to establish goals for marketing projects.
5. Highlight your transferrable skills
Your Skills section is the key to your career change resume. Your past roles may not be directly relevant to positions in your new industry, so your Skills section is where you will need to demonstrate that you have what it takes to succeed.
To identify the skills you will need in future roles, study job postings in your new industry, network with professionals in that field, and learn as much as you can before you start applying.
Then, look back on your career and think about the skills you've developed. Some of them will be relevant to the new industry, and will be perfect for your career change resume.
By reading as much as you can about your target profession and brainstorming your existing skills, you should be able to figure out which transferrable skills to highlight. These may be soft skills like leadership, teamwork, creativity, or problem-solving, or hard skills like writing, software expertise, or bookkeeping. Identifying transferrable skills is the key to a successful career change resume.
Once you've settled on the right transferrable skills, think about the best way to showcase them. It may be that a simple list will do the trick. If this is the case, create a simple bulleted list for your most relevant and impressive skills.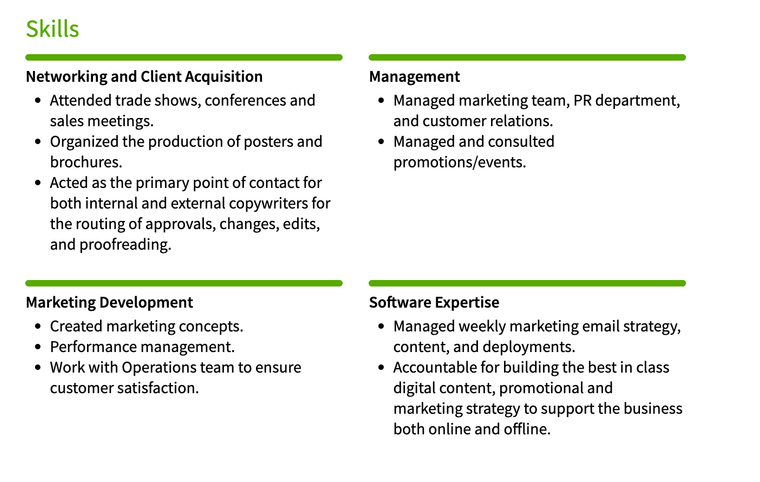 To really sell your skills, however, you may want place more emphasis on the skills section. Make each skill in the list a heading, and then provide evidence for each skill in bullet points below. The best way to do this is to give concrete, measurable examples of achievements relevant to that skill.
For example, if you count Leadership as a transferrable skill, provide examples of projects you have led, teams you have managed, or decisions you have been responsible for.
Clear, concrete examples are the best way to showcase your skills. When your skills are the focus of your resume, as they will be in a career change resume, it's important to give your Skills section the attention it deserves.
Career change resume example skills section
Skills
Leadership
Time Management
Creativity
Problem-Solving
Adaptability
Communication
Analytics
Teamwork
Project Management
Budgeting
5. Write a great work experience section
An excellent work experience section is crucial to your career change resume. While your career change resume should be focused on skills, your previous positions are still an important part of your career story.
List your previous jobs in reverse-chronological order, beginning with your most recent position at the top and working backwards.
Throughout your work experience, each item should include:
The company name
The job title
The start and end dates of your employment
A job description featuring your achievements and responsibilities in the role
In each job description, be sure to focus on the accomplishments that could be relevant to your new industry. Think about the requirements listed in the job posting, and consider what employers in your new field are seeking. Every job may not be perfectly relevant, but it's important to show that even though you are changing careers, you have what it takes to be successful in a challenging role.
Here are some additional resume work experience tips that will help you along.
Career change resume work experience tips
Use numbers and measurable successes as much as possible. For example, if you worked in sales in a previous job, give your sales revenue or the number of clients you gained. This approach makes your claims more concrete and impressive.
Use action words to describe your duties. Terms like accelerated, spearheaded, generated, centralized, and mentored can add some energy to your work experience section and make your roles sound impressive.
Emphasize any transferrable skills. Your resume should be focused on your next job, including when you describe past ones.
Make it clear to the hiring manager that you have the skills to succeed in the new industry.
Career change resume work experience example
Researcher ABC Labs, New York Sept 2018 - Present
Instrumental part of a team that completed government-funded research on Alzheimer's Disease, resulting in a second phase project funding of $5 million
Managed and coordinated a 200-person volunteer research program that examined neurological diseases
Conducted in-depth research to understand the current state of medications and their efficacy for Alzheimer's Disease
Collaborated on data analysis and contributed to research paper on progressive neurological disorders
Presented findings at three annual conferences
Wrote monthly press releases to update the public about our work and findings
6. Include your credentials
Your education is an important part of your career story. You should list your any degrees, diplomas, and certificates in your resume, even if they aren't immediately relevant to your desired field. It's important to show that you can work towards a goal and complete a degree, even if that degree is in an unrelated field.
If your education is completely irrelevant, simply listing your degrees and the institution name is sufficient.
If you would like to give your education more emphasis, however, you can give more details. For example, you may want to give your GPA, list academic awards, or describe relevant projects or areas of study.
Resume for career change education section example
MSc in Mechanical Engineering University of Iowa
Modules:
Project Management
New Product Development
Advanced CAD
Advanced Static Analysis
BSc in Mechanical Engineering University of Iowa
GPA: 3.7
Modules:
Project Management
Engineering Concepts
Systems modelling
Material analysis
7. Customize your resume for every application
You should customize your resume for every application.
While this is true for any resume, it is especially true for a career change resume. Your resume has to be perfectly targeted to prove that you have the right skills not only for a new job, but for a new career.
To do this, study each job posting and identify the specific keywords that the company is using. They will be looking for specific skills and experience. Then, look at your own background and identify the skills that overlap, and use the same words or phrases to describe your skills. This will ensure that the keywords match, and get your resume to the next round.
Career change resume example
Summary
Experienced accounting professional and recent Bachelor of Education graduate seeking a role in education. Proven ability to communicate clearly to all levels of an organization, including legal, technical, and executive, to ensure objectives are met. Versatile mentor with experience teaching and training new hires. Several years of experience in financial analysis, accounting, and auditing. Excellent financial reporting, budget forecasting and team management skills. Experience closing leads and building and maintaining a client base. Established track record of successfully managing and executing multiple projects under tight deadlines to achieve successful results.
Skills
Mentorship
Team Management
Budgeting
Financial Analysis and Reporting
Client Education
Financial Statement Analysis
Education
Bachelors of Education State University
Master of Business Administration University of Northampton
Work Experience
Financial Accountant Andrew Industries Limited
Manage and oversee the daily operations of the accounting department.
Hire, train, and mentor new employees.
Meet accounting financial objectives by forecasting requirements, preparing an annual budget, scheduling expenditures, analyzing variances and initiating corrective actions.
Educate department heads regarding important accounting processes.
Analyze and interpret financial information that corporate executives need in order to make sound business decisions.
Communicate with other departments by researching and interpreting accounting policy.
Recommendations courses of action in plain language.
Monitor and analyze accounting data.
Produce financial statements and reports.
Confirm financial status by monitoring revenue and expenses.
Preparing special reports for Banks, creditors and for investors.
Maintain accounting controls by establishing a chart of accounts, defining accounting policies and procedures.
Senior Accountant Ambition UK
Prepared individual and consolidated financial statements and other accounting reports as per defined policies and applicable accounting standard.
Prepared monthly and quarterly management reports with evaluation of divisional performance.
Developed and implemented in the effective internal control system to enhance the company financial performance.
Set policies for transferred pricing and critical success factors for divisions & branches and relevant financial key performance indicators to align the division's goals with the organization.
Monitored and controlled the costs of activities under different projects. Monitored revenue growth and margin.
Monitored the liquidity in banks accounts, management of Daily working capital & liquidity planned.
Letter of Credit, Bank Guarantee, Performance bound & other banking transactions.
Ensured the maintenance of day to day financial records & transactions as per Group policies and procedures.
Ensured the arrangement of funds for timely Processing of payroll.
Ensured the proper recording of inventories and monthly adjusting entries.
Finalized financial statements, Trail Balance, & formulated various analyses of general ledgers & other documents for submission to external auditors.
Participated in various internal audit reviews in the Group as directed by Group Chief Financial officer.