If know how to write great copy, you should also know how to write a great copywriter CV.
A copywriter's main skill is crafting punchy, persuasive content to help businesses sell products or services. If you can apply those skills to your own CV, you should have no problem selling yourself to an employer.
Your copywriter CV will be the first sample of your writing that an employer reads. If you can't impress the hiring manager with a clean, engaging, easy-to-read document that sells you as a candidate, they'll have to wonder if you're the right person for the job.
While your skills, experience, and portfolio will ultimately determine whether you land your dream job, you will still need a superb Copywriter CV if you want to land an interview.
In this guide, we will discuss:
How to write a copywriter CV that makes an impact
What sections you need for a copywriter CV
Some excellent copywriter CV example sections
How to use copywriter CV templates to improve your formatting
Some tips and tricks to help you write a superb copywriter CV
#1. Pick an excellent copywriter CV template
If you're a copywriter, words are everything. To write an excellent copywriter CV, however, you need to think about presentation and formatting as well.
One of the first things to consider when learning how to write a copywriter CV is how you organize your skills, experience, and qualifications visually. The best way to do this is to find a great CV template.
When selecting a template, consider the specific company you are applying to. If they are an older company with traditional values, use a more classic CV template, like VisualCV's Corporate or Monte templates.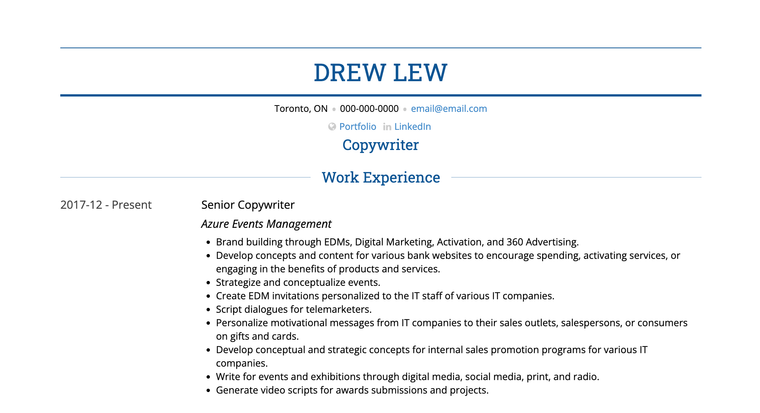 If they are a company with more modern sensibilities, however, you may want to choose a template like Nevis, which offers a little more colour and personality.
When you start with a stylish template, your copywriter CV is on the right track.
It's important to include your contact information near the top of your CV. The hiring manager has to know exactly where they can contact you, so you should make this information very obvious.
Your CV's contact information section should include:
Name
City and state/province
Phone number
Email Address
If you have an online portfolio or a professional social media profile, you can link to them in this section. Linking directly to your personal website or LinkedIn profile is a great way to add credibility to your CV.

#3. Write an effective summary
In a CV, a summary is a short paragraph, usually 2-4 sentences or bullet points, that summarizes your core qualifications as an applicant. You may want to highlight some key skills, list some impressive highlights from past roles, or list some academic achievements. It's important to showcase some of your most impressive details right at the top of your CV.
To write a great copywriter summary section, make sure to showcase qualifications that are relevant to the position. This might include your degree in English or Communications, your years of experience, or your successful projects in previous roles.
Creative and experienced copywriter with 5+ years of experience writing in the SaaS sector. Well-versed in using StoryBrand to develop an understanding of products and services to create compelling and meaningful narratives that connect with audiences. Overhauled the sales landing page for my current employer, resulting in a conversion increase of 200%.
#5. Showcase your work experience
Your work experience section is the focus of your CV. This will likely be the longest section with the most detail.
List your previous roles in reverse-chronological order, beginning with your current position and working backwards. Each role you list in your work experience section should include:
Your position or role
The company name
The dates you held the position
A bulleted list of your duties and achievements
When you describe each job, make sure to tailor the details to suit the job you are applying for. You should always highlight the most impressive and most relevant information. To do this, use the job posting to figure out what keywords, concepts, and job requirements and match your past experience.
For example, if the job description mentions that you should be able to use a specific content management software (CMS), like WordPress or Drupal, and you have that experience, include it in the work experience section. If the position requires writing product descriptions or ad copy, highlight any relevant experience you have with this aspect of copywriting.
It's also important to use active language to describe your work experience. Using words like led, organised, executed, built, and overhauled is a great way to make your experience sound skilled and energetic.
Finally, where possible, quantify your achievements using verifiable data. "Increased web traffic by 200% through SEO-focused writing" is far more impressive than "Wrote SEO content."
Work Experience
Copywriter
ABC Digital New York, NY Sept 2018 - June 2022
Delivered high-quality sales copy on brief and on time for twenty B2B clients.
Planned, composed, tested, and edited whitepapers, presentations, pitch decks, digital assets, and thought leadership articles for business clients
Drove consistent branding for business on marketing materials and sales outreach emails
Day-to-day management of ABC Digital blog and email newsletter, delivering three blogs weekly.
Proficient in Adobe Experience Cloud, Salesforce
#6 Highlight your most relevant skills
Your Skills section is an important part of your copywriter CV. It's where you can list your core competencies in a simple and readable format. This is a great way to let employers know what you are capable of.
A good skills section should have a mix of hard and soft skills. Hard skills are technical skills you've learned, like proofreading, content management, or using a specific software. Soft skills are interpersonal attributes like communication, organization, or time management.
To select which skills to highlight in your copywriter CV, make sure to read the job posting closely. The company will list their requirements, and it's important to show that you have the skills they are looking for. Consider your skill set and emphasize the skills that best match the job description.
If you want to really highlight your skills section, you can make each skill its own heading and give examples of that skill as a bulleted list. With VisualCV, you can even add a strength rating to each skill.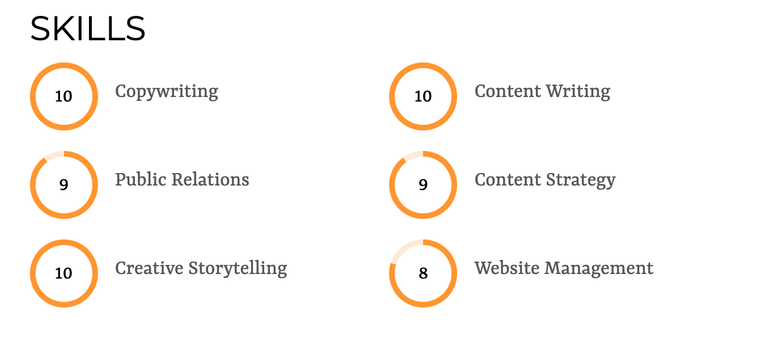 For a more subdued Skills section, you can simply list skills in a bulleted list.
Skills
Attention to detail
Storytelling
Proofreading
Content Development
WordPress
Time management
Market research
Consumer psychology
Teamwork
StoryBrand
SEO
Spelling, grammar, and punctuation
Canva
Adobe Illustrator
#7. List your education
It's important to list your education on your resume.
While you don't need a degree to become a copywriter, academic experience is an important part of your career story. A degree in English, journalism, or creative writing can be a great asset to a copywriting resume. Degrees unrelated to writing, like science or business, can also be an asset, especially when you are looking for become a copywriter in one of those fields.
When you write your Education section, list your most recent degree first and work backwards in order.
If you have been working in the industry for the last few years, your education section doesn't need to be too detailed. You can simple list:
Degree title
School name
Years attended
If you are a recent graduate without much work experience, however, you may want to include more details in your Education section. For example, you can add:
GPA (if it's above 3.5)
Relevant projects or coursework
Achievements or extracurricular activities that are highly impressive or relevant
Education
Bachelor of Arts in Journalism Nova Southeastern University 2017 - 2020
#8. Include additional Copywriter CV sections
each section well, your CV will make an impact and land you interviews.
However, you might have some other qualifications that don't quite fit in to those sections. If that is the case, you can add more sections to your CV.
Additional sections you may want to consider include:
Writing samples
Professional projects
Publications
Awards
Certifications
Volunteering experience
Interests
In particular, you should think about including a section with titles or hyperlinks to examples of your writing. As a copywriter, it's important to have writing samples that you can show potential employers. Links to published work, writing samples, or a portfolio are a good idea on a copywriter resume.
Certifications, volunteering experience, and awards are also useful sections when applicable, especially if you have copywriting-related experience in those areas.
#9. Customize your CV
Employers often receive hundreds of applications for each job. To help speed up the hiring process, they often use an Applicant Tracking System (ATS). An ATS is a type of software that scans resumes for keywords and selects the best-matching ones for the hiring manager to review.
If you want to have a successful job search, you'll have to learn how to write a CV that beats the ATS.
To do this, you'll have to tailor your CV to suit the job posting. The ATS will be looking for the specific words and phrases used in the job description, so you should customize your CV with those exact terms. For example, if the job lists "Proofreading," "Content development," and "WordPress," and you have experience in these areas, try to include these terms somewhere in your CV. The better your CV matches the job description, the better.
Copywriter CV example
SUMMARY
A skilled copywriter with an editorial mindset, with experience developing digital content for websites, campaign microsites, videos, infographics, presentations, brochures, datasheets, EDM, blogs, press releases, social media, and sales enabling tools. Able to take ownership of a project and nurture fantastic relationships with managers and colleagues. Customer-centric and technology savvy, with a flair for writing and a good nose for PR opportunities. Very good at problem-solving and thinking outside the box. Thrive in a cross-functional environment and well-versed in working with virtual teams. Copywriting with a strong marketing spin.
Skills
Copywriting
Storyboarding
Content writing
Microsoft Office
Web content development
Adobe Experience manager
Google Analytics
Basic HTML
Work Experience
Senior Copywriter
Azure Events Management
Brand building through EDMs, Digital Marketing, Activation, and 360 Advertising.
Develop concepts and content for various bank websites to encourage spending, activating services, or engaging in the benefits of products and services.
Strategize and conceptualize events.
Create EDM invitations personalized to the IT staff of various IT companies.
Script dialogues for telemarketers.
Personalize motivational messages from IT companies to their sales outlets, salespersons, or consumers on gifts and cards.
Develop conceptual and strategic concepts for internal sales promotion programs for various IT companies.
Write for events and exhibitions through digital media, social media, print, and radio.
Generate video scripts for awards submissions and projects.
Creative Copywriter
PowerTrain
Worked alongside the design team to come up with visually appealing concepts for sales and marketing collaterals.
Performed client servicing for HP and StarHub, including the development and creation of sales enablement collaterals such as brochures, fact sheets, whitepapers, infographics, cribsheets, sales decks, sales training videos, newsletters, interactive tools, and other requirements, from conceptualization to content creation.
Studied and analyzed customer needs to come up with appropriate angles and concepts for easy learning and effective selling.
Liaised with stakeholders, content owners, and agencies.
Developed knowledge on search engine optimization (SEO) to write copy that will rank high on search engine pages.
Developed content for print and web advertisements, press releases, newsletters, and advertorials.
Created, managed, and maintained content on the current corporate website and measured the impact of content on site visitors.
Wrote and translated content into user-friendly web assets.
Assisted in management and execution of RFP responses.
Collaborated with designers to compose conceptual, forward-thinking marketing copy.
Copywriter
Freelance
Created concepts and ideas directly under the aegis of the Creative Directors and the Executive Director.
Produced a large portfolio of work related to corporate clients, FMCG products, and niche goods.
Developed content requirements across all mediums like radio, print, and television.
Generated measurable results for businesses and marketing firms via crisp, conversional copy.
Regularly produced press releases, website copy, email blasts, and promotional materials under tight deadlines.
Collaborated closely with clients to achieve a clear understanding of products and goals.
Created standout text that reinforced branding and/or increases sales.
Edited critical corporate correspondence and existing content with a results-oriented perspective.
Education
Master of Communication Sciences Stanford University
Bachelor of Business Administration University of Pennsylvania