If you're wondering how to write a resume for an internship with no experience, you've come to the right place.
An internship is a great way to gain valuable work experience. Even if an internship pays poorly (or not at all!), it can help you gain the contacts, knowledge, and references you need to land your dream job.
Good internships are highly competitive, so you need an excellent internship resume to stand out from the crowd.
This guide will discuss:
How to write a resume for an internship
Which resume sections you need on an internship resume
How to use a resume template to format your resume
Helpful tips for writing a great internship resume
What is an internship resume?
An internship resume is a resume that focuses on education and skills and is highly customized for an internship context. It is an important part of applying for an internship.
Because most people do internships early in their career, they often don't have work experience to list in their resume. You might be a student or recent graduate, and this internship might be your first step into the workforce. As you write your internship resume, it's important to showcase your most important skills and academic accomplishments.
To do this, you might include sections for education, volunteering experience, extracurricular activities, skills, and academic awards. Anything that makes you look like an impressive candidate will look good on an internship resume.
Internship resume sections
An impactful internship resume should have the sections:
Contact information: The first section that contains your name and contact details
Summary: A short introductory paragraph that summarizes your qualifications as an internship candidate
Education: A list of your degrees and academic achievements
Skills: A list of the skills and competencies you possess
Work experience: A list of your work history and related accomplishments
For many internship applicants, those sections will be enough. If you have more accomplishments you would like to showcase, however, you can also include sections such as:
Volunteering experience
Awards and honours
Projects
Research experience
Publications
Interests
How to write a resume for an internship: a step-by-step guide
Hiring managers know that most internship candidates don't have much work experience, but they'll still be looking for a great resume. To get past the initial resume screen, make sure your resume is well-formatted and easy to read. To write a great internship resume:
#1. Pick the right resume format
Most job-seekers use a reverse-chronological resume format. In this format, the Work History section is written in reverse-chronological order, beginning with the most recent position and working backwards.
As you may not have many previous positions to list, you may want to use the combination resume format instead. With this format, you still list your previous jobs in order, but make your skills or academic achievements the focus of the resume, rather than your work experience. This way, you can be sure to emphasize the right qualifications.
Consider your experience and your skills when you pick which format will work for you.
#2. Choose an excellent internship resume template
The right resume template will give you an important head start on a great-looking resume.
The specific template you choose will depend on the company and industry of your internship. If you are applying at a law firm, for example, you may want to use a traditional template, such as VisualCV's ATS. If you are interning in a more creative field, like art or design, you may want to try a more modern template, like VisualCV's Rainier.
In any case, it's important that your template is clearly organized and easy to read.
If you decide to design your own resume instead of using a template, be sure to follow these rules of thumb:
Choose a font between 10pt and 12pt
Keep line spacing between 1.0 and 1.15
Choose a neutral, professional font
Make section headings between 14pt and 16pt
Use bullet points when writing job descriptions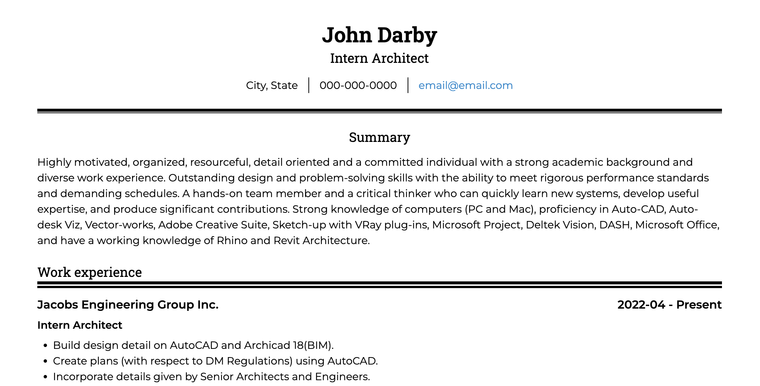 Begin your resume with your contact information. This information has to be easy to find, so anyone reading your resume knows exactly how to contact you. For your internship resume, your contact information must include:
Name
Phone number
Email address
City
If you have a professional social media account, an online student profile, or an online portfolio, you may want to include a link in your contact information as well
Social media like LinkedIn, GitHub, or even Twitter and Instagram can all be included, as long as all of your online behaviour is appropriate and professional.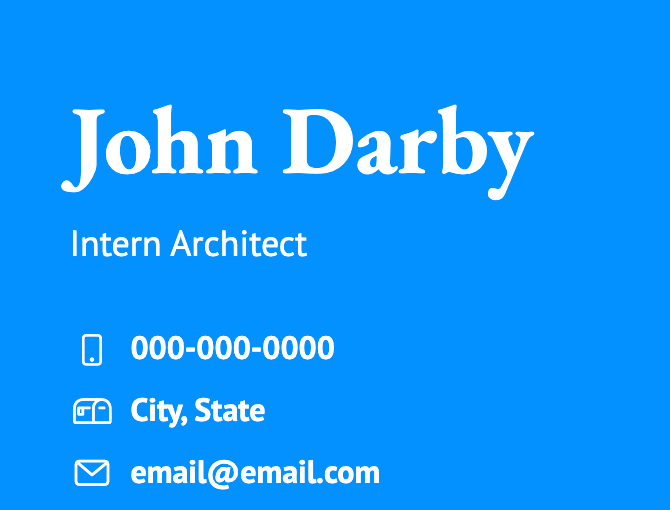 #4. Write a brief summary
On a resume, a summary is a short paragraph or bulleted list summarizing your key qualifications for a position. It is your elevator pitch to an employer, and it may list core skills, academic achievements, or previous positions that make you a great candidate. The Summary section should appear near the top of your resume.
Before writing your summary for an internship resume, you should read the job posting carefully. Pick out key requirements from the job description, such as technical skills, education, and experience, and see how you can include them into your summary. For example, if the job posting calls for experience with JavaScript, and you have worked with JavaScript in your college classes, you can include this in your summary.
A good objective be no more than a few sentences or bullets, use action verbs to describe skills and achievements, and demonstrate why you are a great candidate for the internship. This should encourage the hiring manager to read the rest of your resume.
Driven and motivated graduate seeking internship at BellWether media. Keen to utilize my knowledge of marketing tools and develop my passion for digital marketing. GPA of 3.7 with a strong understanding of consumer psychology. My aim is to prove my value and gain industry experience.
#5. Showcase your education
If you are seeking an internship, you may be a recent graduate or current student. This likely means that most of your skills and experience were gained in your education. If this is the case, your education section is very important to your internship resume.
In your Education section, list your degrees in reverse-chronological order, beginning with the most recent and working backwards. Each item in the Education section should include:
Degree
Major and minor
Institution
Dates attended
If you want to emphasize your academic experience, you can also include a description of each degree. If relevant, you may want to list:
Classwork
GPA
Dean's list
Research areas
Impressive projects
Academic awards or honours
Exchange programs
When you don't have much experience in the workforce, details like this van help show that you still have the skills to succeed at your internship.
If you have a bachelor's degree, a master's degree, or any other post-secondary certifications, you don't need to include your high school. Only include your high school education if it is the only education you have.
EDUCATION
MSc in Marketing University of Cincinnati Cincinnati, OH. 2019 - 2021
GPA: 3.8
Relevant coursework:
Consumer psychology
Analytics
Business management
Quantitative methods
BSc in Marketing University of Pennsylvania Philadelphia, PA. 2016 - 2019
GPA: 3.7
Relevant coursework:
Communications
Digital marketing
Consumer behaviour
Public relations
#6. List your skills
While in many ways the purpose of an internship is to develop your skills, you still have to list your skills on your resume. Make sure you have a clearly labelled Skills section in your internship resume.
Most job-seekers list their skills in a simple bulleted list. This is a readable and efficient way to display your skills.
If you want to give your skills more emphasis, you can also make each individual skill a heading and offer an explanation or example for each one. With VisualCV's templates, you can even add strength ratings to each skill to show where your strengths are. This is a great way to draw attention to your Skills section in a stylish way.
Skills
Data analytics
Marketing automation
Punctuality
Teamwork
Copywriting
SEMRush, Moz, Screaming Frog SEO
Slack, Trello, Microsoft Office
Spanish (intermediate)
#7. Work experience
Write your work experience section in reverse-chronological order, beginning with your latest role and working backwards. For each job, make sure to include:
Job title
Company name
Dates of employment
A bulleted list of your achievements and responsibilities in the role
Your work experience may include full-time roles you have held. If you are a student or recent graduate, you can also list part-time jobs, summer jobs, other internships, or even volunteering experience.
The important thing is to be sure that you can demonstrate that you are a good worker and a dedicated employee.
Work Experience
Work experience placement ABC Marketing June - Sept 2021
Completed three months work experience for a digital marketing firm
Automated social media posts for four clients
Collaborated with content department to help launch new SaaS service
Compilled market research by analyzing data from market surveys
Used HubSpot, Maple, and Google Analytics
Cashier/server Gino's Pizza Oct 2019 - June 2021
Worked at a popular pizza restaurant at weekends during my studies
Handled cash and payments, balancing the till at the end of the night
Provided friendly and attentive service for restaurants patrons
Monitored and maintained clean working surfaces at all times
Responsible and punctual member of staff
Employee of the month January 2021
#8. Add other relevant qualifications
If you have other qualifications you'd like to highlight, be sure to include them in your resume. Other sections might include volunteering experience, extracurricular activities, projects, awards and honours, and more.
Consider what other qualifications you have, and if they suit the internship you're applying for, add them to your resume.
Projects
Freelance Marketing projects 2018 - 2021
Helped several local brick-and-mortar businesses migrate online during COVID-19
Managed social media accounts for a small clothing brand
Contributed SEO-focused copy and blog posts for companies in the CBD space
Wrote landing pages for insurance and accountancy services
Tips for writing an internship resume
Once your resume sections are in place, you can begin making sure the section content is perfect. As you write and edit your resume, keep these tips in mind:
Clarity is key
Your resume must be clear and easy to read. Ensure that every section has a clear heading, that the resume is structured well, and that the fonts are easy to read both in print and on a screen.
Be brief
An internship resume doesn't need to be longer than a page. As you likely don't have much experience, you should be able to fit everything you need on one page. If absolutely necessary, you can use a second page, but never more.
Customize your resume
It's essential to customize your resume for each position you apply to. A generic, catch-all resume is not likely to grab a hiring manager's attention. Make sure your resume is tailored to the specific internship you are applying for.
To customize your internship resume, read the job posting carefully and take note of the key words and phrases it uses when describing the job requirements. These are the phrases that you should include in your resume (as long as it's true). This might include skills, education, tools, software, experience, and more.
Beat the applicant tracking system (ATS)
An applicant tracking system (ATS) is a type of software that reads resumes and selects the best ones to pass on to a hiring manager. Many companies use ATSs to streamline the hiring process.
To make sure your resume beats the ATS, make sure you use the exact keywords from the job description to describe your experience. These are the phrases the ATS will be looking for. Further, make sure to use a straightforward template without many tables or images. This will be easier for the ATS to parse.
Internship resume example
Summary
Highly motivated, organized, resourceful, detail oriented and a committed individual with a strong academic background and diverse work experience. Outstanding design and problem-solving skills with the ability to meet rigorous performance standards and demanding schedules. A hands-on team member and a critical thinker who can quickly learn new systems, develop useful expertise, and produce significant contributions. Strong knowledge of computers (PC and Mac), proficiency in Auto-CAD, Auto-desk Viz, Vector-works, Adobe Creative Suite, Sketch-up with VRay plug-ins, Microsoft Project, Deltek Vision, DASH, Microsoft Office, and have a working knowledge of Rhino and Revit Architecture.
Skills
3ds MAX
Google Sketch up
Auto-desk Auto-CAD
Adobe Photoshop
MS Office Suite
Work experience
Intern Architect
Jacobs Engineering Group Inc.
Build design detail on AutoCAD and Archicad 18(BIM).
Create plans (with respect to DM Regulations) using AutoCAD.
Incorporate details given by Senior Architects and Engineers.
Prepare detailed construction drawings.
Feasibility studies.
Research code (OBC) and materials.
Coordinate work and drawings with structural engineers.
Attend site meetings and construction site walk-throughs.
Intern Architect
PowerTrain Industries
Assisted Senior Architects on Design Detailing using Auto-CAD.
Assisted in checking shop drawings, producing marketing materials, creating deficiency lists, and site instructions.
Created building views using Google Sketch-up.
Architectural drawings, drafting & detailing, involvement in project discussions.
Client discussion regarding designing modifications.
Designed presentations.
Student Intern
INC Architecture & Design
Produced CAD drawings of residential buildings from Architect's sketches and marked up drawings.
Completed sets of plans, sections, and elevations.
Prepared presentation boards.
Participated in negotiations with the client.
Education
Bachelor in Architecture
Academy Of Art University