Sales managers are responsible for supervising and leading sales teams within an organization. Sales manager skills are in high demand, and sales manager employment is expected to continue to grow through the 2020s.
Working as a sales manager is challenging, but it can be a well-paid position at the right company. Sales manager roles are very competitive, so a strong sales manager CV is essential for landing an interview.
This article will teach how to write a sales manager CV that makes an impact by:
Using a great CV template
Writing a compelling CV summary
Tailoring your sales manager CV experience
Learning from great sales manager CV examples
What is a sales manager?
A sales manager's primary responsibilities are leading and guiding the sales agents in a company or business. Their duties include:
Setting sales goals and quotas
Managing individual sales teams
Building sales plans
Analyzing data
Assigning sales territories
Hiring, training, and coaching sales reps
A sales manager's role will vary depending on the size and structure of an organization. However, almost all sales managers assign sales territories, set goals, and coach or train sales representatives. Sales managers usually report to upper management or a Head of Sales.
Sales management requires great people management skills. Hiring, training, and supporting sales agents is a crucial part of the job. In larger organizations, sales managers may also oversee regional sales managers, and they will often maintain relationships with distributors and dealers. In some cases, sales managers will also be involved in making sales, especially for important, big-ticket items.
Data analysis is another vital aspect of the sales manager's role. Sales teams need to measure sales performance, as well as client behaviour and market trends.
Why you need a great sales manager CV
A strong sales manager CV is crucial to a successful job hunt. If you want to secure an interview, you need to stand out from the other applicants, and your CV is your first communication with potential employers. A clear and organized sales manager CV will help hiring managers see why you're a good fit for the role.
A generic CV won't be enough to impress a sales department. Your CV has to be customized to show the specific skills needed to succeed as a sales manager. If you can't sell yourself to a hiring manager, what hope do you have of successfully managing a sales team?
Remember, a well-organized, persuasive sales manager CV will function as an advertisement for you and your sales manager skills.
How to write a sales manager CV that works
There are a few steps you can take to write a great sales manager CV:
Understanding CV best practices
Finding sales manager CV examples to get inspiration
Using a sales manager CV template to help structure your CV
Writing a punchy, customized CV summary
Customizing your achievements, experience, qualifications, and skills
To make sure you complete each of these tasks, here is a simple step-by-step process that you can follow.
1. Use a sales manager CV template
The key to an effective CV is readability. It should be easy to scan your resume in only a few seconds. A great CV template can help with this.
Readability is important not only for the hiring manager who reads your resume, but for the Applicant Tracking System. An Applicant Tracking System, or ATS, is a type of software that reads CVs and picks the best one according to its skills, qualifications, and achievements. Many hiring managers use an ATS to streamline their workflow and save time reading the hundreds of applications they receive.
For your CV to be selected by the ATS—or the hiring manager—you need to make sure it's easy to read. This means you need a great CV template.
A great CV template for beating the ATS has a few things:
Clear headings
Practical structure
Simple formatting
Clear headings
The headings in your CV should be large, clear, and easy to read. The different sections of your CV should be easy to tell apart, and the contents should be clearly labelled.
Hiring managers use headings to navigate your resume, and the ATS uses headings to understand what each section will contain. If you want your CV to be understood, make sure to have clear, useful headings.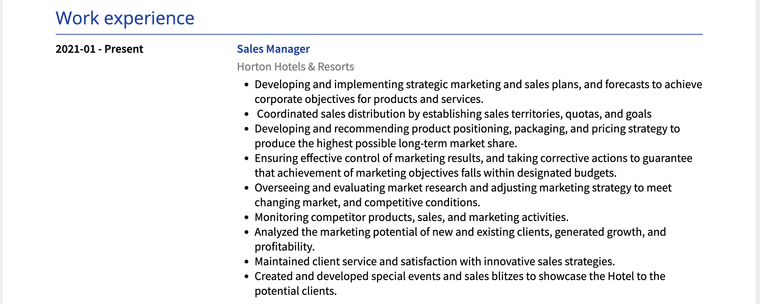 Practical structure
Your CV should have a structure that flows logically. Begin by introducing yourself, then offer your CV sections in order of importance. A typical structure might look like this:
Start with a contact information section that lists your name, job title, and contact details
Write a summary section near the top of the CV
List your work experience in reverse-chronological order, beginning with the most recent position and working backwards (unless you are writing a Combination CV)
List your education and other certifications
Provide a list of your most relevant and impressive skills
Simple formatting
It's important to make sure your CV formatting is approproate for a sales manager position. Some job-seekers can over-design their resume in an attempt to make it eye-catching, but while colours and strong fonts can look great, it's important to make sure your CV will still pass the ATS—and stand out for the right reasons.
When you format your CV, use a font that is easy to read, both in a PDF and on paper. Fonts like Open Sans, Raleway, and Roboto are all clean, reliable choices. Accent colours can look great, but make sure they aren't too loud. Any colours you use should highlight your credentials, not distract from them.
Avoid complicated elements like tables and icons. These can confuse the ATS. Instead, use simple bulleted lists and clear headings that are easy to read and understand.
2. Write a sales manager CV summary
A Summary section is a short, punchy paragraph or bulleted list that briefly summarizes your qualifications. It may highlight some key skills, list some of your most impressive achievements, or quickly describe your credentials. This section is where you can introduce yourself to an employer.
Locate your summary near the beginning of your CV so that it's one of the first things a hiring manager sees. This way, they will see your highlights right at the top, which will encourage them to keep reading.
The best way to write a sales manager summary is to start by reading the job posting. Study the language and pick out words and phrases that the employer uses describing the role. Then, craft a CV summary that uses these same keywords.
Here is a sales manager CV summary example to give you an idea of what an employer might be looking for:
Driven and enthusiastic Sales Manager with 7+ years of experience coaching and supervising sales staff and planning both regional and global sales strategies. Successfully managed 12 marketing campaigns with a minimum value of $1.5m while leading a team of 15 reps. Aiming to increase international sales with my proven data-driven approach. Highly proficient with HubSpot and Pipedrive.
This sales manager CV summary gives the hiring manager a sense of the candidate's experience, skills, and past achievements. It also provides numbers to demonstrate the scale of the projects they've managed.
Leadership is also an important part of sales management. While listing the size of the teams you've managed is excellent, it's also good to include your vision. In this example, the candidate highlights their data-driven approach to increasing sales.
3. Describe your work experience
The work experience section is an essential part of any CV. This section is where you can show the hiring manager the positions you've held in the past, as well as your achievements and responsibilities in each role.
To ensure your CV is perfect for a sales manager role, make sure to tailor your work experience section to suit the job posting. If the company is looking for a candidate knowledgeable in particular software tools, specific management techniques, or other areas of specialty, showcase your matching skills and accomplishments. Consider your achievements in each past role and emphasize the most relevant and impressive ones in your CV.
Here is a work experience example to give you an idea:
Sales Manager Tax Return Software Inc. Fresno, CA June '17 - Present
Sales manager for six marketing campaigns worth over $1.5m, executing goals quotas, and leading a team of 15 people.
Established sales operation; duties included developing sales and marketing strategies, interviewing and hiring reps, implementing CRM systems.
Identifying leads through networking, cold calling, and management of inbound content marketing strategy
Coaching, mentoring, and training new staff, establishing a company culture of excellence.
Liaising with the Head of Sales to produce reports and identify new areas and strategies for expansion.
The example above is effective because it clearly shows the candidate's experience and value as a sales manager. It demonstrates their ability as a leader and as someone who can build a team from the ground up, as well as a range of relevant skills that will help them in the position.
You may not have experience as directly relevant as this example, but you can still write a great sales manager CV. Many sales managers come from other positions, either in sales or in management. If this is the case, simply showcase the most relevant skills and accomplishments in each role, and show that you are a hard worker and fast learner. Even if you've never managed a team before, for example, you can look for examples of projects where you've demonstrated leadership and initiative.
Emphasizing the right details can help convince a hiring manager that your career is progressing and that you are ready for a sales management position.
4. List your education and qualifications
While your Work Experience section is the most important part of your sales manager CV, it's important to list your academic credentials as well. Not all sales management positions will require a business degree, but a strong Education section in your CV will still help your candidacy.
When writing your Education section, list your degree or certification, school name, and the year you graduated. As long as you have a few years of experience to showcase in your Work Experience section, this is enough information for your Education section. If you are a student or recent graduate, however, you may want to use this space to list some relevant projects or coursework that would impress an employer.
If you have taken continuing education classes in sales, management, or any other relevant skills, you can list them on your resume as well. You may want to use a Certifications section where you can list any certificates, licenses, or diplomas that don't fit into an Education section.

5. Showcase your skills
No sales manager CV would be complete without an impressive list of skills. While your skill set should be clear from your achievements in past roles, a Skills section where you explicitly list your skills makes it clear exactly what you are best at.
When hiring managers skim your resume, they will scan your Skills section for the specific skills they are looking for. Your Skills section is an opportunity to emphasize the specific skills, tools, and competencies required by the job posting.
These may include soft skills, such as:
Time management
Leadership
Communication, written and spoken
Coaching and mentorship
Initiative
Self-motivation
Hiring
Client management
Conflict resolution
Or hard skills, like:
Budgeting
Strategic planning
Sales and CRM software proficiency
Interest in consumer psychology
Competitor research
Product knowledge
Negotiations skills
Market research
Data analysis
Computer skills
Identifying talented sales reps
Recruitment
6. Customize your sales manager CV
When applying for sales manager roles it's important to tailor your CV for each application. A generic CV isn't going to stand out in a competitive job market. You need to study the job posting, research the company, and make sure your CV is a perfect match for both.
Look through the job posting for all of the key attributes, tools, and skills the company is looking for. These are the keywords you should include in your CV. You shouldn't lie, of course, but as long as you really do have the skills, make sure to use the exact words and phrases from the job posting. This ensures that the ATS and the hiring manager will find what they are looking for.
When you carefully customize your CV for each application, you are much more likely to land an interview.

Sales manager cv example
Of course, the best way to learn is by example. See how these steps are put into practice in this sales manager CV sample:
Summary
A dynamic sales professional with years of extensive experience in developing multi-media campaigns, driving strategic growth and product visibility for major leading public and privately held corporations. Highly competitive, creative, passionate, persuasive and articulate, with the ability to accomplish goals previously unattainable within the organization. Well-versed in all aspects of offline and online sales.
Work Experience
Sales Manager
Horton Hotels & Resorts
Developing and implementing strategic marketing and sales plans, and forecasts to achieve corporate objectives for products and services.
Coordinated sales distribution by establishing sales territories, quotas, and goals
Developing and recommending product positioning, packaging, and pricing strategy to produce the highest possible long-term market share.
Ensuring effective control of marketing results, and taking corrective actions to guarantee that achievement of marketing objectives falls within designated budgets.
Overseeing and evaluating market research and adjusting marketing strategy to meet changing market, and competitive conditions.
Monitoring competitor products, sales, and marketing activities.
Analyzed the marketing potential of new and existing clients, generated growth, and profitability.
Maintained client service and satisfaction with innovative sales strategies.
Created and developed special events and sales blitzes to showcase the Hotel to the potential clients.
Director of Sales & Marketing
Country Inn and Suites
Directed market channel development activities.
Created and implemented sales plans that drive measurable incremental occupancy, increase average rates, increase volume, food and beverage, and banquet sales.
Achieved budgeted revenues and personal/team sales goals, and maximized profitability.
Participated in the preparation of the annual departmental operating budgets, the Hotel's marketing plans, and business and financial plans.
Negotiated Corporate rate and contract terms within parameters set by the Vice President of Sales, and the Director of Revenue.
Developed and implemented a comprehensive strategy to improve the metrics.
Held the responsibilities as a Team Leader in creating and implementing ADS (Alternate Distribution Systems) Channel management program.
Sales Advisor
Walmart
Introducing and selling the products and machines to both retail and salon clients.
Advise clients on the location, selection, price, delivery, use, and care of goods available from the store, with the aim of encouraging them to buy and to return to buy in the future.
Operating cash registers and accepting payment or prepare finance arrangements (invoices and contracts, for example).
Taking special orders for items not currently in stock, or not normally stocked, and notify customers when the items have arrived price, stack and display items for sale and keep the store tidy and attractive.
Participating in stocktaking (counting and describing the goods in stock).
Arranging for the repair of damaged goods or advice on necessary repairs.
Arranging the schedule of training, seminars and product demos for Salon clients.
Sales Assistant
PowerTrain Retailers
Ensured that each customer received outstanding service by providing a friendly environment.
Maintained an awareness of all promotions and advertisements.
Assisted in floor moves, merchandising, display maintenance, and housekeeping.
Assisted in processing and replenishing merchandise and monitoring floor stock.
Communicated customer requests to management.
Assisted in completing price changes within the department.
Participated in year-end inventory and cycle counts.
Sales Assistant
McKesson
Greeted and acknowledged every customer.
Maintained complete product knowledge.
Ensured that each customer received outstanding service.
Managed customer service desk.
Supervised floor operations.
Ensured that the store was clean.
Organized stockroom.
SKILLS
Account & Territory Management
Key Account Management
Channel Management
Account Development
Alliance Building
Strategic Planning & Implementation
Market research
Sales tools
Analytics
Online Marketing
Web analytics
SEO
CMS
HTML and CSS
Social media management
Education
Bachelor Of Science In Business Management
Massachusetts Institute of Technology