Education is a fiercely competitive field. If you want to land a teaching role at your preferred school, you'll need to learn how to make a CV for a teaching job.
Knowing how to write a teacher CV requires understanding how to grab the attention of the principal, superintendent, or school HR manager.You only have a few seconds of their time to make it clear who you are and why you'll be a good candidate. Communicate this information well and they'll keep reading.
The best way to keep up with CV trends in the education world is to examine teacher CV examples to see what works. If you want to make your mark, read our guide on how to write a CV for a teaching job and these excellent and teacher CV examples.
Teacher CV sections
The academic field can be old-fashioned, so a traditional template is a safe choice for your teacher CV. Pick a simple, well-organized CV template with a subtle colour scheme when you write your CV.
While most templates will support any CV content, it's important to be intentional with the sections you include in your teacher CV. There are few sections that must be included, and several additional sections that are optional, but can help your CV stand out.
The four main sections a teacher CV should contain are:
Contact Information
Work Experience (or, in some cases, Teaching Experience)
Education
Skills
However, if you want to make an impression in this competitive marketplace, there are some other sections you could consider including. These include:
Summary
Awards & Certifications
Volunteer Experience
Publications
Languages
Interests
In the rest of this article, we'll take a look at how you can develop your template and write each of these sections for maximum impact.
How to make a CV for a teaching job, step by step
Once you have a great CV template and some strong CV sections in mind, it's time to look at the basics of how to write a teacher CV. To ensure your CV meets all requirements, follow these simple steps:
1. Pick the right CV format
There are a few different formats that teachers can use to write a killer CV: reverse-chronological, functional, or combination.
The best format to use is a reverse-chronological CV. In a reverse-chronological CV, your most recent position is listed first, and previous positions are listed below, working backwards in order. This is the most common CV format, and the one most job-seekers should use.
The reverse-chronological CV format is great for experienced teachers. It allows them to showcase their most relevant backgrounds and achievements in the order that they happened, with the most recent and most relevant information right at the top.
Of course, not everyone trying to figure out how to write a teacher CV will be coming from a teaching position. If you are a recent graduate, or if you are pivoting to teaching from a different career, you may not have enough relevant experience for a reverse-chronological CV. If this is the case, the Functional CV format may be useful. This format focuses on your skills and qualifications rather than your experience, and groups past positions by topic rather than chronology.
Functional CVs can be confusing to employers, however, as they usually expect a reverse-chronological list of positions. If you would like to focus on your skills without losing the reverse-chronological career timeline, consider a Combination CV format. This format can be used to highlight your teaching skills and qualifications, while retaining a straightforward timeline of your past work experience.
2. Pick a great teacher CV template
Education, achievements, and experience are essential for any successful teaching application, but hiring managers won't be interested in any of this information if it's not presented in a compelling way.
To ensure your teaching CV will make the cut, have a look at existing teacher CV templates and teacher CV examples so you can see how best to present your qualifications. It's important that your teaching CV is well organized and easy to read.
There are lots of tools out there to help build a great teacher CV. To figure out what works best, find some teacher CV examples, and then look for a similar teaching CV template. With a great template you can ensure the information is presented in the clearest, most compelling way.
VisualCVs CV builder is the perfect tool for getting your teacher CV just right. CV templates like Monaco, ATS, and Monte are strong templates for the teaching field.
Your CV won't do you any good if it doesn't have your contact information. To make sure the hiring manager knows how to reach you, ensure that your contact details are filled out precisely. You don't want to lose out on the job just because of a misspelled email address or a missing phone number.
It's also important to make sure your contact information section has the right details. There are four required categories that you should include in your teacher CV contact information section:
Your name
Your city of residence
Your telephone number
Your email address
Be sure to use a professional email address. If you don't already have one, create an email address using your first and last name, such as firstname.lastname@email.com. Any jokey or silly email addresses will make you look unprofessional.
If you have a LinkedIn profile or Twitter account, you may also want to include them here. However, it's important that any online profiles you link to are relevant and professional. Don't link to any social media if you use it to post inappropriate or overly personal things.
Please note that the contact details listed here are expected in America. If you're applying for a job in a different country, information like date of birth or a full address may be expected. Be sure to research CV requirements in your location when you write your teacher CV.
5. Write a CV summary
A CV summary is a short, punchy paragraph that briefly highlights your key experience, qualifications, and achievements. Located near the top of your CV, a CV summary is a great way to catch the attention of any hiring manager.
Remember, hiring managers typically spend less than a minute scanning a CV. You can make sure they have the information they need with a well-written CV summary that introduces you as a candidate.
A great place to include a CV summary is just below the contact information section. This allows you to place your highlights right at the top where you know they will be seen.
"Lead Teacher with curriculum with 5+ years of experience developing educational programs and lesson plans. Committed to studying learning processes and applying new strategies to reach best results. Responsive to individual and community needs. Responsible for creating and implementing new curriculums for multiple grade levels and subject areas including Language Arts and Social Studies."

6. Showcase your teaching work experience
Your work experience is where you can really stand out. Your Work Experience section is the largest section of your CV, and it's important to get it right.
The format of your Work Experience should be clear, concise, and easy to scan. Every entry should include:
Your role or job title
The company name
The dates of your employment
Your achievements and responsibilities
As you write your work experience, make sure to present your past accomplishments in the most impressive way possible. It isn't enough to simply list your responsibilities in each role. Instead, focus on your most impressive achievements.
To do this, use active language and quantifiable information as much as possible.
For example, a sentence like "Increased average GPA by to 21% from 2019-2022" is more likely to impress hiring managers than "Taught English for six years."
Study the job posting as you write your work experience. This way, you can figure out what specific things the school is looking for and feature your relevant experience in your Work History section.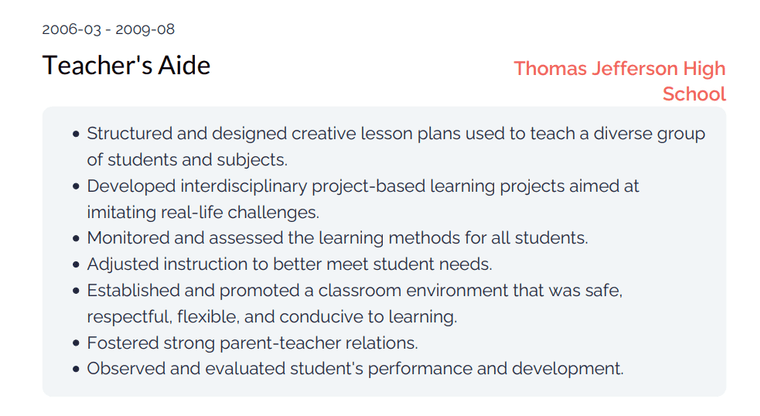 For example, are they looking for someone who will help administer school resources, or improve pass rates in the school? If you have experience doing the things noted in the job posting, it's worth highlighting them.
What to do when you don't have teaching experience
A lot of people trying to figure out how to make a CV for a teaching job will be recent graduates or people changing careers. A lack of experience can place you at a relative disadvantage compared to some applicants.
However, you can still write a great CV when you don't have much work experience.
If you don't have much work experience, make sure to feature your education. Highlight any important classes or projects you worked on, and make sure to give examples of times you showed leadership.
You can also improve your CV by developing your skill set. Even if you can't land a teaching job right out of college, you can keep your skills sharp (and develop new ones) by finding volunteer positions, or by taking classes online.
7. Display your education
Education is an important part of becoming a teacher, and as such, an important part of a teacher CV. Without the right education, you won't be considered for the job.
As you write your Education section, be sure to include:
Your degree type & your major
Your university name
The years you studied
If relevant or impressive, you can also include:
The relevant course you took
GPA
Make sure the section is easy to scan, so hiring managers can easily see how and where you were educated. All of your degrees and certifications should be clear.
8. Showcase your teaching skills
A Skills section is a must-have for a great teacher CV. Your education and experience are important, but your Skills section is where you can really focus on what you are good at.
List your skills in a simple bulleted list so they are easy to scan. If you have a lot of skills to showcase, you can break them up into categories. For example, some job-seekers split their skills into Hard Skills and Soft Skills.
Hard skills are the specialized skills that you need to be able to perform your duties. They are usually acquired through learning. Some hard skills that you could include on your CV are:
Subject knowledge
Computer literacy
Test grading
Languages
Specific software proficiency
Teaching methods
Soft skills are personal traits or qualities that make you a great asset in a teaching environment. Soft skills may include:
Time-management
Leadership
Compassion
Communication skills
Conflict resolution
Emotional intelligence
As you pick your best teacher CV skills, consult the job posting and use that to decide which of your skills are the best fit for the role.

9. Include any additional sections
Once you've written the essential sections in your CV, you might realize that you have more information you'd like to include that hasn't been covered yet. If this is the case, you can think about including additional sections
These sections aren't mandatory, and shouldn't be included unless you know they will be impressive.
Additional sections may include:
Certifications
If you have earned any relevant certificates that don't quite fit into your Education section, you may want to create a distinct section for them.
For example, certificates from extracurricular teaching programs or workshops would look great on a teaching CV.
A Certifications section is a great way to draw attention to your dedication to improving your skills and staying current in your industry.
Awards
Awards are an impressive way to show that not only have you done good work, your good work has been recognized by others. If you have received awards from recognized institutions, you can place them in an Awards section on your teacher CV.
Languages
While a language or languages that you speak may not be related to the job that you've applied for, it's still a bonus for many educators.
So, if you've got an extra language or two to put down, make sure to list it. You may want to include your proficiency:
Native
Fluent
Conversational
Intermediate
Interests and hobbies
Of all possible CV sections, a Hobbies section is the least important. You should only include one if you have space, and if you have particularly relevant hobbies.
Look at the job posting and see if any of your interests are relevant. Things like theatre, sports, reading, musical instruments, painting, public speaking, gardening, yoga, and languages are all hobbies that could show you are a good fit for the role.
Not all interests and hobbies will be appropriate for a teacher's CV, but there are some that will help show that you have academic interests and would fit in well at the school.
Tips for writing a successful teacher CV
Knowing how to make a CV for a teaching job is more than just knowing what sections to include. It also has to be well-written, well targeted, and easy to read.
To make sure your teacher CV is ready for your next application, consider these teacher CV tips:
Tailor your CV for the specific job
It's important to customize your CV for every application.
A generic CV that you use for every application isn't likely to be successful. The perfect CV for one job won't be the perfect CV for any others. You should customize your CV every time you apply for a job so that it's perfect for that specific role.
This means you have to read and re-read the job description and adjust the content of your CV for each application. While tailoring your CV for each position might seem like a lot of work, it's not. You won't have to re-write or start from scratch each time. Just do your research and find out what's required.
For example, there may be specific teaching methods that the school is looking for, like Steiner/Waldorf or Montessori. If you have this experience, it's important to highlight it early in your CV.
Similarly, if the job description asks for a Common Core math approach, but your experience has been exclusively in Eureka, you may want to emphasize a more relevant skill above this one.
In short, use the job posting as a guide to what skills and experience you feature on your CV. Don't embellish your CV, but do your best to appear like the right candidate for each position.
Beat the applicant tracking system
An ATS, or Applicant Tracking System, is a software that reads and categorizes job applications. Many hiring managers use an ATS to handle the hiring process. If you want to land an interview, you need to beat the ATS.
The ATS may make things more efficient for the employer, but it creates a new obstacle for the applicant. You need to make sure your CV not only impresses the employer, but has the right keywords to be selected by the ATS.
Keywords are crucial to beating the ATS. When you are tailoring your CV for the job, make sure to identify the important keywords in the job posting and include them in your CV. Try to use the same phrasing as much as possible (as long as it's true). When the ATS scans your CV for keywords, you need to have the right ones exactly.
Highlight your education and certificates
One of the first things that a hiring manager will look for in a teaching CV are your education and certificates. While teaching experience is important, they'll first need to verify that you are qualified and licensed to do the job.
At a minimum, you'll need a bachelor's degree to get a teaching license. However, further qualifications might be required depending on what and where you want to teach.
It's important to make sure you have the right credentials and display them on your CV. The job posting should list the requirements, but it's best to research the state and district requirements before you apply.
Display your achievements
While credentials and skills are important, for experienced teachers, achievements can be what makes you the best candidates. Throughout your CV summary and work experience, make sure to list your best achievements from throughout your teaching career.
Your qualifications and teaching methods are the bones of your CV, but your achievements give a fuller picture of who you are and the specific things you excel at.
Showcase the things that make you stand out as an educator. It could be your use of multimedia, how you've improved standardized test scores in your class, or other experiences that you've had with students.
Highlight your technical skills
Most schools have embraced technology in the classroom. As a result, many positions will require teachers to be proficient at using laptops, tablets, and other types of computers. Knowing how to use general and education-focused software is also important.
Considering all of this, it's vital to include skills and experience with the tools that are typically used in the role. Again, the school will include the most crucial requirements in the job posting.
Some research can also help you get closer to the broad range of software that is used in the industry. Speak to teacher friends, read teacher forums, and browse educational websites. These resources will help you understand what's happening in broader teaching spaces and teach you how to write a teacher CV that appears current. Always keep an eye on the overall software trends that are in use in education.
Express who you are
Teachers can come from many different backgrounds, both in life and in their careers. Countless teachers used to work in corporate finance, the creative industry, banking, non-profits, and so on.
When you're trying to figure out how to write a CV for a teaching job, you can incorporate your past experience that isn't related to teaching. The basic qualification for the position comes first, but relevant work or volunteering experience can help you stand out from the crowd.
Look at relevant or unique past jobs and experience and see how they can be included. These past roles don't have to be directly linked to teaching but select them carefully so that they boost your standing as a candidate. For example, experiences or qualifications in areas like social care, or previous roles in the subject you will be teaching, are impressive on a teacher CV.
Teacher CV examples
Lead teacher CV example
Summary
Experienced and dedicated Lead Teacher with 10+ years in the field. Experience developing effective curriculums, creating meaningful and timely adaptations in response to individual and community needs, and creating strong and inclusive educational programs. Committed to creating a welcoming environment for students and teachers, developing new learning processes, and demonstrating growth and inclusion.
Work Experience
Lead Teacher
BASIS Oro Valley
Leading discussions around raising student achievement, particularly in reading and writing, but also in other areas.
Monitoring and appraising teacher performance in line with school guidelines and relevant teacher standards.
Organizing and coordinating team events, such as trips, special sporting activities, concert performances, science exhibitions, wearable art shows, living museums, and more.
Purchasing and maintaining team resources.
Contributing to management team decision-making process through Team Leader/Senior Teacher meetings.
Explaining and implementing management decisions in the team.
Supporting team members in their work with challenging students.
Supporting other team members when meeting with parents.
Developing home-school partnerships with parent information, blogs, newsletters and inviting parents into the class to observe and take part in lessons.
Lead Teacher
Western Washington University
Taught in a grade one model classroom.
Participated in ongoing research projects with professors in psychology and education programs.
Assessed exceptional needs students.
Taught university courses in child development, integrated curriculum design, literacy, thinking skills, writing, and Mathematics.
Provided professional development, including the organization of a conference for Washington State early childhood educators.
Teacher
Child Development Lab
Assisted in providing developmental care and supervision to children ages three to five.
Assisted in planning the developmentally appropriate curriculum.
Conducted observations of children and wrote anecdotal notes.
Utilized my knowledge in a hands-on setting.
Communicated with parents, families, and other staff members were maintained.
Appropriate the child care practices were modelled for volunteers, interns, and other staff members.
Education
Master in International Education Department of Art and Art Professions at NYU Steinhardt
Bachelor of Arts in Education Studies Department of Art and Art Professions at NYU Steinhardt
Skills
Patience
Flexibility
Innovation
Leadership
Teambuilding
Communication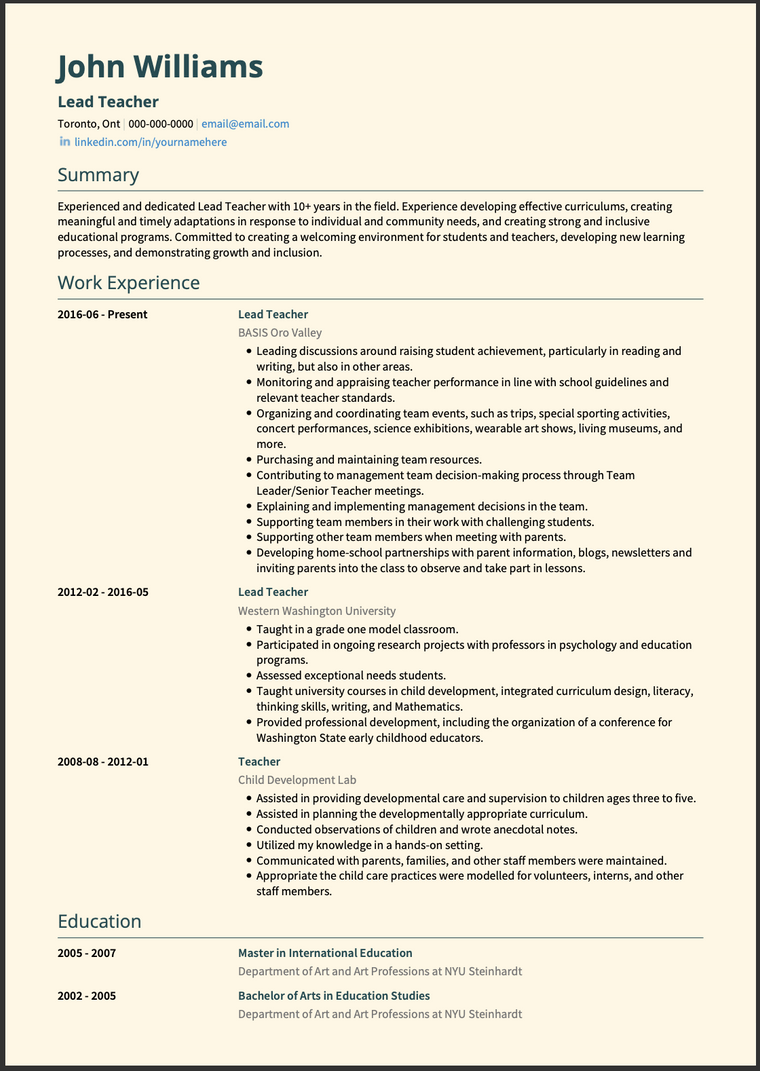 Teacher CV Example
Summary
A confident and passionate teacher with over 10 years' experience gained within both state and private secondary school environments. Now seeking a new teaching appointment within the field of photography, film and/or media. Passionate about sharing this knowledge with my students in order to develop their knowledge of the subject.
Work experience
GSRP Lead Teacher
Pennfield Schools
Planning lessons for 18 4-year-olds using high scope.
Providing differentiated instruction based on the needs of each child, using small groups.
Maintaining a positive classroom.
Assessing the students using the ASQ-3 and COR Assessment.
Using positive behaviour strategies.
Building and maintaining positive relationships with parents and caregivers.
Incorporating the Teacher's Assistant and caregiver as a part of the classroom team.
Establishing and maintaining a trauma-informed classroom.
Lead Teacher
BASIS Chandler
Led the team of teachers in supporting the academic and pastoral development of students across responsibilities.
Analyzed of data and developed projects to ensure progression to aspirational targets.
Monitored staff to ensure that targets were being met.
Provided pastoral support and a close working relationship with parents and subject leaders, making sure positive communication was present at all times.
Worked with pupils and ensured that school policy was followed at all times and that all actions were in the best interests of the pupil and their particular needs.
Involved in the curriculum development community.
Offered adult lessons based at the school in the evenings and holidays.
Ran evening adult workshops and student courses during the holidays.
Ensured the positive working relationships.
Teacher
Thomas Jefferson High School for Science and Technology
Structured and designed creative lesson plans used to teach a diverse group of students and subjects.
Developed interdisciplinary project-based learning projects aimed at imitating real-life challenges.
Monitored and assessed the learning methods for all students.
Adjusted instruction to better meet student needs.
Established and promoted a classroom environment that was safe, respectful, flexible, and conducive to learning.
Fostered strong parent-teacher relations.
Observed and evaluated student's performance and development.
Education
Master of Arts in Teaching University of Texas
Bachelor of Arts University of Texas
Skills
Innovation
Creativity
Leadership
Confidence
Organization
Communication
Conflict resolution
Improvisation