If you want to work in the finance industry, you have to learn how to write a finance CV.
Finance is a large and competitive industry, and if your CV doesn't stand out, you aren't going to land the interview. Your generic CV just isn't going to cut it.
Finance CV Example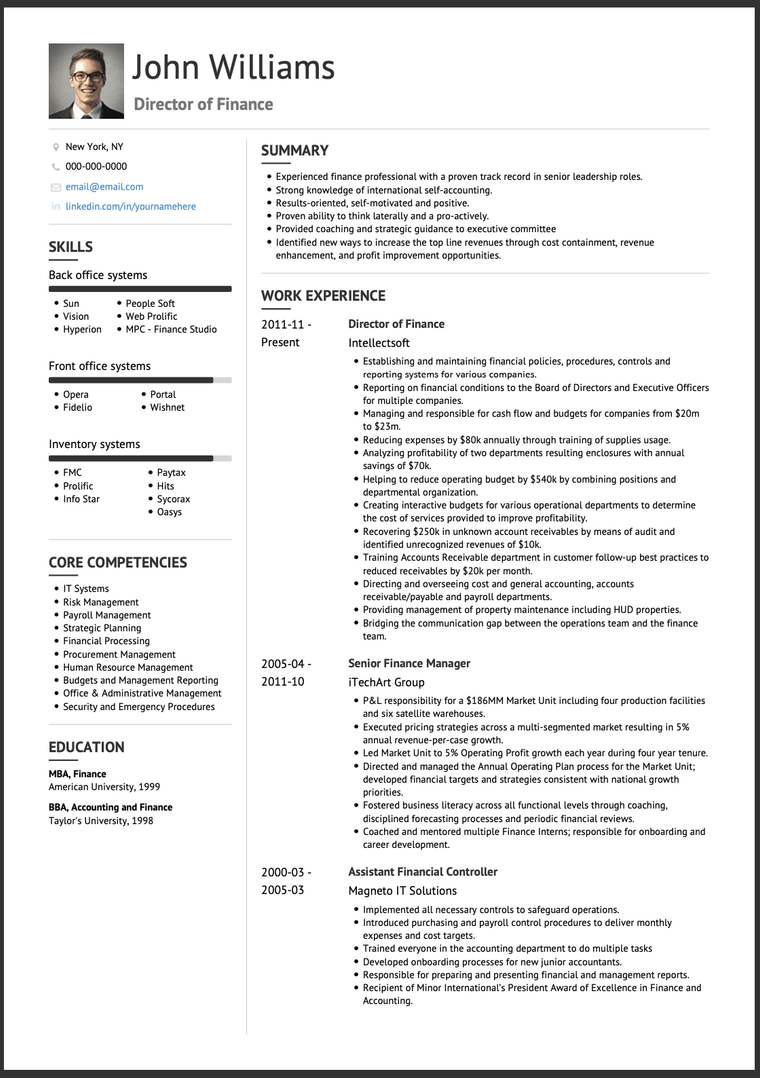 Summary
Experienced finance professional with a proven track record in senior leadership roles.
Strong knowledge of international self-accounting.
Results-oriented, self-motivated and positive.
Proven ability to think laterally and a pro-actively.
Provided coaching and strategic guidance to executive committee
Identified new ways to increase the top line revenues through cost containment, revenue enhancement, and profit improvement opportunities.
Work Experience
Director of Finance
Intellectsoft
Establishing and maintaining financial policies, procedures, controls and reporting systems for various companies.
Reporting on financial conditions to the Board of Directors and Executive Officers for multiple companies.
Managing and responsible for cash flow and budgets for companies from $20m to $23m.
Reducing expenses by $80k annually through training of supplies usage.
Analyzing profitability of two departments resulting enclosures with annual savings of $70k.
Helping to reduce operating budget by $540k by combining positions and departmental organization.
Creating interactive budgets for various operational departments to determine the cost of services provided to improve profitability.
Recovering $250k in unknown account receivables by means of audit and identified unrecognized revenues of $10k.
Training Accounts Receivable department in customer follow-up best practices to reduced receivables by $20k per month.
Directing and overseeing cost and general accounting, accounts receivable/payable and payroll departments.
Providing management of property maintenance including HUD properties.
Bridging the communication gap between the operations team and the finance team.
Senior Finance Manager
iTechArt Group
P&L responsibility for a $186MM Market Unit including four production facilities and six satellite warehouses.
Executed pricing strategies across a multi-segmented market resulting in 5% annual revenue-per-case growth.
Led Market Unit to 5% Operating Profit growth each year during four year tenure.
Directed and managed the Annual Operating Plan process for the Market Unit; developed financial targets and strategies consistent with national growth priorities.
Fostered business literacy across all functional levels through coaching, disciplined forecasting processes and periodic financial reviews.
Coached and mentored multiple Finance Interns; responsible for onboarding and career development.
Assistant Financial Controller
Magneto IT Solutions
Implemented all necessary controls to safeguard operations.
Introduced purchasing and payroll control procedures to deliver monthly expenses and cost targets.
Trained everyone in the accounting department to do multiple tasks
Developed onboarding processes for new junior accountants.
Responsible for preparing and presenting financial and management reports.
Recipient of Minor International's President Award of Excellence in Finance and Accounting.
Education
MBA, Finance
American University
BBA, Accounting and Finance
Taylor's University
Skills
Back office systems
Sun
Vision
Hyperion
People Soft
Web Prolific
MPC - Finance Studio
Front office systems
Opera
Fidelio
Portal
Wishnet
Inventory systems
FMC
Prolific
Info Star
Paytax
Hits
Sycorax
Oasys
Core Competencies
IT Systems
Risk Management
Payroll Management
Strategic Planning
Financial Processing
Procurement Management
Human Resource Management
Budgets and Management Reporting
Office & Administrative Management
Security and Emergency Procedures
Finance Manager CV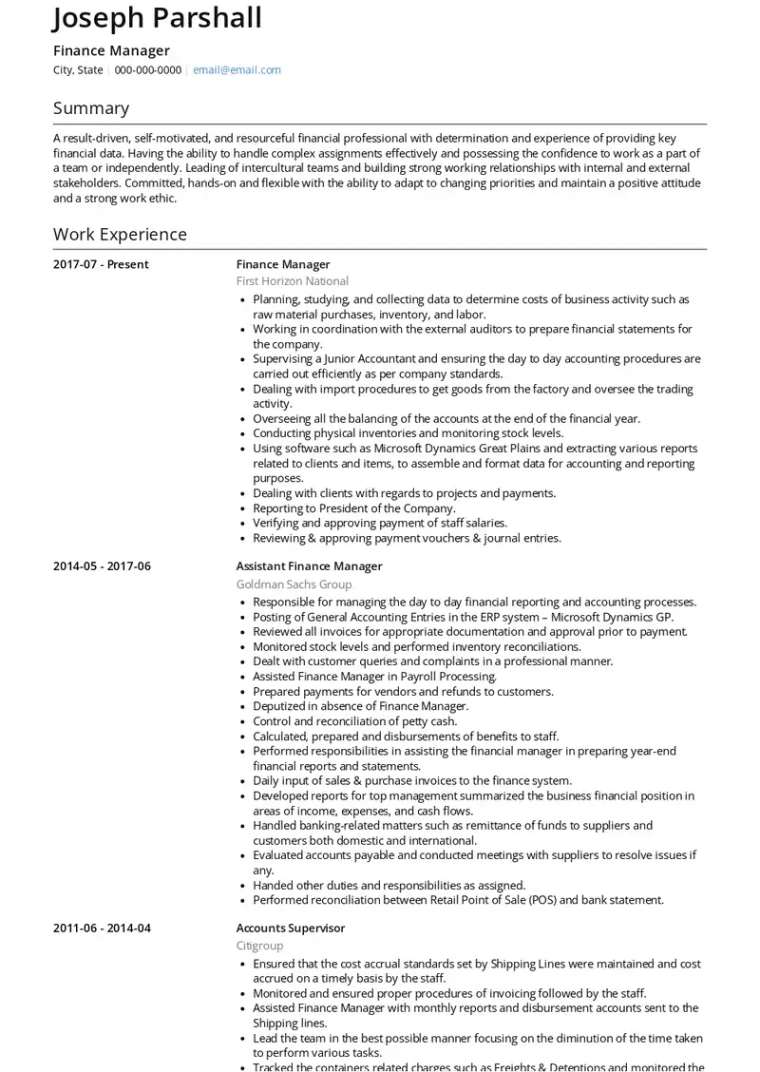 Senior Finance Manager CV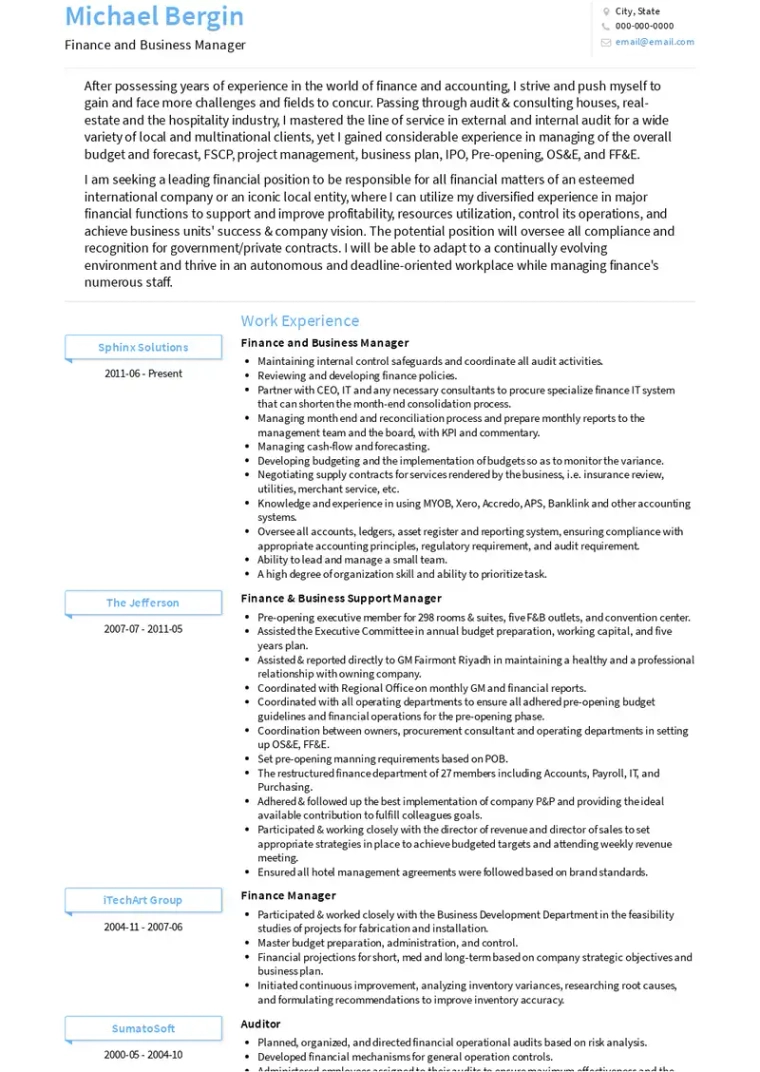 Experienced Finance CV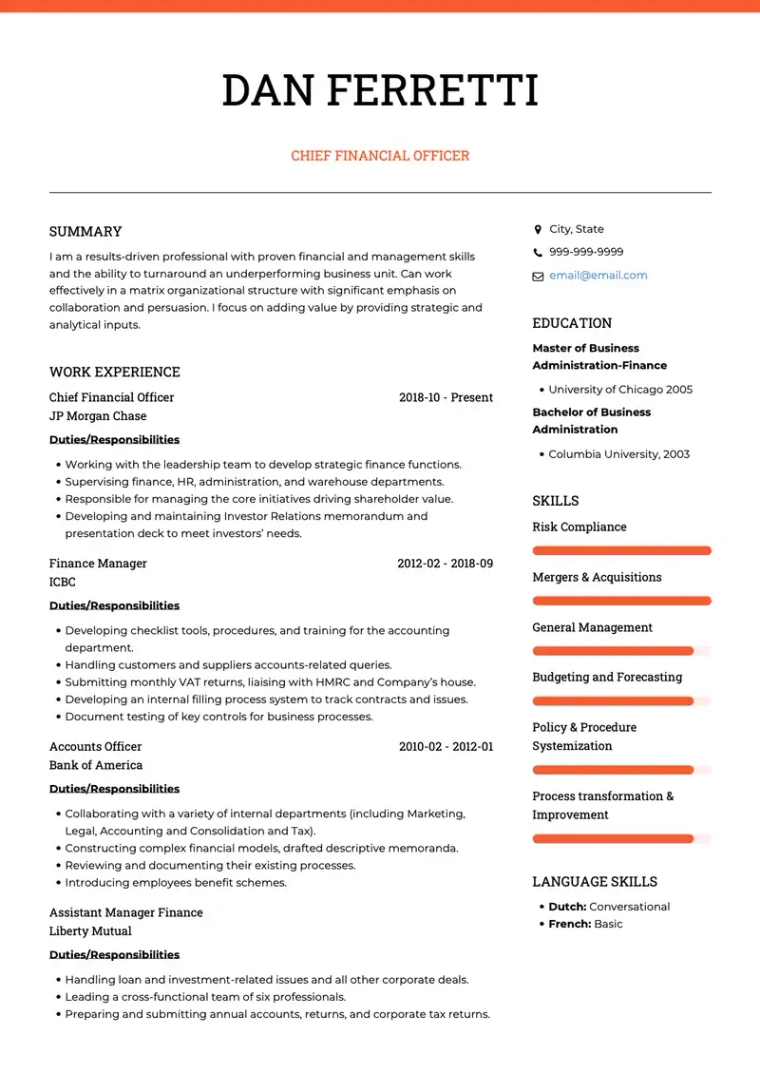 Finance Officer CV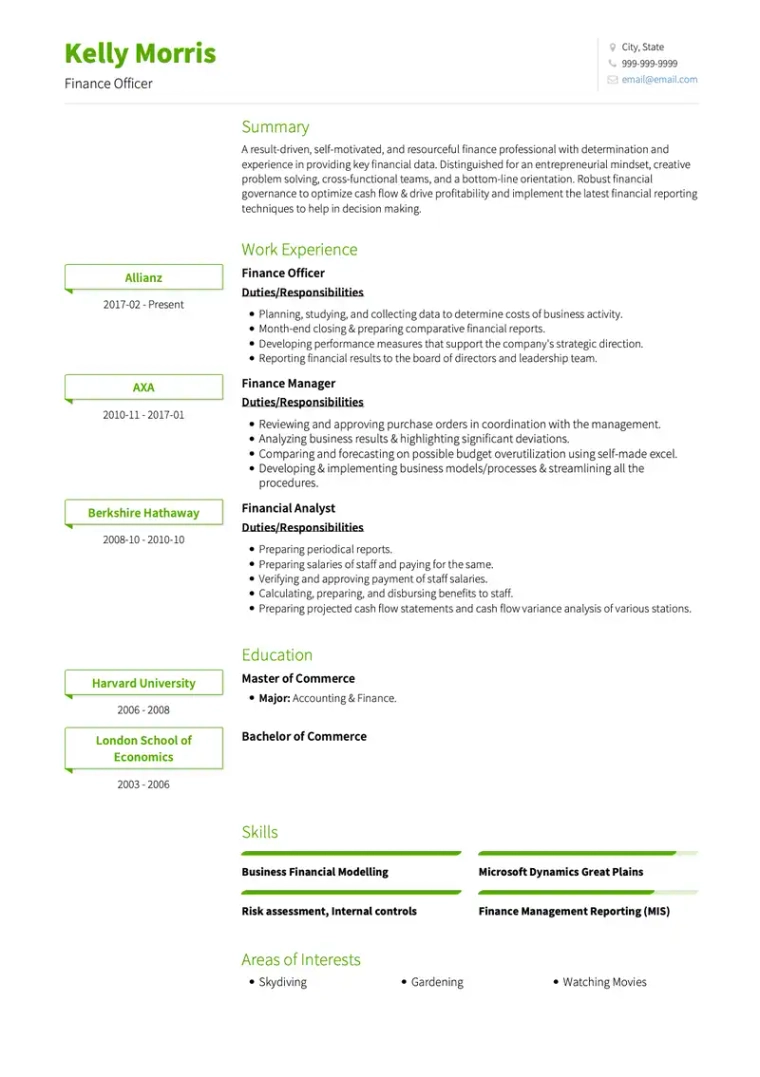 Your finance CV has to be perfect for the job you're applying for. To make sure you pick the right finance CV template and highlight the right skills, make sure to follow these steps:
1. Pick a great finance CV template
If you want your application to be successful, pick a great finance CV template.
Your CV's appearance is just as important as your work experience. If your CV is ugly or confusing, no one will read it, even if your skills are perfect for the job.
Further, your CV template needs to suit the industry. The finance industry tends to be formal, so a traditional CV template is your best choice. This means you should look for a CV template with a readable typeface, clearly defined CV sections, and a subtle colour scheme.
When you pick your finance CV template, use a traditional CV template like ATS, Standard, or Corporate.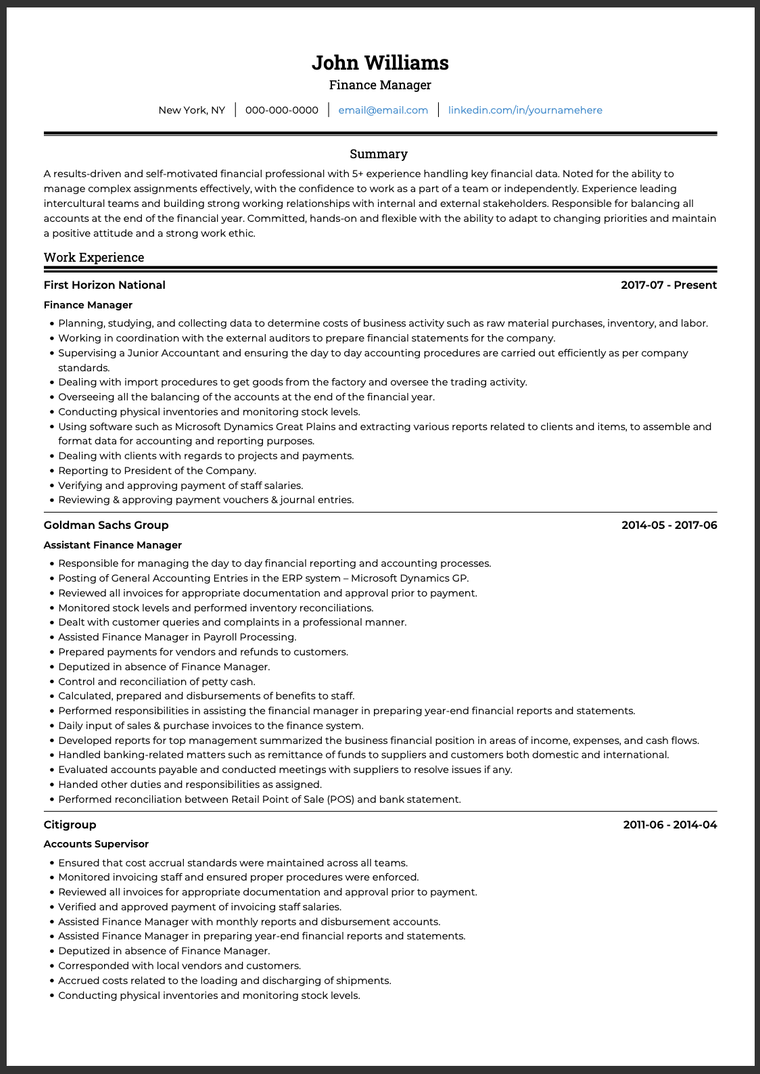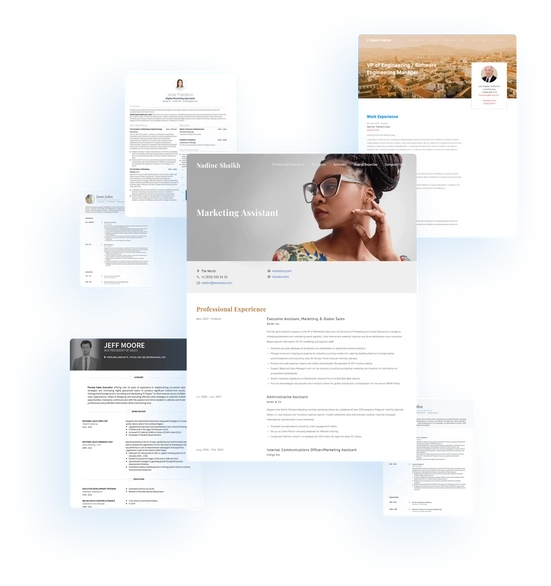 2. Write a great finance CV summary
Your CV summary is your elevator pitch to an employer. A CV Summary is a short section right at the top of your CV that sells you as a candidate as efficiently as possible. With only a few sentences or bullet points, a great summary can list your job title, highlight a few key experiences or achievements, and demonstrate your most impressive skills.
A great summary for a finance CV should focus on the skills most directly relevant to the industry and to the specific role you are interested in. Try to highlight your most impressive finance-specific skills, whether they're your proficiency with accounting tools, your client management abilities, or your financial planning achievements.
Depending on your career history and your desired role, the experiences you feature may include a paragraph like:
A results-driven and self-motivated financial professional with 5+ experience handling key financial data. Noted for the ability to manage complex assignments effectively, with the confidence to work as a part of a team or independently. Experience leading intercultural teams and building strong working relationships with internal and external stakeholders. Responsible for balancing all accounts at the end of the financial year. Committed, hands-on and flexible with the ability to adapt to changing priorities and maintain a positive attitude and a strong work ethic.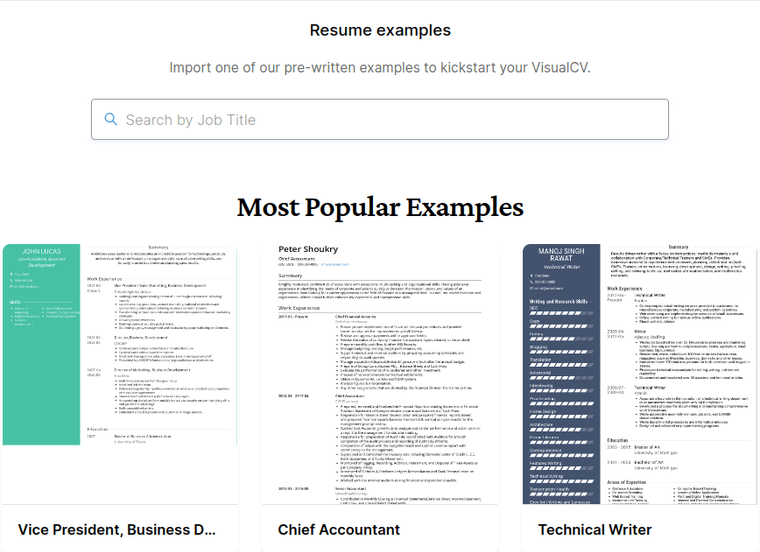 3. Perfect your work experience
The Work Experience section is the most important part of a finance CV. This is where you can showcase your skills and achievements in past roles. For a successful application, your Work Experience section needs to be perfect.
Write your work experience in reverse-chronological order (unless you have very good reasons not to), beginning with your most recent position and working backwards in order.
Throughout each job description in your Work Experience section, emphasize the skills and achievements that are most relevant to the position you're applying to. Even if previous positions weren't in the finance industry, try to feature the transferable skills that will still be useful in a finance position.
As you write about your past roles, make sure to use active language to describe your responsibilities and accomplishments. Instead of saying you were "responsible for preparing financial forecasts using new models", say that you "Spearheaded implementation of new financial forecasting models that improved accuracy and efficiency". Phrase all of your experiences and accomplishments in a way that demonstrates leadership and initiative. The way you describe your experience is almost as important as the experience itself.
You should also use measurable achievements to showcase your skills as much as possible. Your experience will be extra impressive if you can measure your success with numbers. Sales figures, customer acquisition data, and revenue generation are all great ways to demonstrate your abilities. Any skill or accomplishment that can be easily expressed with numbers is a great item to feature on your CV.
Accounts Supervisor
Ensured that cost accrual standards were maintained across all teams.
Monitored invoicing staff and ensured proper procedures were enforced.
Reviewed all invoices for appropriate documentation and approval prior to payment.
Verified and approved payment of invoicing staff salaries.
Assisted Finance Manager with monthly reports and disbursement accounts.
Assisted Finance Manager in preparing year-end financial reports and statements.
Deputized in absence of Finance Manager.
Corresponded with local vendors and customers.
Accrued costs related to the loading and discharging of shipments.
Conducting physical inventories and monitoring stock levels.

4. Showcase your finance CV skills
Your finance CV isn't complete without a robust Skills section. You need to pick out your most relevant and impressive skills and feature them prominently.
The best way to showcase your finance CV skills is with a simple bulleted list. This gives the ATS a clear heading and list it can scan for necessary skills, and makes it easy for hiring managers to quickly scan the list and see what you specialize in.
SAP
Microsoft Excel
Account reconciliation
Financial planning
Valuations
Budgets & KPIs
Investment Appraisals
Management Reporting
Risk assessment
Microsoft Excel (Power BI, Power Pivots, DAX, etc.)
Accounts payable
Accounts receivable
For added flair, you can add strength ratings to your skills so they really stand out.

5. Show your education
Your education is an important part of your finance career. The Education section in your CV should not take up much space, but it's still important to showcase your academic credentials.
If you've been working in finance for a few years, all your Education section needs is a few lines noting your degree, school name, and the year you graduated.
Bachelor of Commerce University of Pennsylvania

If you're a recent graduate, or haven't been in the finance industry for long, your Education section can be longer. If you don't have much experience, your Education section might be your best opportunity to showcase your skills. When you don't have enough work experience to fill out your CV, you can add more details to your Education section, like classes, specializations, or important projects.
6. Customize your CV
Make sure your finance CV is optimized for Applicant Tracking Systems. Applicant tracking systems are software programs that accept CVs and sort them according to how well they match the job description. When you apply through an ATS, it will scan your CV for the skills the company is looking for.
To make sure your CV beats the ATS, customize your CV for every job you apply for. To do this, study the job posting and make note of all the specific skills they're looking for, then feature those exact skills in your CV. The ATS will scan your CV looking for those skills, so make sure your phrasing is just like the job posting. Your CV will make it past the ATS when it perfectly fits the job requirements.