A great resume layout is key to a successful job search.
When you apply for a job, your resume's appearance is almost as important as your qualifications. Hiring managers only spend a few seconds reading each resume, so if yours isn't organized properly it might end up in the rejection pile.
Great experience and relevant skills go a long way, but if you want to land your next job interview fast it's important to have a professional resume layout. The right resume format, resume sections, and resume template can all improve your odds of landing your dream job.
Fortunately, finding the right resume layout is easy. Here's how to find a resume layout that works for you.
The best professional resume layout for 2023
A typical reverse-chronological resume layout looks like this:
Contact information
Professional summary
Work History
Education
Skills
These five sections are enough to sell most job-seekers' qualifications, and presenting them in that order ensures that the most important information is available right at the top. This is a resume layout that employers are familiar with, and it will work in any industry.
However, if you want the perfect resume layout for your specific career, there are more factors to consider. There may be other sections you want to include in your resume, or you may want to emphasize your skills or education over your work experience. If this is the case, think carefully about the format, sections, and template you use for your resume.
What resume format should I use?
An important part of finding the right resume layout is deciding what resume format you want to use.
The most common resume format is the reverse-chronological format. Job-seekers who want to draw attention to their skill set, however, may prefer a functional or combination resume. The resume format you use will depend on your industry, your career history, and your professional goals.
Reverse-chronological resume format
In a reverse-chronological resume, your Work Experience section is the most important part of the resume. It is the longest section, and is located near the top of the page. Inside the Work Experience section, each position is listed in reverse-chronological order, beginning with your most recent role and working backwards.
This is the most common resume format, and the one most employers are expecting. If you have been working for a few years and have had a fairly typical career path, this is the resume format you should use.
Functional resume format
In a functional resume, the Skills section is the largest and most important section of the resume. It is located above the Work Experience section, and contains highlights and achievements that exemplify each skill. The Work Experience section is shorter, and groups previous positions by relevance instead of time.
This resume format is uncommon, as employers prefer a clear timeline of your career. If you want to emphasize your skills over your work history, we recommend using a combination resume format.
Combination resume format
In a combination resume, the Skills section is the most important section of the resume, but the Work Experience section retains a reverse-chronological format so the timeline of your career is clear. This format combines the best aspects of the reverse-chronological and functional resume formats.
The combination format is a great resume layout for job-seekers with a non-traditional career path.
For example, if you are changing careers, a combination format can be a way to emphasize your most relevant and transferable skills. Your current position might not be directly relevant to the job you want, so highlighting skills can be an asset.
This is also true if you are returning to work after an absence, if you have large gaps in your work history, or if you have a history of job-hopping or frequent career changes. If the timeline of your career doesn't lead to the job you want in an obvious way, emphasizing skills in a prominent Skills section can help you sell your abilities clearly and concisely.
What sections should I include in my professional resume layout?
Some resume sections are absolutely mandatory, like Work Experience and Education. If your resume doesn't have these sections, employers will be suspicious.
Other sections are optional, but can be an important asset in the right resume. Sections like Volunteering Experience and Publications, for example, are very useful in certain industries.
Use your knowledge of your career and your industry to decide which sections to use in your resume.
Resume sections include:
No matter which resume format you use, it's important to start with your contact information. A great resume isn't useful if it doesn't show the employer how to contact you.
Your contact information should be located right at the top of your resume, above the other sections. In this section, include your:
Name
Phone number
Email address
City
If applicable, you can also include a link to an online profile, such as a LinkedIn account, a Twitter profile, or a personal website. If you do, however, make sure everything in the account is professional and appropriate for a workplace environment.
Summary
A Summary section is a short section near the top of your resume that contains a brief introduction to who you are and what you do. Your summary should be no more than a few sentences or bullet points long, and it should highlight some important career achievements or skills.
This is your elevator pitch to an employer. In a few sentences, you can showcase your qualifications and encourage them to keep reading. A summary isn't strictly mandatory in a resume, but a great resume can be what catches the hiring manager's eye and convinces them to read the rest of your application.
Work Experience
If you are writing a reverse-chronological resume, the Work Experience section is the most important part of your resume layout. It is the longest section, and the place where you can showcase your most important achievements in all of your past jobs.
List jobs in reverse-chronological order. For each job, include the:
Job title
Company name
Dates of employment
Job description
The job description for each past job is where you can really sell your qualifications. Use bullet points to provide highlights from each role, focusing on relevant achievements. This way, hiring managers will be able to easily scan your resume for your most impressive experience.
To write great work experience, make sure to use strong, active language to describe each past role. Words like "led" and "spearheaded" are more impressive than boring phrases like "was responsible for". The specific language you use can show that you are a dedicated employee with strong leadership skills.
Further, use numbers as much as possible when describing past jobs. Quantifiable achievements are a great way to provide examples of your skills. Any measurable aspect of your job, like sales numbers, clients managed, or customer support scores, can show that you are a competent employee. Providing measurable successes shows that you are a dedicated worker who keeps track of your performance. For example, using a phrase like "Maintained high customer support scores, receiving 'Good' or 'Great' in 95% of reviews" will be more impressive to employers than "Handled customer support inbox".
If you are writing a functional or combination resume, your Work Experience can be shorter. Simply list the job title and company, and leave the detailed descriptions of your accomplishments for the longer Skills section.
Education
If you are an experienced professional and have been working for a few years, your education section can be short. While your academic credentials are important, you don't need to provide much detail.
In each item in your Education section, list the:
Degree and major or specialization
School name
You can also include the date you graduated, but this is optional.
If you are a student or recent graduate, you may want to add more information to your Education section, as you won't have much work experience to display. If this is the case, feel free to include more details, such as classwork, GPA, research projects, or any other relevant academic experience. When you are searching for your first job, you will have to use your education to fill out your resume.
Skills
A Skills section is a great way to provide a quick, scannable list of your core competencies. A well-formatted skills section will list your most impressive and most relevant skills in a simple and scannable way.
If you are writing a reverse-chronological resume, your Skills section does not need to be long. You can present your skills in a simple bulleted list, with your best skills at the top.
If you are writing a skills-based resume, you can make each skill or skill area a heading, and provide examples of your abilities in a description underneath. This will make your Skills section larger, and your skills will stand out.
For some added visual flair, you can even add skill strength ratings to each skill to show your relative experience in each area.
Other resume sections
While the sections above are the most common and the most important, there are other sections that you can include in your resume if they will suit your application. Optional sections include:
Volunteering experience
If you have held any volunteer positions, whether at a charity group, a local animal shelter, or a food bank, you may want to include this in your resume. Volunteering experience shows that you have interests outside of work and are involved in your community.
Portfolio
If you are in a creative field, a portfolio is essential. Including a link to your portfolio, whether it's writing samples, programs you've worked on, or a selection of projects, can be an important part of your resume.
Certifications
If you have any accreditations that don't quite fit into an Education section, like a specific driver's license, a forklift certification, or a management certificate, you can add a separate Certifications section.
Publications
If you are in an academic field, a Publications section is essential. A list of the articles and research papers that you have contributed to will be expected by any academic institution.
Memberships
If you are a member of any local clubs or professional groups, including a list of memberships can be an asset to your resume. Memberships in different organizations outside of work shows that you participate in your community and maintain your network.
How long should my resume layout be?
Your resume should be one or two pages long.
Most job-seekers can fit their experience into one page. Even if you have several years of experience, you should be able to condense your skills and experience to a single page by focusing on only the best and most relevant qualifications. If you can create a great one-page resume without leaving out any important details, this is your best bet.
If you are an experienced professional with years of experience and many past roles, fitting your resume on one page may be difficult. If this is the case, you can create a two-page resume layout. Only do this, however, if you can completely fill both pages, without any filler or unnecessary details. A two-page resume is best for high-level job-seekers with plenty of impressive qualifications.
Your resume should not exceed two pages. Hiring managers are unlikely to turn a third page.
Resume layout templates
Another important thing to consider when creating a resume layout is the template. A great template can inform your resume layout, providing a design, column widths, and a distinct style.
At VisualCV, there are more than 20 resume templates to choose from. Using a template when developing a resume layout can help you decide how to organize the resume sections.
The Monte template, for example, is a great template for a traditional professional resume layout. It uses one column, centred headings, and ample white space to accommodate any resume section.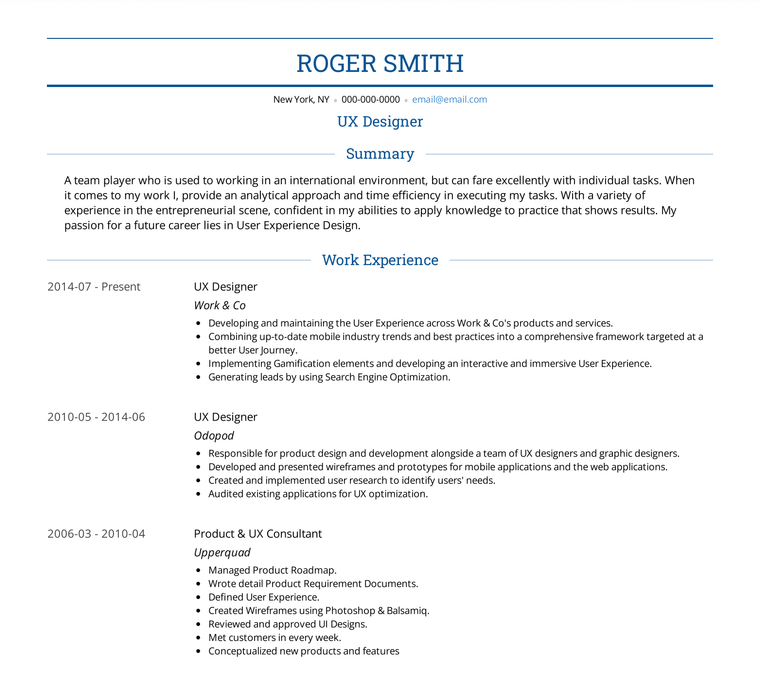 The Gallant template is a modern template, with two columns, clear headings, and a striking colour section that is sure to catch a hiring manager's attention.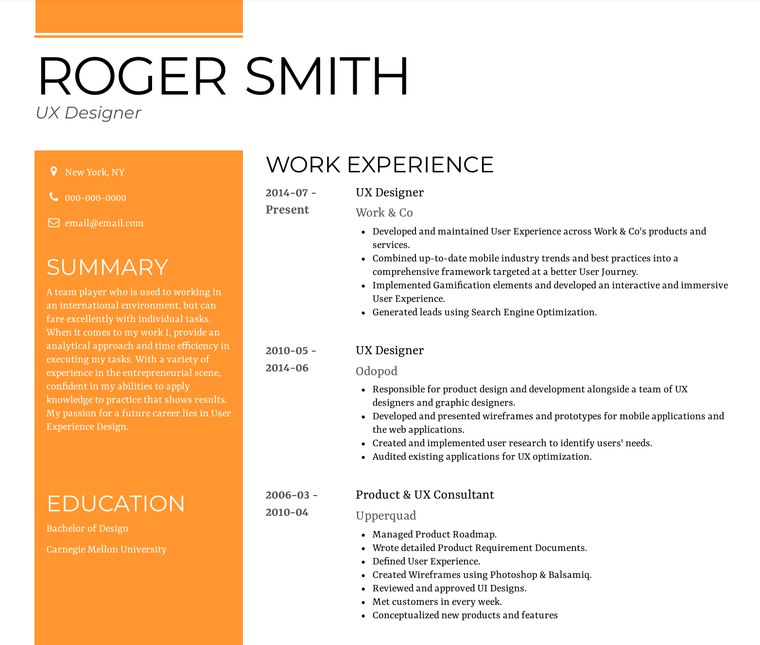 The Rainier template is an eye-catching template with a bold header image, two columns, and distinct colour sections. This template is easy to customize to suit the best resume layout for your career.