While listing your skills, simply writing adaptable isn't enough, make sure to add a diverse set of skills that shows you learn quickly and have a talent to adapt.
Adaptability Resume Phrases (real Examples)
Adopt and configure new hardware.
Replace parts and customize vehicles as required.
Prioritize and delegate tasks for a workforce of 53 team members.
Provided support and guidance for complex, undocumented technical issues to the Level I and Level II Analysts.
Evaluated new technologies to support a full spectrum of users from basic laboratory researchers to clinical trials investigators.
Recommended areas of improvement for support tools.
Designed more efficient monitoring strategies.
Top Resume Adaptability Skills List for Your Resume
Resilient
Leadership
Decision-Making
Conflict resolution
Innovative
Constant learning
Collaborative
Observant
Tech savvy
Open-minded
Curious
Organizational
Emotional Intelligence
Ability to Learn Quickly
Attention to Detail
Determined
Delegating
Analytical
Positivity
Empathetic
Time Management
Receptive to criticism
Problem Solving
Tech savvy
Stress Management
Resourcefulness
Brainstorming adaptability skills
If you aren't sure what adaptability skills you possess, you may want to do some brainstorming. It can be difficult to come up with skills without context, so a great way to get started is to recall scenarios from your career where you were forced to adapt.
To brainstorm adaptability skills for your resume, ask yourself questions like "What was a time I overcame a difficult obstacle?" and "What is an example of a time I showed leadership in a team setting?" The answers will reveal your adaptive skills.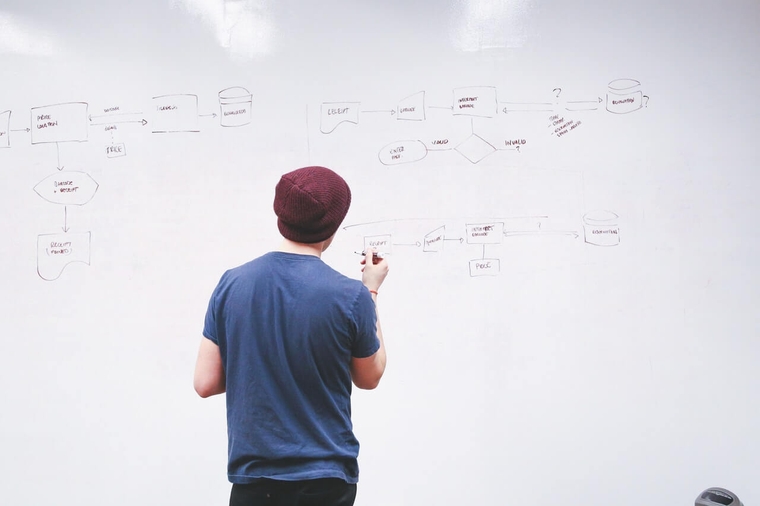 (Tip: Questions like this are common in job interviews, so these questions will also help you prepare answers for job interview questions.)
Try to think of a time when:
You encountered a difficult obstacle while completing a project
You joined a new team
You had to think creatively to solve a problem
You had to learn a new tool, procedure, or skill
You had to work in an unfamiliar place
You had to work outside your comfort zone
You succeeded at work even though you were nervous or unprepared
Once you have come up with some scenarios, you can think of the skills you used to deal with them. Did you use your communication or negotiation skills when dealing with a difficult client? Did you find a workaround to a logistical problem? Did you find alternative methods when your team's first ideas didn't work? Any of these situations are a great showcase of your adaptability.
How do you describe adaptability on a resume?
To best describe flexibility, saying that you are flexible alone isn't going to help much. Instead, try to show situations in which you demonstrated flexibility and if possible show the impact it made.
How to learn adaptability skills
Adaptability skills are an important asset, at work and in life. If you think you need to become more adaptable, there are several things you can do to learn adaptability skills, including:
Try new things
You'll be better prepared for new challenges when you have lots of varied experiences to draw from. In work and in life, take on varied projects, work with different people, and get out of your comfort zone as much as possible. Your adaptability skills will improve the more you use them.
Ask a lot of questions
Never stop learning. Throughout your career you should be curious and enthusiastic. There is always more to learn and more to experience, and the more you know, the more prepared you will be for unfamiliar situations.
Interrogate failures (and successes)
If you fail at a task, or feel that you could have handled something better, ask yourself why. Consider what you could have done differently, what skills you need to improve, and how you could approach a similar situation differently. Failing at something is disappointing, but failure is one of the best teachers.
Success is not widely considered one of the great teachers, but you can still learn from it. If you succeed at something, take a break from admiring your accolades and consider how your skills or abilities brought about that outcome. You can use your win as an opportunity to identify good ideas, core competencies, and skills you could specialize in.
Listen to others
There's no substitute for a good teacher. If you work with an industry veteran, make sure to pay attention to what they have to say.
Working with more experienced people, whether on big projects or day-to-day tasks, is a great way to learn adaptability skills. They will find it easier to deal with situations that are new to you, because they've seen them all before. Listen closely to people with lots of experience.
If you can find a mentor, someone with experience who will help you navigate new situations, you will be better prepared for obstacles than most of your peers.
Maintain a good attitude
Adaptability skills aren't learned in a day. As you encounter new obstacles and unfamiliar situations, you might fail at new tasks just as often as you succeed. Throughout this process, it's important to cultivate a positive attitude. If you're too discouraged by your failures, you won't be as motivated to improve.
Practice maintaining a good attitude and healthy behaviours so you're able to consistently learn new skills and improve. Enthusiasm can be the difference between a failure and a learning opportunity.
Showing adaptability on your resume
Adaptability is an important quality, but adaptability skills can be difficult to communicate in your job application. There is no need to include a distinct Adaptability Skills section, but there are still ways to include these in your resume. Employers should come away from your resume knowing that you can handle anything the job throws at you. So where should your resume adaptability skills go?
Showing adaptive skills in your skills section
Many resume adaptability skills can be shown in a Skills section on your resume. This is a section your resume should already have, and adaptability skills can fit right in. In fact, they might already be there.
When you display your skills in a skills section, use a simple bulleted list that is easy to find and read:
Critical thinking
Attention to detail
Teamwork
Verbal communication
Independence
Communication
Negotiation
Troubleshooting
If you have split hard skills and soft skills into two different lists, your adaptability skills will probably fit into the Soft Skills section best. Soft skills relating to leadership, independence, and teamwork are all adaptability skills as well.
Showing adaptive skills everywhere else
You can make your resume adaptability skills apparent outside of your Skills section as well. To do this, emphasize achievements and accomplishments throughout your resume that demonstrate your adaptability skills.
As you write your work history, professional summary, and other parts of your resume, you will be highlighting accomplishments from previous roles. Situations where you demonstrated leadership, adapted to changing circumstances, and overcame obstacles are all examples of your adaptability.
When you brainstormed adaptability skills, many of the examples you came up with should fit into your Work Experience section.
For example, if a job description says:
Plan team schedules, all-hands meetings, holiday coverage, vacation time, and team building events
Your ability to lead a team, accommodate different needs, and interact with fellow employees will be demonstrated.
If a job description says:
Spearheaded client onboarding of new distributed server environments
It will show that you are able to learn new technology and adapt to specific client needs.
Adaptability example sentences for your resume
Including resume adaptability skills throughout your Work Experience section can seem difficult, but with some well-constructed sentences you can easily show your adaptability. Adaptability skills for your resume can include:
Flexibility
Recruiters are always looking for a candidate who can excel in different conditions. It's important to show that you can adapt to changing circumstances, that you are comfortable with uncertainty, and that you can take on whatever challenges each day brings you. You need to be prepared to evolve as the job demands it.
Flexibility is best shown in your Work History section by offering many different responsibilities and accomplishments in each job description. For example, the bullet points:
Independently monitor systems for errors and problems
Assist clients in setting up and troubleshooting new systems

show that you can work alone and with clients, as well as proactively look for errors or troubleshoot existing ones. In this way, you can demonstrate flexibility without directly using the word "flexibility".
Communication
Strong communication skills are integral to a successful career. Whether you are interacting with bosses, working within a team, or writing copy for marketing purposes, you need to be able to adapt your communication style to get your ideas across clearly and professionally.
Communication example sentences for your resume may include:
Acted as the primary point of contact for internal and external copywriters
Authorized copy approvals, changes, edits, and proofreading
Regularly attended meetings with product managers, service advisors, and editorial staff to apprise them on acquisition campaigns

Troubleshooting
There is no system or technology so flawless that it will never require maintenance. If you encounter a problem when trying to use a tool, you need to be able to figure out what's wrong. Ideally you'll be able to fix it, too, or at least find a workaround. To show that you can adapt to obstacles, consider sentences like:
Responded to automated alerts on all vendor platforms
Spearheaded ticket review and control
Trained and mentored new employees in customer support processes

Teamwork
Working with other people can be a challenge, as it requires adjusting to different working styles and accommodating different opinions and methods. Workers who cooperate well with others and enjoy working with a team are very valuable to employers. You can show teamwork adaptability skills in your resume with sentences like:
Interfaced with the online content teams to ensure that the execution of weekly promotions is effective, accurate and consistent
Coordinated with external creative agencies and consultants to implement design and copywriting edits

Independence
You won't always be working in a team. The ability to work well alone is also valuable. Managers appreciate employees who can diligently get their work done and solve problems without much oversight or supervision. Independence is an important adaptive skill for your resume.
Independence resume adaptability skills may include:
Independently supervise and maintain computer systems and networks
Follow diagrams and written instructions to repair a fault or set up a system

Problem solving
Every role comes with challenges, and employers want to know if you will be able to overcome these challenges. Your ability to solve problems and adapt to changing circumstances without becoming overwhelmed will make you a great candidate for many jobs.
Problem-solving adaptability skills example sentences for your resume include:
Provided support and guidance for complex, undocumented technical issues to lower-level analysts
Handled all customer support tickets including problems with billing and product support

Tech savviness
Most modern jobs involve some amount of technology, whether it's highly specialized software or simple point-of-sale systems, and employers want to know that you can learn to use these tools quickly. Your resume should show that you're familiar with computers and eager to learn new tools. Demonstrate your aptitude for technology with sentences like:
Responsible for keeping operating systems up-to-date system-wide, including Windows and Linux
Install and update new security infrastructure for all departments

Lifelong learning
All companies are looking to grow, and they want employees who will grow with them. By showing that you have a passion for learning new things, you can demonstrate that you're eager to expand your expertise and to adapt to the company's changing needs.
Kept up-to-date with new systems and technologies to ensure a modern deployment environment
Recommended areas of improvement for support tools
Designed more efficient monitoring strategies

Receptive to criticism
Even if you've been in your industry for a long time, you still have things to learn. For a successful career it's important to know how to accept criticism and advice from the people you work with, even if they're less gracious in giving the criticism than you are in receiving it. This quality can be difficult to demonstrate, but responsibilities in client management or customer support can show that you are able to accept feedback.
Responsible for monitoring subscription cancellations and identifying points of improvement
Designed and supervised client satisfaction surveys

Adaptability skills resume examples
While adaptive skills can be difficult to show on your resume, they are worth highlighting. The modern workplace is always changing, and employers are looking for workers with the flexibility to succeed no matter what challenges they encounter. For inspiration, consider these adaptability skills resume examples:
Information technology officer resume example with adaptability skills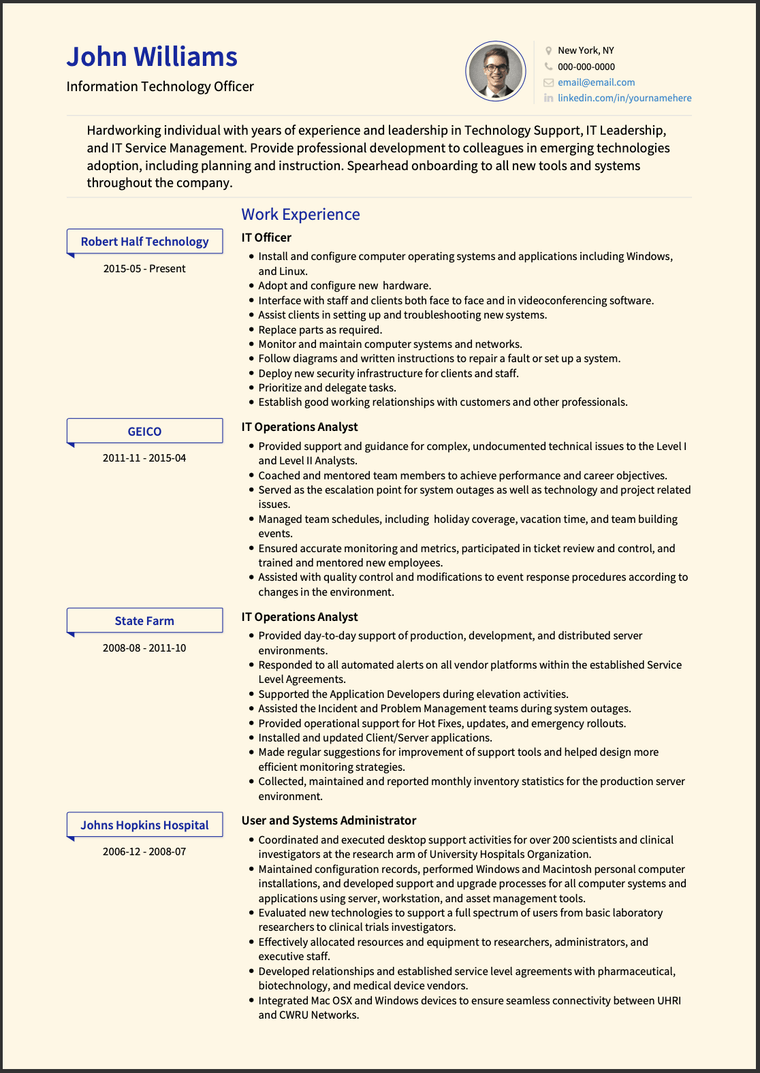 @@@
Hardworking individual with years of experience and leadership in Technology Support, IT Leadership, and IT Service Management. Provide professional development to colleagues in emerging technologies adoption, including planning and instruction. Spearhead onboarding to all new tools and systems throughout the company.
Work Experience
Robert Half Technology IT Officer
Install and configure computer operating systems and applications including Windows, and Linux.
Adopt and configure new hardware.
Interface with staff and clients both face to face and in videoconferencing software
Assist clients in setting up and troubleshooting new systems.
Replace parts as required.
Monitor and maintain computer systems and networks.
Follow diagrams and written instructions to repair a fault or set up a system.
Deploy new security infrastructure for clients and staff.
Prioritize and delegate tasks.
Establish good working relationships with customers and other professionals.
GEICO IT Operations Analyst
Provided support and guidance for complex, undocumented technical issues to the Level I and Level II Analysts.
Coached and mentored team members to achieve performance and career objectives.
Served as the escalation point for system outages as well as technology and project related issues.
Managed team schedules, including holiday coverage, vacation time, and team building events.
Ensured accurate monitoring and metrics, participated in ticket review and control, and trained and mentored new employees.
Assisted with quality control and modifications to event response procedures according to changes in the environment.
State Farm IT Operations Analyst
Provided day-to-day support of production, development, and distributed server environments.
Responded to all automated alerts on all vendor platforms within the established Service Level Agreements.
Supported the Application Developers during elevation activities.
Assisted the Incident and Problem Management teams during system outages.
Provided operational support for Hot Fixes, updates, and emergency rollouts.
Installed and updated Client/Server applications.
Made regular suggestions for improvement of support tools and helped design more efficient monitoring strategies.
Collected, maintained and reported monthly inventory statistics for the production server environment.
Johns Hopkins Hospital User and Systems Administrator
Coordinated and executed desktop support activities for over 200 scientists and clinical investigators at the research arm of University Hospitals Organization.
Maintained configuration records, performed Windows and Macintosh personal computer installations, and developed support and upgrade processes for all computer systems and applications using server, workstation, and asset management tools.
Evaluated new technologies to support a full spectrum of users from basic laboratory researchers to clinical trials investigators.
Effectively allocated resources and equipment to researchers, administrators, and executive staff.
Developed relationships and established service level agreements with pharmaceutical, biotechnology, and medical device vendors.
Integrated Mac OSX and Windows devices to ensure seamless connectivity between UHRI and CWRU Networks.
Education
University of Texas Master of Science in Computer Science
University of Texas Bachelor of Science in Computer Science
Skills
C++
Integration
GNU/Linux
Problem Solving
IP Networking
Windows Server
Helpdesk Support
Technical Support
Cisco Networking
Microsoft SQL Server
Computer Maintenance
Network Administration
Computational Thinking
Communication
Network Troubleshooting
Computer Hardware Installation
Certifications
CompTIA
A+
CompTIA
Network +
(ISC)²
Certified Information Systems Security Professional (CISSP)
@@@