Writing a Scrum Master resume?
You should know this.
A Scrum Master job ad receives countless irrelevant and bad resumes on top of somewhat relevant and highly relevant ones.
For hiring managers this means that they will have to go through these with guards up and reject anyone who appears to be irrelevant or mediocre.
Consider these two Scrum Master resume examples:
Example 1 Experienced Scrum Master with 3 years of experience in facilitating Agile development processes, leading cross-functional teams, and ensuring successful product delivery.
Example 2 Scrum Master with 3 years of experience in managing Agile-Scrum in Fintech. Certified Scrum master with proven experience in performing effective root cause analysis in high velocity environments and reduced 10-20 consistent bugs to 1-2 bugs at ACME.
The second Scrum Master resume example is likely to make the cut. The first one, however, won't even make it to the top 10% of applicants.
The key is to write an error free, stand-out Scrum Master resume.
That's why in this article, we will show you how to:
Select the right format for a Scrum Master resume
Understand how to stand out as an experienced Scrum Master and win the job
Learn how to create a Scrum Master resume with no SM experience
Understand how to list information on your resume to be in the top 1% applicants
Let's start with a few Scrum Master resume examples (feel free to copy paste and create your own resume from them!).
Scrum Master Resume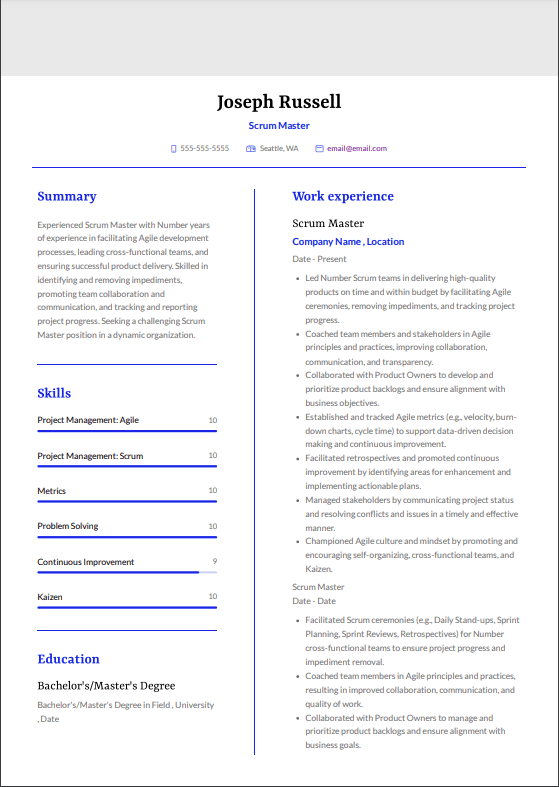 Agile Scrum Master Resume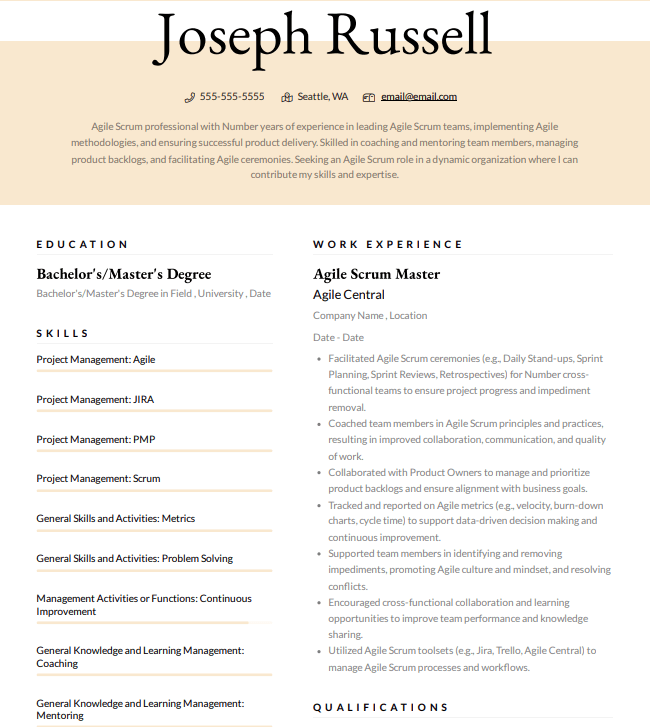 Entry-level Scrum Master Resume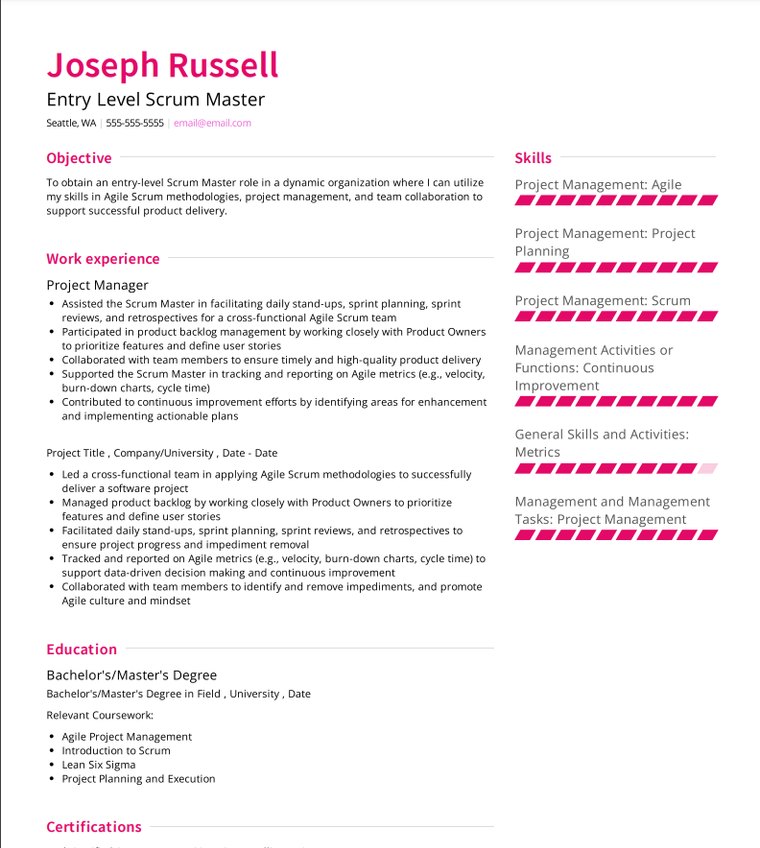 You can use these examples to find inspiration for your own Scrum Master resume. But if you are looking for a more in-depth read, continue reading further.
Let's first understand how should anyone go about writing their Scrum Master resume.
How to Write a Scrum Master Resume?
To write the best Scrum Master resume, follow these tips:
If you have relevant Scrum Master work experience, use a reverse chronological layout. Else, a combination or a functional resume layout is the best for you.
Focus more on results and learnings vs a 100% rate for all sprints.
Show that you are capable of facilitating introspection and aren't just another another "pointdexter". This should be evident throughout your skills, summary, and work experience sections.
Once you get results and facilitation highlighted well enough throughout the resume, add your tools, tactical achievements (e.g. 100% sprint rates), and scale of work.
List certifications to show relevance, but make sure they are recognized Scrum certifications (e.g. SAFe, PMI, Scrum Alliance, etc) and not from certificate mills.
Remember, technical skills are important for a SM resume, despite what you hear. So, do list your technical skills in a separate section.
Add a short education section if you have significant work experience. Else, carefully add relevant details to your education section and can make it a significant section.
For applications who don't officially hold a Scrum Master title, but hold Scrum Master responsibilities - add "Scrum Master" to your job title e.g. Project Manager, Scrum Master.
Writing a Scrum Master resume has way more nuances, but these are some general things to keep in mind.
As we move forward, we would get into each of the specific nuances and show how to make sure we give you everything you need to write a resume based on YOUR nuances.
Often Project Managers assume that they can send their resume as it is for a Scrum Master role and hope they'll hear back. But that's complicated.
Scrum Master Resume vs Project Manager Resume - What's the Difference?
Project Managers often apply for Scrum Master jobs without understanding what a hiring manager would see. You need to understand the differences to write a career change resume. The key differences are:
PMs do cost management, scheduling, status management, etc. SMs are responsible for removing roadblocks and aren't directly responsible for the quality and timing of the project.
PMs would report on what was being delivered to them. SMs work with Product Owners to adjust the scope and handle the Scrum retrospectives.
This is what is commonly followed in companies with clearly defined Scrum Master roles.
Now, when you apply to a Scrum Master role with a project management background, you need to make sure you cover the two points listed above.
Your resume should tell a story that you aren't just another Project Manager, but you also handle some SM responsibilities.
Let's start with individual Scrum Master resume sections and see the best practices on how to write them with examples.
Objective or Summary for a Scrum Master Resume?
The answer is clear:
If you have no prior experience working as a Scrum Master - write an objective explaining your top relevant skills, past work experience, and why you are applying for the role.
If you have prior Scrum Master experience - write a resume summary.
Scrum Master Resume Objective Examples (Good and Bad Examples)
Remember, Scrum Masters are expected to be flawless. If you are hoping to take your first Scrum Master job you know you can't afford to write a mediocre Scrum Master objective.
Back in the 1990s, Microsoft MCSEs and Novell CNEs used to spam job ads the same way entry level or career transition Scrum Manager resumes do.
What do they have in common?
Only Scrum certifications. No past experience that makes them appear remotely relevant for the job and no justification about why they should be shortlisted for an interview.
To a hiring manager, it feels that the market is flooded with applicants who are "certified", but will bring zero value to the company.
Here's an example of a bad Scrum Master resume objective
Bad Example of a Scrum Master Resume Objective
Certified Scrum Master with a mission to help IT organizations with on-time product delivery and leave an impact. Key skills include: leadership, improving efficiency, and stakeholder management.
In the objective example above, you can see how this resume highlights that the candidate only has certification, but no relevant past skills to be considered for the role.
Let's consider a better example.
Good Example of Scrum Master Resume Objective
PMI Certified Scrum Master with 5+ years of experience in managing large IT projects with multiple stakeholders and geo-distributed teams. Past achievements include exceeding 97% delivery rates, shipping more 11 enterprise products in 78% less time, and reaching 1+ million users.
Notice how this Scrum Master candidate stands out by:
Placing very relevant project management experience adjacent to the Scrum Master certification. This information helps a hiring manager understand that you aren't just another entry-level candidate who just spammed their resume on your job ad.
Adding past achievements and layering top skills to make the right impact from the start.
Any hiring manager reading this Scrum Master resume objective would consider shortlisting the candidate if they are open to entry-level candidates.
Now, when an experienced Scrum Master writes their summary - we have to follow almost similar steps.
Here's an example of a poorly written Scrum Master resume summary.
Bad Scrum Master Resume Summary Example
Experienced Scrum Master with 5 years practicing and implementing agile methodologies in SDLC. I have a track record of leading a team to be self-organizing, and collaborative while maintaining high energy.
This Scrum Master resume summary is all about self-proclamation. Apart from years of experience as a Scrum Master, there's no real value for the hiring manager here.
A better example of a Scrum Master resume summary would be:
Good Scrum Master Resume Summary Example
Scrum Master with 5 years of coaching CIOs, VPs, and other team members. Establishing CoPs and KPIs driving a 20% reduction in delivery time and a 9% defect reduction. Passionate about transforming SDLC to achieve their peak performance levels.
How to Write Your Scrum Master Resume Experience Section?
You should follow these tips while writing your Scrum Master experience:
Prioritize outcomes over inputs.
Highlight how you led and coached Scrum adoption in your current or past roles.
Working with a team, overcoming challenges, and what you did with DoR, DoD, etc is important.
Any relevant past experience or expertise should be highlighted. For example, in a technology company, a Scrum Master's past experience as Software Developer would be highly valued.
Avoid listing very generic "duties" in your Scrum experience. In a job market flooded with poorly written resumes, this will get your resume rejected.
If your Scrum work history isn't impressive enough - you are highly likely to be rejected. So make sure that you follow those 5 tips we shared.
Here are some examples of Scrum Master resume experience for you.
Bad Scrum Master Resume Experience
Scrum Master
Coordinate all Scrum ceremonies including sprint planning, daily stand-ups, sprint demos, story grooming, and release planning.
Assist in defining and developing new product development processes.
Work with the Product Owner to define project scope, objectives, and user stories.
Develop or update project plans for information technology projects including information such as project objectives, technologies, and user stories.
Perform risk assessments to develop response strategies.
Monitor or track project milestones and deliverables.
Manage all scrum boards (physical or virtual).
There are several key problems that will make this Scrum Master resume get rejected. Let's go through them one by one.
First of all, everything is just a list of duties. It is very poorly written and has no level of depth.
Second, reading this would make any hiring manager feel that this was written by someone who would only run templated Scrum operations.
Finally, pay attention to phrases like "Monitor or track" - they add little to no value to the work history.
Let's now look at a better Scrum Master resume experience example.
Good Scrum Master Resume Experience
Scrum Master
Principle for Scrum adoption at ACME. Trained stakeholders, team leaders, Scrum Masters, and other technology teams on adopting Scrum.
Transformed ACME from 100% Waterfall to 100% Scrum.
Reduced defect rate and rework from 17% to 5.6%, saving $4.3 million for ACME.
Improved delivery of software projects from an average of 397 days to 267 days.
Performed root cause analysis and restructured QA resources for early bug discovery and feedback.
Led the launch of 6 new LOB softwares at ACME and maintained KPIs to reduce project costs by 10% while overachieving delivery targets by 4 months.
Now that we have the summary/objective and the experience section perfected. Let's look into other sections that will help you stand out.
Certification mills have reduced the importance of a Scrum certification. However, valuable Scrum certifications are still required.
There are some companies where not having a specific Scrum certification assures a rejection. That's why we suggest that you list your Scrum certifications in the right way.
How to List Scrum Certifications on Resume
To list your Scrum certifications on your resume, create a separate section for certifications and list all your Scrum certifications under it.
How to List Scrum Certifications on Resume
You can list your Scrum certifications in the following sections of your resume:
Your summary/objective
Your certifications section
We've shown how to list Scrum certification in your summary or objective. Let's now take a look at how to list Scrum certifications in a certification section of your resume.
Certification Format for Scrum Master Resume
While listing your Scrum certifications in a separate section, follow this format: [Name of Certification] [Certification issuing authority], [Date issued]-Present
Here's an example of a Scrum Master resume's certification section.
Certified Scrum Master Scrum Alliance, 2021-Present
Top Certifications to List on a Scrum Master Resume
The top certifications to list on a Scrum Master resume are:
Certified Scrum Master (CSM)
Certified Scrum Product Owner (CSPO)
Professional Scrum Master (PSM)
Certified Scrum Developer (CSD)
Professional Scrum Product Owner (PSPO)
Scaled Agile Framework (SAFe) Scrum Master
Scrum Master Certified (SMC)
Scrum Product Owner Certified (SPOC)
Kanban Management Professional (KMP)
Lean-Agile Procurement (LAP)
Certified Enterprise Scrum (CES)
Scaled Agile Framework (SAFe) Product Owner/Product Manager
Scaled Agile Framework (SAFe) Agilist
Agile Certified Practitioner (ACP)
Project Management Institute – Agile Certified Practitioner (PMI-ACP)
Certified Agile Leadership (CAL)
Certified Scrum Trainer (CST)
Agile Scrum Foundation (ASF)
Scrum Developer Certified (SDC)
Top Scrum Certifications to List on Resume
Scrum facilitation
Agile project management
Conflict resolution
Coaching and mentoring
Negotiation
Retrospective skills
Communication skills
Change management
Agile estimation
Agile planning
Technical skills
SDLC
Managing project backlogs
Risk management
Root cause analysis
Cross-functional collaboration
Time management
Prioritization
Kanban
Lean
Project management software skills
Adding Education to Your Scrum Master Resume
Scrum Master job applicants are rarely new graduates. So, we advise you that you follow the format while listing education on your resume:
Education Format for Scrum Master Resume
[Degree], [Institution name] [Start Year - End Year]
If you have an education in progress (e.g. an MBA) list your education in the following format: [Degree] [Institution name] [Start Month, Year - Expected Date of Completion]
There are additional sections that you can add, but for any Scrum Master candidate, listing these sections should be sufficient.
How Long Should a Scrum Master Resume be?
A Scrum Master resume should be one page if the total years of experience is less than 15 years. For candidates with more than 15 years of experience, two pages or more is an acceptable length.