When you apply for a job as an IT Project Manager, your resume is most likely first reviewed by a recruiter, then a hiring manager, and/or multiple stakeholders.
A good IT project management resume has to convince all three (recruiter, hiring manager, stakeholder) that you are right for the job.
A recruiter would often have limited technical knowledge, which means they would either:
Scan for relevant keywords and shortlist candidates based on them.
Or shortlist resumes that provide relevant information in an easy-to-understand format.
Stakeholders or hiring managers on the other hand are interested in your quantifiable achievements, problems you solved, the scale of your work, and how you manage IT projects.
You need to create an IT project management resume that satisfies both. If you miss either of them and it could potentially lead to rejection.
In this guide, we'll show you exactly how to do it.
IT Project Manager Resume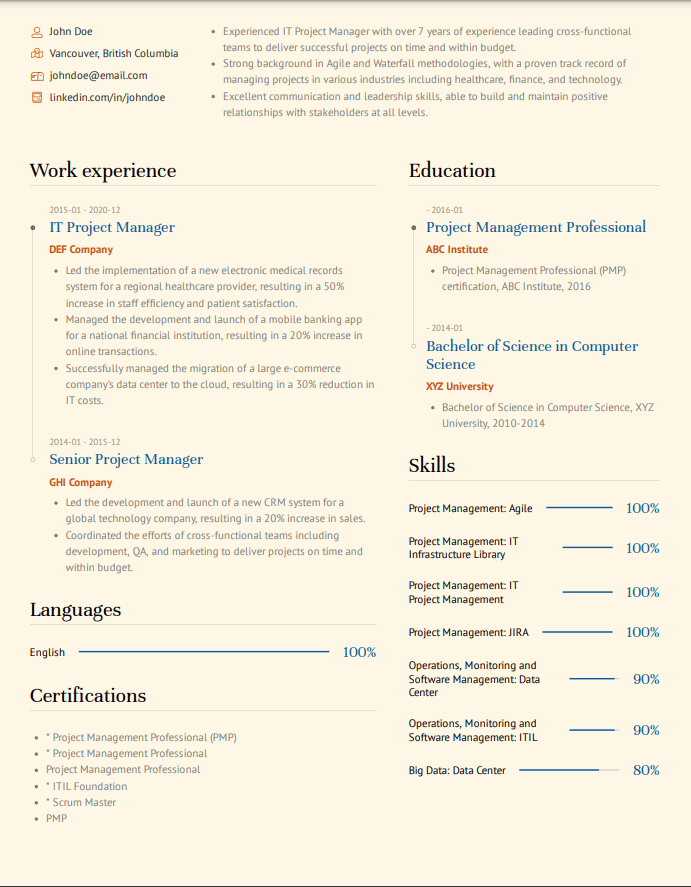 IT Project Management Resume with 5+ Years of Experience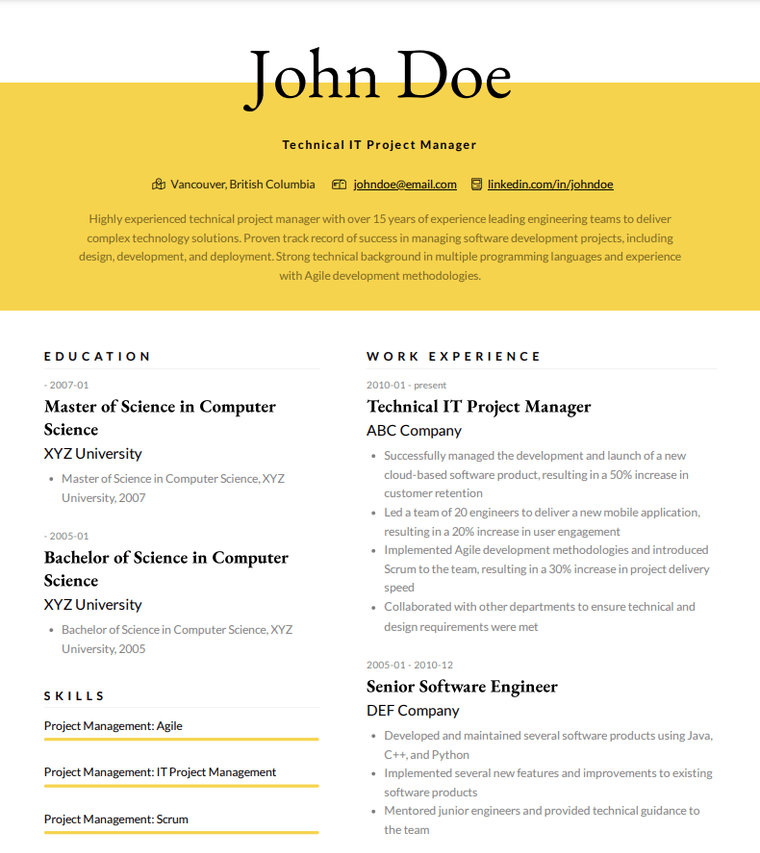 How to Write an IT Project Management Resume
To write a job-winning IT project management resume you should:
Show that you can define project goals and have launched large IT projects.
Display your skills in planning and execution of IT projects.
Highlight any monitoring and control work (e.g. cost, scope, risk, etc) and how it helped the company.
Convince a hiring manager that you have enough hard technical skills.
List the team size and highlight stakeholder collaboration,
Leverage the STAR framework to highlight IT challenges you faced and how you solved them.
Resume Objective or Summary for an IT PM Resume?
If you are an experienced IT Project Manager, write a summary instead of an objective. Resume objectives are only required when you are either:
An entry-level professional trying to break into IT project management.
Someone trying to transition from a related profession to IT project management.
2 Good IT Project Management Resume Summary Examples
IT Project Manager Resume with 12+ Years of Work Experience
Accomplished IT Project Manager with 12+ years of experience in leading migration projects, release management, change management, and incident management. PMP certified and proficient with Scrum innovating with process optimization and strategic planning for enterprise IT projects.
IT Project Manager Resume with More than 5 Years of Experience
An IT Project Manager with 5+ years of experience creating and optimizing projects and programs through partnerships and data-focused processes. Manage budgets exceeding $10M and led international and national IT projects. PMP certified.
PMP IT Project Manager Resume Summary
Certified project manager with 5 years of experience in the IT sector. Managed all phases of a $10M remote work infrastructure upgrade at Sunny Day Groceries, closing before the deadline. Excited to leverage expertise and experience to support the IT goals of Walkers Bank.
An example of a bad IT project management resume summary or objective is: "Experienced leader and Project Manager possessing the ability to motivate and manage others, with a background in business intelligence, supply chain management, and analytics. Seeking to develop a career as a Project Manager."
List IT Project Management Experience the Right Way (With 3 Examples)
IT Project Management Resume Example
IT Project Manager
Led 5 matrix teams through SDLC of 13 information products, resulting in $25M in revenue for clients to date in the healthcare industry.
Used Six Sigma methodologies to improve a client's coaching process, reducing fulfillment by 300%.
Partnered with high-profile clients to identify needs and objectives, develop project scopes, and mitigate risks, while providing status updates, collecting feedback, and managing concerns.
Provided oversight and coordinated with teams of 5-10 on multiple high-priority technical projects, communicating issues and requesting feedback to ensure on-time completion of quality deliverables including training and software development.
Senior IT Project Manager Resume Example
Senior IT Project Manager
Led 2 teams of 20 offshore/onshore resources to effectively manage client portfolio within 24-hour support for over 250 apps and 50+ new app development projects.
Managed client book of business from $1MM to $5MM.
Strategized long-term IT project plans by establishing WBS for better timeline management and improved ROI by 30%.
Collaborated with stakeholders to ensure all deliverables
Experienced IT Project Management Resume Example
IT Project Manager
Organized IT project score for the COO that tracked each individual shipment, initiating a steady increase in our company-wide partner pickup on-time percentage from an average of 82% to an average of 97%.
Partnered with clients to identify needs and objectives, develop project scores, and mitigate risks, while providing status updates, collecting feedback, and managing concerns.
Oversaw and communicated directly with all 30+ stakeholders, providing direction and training toward improving existing IT processes.
Actively updated project management software, project cost trackers, and other estimates. Proactively informed teams on project status.
Led status meetings, daily scrum meetings, and kick-off meetings to ensure the team is aware of the priorities.
Information Technology Project Manager Resume Example
IT Project Manager | October 2019-present
Sunny Day Groceries | New York, NY
Managed all aspects of a $10M remote work infrastructure upgrade, two weeks ahead of schedule.
Managed a team of 10 IT experts based in the US, the UK, and Hong Kong.
Ensured that 95% of all projects were closed on time and within budget, ensuring efficiency across the company.
Awards on IT Project Management Resume
If you have received a prestigious award in IT project management, create a separate section for it. A good example of how to list awards on an IT project management resume is shown below:
Example - Awards on IT Project Management Resume
PMI PMO of the Year Award, 2023
Awarded PMI PMO title for exceptional IT project organization and creating value for Oracle through strategic initiatives.
Top Skills to List on an IT Project Manager Resume
Process improvement
Scheduling
Task management
Project control
Budgeting
Leadership
Project documentation
Financial management
Resource allocation
Resource planning
IT risk analysis
IT risk management
Conflict resolution
Collaboration
Problem-solving
Communication
Data analysis
AWS
Project Management Software
Scrum
Kanban
Agile
Cloud skills
Programming skills
SQL
Tableau
G-Suite
MS Office
List Certifications on Your IT Project Management Resume
PMP
Six Sigma
CAPM
PMI-ACP
PMI-PBA
PgMP
To list your IT project management certifications, create a new section and list relevant certifications. Look at the example IT Project Manager's resume certification below.
Example of How to List Certifications on IT PM Resume
Project Management Professional (PMP) Certification | 2018 Project Management Institute
How to List Education on IT Project Management Resume
Generally, most IT project management applicants have more than 3 years of experience. Your past education in detail isn't required if you have considerable work experience.
That's why we recommend that you list your education section as shown in the example below.
Example of Education on IT Project Manager Resume
Bachelor of Science in Information Technology | September 2011-June 2015 New York University, New York