Retail is one of the largest employment sectors in North America. Retail businesses hire lots of people, including entry-level employees, but if you want to beat the competition you need to learn how to write a retail resume that makes an impact.
There are many different roles in retail, including:
Cashier
Sales associate
Customer service representative
Manager
Visual merchandiser
Retail buyer
Roles like this can be found in several different types of retail businesses, like grocery stores, department stores, electrical retailers, clothing stores, and more. While retail salaries aren't always the most competitive, retailers often hire for a large number of entry-level positions. This means you will be able to write a great retail resume with no experience.
This guide will discuss:
How to write a retail resume
Best practices for writing a resume for retail jobs
Which sections you need for a retail resume
Retail resume examples
How to write a resume for retail jobs with no experience
#1. Pick a great retail resume template
Using a great retail resume template will boost your chances of landing a job.
Retail hiring managers receive a lot of applications. If you want yours to stand out, your resume must be well-formatted and professional. A messy, difficult-to-read resume would be rejected by any employer.
A good resume template will have readable fonts, clear organization, and a professional design. While you can format these yourself using a word processing software, your easiest option is to use a premade resume template from a resume builder.
VisualCV offers several resume templates that would work great for a retail application. The Corporate or Elegant templates, for example, are stylish but professional, and would make your retail resume look great.
A resume template will do all the hard work for you, so you know exactly where to put your contact information, what fonts to use, and what sections to include.
#2. Write a great summary
On a resume, a summary is a short paragraph that features key highlights of your experiences, education, and achievements. It is located right at the top of your resume, near your contact information. This is your elevator pitch to employers, where you can convince them to keep reading the rest of your resume.
Hiring managers receive a lot of resumes. They don't spend much time reading each one, so a resume summary is a great way to grab their attention.
A great retail summary should highlight your:
Current job title
Level of experience
Key achievements
Core skills
If you are writing a resume for retail jobs with no experience, you won't have a work history to draw from. Instead, you can mention your education, volunteering positions, or anything else that could suggest that you are responsible and would make a good employee.

If you're having trouble coming up with key qualifications for your summary, try writing it last. If you've already written the rest of your resume, you will have a better sense of your experience and what deserves to be highlighted.
Retail resume example: Summary
Customer-focused retail assistant with 3+ years of experience. Quick learner with deep knowledge of consumer electronics specializing in TVs and mobile phones. Finished top of the department sales leaderboard in 2021 and 2022, exceeding sales targets by 20%. Seeking a position at the Apple store to continue my career development.
#3. Showcase your retail work experience
Your Work Experience section is the most important part of your retail resume. It's the place to showcase all your previous positions, and the skills and qualifications you developed throughout your career.
When writing your Work Experience section, begin with your current position and list previous jobs in reverse-chronological order. For each job, include:
Your job title
Your employer
The city
The dates you worked in that role
A job description listing your duties and achievements
The job description for each role is where you can highlight your best skills and achievements in each role. Think of your most impressive and relevant highlights and responsibilities in each of your past jobs and list them here. When you write each job description, try to use active language like spearheaded, led, and oversaw so it is clear that you are a responsible and reliable leader.
Where possible, you should also include facts and figures to explain your achievements. Saying that you "boosted sales by 20%" is far more impressive than simply stating that you were "responsible for making sales".
Retail resume example: Work Experience
Work Experience
Sales Assistant Best Buy *July 2020 - Present *
Maintained thorough knowledge of all sold products to assist customers in finding the items they need
Reduced return rate by 60% below target by ensuring product fit for consumers
Exceed annual sales target by 35% through detailed knowledge of consumer goods
Opened store and POS systems at the weekends
Helped train and onboard new staff and ensure they were up to date on all procedures and policies
#4. List your retail skills
Your Skills section is the part of your retail resume where you list the hard skills and soft skills you possess that make you a great employee.
If you've worked in retail for a long time, you'll have picked up a lot of different skills. Deciding which skills to include really depends on the position you are applying for.
To choose your most relevant skills, read through the job description and pick out things the employer wants. They might be looking for competence with a particular point of sale (POS) software, specific product knowledge, inventory management, scheduling, and more. See where your skill set overlaps with the job description and list your best ones.
For a simple Skills section, list your skills in a simple bulleted list. For a little more flair, VisualCV offers a Skills strength rating that showcases your competency.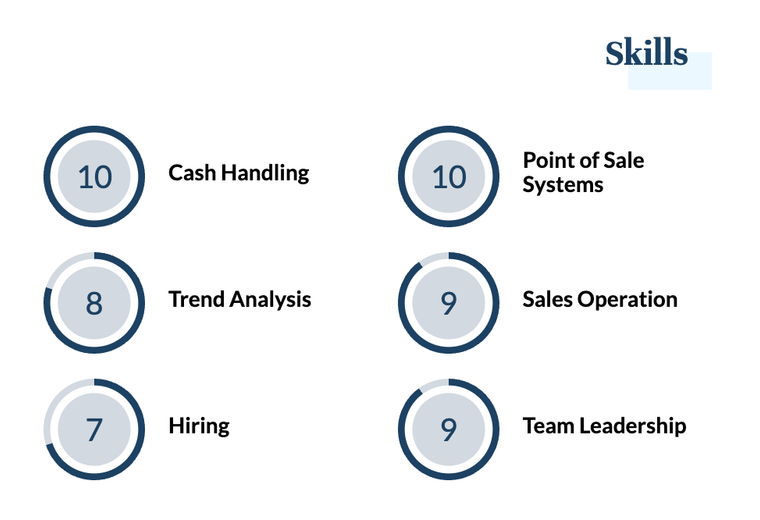 Retail resume example: Skills
Skills
Customer service
Attention to detail
Written and verbal communication
Information technology
Sales
Time management
KORONA POS and Lightspeed Retail
Extensive consumer product knowledge
Teamwork
Cash handling
#5. Show your education
Your education section could be crucial if you're writing a resume for retail jobs with no experience. Without any work history to show that you are competent and capable, the hiring manager will need to see other qualifications. A strong education can be what it takes to convince them that you are a good candidate.
Of course, limited work experience isn't the only reason education is important. There are lots of specialist retail jobs that require a degree. Examples include buyers, merchandisers, or management positions.
If you want to emphasize your education, include details like GPA (if it's high), classwork, or relevant projects. If you've been working in retail a long time, your work experience section will do most of the heavy lifting, and you only need to list your education briefly.
Retail resume example: Education
Education
Associate's Degree in Retail Administration New York University, New York 2016 - 2019
#6. Customize your resume
When you are first learning how to write a retail resume, you might be tempted to make one document and use it for all the positions you apply for. This would be a mistake. Each job is different and requires unique skills and backgrounds.
Customizing your resume for each job is important. You should always read through each job posting carefully and tailor your resume to suit.
For example, if you've been working at an electrical retailer, but you want to transition to a clothing store, there will be specific skills that transfer easily to the new environment. For example, if your ability to troubleshoot hardware may not be that useful, but your familiarity with customer service, POS software, and shift scheduling might be.
Read through the job posting and find the keywords that apply to you. These are the skills that you should emphasize in your resume.
Customizing your retail resume is also a great way to beat the applicant tracking system. An applicant tracking system, or ATS, is an automated tool that scans resumes for specific keywords. If it doesn't find the right keywords, your resume will be rejected before the hiring manager even sees it. Taking the time to study the job posting and adjust your resume to match it will ensure that you target the right keywords.
Tips for writing a retail resume
Now that you've worked your way through this step-by-step guide, you should have a great resume ready for applications. But there is always more refining to do. Here are some more tips for writing a retail resume.
Using a resume template will ensure that you present your details in the right format and the right place. However, there are some other things to remember.
First, double-check that the email and phone number you list are correct. You don't want to miss out on an interview because you gave the wrong details.
Second, ensure you use a professional email. Jokey email addresses will make you look unprofessional and you will be rejected.
If you include links to any online profiles, such as your LinkedIn account or personal website, make sure everything you post there is appropriate for work. One embarrassing picture is enough to end your candidacy.
Highlight your customer service skills
Most retail jobs are customer-facing. Good people skills are an essential part of a successful retail career. When someone comes to a store to ask questions or buy goods, they want employees to be friendly, attentive, and communicative.
There are many different ways to show that you are a people person on your resume. To highlight your customer service skills:
Add details about your enthusiasm for helping people in your work experience sections
List communication skill or people skills in your skills section
If you were part of any groups that involved public speaking, drama, or community engagement, list those experiences in your education section
Demonstrate passion and interest
If you are looking for a role in a specific industry, make sure to show that you are interested in that field. For example, mention your love for fashion if you're applying at a clothing store. If you are applying for a role in an electronics retailer, discuss your interest in modifying computers. Enthusiasm can go a long way.
Retail resume example
Summary
Over 10 years of experience in leadership roles within complex retail operations. Experienced in supervising diverse teams and developing challenging programs and assignments. Key expertise in visualizing, designing and executing business process re-engineering and relationship marketing programs. Excellent at researching merchandizing strategies and overseeing the preparation of operational reports and schedules to ensure accuracy and efficiency. Proven multi-tasking capabilities with strong ability to plan, prioritize and manage complex projects under aggressive timelines and controlled project budgets. Strong knowledge of the retail environment.
Skills
Cash Handling
Point of Sale Systems
Trend Analysis
Sales Operation
Hiring
Team Leadership
Scheduling
Work experience
Store Manager Wal-Mart
Drive sales of mobiles handsets, accessories and pre-paid connections by promoting various marketing activities, organizing special promotions, displays, events etc., in and out of the store.
Manage inventory and handle complete day to day store operations.
Ensure prompt response to customer queries and maintain high-quality customer service pre and post sales.
Monitor staff performance and also ensure staff development by conducting regular training sessions on product knowledge and handling customer queries.
Report on store performance, new initiatives and other issues pertinent to management.
Oversee merchandising throughout the store, in addition to the presentation/ housekeeping of the store.
Manage and supervise 30 to 40 personnel, with responsibility for hiring, training, motivating and evaluating.
Develop Individual Development Plans to facilitate advancement of high-potential associates.
Maintain comprehensive P&L accountability, including administering payroll budgets and accounts payable, overseeing cash office, reviewing and verifying deposits, and reviewing and analyzing P&L statements.
Store Manager The Kroger Co.
Administered all day-to-day operations with complete accountability for the attainment of P&L goals.
Managed a team of up to 45 personnel, including supervising, hiring, training, motivating and evaluating.
Administered payroll budget, accounts payable and cash office, in addition to reviewing and verifying deposits.
Created and implemented the sales plan, including setting goals and objectives and analyzing individual sales.
Maintained accurate inventory accountability to manage proper stock levels and control shrink.
Consistently surpass performance goals regarding sales, inventory, payroll and customer service.
Developed and implemented strategies to achieve sales plan, including setting goals and objectives.
Supervised all visual merchandising, and oversaw all aspects of cleanliness/housekeeping of the store.
Maintained accurate inventory accountability to ensure proper stock levels and control shrink.
Achieved award for lowest employee turnover.
Keyholder The Home Depot
Modeled and supervised the selling environment, provided consistent coaching on sales training process in order to ensure the highest level of customer service and sales.
Ensured exemplary customer service by training associates on excellent clientele development.
Executed and designed all window and sales floor displays.
Maintained the upkeep of the cleanliness of the store.
Ensured that all markdowns were executed prior to store opening, merchandised, and signed accordingly.
Responsible for opening and closing duties.
Education
Bachelor of Arts Washington State University