Buyers are integral to the success of a retail business, and there is a lot of competition for good buyer jobs. If you want to work as a buyer, you'll need to know how to write a buyer CV that stands out.
For many businesses, a great buyer can be the difference between success and failure. As a buyer, you need your CV to show that you can research products, understand customer needs, develop relationships with wholesalers and other providers, monitor inventory, and more.
This article will discuss:
How to write a buyer CV
What sections to include in your buyer CV
The best buyer CV templates
Buyer CV examples
Tips and tricks to help you impress hiring managers
#1. Pick a great buyer CV template
The first step to writing a buyer CV that makes an impact is to find a great CV template.
As a buyer, you will be accountable for a lot of money, inventory, and important relationships. It's very important that you are professional, trustworthy, and dependable, and you need a CV template that showcases these qualities.
Your CV needs to be well-organized and readable, and the best way to guarantee that is to use a CV template. Instead of taking the time to design a CV yourself, you can use a template and get a head start with a design that already looks great. This will save you from having to pick out fonts, colours, and structure, so you can get right to writing your buyer CV.
A traditional CV template, with simple structure and subtle colours, is appropriate for a buyer CV. VisualCV's Corporate or Standard templates, for example, are a great choice. For a small amount of colour, you may want to try Monte or Air.
The contact information section of your buyer CV is the easiest portion to fill. If you've used a CV template, all you need to do is fill out the fields. Your contact information should be at the top of your CV where it's easy to find.
Contact information fields include:
Name
City and state/province
Telephone number
Email address
Social media account (optional)
Here are a few tips for how to write a buyer CV header section:
Don't include a full address unless you are specifically asked to
Ensure your phone number and email address are correct
Use a professional email address that includes your name
If you include a link to an online account, make sure everything you post is appropriate for work
Don't use your current work phone or email address to look for a new job

#3. Write a great buyer CV summary
The first section you'll need in your CV is a summary. This section should appear near the top of your resume, usually just below the contract information. It will be one of the first things the hiring manager looks at, so it needs to be impressive.
Hiring managers don't spend much time reading each CV. They simply get too many applications to read each one in detail. As a result, you need to write a quick and effective summary that encourages them to keep reading.
Your summary should be 3 to 5 sentences or bullet points where you quickly summarize your qualifications. As much as possible, your summary should highlight:
Who you are
What you are capable of
Your most impressive achievements
Your most relevant skills
In a CV, a summary is a short, punchy section that is designed to grab a hiring manager's attention. It's where you can identify your most important qualifications and emphasize them right at the beginning of your CV.
If you aren't sure what your most important qualifications are, write your summary last. This way, your work experience, skills, education and achievements will be at the top of your mind and you will be able to see which ones are the most relevant.
Buyer CV summary example:
Dedicated, knowledgeable buyer with 5+ years experience in retail procurement. Skilled in researching trends in the fashion industry and building strong relationships with suppliers in global markets. Strong negotiation and planning ability resulted in savings of $1.5m with suppliers by introducing a just-in-time strategy and reducing lead time by 20%. Proficient in NetSuite and Microsoft Office tools.
#4. Showcase your work experience
Your Work Experience section is one of the best ways to demonstrate to a hiring manager that you're a serious candidate. Employers are seeking buyers with proven abilities in identifying and sourcing goods at prices that can turn a profit. Your work experience section is where you can prove that you have the right mix of experiences that prove you are a perfect candidate. That includes knowledge of general responsibilities and also duties that are specific to the job.
In your Work Experience section, list your previous positions in reverse-chronological order, beginning with your current position. Each item in your work experience should include:
Your job title
The company name
The company location
The dates you were employed
A bulleted list of responsibilities and achievements
As you write your Work Experience section, make sure to highlight duties and achievements that are relevant to the role you are applying for. For buyer roles, this can include things like building relationships with suppliers, market research, knowledge of materials, customer research, logistical planning, and price negotiation.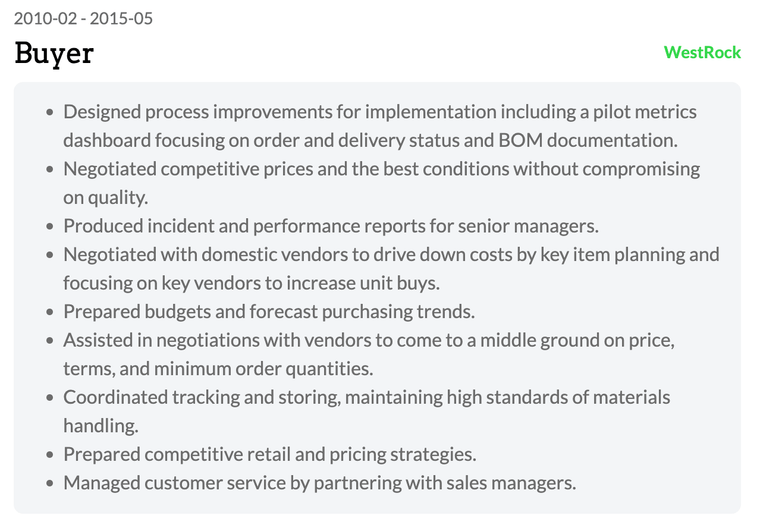 The best way to tailor your work experience to the position is to study the job description. The job posting will be a good source of details about the specific skills and experience the employer wants in an employee. You should read the job posting thoroughly and highlight where your experience matches the requirements.
Where possible, include numbers that demonstrate your effectiveness in previous positions. Quantifiable achievements are a great way to prove that you can be successful. Measurable accomplishments like sales numbers, inventory, and client satisfaction scores are great details to include in your CV.
Another great way to write impressive work experience is to use active language as much as possible. Action words can include:
Led
Accelerated
Boosted
Charted
Planned
Launched
Transformed
Generated
Buyer CV Work Experience example:
Retail Buyer
XYZ Retail Phoenix, AZ Dec 2017 - June 2022
Negotiated prices with new and existing customers, reducing costs by 15% by preordering and taking advantage of bulk discounts
Reduced materials cost by researching and locating the most cost-effective materials from global suppliers without reducing product quality
Continuous research of retail trends to stay ahead or keep up with competitors, ensuring revenues and brand popularity
Ensured supply chain improvements and compliance by negotiating better shipping deals with suppliers
Introduced new inventory management system to reduce losses and streamline goods management
Devised and implement a just-in-time strategy to reduce lead times and reduce warehousing expenses by 40%
#5. List your buyer CV skills
Your Skills section is your best opportunity to clearly and concisely showcase the skills you've developed throughout your education and career.
In this section, list your most relevant and most impressive skills. Be sure to list the specific skills asked for in the job posting - as long as it's true!
For simplicity, you can list your skills with simple bullet points.
If you would like to elaborate further, you can list each skill as a heading and elaborate with examples. With VisualCV, you can even add strength ratings to each skill.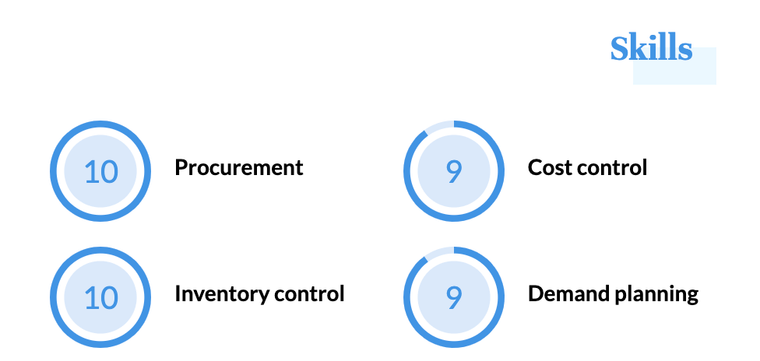 Buyer CV skills section example:
Market Research
Data Analytics
Negotiation
Project management
Logistics
Attention to detail
Relationship building
Contracts
eSwap
Materials sourcing
Collaboration
Written and verbal communication
Purchasing
#6. Show your education
Larger companies often look for a degree when hiring a buyer. However, for many businesses, the right experience and training will suffice.
Some of the more common degrees that buyers have include:
Business
Accounting
Finance
Retail
Supply management
If you have worked as a buyer for some time, your Education section doesn't need to be long. Just the school name, degree, and graduation year will do.
If you are a current student, or just don't have much work experience, your education section can be longer. If this is the case, you can include your GPA (if it's over 3.5), relevant coursework, or some impressive projects you worked on.
Buyer CV Education example:
BSc in Business
University of Arizona Tucson, AZ 2015 - 2018
#7. Customize your CV
Customizing your CV for each individual position is a big step on the road to getting an interview. Most job posts will receive dozens (or even hundreds) of applicants, most of whom will have strong education and work experience.
While hiring managers receive a lot of CVs, many of them are just generic CVs that job-seekers use for every job. Sending out a general CV that hasn't been targeted to the specific position is a mistake. When you apply for a job, you don't just want to show that you are a great employee in general; you want to show that you are perfect for this specific job.
Standing out from the crowd is challenging. However, one way you can get an advantage is by taking the time to understand the position and organization that has posted the job.
The first thing to do is read the job post. Take note of all the things the employer is looking for, like qualifications, skills, and other requirements. Make sure you understand exactly what they need.
Next, look at the company's website and social media accounts. Pay careful attention to their company culture, values, and mission statement. What words or phrases do they do that make them different from other firms? What values do they make a part of their brand?
When you have completed this research and you understand the organization, you can adjust and customize your CV to use the specific language that the company uses. You should be able to show that you understand their culture and goals.
You should also make sure your CV will beat the applicant tracking system, or ATS. This is a software that many employers use that scans your CV looking for keywords. If you want to get past the first round of applications, you need to make sure the ATS can read your CV and find the right skills and experience. To do this, make sure your CV is structured with clear headings and simple formatting.
Buyer CV example
Summary
I am a creative and compassionate end-to-end senior buyer with 12+ years of hands-on global experience. Confident and forward-thinking with an exceptional ability to build strong relationships with all levels of management. Exceptional project management skills with an ability to set and achieve goals, meet deadlines, and multitask. Highly motivated and passionate, with a strong work ethic and a sense of urgency in delivering the best results.
Work Experience
Buyer PowerTrain Inc
Partner with advertising and e-commerce team to collaborate on branding strategies.
Negotiate with key vendors and factories to deliver fast in-stock goods when the trend is new, then develop products with factory contacts and continue to deliver goods at a high margin.
Evaluate copy and images for their ability to sell a product the customer does not get to touch and feel.
Manage 20 employees scheduling work/rotational shifts to meet fluctuations in workloads.
Work closely with warehouse to ensure all incoming and outgoing product is handled and processed promptly.
Increase turn-over by driving down inventories while delivering increased sales results.
Negotiate with vendors and builds positive, long-term relationships.
Collaborate with buyers to brainstorm new product ideas and occasionally take the lead on said ideas from start to finish.
Negotiate with vendors to develop short/long-term category, brand, and SKU assortment plans and financial forecasts for all categories.
Source and benchmark through contacts, events, and networking.
Lead, motivate, train, and develop staff.
Buyer WestRock
Designed process improvements for implementation including a pilot metrics dashboard focusing on order and delivery status and BOM documentation.
Negotiated competitive prices and the best conditions without compromising on quality.
Produced incident and performance reports for senior managers.
Negotiated with domestic vendors to drive down costs by key item planning and focusing on key vendors to increase unit buys.
Prepared budgets and forecast purchasing trends.
Assisted in negotiations with vendors to come to a middle ground on price, terms, and minimum order quantities.
Coordinated tracking and storing, maintaining high standards of materials handling.
Prepared competitive retail and pricing strategies.
Managed customer service by partnering with sales managers.
Assistant Buyer 7thonline
Responsible for the warehouse security and accountability with all Health and Safety regulations.
Stayed immersed in all facets of fashion to uncover the newest trends and key items to build sales volume and gross margin.
Delivered exceptional customer service and delegated customer inquiries to specific teams.
Conducted follow-up on samples and paperwork and worked with vendors on discrepancies to accurately fill out paperwork for new products and new vendors.
Decreased markdowns by working with planning partners to implement exit strategies.
Ensured stock levels are managed and controlled effectively.
Worked closely with the merchandising team to execute in-store design strategy with products.
Created a fashion POV (point of view) and executed it in collaboration with the department merchandising calendar.
Education
Bachelor of International Business and Marketing University of Michigan
Skills
Procurement
Cost control
Inventory control
Demand planning
Strategic sourcing
New product launch
Supply Chain Management
Microsoft Excel
Analysis & information gathering
Relationship management
Supplier diversity management