It's no exaggeration to say that the energy sector is a cornerstone of society. It provides the power that keeps every other facet of the economy functioning and producing. As a result, it's safe to say that there will always be a demand for workers in the energy sector – if you're looking for a long-term career, energy is a secure bet.
But the exact shape of the energy sector is changing. Between the global climate crisis and the political upheaval shaking the whole world, we can no longer rely on the old ways of producing and obtaining energy. Every country is having to ask hard questions about what its energy sector will look like in five, ten or twenty years' time.
A career in energy can lead you to do amazing things. Whether you're powering entire cities, developing more sustainable ways to keep the world moving, or protecting the integrity of power grids against natural disaster or human error, working in energy means you have the opportunity to shape the world. But with the world in flux, how can you find your way into this incredible field?
Don't worry: we're here to help you make it work! In this guide we will cover:
Some myths and misconceptions about the energy sector
The best paying jobs in energy
How to get a job in the non-renewable energy sector
How to get a job in renewable energy
Energy sector resume and cover letter examples
Myths and Misconceptions About the Energy Sector
If you're hoping to find work in the energy sector, it's time to set aside your preconceived ideas about what the industry involves. The world is changing, and the energy sector is adapting accordingly. Are you prepared to adapt alongside it?
Here are some common misconceptions about the industry, debunked for your convenience. Read on, and you might just be surprised!
Myth 1: The energy sector is all about oil and gas
Particularly in the US, you could be forgiven for believing this myth. Both oil and gas have long and illustrious histories in America. In the popular imagination, they're still strongly associated with booming economies and conspicuous wealth.
But the energy sector is increasingly interested in diversifying its options. For one thing, political instability around the world has cast uncertainty on long-standing oil and gas supplies. For another, the climate crisis is now front and center in the news – and public interest in the environment has never been higher.
The result of this upheaval is that renewable energy is increasingly viable as a career option. Wind energy, solar energy and geothermal energy are just a few of the power sources booming in the energy sector right now. So if you're interested in build in a more sustainable future, there's absolutely a place for you in the world of energy.
Myth 2: There's a single perfect source of clean energy
If you're hoping to get into the energy sector to identify the perfect solution to the climate crisis, you may be out of luck. While the move toward renewable energy sources is a great start, the unfortunate fact is that no source of energy is perfect.
Ultimately, the process of building a sustainable energy sector will be collaborative. Using multiple energy sources – solar, wind, and nuclear, for example, rather than solar power alone – will help to create redundancies and build a more stable energy supply. Relying exclusively on a single energy source, on the other hand, will leave any energy grid open to failure.
Even non-renewable energy is increasingly aware of its duty to work towards a more sustainable energy sector. Projects such as carbon capture and storage (CCS) aim to capture carbon dioxide emissions from non-renewable power plants and store them safely underground. The development of new technologies like CCS will be crucial to managing the climate crisis, and could make non-renewable energy a more viable part of the energy sector of the future.
Working in the energy sector will not give you the opportunity to develop a silver bullet. But it will enable you to innovate in ways which are much more collaborative – and much more exciting.
Myth 3: Renewable energy pays less
The petroleum and natural gas industries have boasted high salaries for years. Renewable energy is a relative newcomer to the sector, so it's understandable to expect that salaries will skew lower. But is that expectation actually true?
The statistics suggest that it's not. In fact, salaries across the energy sector have very little to do with the specific field you're working in. Instead, they are tied to the type of role you perform, regardless of whether that role is attached to a renewable or non-renewable field.
For example, electricity generation roles offer the highest average pay in the sector, whether you're working in an oil power plant or on a wind farm. The next highest pay comes from professional roles – those in science, finance, or law. Construction, manufacturing and maintenance roles all tend to offer lower pay.
The exceptions are roles in fuel mining and transportation. Because there are no equivalent roles in solar, wind, or other renewable energy generation, these well-paid roles inflate the average salaries across all non-renewable fields.
Best Paying Jobs in Energy
On average, jobs in the energy sector pay almost 35% more than the median income for American workers. With countries all over the world under pressure to innovate, in response to shifting energy supplies and urgent climate targets, there's never been a better time to move into the energy industry.
But which jobs are worth your time and attention? Here are the four best paying jobs in the energy sector – take your pick, and make your move!
Petroleum Engineer
Average salary: $137,000
If you're looking for work that will allow you to travel widely, collaborate internationally, and develop bold new solutions to old problems, you could thrive as a petroleum engineer.
Petroleum engineers design and develop methods for extracting oil and gas from the earth. These roles are some of the best paid in the non-renewable energy industry, as they are at the forefront of innovation in the sector. In order to develop new strategies for the safe and effective extraction of fuel, they have to travel extensively and work with collaborators all over the world.
As well as development and design, petroleum engineers are responsible for hands-on testing, implementation, and maintenance. The high level of expertise required for these roles means that a bachelor's degree in a relevant field is usually a necessity. Some past practical experience in the field is also an asset – many petroleum engineers gain this experience through internships or cooperative education schemes.
It's worth keeping in mind that jobs in the oil and gas industry are subject to fluctuating oil and gas prices. While petroleum engineering work pays very well, it can also become unstable depending on market conditions.
Nuclear Engineer
Average salary: $116,000
Nuclear engineers research and develop ways to use nuclear energy. While the nuclear power sector has been subject to some high-profile disasters in the recent past, it is still one of the cleanest sources of non-renewable energy currently available.
In the energy sector, a nuclear engineer might oversee the construction, safety and maintenance of a nuclear power plant. With the right license, a nuclear engineer could take full responsibility for the operations of a power plant, becoming a Senior Reactor Operator. They are also trained in the safe handling and disposal of nuclear waste.
To become a nuclear engineer, you will need a bachelor's degree in nuclear engineering. You will also need to complete onsite training, and remain up to date with stringent safety requirements. The exacting requirements for these roles, as well as the potential risks of working with reactor cores, are reflected in the high pay available to nuclear engineers.
However, as renewable energy booms, the number of roles available in the nuclear power sector is shrinking. While nuclear engineering pays very well, it may be harder than you expect to find the position you want.
Wind Farm Site Manager
Average salary: $110,000
For this role, the clue is in the name: a wind farm site manager is responsible for managing the operation and maintenance of a wind farm. In this role, you can expect to work closely with stakeholders including landowners and local communities, as well as taking managerial responsibility for a whole team of employees. It's a wide-ranging role with a broad array of duties, so you can expect a lot of variety from day to day.
Wind farm site managers require strong leadership skills, and must make sure that all employees meet the required safety standards on site. They're in charge of maintaining and monitoring the power generation systems, and are responsible for directing repair operations when necessary. Other responsibilities include scheduling employees for work, staying informed of any changes to environmental and safety standards, and assisting in wind farm site operations where needed.
Becoming a wind farm site manager requires you to have prior work experience on a wind farm site. However, unlike the other jobs in this list, it doesn't necessarily require a bachelor's degree. If you're prepared to put in time in roles lower on the career ladder, you can become a wind farm site manager with a high school diploma and your existing workplace training.
Geoscientist
Average salary: $94,000
If you want to be at the forefront of renewable energy, but don't want to be tied down to an office, you might just be a geoscientist in the making.
Geoscientists study the physicality of the earth – and geoscientists working in the energy sector do so in order to locate and find uses for natural resources. They work toward sustainable energy use by managing existing resources and identifying potential new ones.
As a geoscientist, you will carry out plenty of field work, collecting samples and conducting surveys. That means a great deal of travel, as well as irregular working hours. You will likely also take responsibility for supervising technicians in the field, so leadership skills will give you a competitive edge.
Renewable energy is a growing field, and geoscientists are important to that growth. However, most roles require at least a bachelor's degree, and many employers prefer to hire geoscientists with master's degrees, too.
How to Get a Job in Non-Renewable Energy
Finding work in non-renewable energy is still very possible, despite the shift toward renewable energy. Existing non-renewable infrastructure still needs to be operated, maintained and repaired. Crucially, it also needs to be powered by fuel, which has to be extracted and transported in order to be used.
If you're hoping for a higher-level job in the non-renewable energy industry, you will likely need a bachelor's degree in a relevant field. Retraining can be expensive if you don't already have the qualifications you need, but if you see a future for yourself in oil and gas, consider it an investment in your career.
On the other hand, if you do have a relevant bachelor's degree, you can strengthen your application even further by seeking out opportunities for training and work experience. If you have access to career resources through school, consider making contact with a careers advisor to discuss internship opportunities.
Even without a degree, or any prior experience in the industry, you can find your way in at the ground floor. Most fuel transportation, cleaning and repair jobs don't require past experience in the industry. Just remember to foreground any transferable skills on your resume, and make sure employers can see at a glance why they should give you a shot.
How to Get a Job in Renewable Energy
Job opportunities in renewable energy are growing every day. Here are some tips for finding work in the industry of your choice!
How to Get a Job in Wind Energy
In the wind energy sector, the right education will go a long way. While some roles do require a bachelor's degree, it's perfectly possible to find work as a wind turbine technician – or in another lower-level technical role – with a relevant qualification from a trade school. If you're hoping to make a career move, look into part-time options in your local area – you may be able to fit your studies around your existing work.
In any field, it's a great idea to build a professional network, and wind energy is no exception. If you don't already have connections in the field, consider attending local green energy advocacy groups. You can build your awareness of developments in the industry, and potentially meet people who can support you in finding work.
Lastly, it's important to make sure your resume is tailored to the wind energy industry. This is another area where volunteering can be useful! Even if you don't have prior industry experience, you can foreground the skills you've developed in your green energy advocacy work, to show any hiring manager how committed you are to sustainability as a project.
How to Get a Job in Solar Energy
Much like wind energy, solar energy can be a very hands-on profession. Learning a relevant trade can give you a competitive edge when applying for jobs, if you don't already have a bachelor's degree in a relevant field.
Solar energy has a great deal of work for salespeople – it's much easier for private individuals to install solar panels than wind turbines on their properties! If you have past sales experience, a job in solar sales could be a great point of entry into the industry as a whole. It could provide you with a platform to learn about the more technical aspects of solar power, and potentially make a lateral move into solar installation or maintenance.
If you have the technical skills, and you want to apply them to solar installation, consider a certification. It will take less time than a four-year bachelor's degree, and will enable you to hit the ground running in your new career. Plus, as always, there are certification options to suit any schedule and budget!
Finding work in any new industry can take time and planning. Do your research ahead of time, account for some delays as you acquire the training you need, and be patient as you job-search and build your professional network. Ultimately, the effort will be worth the reward – for both you and the planet.
Energy Sector Resume Examples
Wind Turbine Technician Resume Example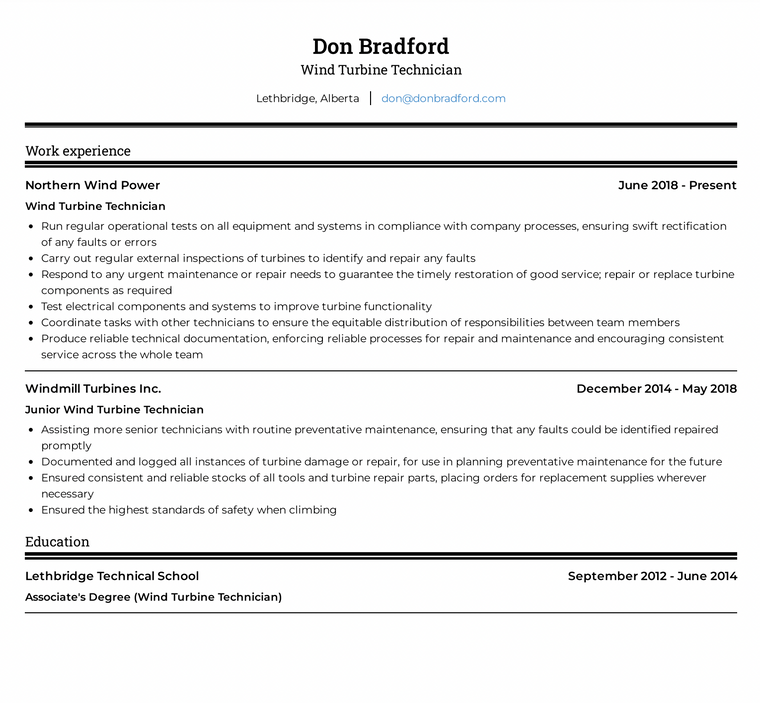 Summary
Experienced and dynamic wind turbine technician with relevant qualification and a valid drivers' license. Focused on delivering reliable, consistent service. A lifelong ambassador for renewable energy with a dedication to going above and beyond in all aspects of work.
Work Experience
Wind Turbine Technician Northern Wind Power
Run regular operational tests on all equipment and systems in compliance with company processes, ensuring swift rectification of any faults or errors
Carry out regular external inspections of turbines to identify and repair any faults
Respond to any urgent maintenance or repair needs to guarantee the timely restoration of good service; repair or replace turbine components as required
Test electrical components and systems to improve turbine functionality
Coordinate tasks with other technicians to ensure the equitable distribution of responsibilities between team members
Produce reliable technical documentation, enforcing reliable processes for repair and maintenance and encouraging consistent service across the whole team
Junior Wind Turbine Technician Windmill Turbines Inc
Assisted more senior technicians with routine preventative maintenance, ensuring that any faults could be identified repaired promptly
Documented and logged all instances of turbine damage or repair, for use in planning preventative maintenance for the future
Ensured consistent and reliable stocks of all tools and turbine repair parts, placing orders for replacement supplies wherever necessary
Ensured the highest standards of safety when climbing
Education Associate's Degree (Wind Turbine Technician) Lethbridge Technical School
Skills
Turbine maintenance
Turbine repair
Substation maintenance
Substation repair
Teamwork
Communication
Leadership
Valid driver's license
Can move up to 110lbs
Geoscientist Resume Example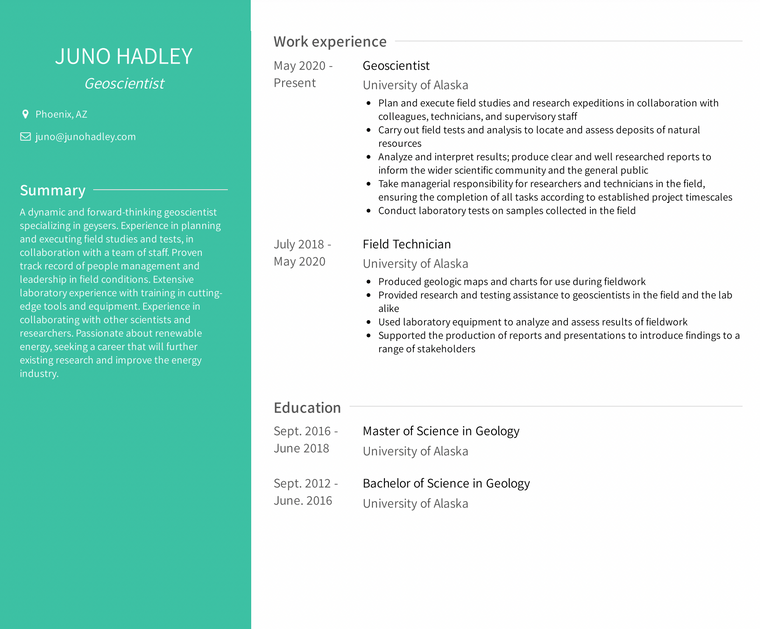 Summary
A dynamic and forward-thinking geoscientist specializing in geysers. Experience in planning and executing field studies and tests, in collaboration with a team of staff. Proven track record of people management and leadership in field conditions. Extensive laboratory experience with training in cutting-edge tools and equipment. Experience in collaborating with other scientists and researchers. Passionate about renewable energy, seeking a career that will further existing research and improve the energy industry.
Work Experience
Geoscientist University of Alaska
Plan and execute field studies and research expeditions in collaboration with colleagues, technicians, and supervisory staff
Carry out field tests and analysis to locate and assess deposits of natural resources
Analyze and interpret results; produce clear and well researched reports to inform the wider scientific community and the general public
Take managerial responsibility for researchers and technicians in the field, ensuring the completion of all tasks according to established project timescales
Conduct laboratory tests on samples collected in the field
Field Technician University of Alaska
Produced geologic maps and charts for use during fieldwork
Provided research and testing assistance to geoscientists in the field and the lab alike
Used laboratory equipment to analyze and assess results of fieldwork
Supported the production of reports and presentations to introduce findings to a range of stakeholders
Education Master of Science in Geology University of Alaska
Bachelor of Science in Geology University of Michigan
Skills
Fieldwork planning and execution
Field safety
Geological laboratory equipment
Laboratory safety
Management
Leadership
Teamwork
Communication
Research and analysis
Report writing
Presentation
Energy Sector Cover Letter Examples
Wind Turbine Technician Cover Letter Example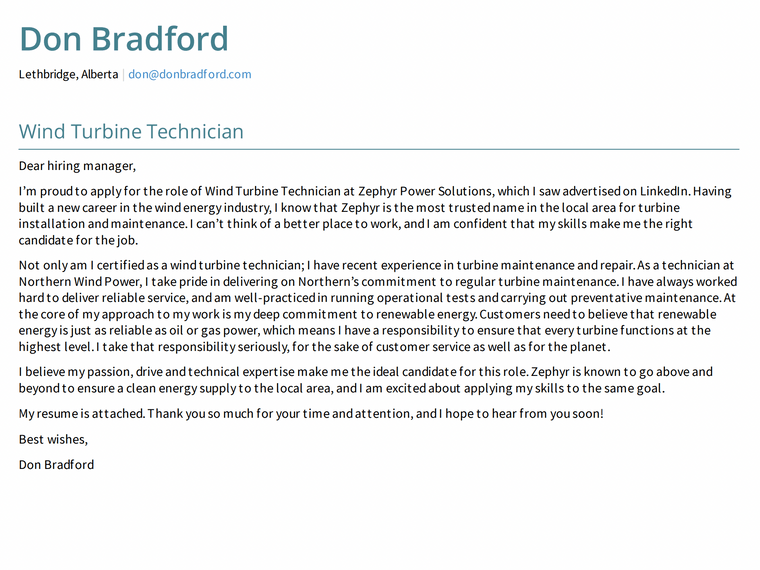 Dear hiring manager,
I'm proud to apply for the role of Wind Turbine Technician at Zephyr Power Solutions, which I saw advertised on LinkedIn. Having built a new career in the wind energy industry, I know that Zephyr is the most trusted name in the local area for turbine installation and maintenance. I can't think of a better place to work, and I am confident that my skills make me the right candidate for the job.
Not only am I certified as a wind turbine technician; I have recent experience in turbine maintenance and repair. As a technician at Northern Wind Power, I take pride in delivering on Northern's commitment to regular turbine maintenance. I have always worked hard to deliver reliable service, and am well-practiced in running operational tests and carrying out preventative maintenance. At the core of my approach to my work is my deep commitment to renewable energy. Customers need to believe that renewable energy is just as reliable as oil or gas power, which means I have a responsibility to ensure that every turbine functions at the highest level. I take that responsibility seriously, for the sake of customer service as well as for the planet.
I believe my passion, drive and technical expertise make me the ideal candidate for this role. Zephyr is known to go above and beyond to ensure a clean energy supply to the local area, and I am excited about applying my skills to the same goal.
My resume is attached. Thank you so much for your time and attention, and I hope to hear from you soon!
Best wishes,
Don Bradford
Geoscientist Cover Letter Example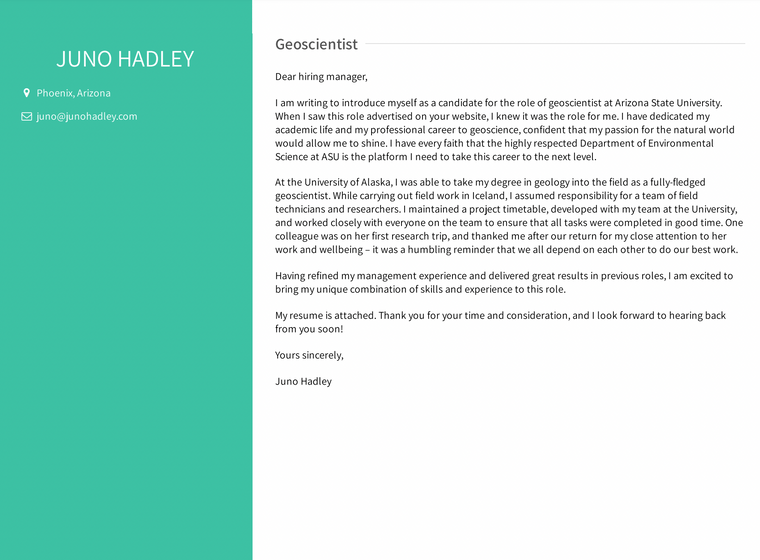 Dear hiring manager,
I am writing to introduce myself as a candidate for the role of geoscientist at Arizona State University. When I saw this role advertised on your website, I knew it was the role for me. I have dedicated my academic life and my professional career to geoscience, confident that my passion for the natural world would allow me to shine. I have every faith that the highly respected Department of Environmental Science at ASU is the platform I need to take this career to the next level.
At the University of Alaska, I was able to take my degree in geology into the field as a fully-fledged geoscientist. While carrying out field work in Iceland, I assumed responsibility for a team of field technicians and researchers. I maintained a project timetable, developed with my team at the University, and worked closely with everyone on the team to ensure that all tasks were completed in good time. One colleague was on her first research trip, and thanked me after our return for my close attention to her work and wellbeing – it was a humbling reminder that we all depend on each other to do our best work.
Having refined my management experience and delivered great results in previous roles, I am excited to bring my unique combination of skills and experience to this role.
My resume is attached. Thank you for your time and consideration, and I look forward to hearing back from you soon!
Yours sincerely,
Juno Hadley