The Perfect Executive Resume Templates
Executive Resume Template #1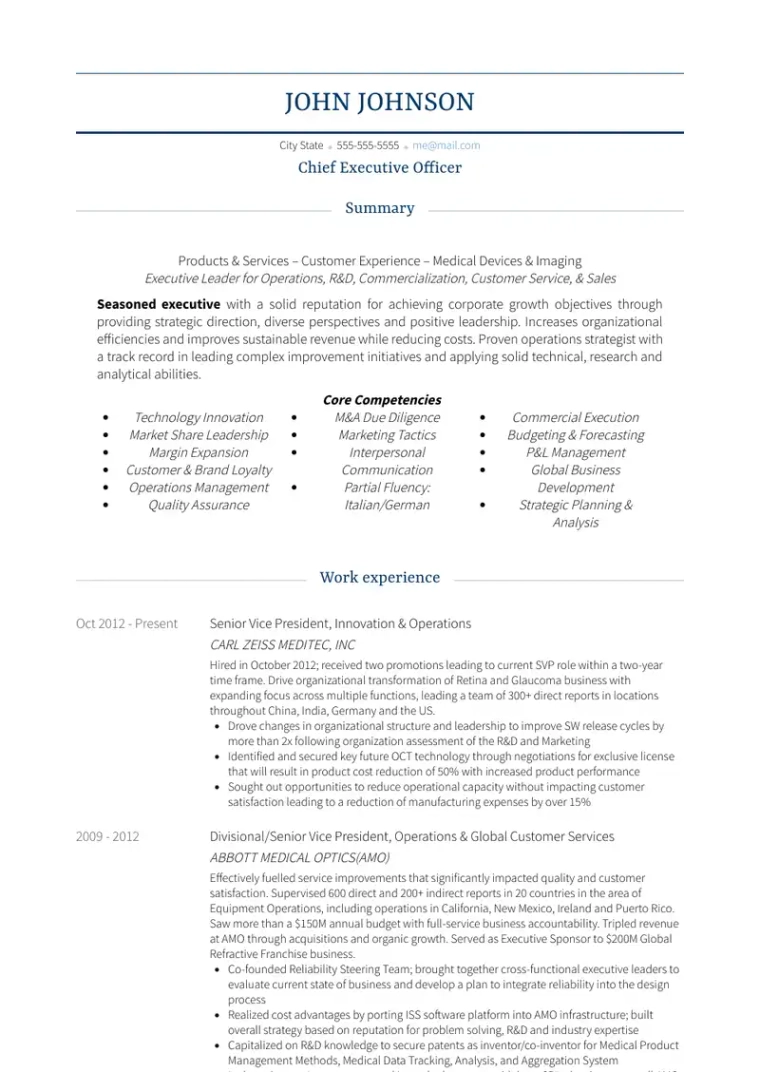 Executive Resume Template #2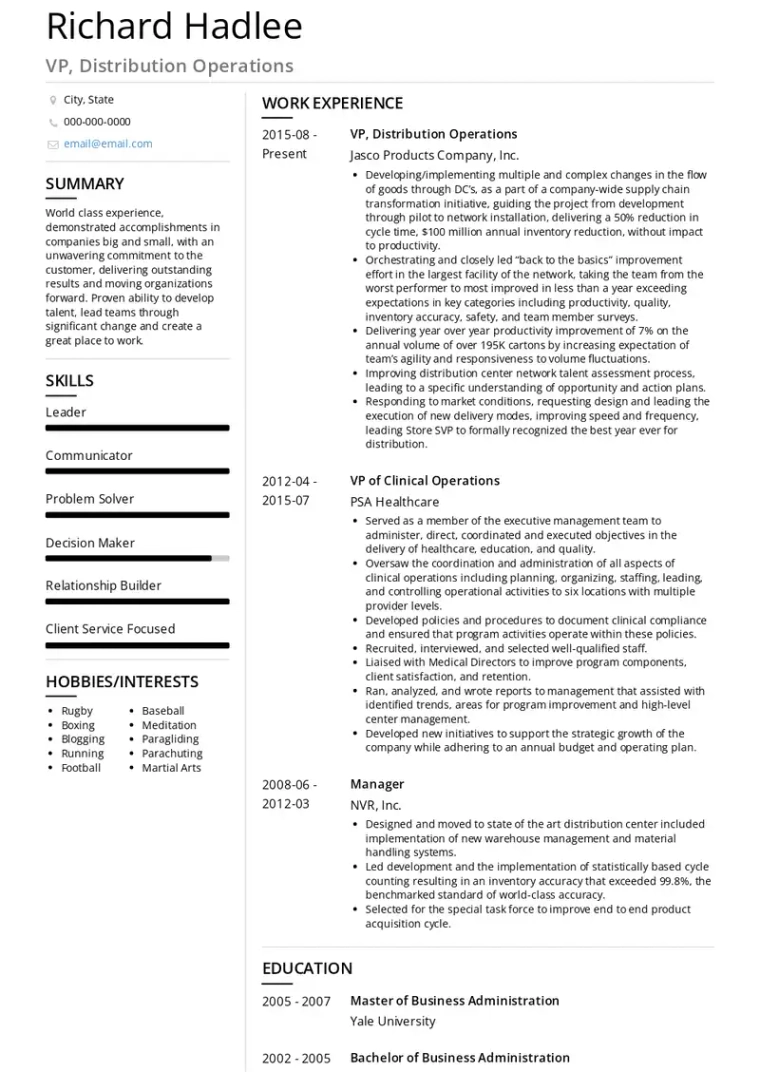 Executive Resume Template #3
Executive Resume Template #4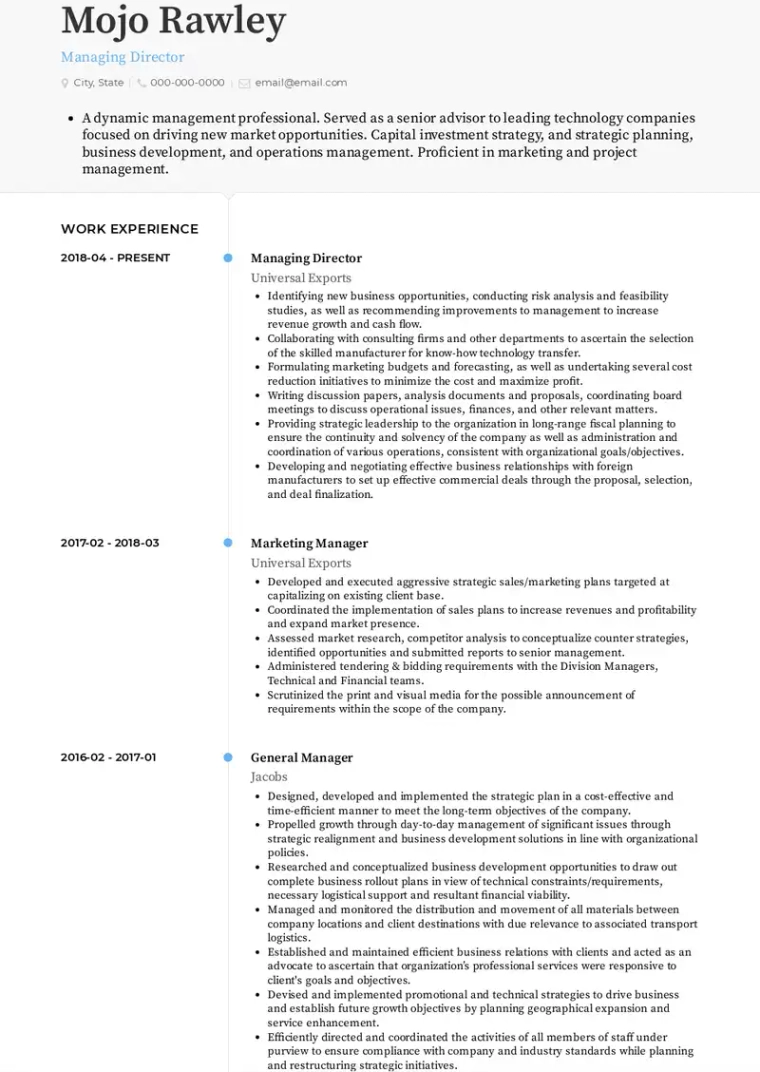 Executive Resume Template #5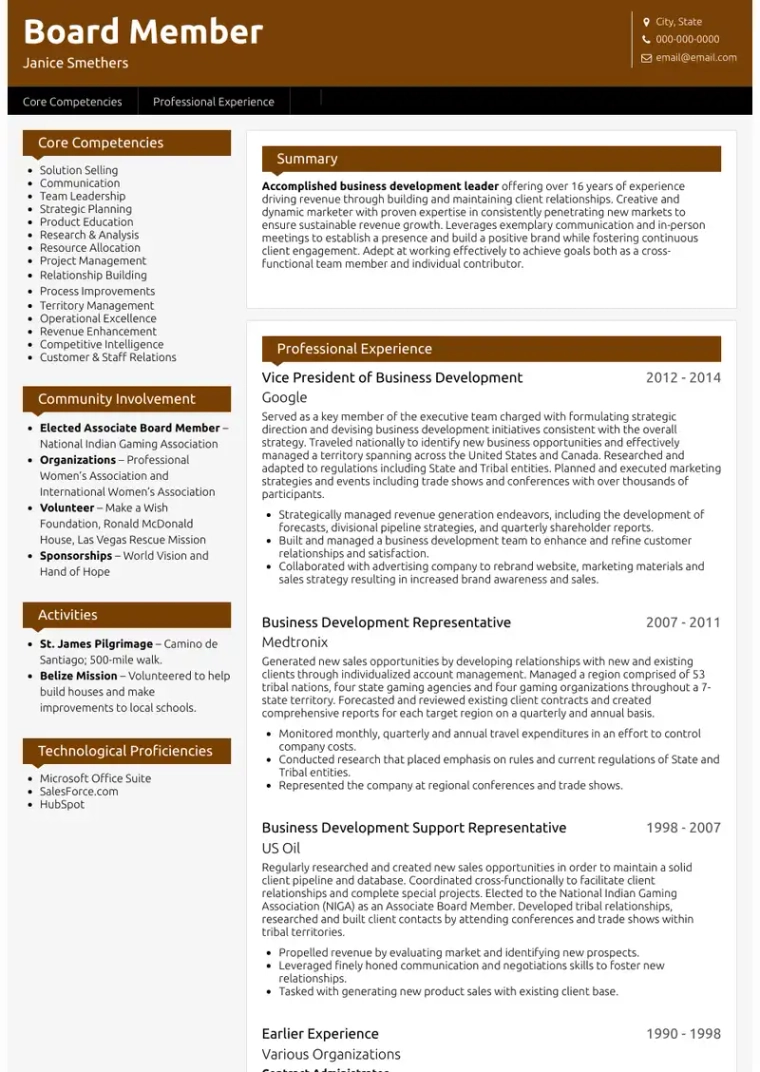 Large corporations with strict hierarchies can be old-fashioned and set in their ways, and as such are looking for traditional resumes. When you look for an executive resume template, you may want to pick one with a traditional design. Simple structure, subtle colours, and classic fonts are the way to go.
A black and white, single-column resume template, like VisualCV's Standard template, is a great example. With this template, you can use pragmatic organization, clear headings, and readable serif fonts to present your best executive resume.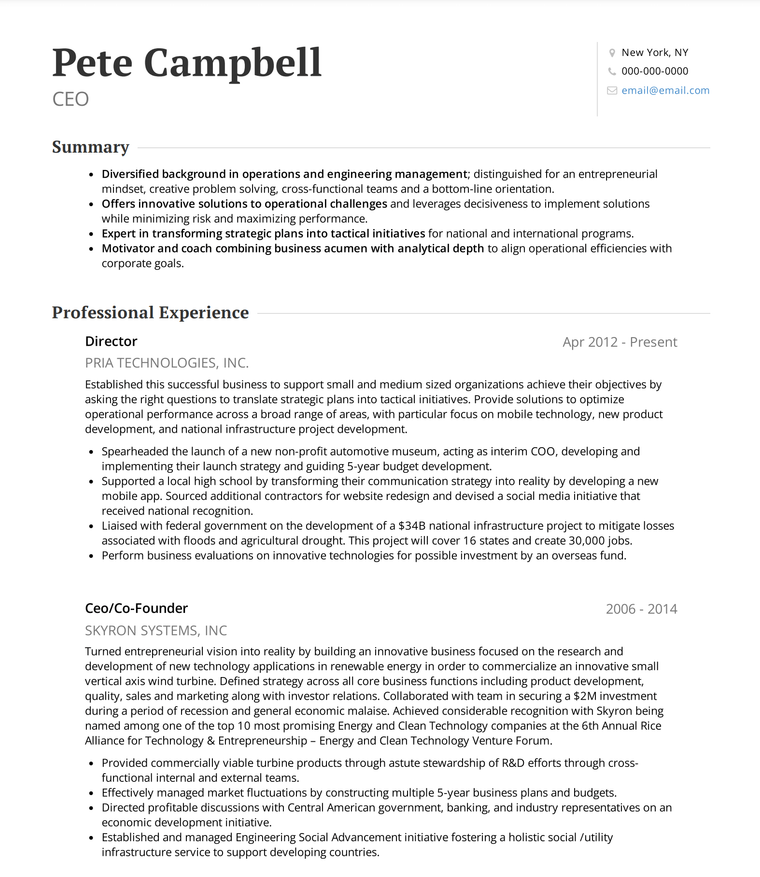 For a more compact look, the Corporate template uses similarly clear organization, with the addition of a second column. This second column is ideal for shorter sections or vertical lists, like lists of skills, professional memberships, or certifications.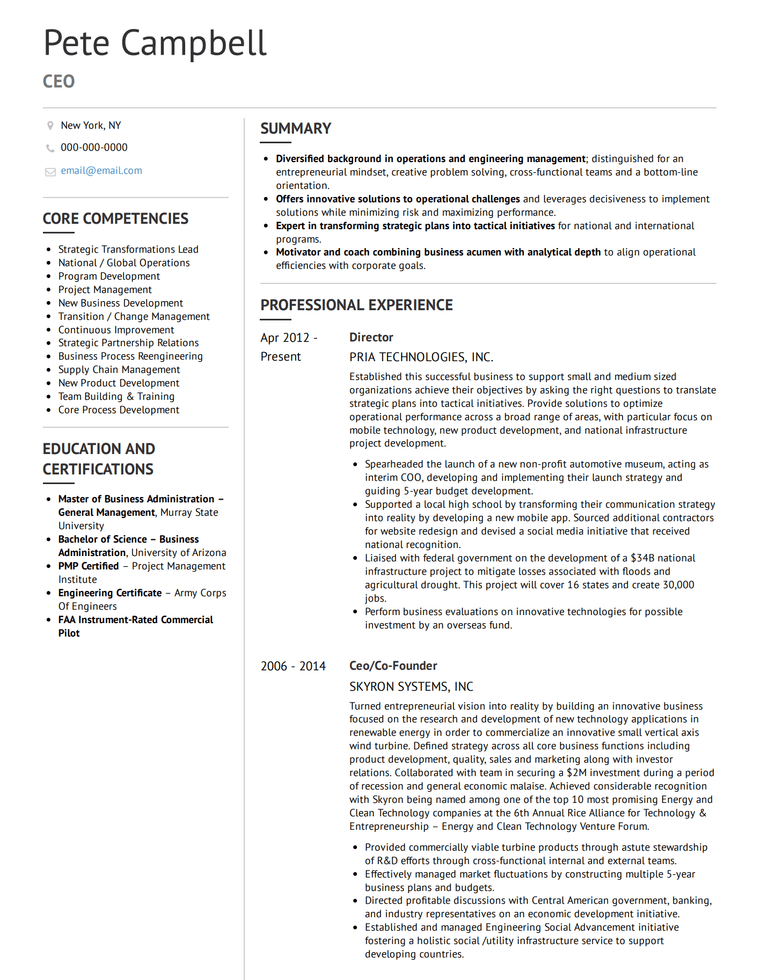 If you are submitting your resume through an online portal, an ATS template is also a great choice. An Applicant Tracking Systems, or ATS, is a software that scans resumes and selects the ones that best match the job description. A good ATS template will be designed to be easily read by machines, so the software can easily find all the right keywords in your resume, while remaining appealing to the human eye.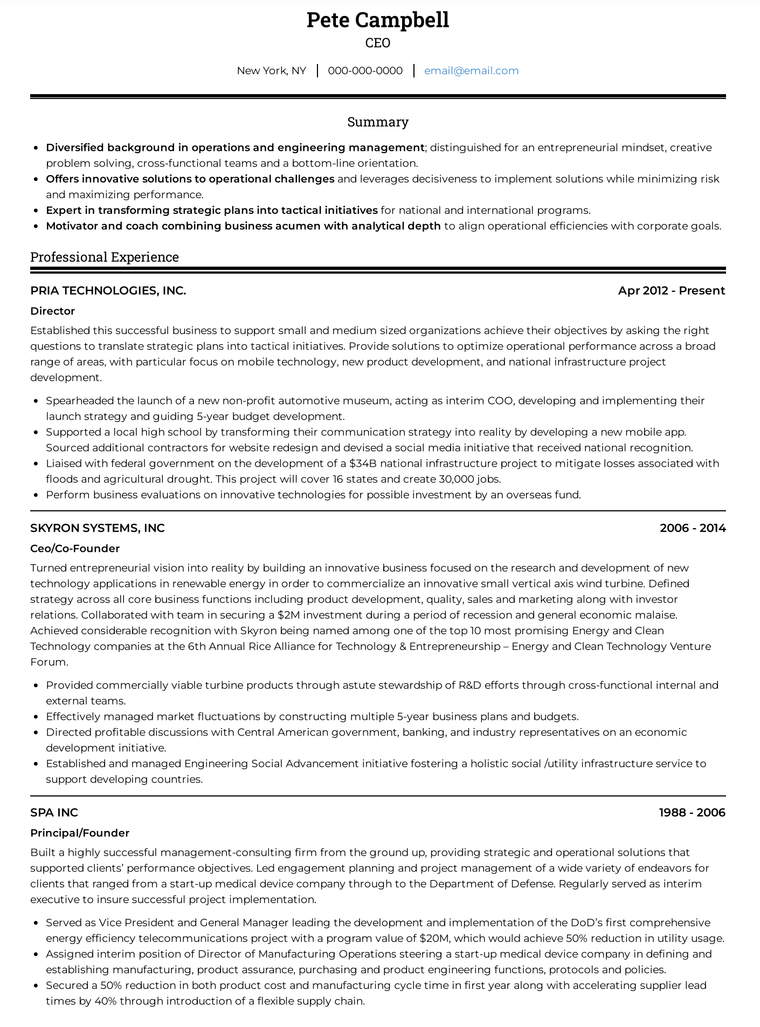 If you are looking for an executive role in a smaller company or a startup, you may want to consider a more modern resume template. Companies like this are looking for disruptors and outside-the-box thinking, and they may be more interested in a more eye-catching template. For example, VisualCV's Denali template allows for striking colours and a timeline-like Work Experience format that is sure to grab a company's attention.
How to Write an Executive Resume
Once you have selected a template, you need to fill it out with all the right qualifications. As an experienced professional seeking an executive-level position, finding experience to highlight won't be a problem. Rather, your difficulty will be in finding the right experience to highlight.
1. Pick a resume format
When you start to write your executive resume, the first thing to do is pick a resume format. The three main resume formats are the reverse-chronological format, the functional resume format, and the combination resume format.
Most resumes use a reverse-chronological format. In a reverse-chronological resume, the Work Experience section is the largest and most important part of the resume, listing previous jobs in reverse-chronological order beginning with your current or most recent position. This is the format that most employers expect, and is the best choice for most job-seekers.
As an executive, however, you may want to emphasize skills and accomplishments over your career timeline. As an experienced professional with years of professional history, your resume might be better served by making the Skills section the centerpiece of the resume. This will allow you to showcase your most impressive accomplishments all in one place, giving your previous roles less attention.
One option for writing a skills-based resume is the functional resume format. A functional resume emphasizes a Skills section over Work Experience. A large Skills section with concrete examples of skills and achievements takes up most of the resume, and previous roles are only given brief descriptions with little detail. They are then grouped by theme or industry rather than by date.
A better option, however, is the combination resume format. A combination resume merges the best qualities of the reverse-chronological resume with those of the functional resume. In a combination resume, you emphasize your skills and achievements in a large Skills section, much like in a functional resume, then list your previous jobs in reverse-chronological order, as you would in a reverse-chronological resume. This allows you to highlight your skills and accomplishments, while retaining the clear timeline of your career in the Work Experience section.
The format you choose will depend on your specific skills and experience.
If you feel that a reverse-chronological account of your career history is the best way to sell yourself for an executive position, then this is a good choice for your executive resume. This format will work well if your most impressive and most relevant achievements were in your most recent position, and can be showcased near the top of the Work Experience section.
If your career has been less linear, and your accomplishments are more diverse and were achieved in different roles, a combination resume format may be your best bet. This will allow you to provide a list of core competencies, with concrete examples of your achievements grouped by skill, right at the top of your resume. This works well when you have many accomplishments across many previous positions and years of work experience to cover.
The first section in your executive resume will be your contact information. While this may seem too obvious to mention, it's important to remember to make sure the hiring manager knows the best ways to contact you.
At the top of your resume, list your:
Name
Email
Phone number
City
You may also want to include a link to your personal website or LinkedIn profile. If you have active professional profiles elsewhere, such as Github or Twitter, you can include them as well, but make sure everything posted there is appropriate for the workplace.
Many executives also include a headline that demonstrates their skillset, like Business Analyst or Business Development Expert. This lets the reader know exactly where your expertise is.
3. Provide a professional summary
In an executive resume template, the Summary is where you can write a quick elevator pitch for yourself. In a short paragraph or bulleted list, provide a collection of your most relevant and impressive accomplishments.
Accomplished business development executive offering nearly 10 years of experience driving revenue through the building and maintaining client relationships.
Consistently recognized as a top performer in all lines of business.
Sales volume produced an income performance exceeding 90k.
Drove the team performance by developing, mentoring, and coaching.
4. Showcase your work experience
As an executive, your work experience must be impressive. You need to show that you are one of the best in your industry. Your resume should show that you can overcome obstacles, manage people, and make difficult business decisions. Your next role will be looking for someone with proven leadership capabilities and experience navigating corporate systems.
If you are writing your resume using a reverse-chronological format, list past positions in reverse-chronological order, beginning with your most recent role and working backwards.
For each job, list the:
Job title
Company name
Dates worked
Job description
In each job description, describe some key accomplishments that you achieved in the position. A simple list of duties or responsibilities isn't enough to impress the hiring managers for an executive-level position. You have to make sure you can highlight your accomplishments in each role.
The best way to do this is to focus on measurable metrics as much as possible. Quantifiable achievements like sales numbers, revenue, and customer growth are integral if you want to show that you are an effective executive. When writing about your past jobs, come up with as much measurable and impressive experience as you can. Verifiable successes like these are sure to impress.
PowerTrain Industries Vice President of Operations
Formulated a global operations strategy, including managing technology transfer of advanced polysilicon active matrix LCDs to strategic partners in Hong Kong.
Designed and managed a global manufacturing operation encompassing contract manufacturing partners in Hong Kong and Germany.
Created multi-year business plans and budgets and provided comprehensive analysis of operational growth and revenue projections.
Directed materials management and cultivated close and productive relationships with partner sites through effective communication including site visits, establishing shared understanding and commitment to expectations.
Executed effective cost reduction initiatives that achieved 20% improvement to gross margins.
Designed a new product assurance program to ensure compliance with ISO 8437.
5. List your skills
Skills are integral to an executive resume. If you are writing a functional resume, your skills are the centrepiece of your resume, and even if you aren't, they're still pretty important.
For your skills section, make sure to list your skills that are most relevant to the position.
There are a few ways to write a Skills section. The simplest is to write a straightforward bulleted list containing your most important skills. This is an easy and readable way to present your skill set.
If you are writing a functional resume, you will want to put more emphasis on your skill set. If this is the case, list each skill as a heading and follow it with a selection of concrete accomplishments and highlights that demonstrate the skill. This shows that you can back up your skills with real, verifiable examples.
Skills
People Management & Development
Developed synergies with coworkers by drawing on cross-discipline and international experience, which resulted in key recruitment metrics.
Re-organized recruitment and retention strategies within the organization.
Led a $1.5M infrastructure project with 14 staff to implement new internet infrastructure across all regional offices.
Negotiation and Cost Cutting
Secured two-year renewal of corporate contracts in Canada and US.
Brokered simultaneous renewal of internet services contract in Western Canada and Ontario.
Secured 20% savings on two-year contract renewal and 15% savings on internet services
Changed supplier for internet contracts in regional offices across Canada, cutting infrastructure costs by 10%.
For added flair, VisualCV also supports strength ratings for each skill, which both draws the eye and enables you to show your relative competence with each skill.

6. Education
If you are experienced enough that you can compete for a C-level management position, your university experience is likely some years behind you.
This doesn't mean you should leave it out entirely, however. Your resume should still have an Education section where you list your university and college degrees. You don't need to include a date or any details about the classwork, but listing what school you attended and what accreditation you earned will be an asset to your executive resume.
If you have taken any more recent courses, like management training or relevant certifications, you may want to include them in your resume as well.
Executive Resume Examples Built Using Our Templates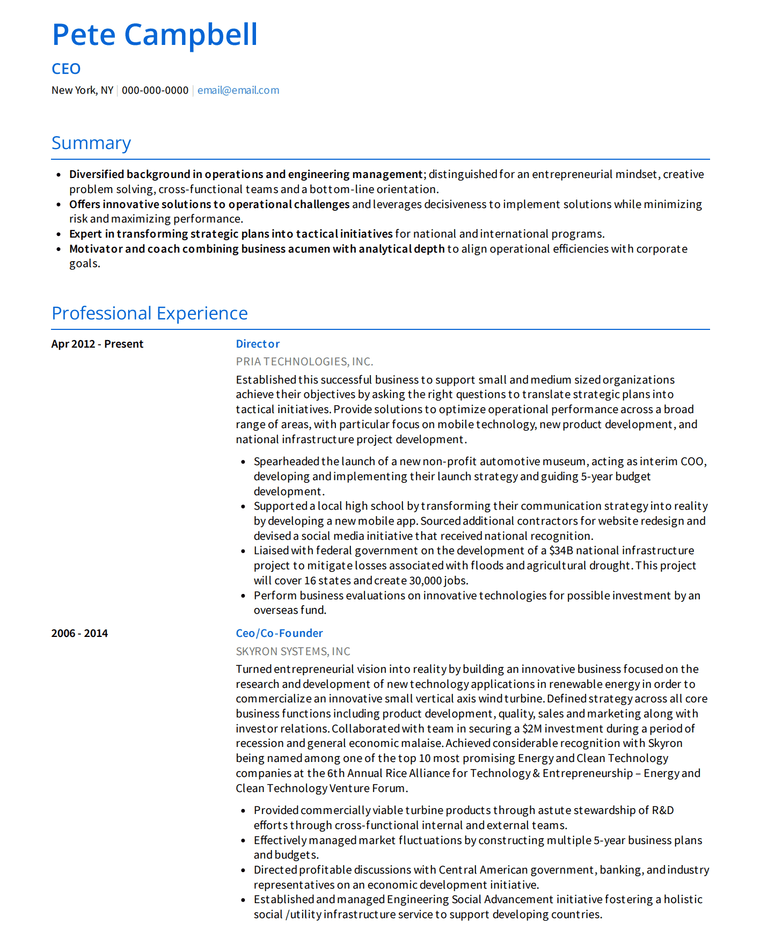 Summary
Diversified background in operations and engineering management; distinguished for an entrepreneurial mindset, creative problem solving, cross-functional teams and a bottom-line orientation.
Offers innovative solutions to operational challenges and leverages decisiveness to implement solutions while minimizing risk and maximizing performance.
Expert in transforming strategic plans into tactical initiatives for national and international programs.
Motivator and coach combining business acumen with analytical depth to align operational efficiencies with corporate goals.
Professional Experience
PRIA TECHNOLOGIES, INC. Director
Established this successful business to support small and medium sized organizations achieve their objectives by asking the right questions to translate strategic plans into tactical initiatives. Provide solutions to optimize operational performance across a broad range of areas, with particular focus on mobile technology, new product development, and national infrastructure project development.
Spearheaded the launch of a new non-profit automotive museum, acting as interim COO, developing and implementing their launch strategy and guiding 5-year budget development.
Supported a local high school by transforming their communication strategy into reality by developing a new mobile app. Sourced additional contractors for website redesign and devised a social media initiative that received national recognition.
Liaised with provincial government on the development of a $3B regional infrastructure project to mitigate losses associated with floods and agricultural drought. This project will cover 2 provinces and create 10,000 jobs.
Perform business evaluations on innovative technologies for possible investment by an overseas fund.
SKYRON SYSTEMS, INC Ceo/Co-Founder
Turned entrepreneurial vision into reality by building an innovative business focused on the research and development of new technology applications in renewable energy in order to commercialize an innovative small vertical axis wind turbine. Defined strategy across all core business functions including product development, quality, sales and marketing along with investor relations. Collaborated with team in securing a $2M investment during a period of recession and general economic malaise.
Provided commercially viable turbine products through astute stewardship of R&D efforts through cross-functional internal and external teams.
Effectively managed market fluctuations by constructing multiple 5-year business plans and budgets.
Directed profitable discussions with Central American government, banking, and industry representatives on an economic development initiative.
Established and managed Engineering Social Advancement initiative fostering a holistic social /utility infrastructure service to support developing countries.
SPA INC Principal/Founder
Built a highly successful management-consulting firm from the ground up, providing strategic and operational solutions that supported clients' performance objectives. Led engagement planning and project management of a wide variety of endeavors for clients that ranged from a start-up medical device company through to the Department of Defense. Regularly served as interim executive to insure successful project implementation.
Served as Vice President and General Manager leading the development and implementation of the DoD's first comprehensive energy efficiency telecommunications project with a program value of $20M, which would achieve 50% reduction in utility usage.
Assigned interim position of Director of Manufacturing Operations steering a start-up medical device company in defining and establishing manufacturing, product assurance, purchasing and product engineering functions, protocols and policies.
Secured a 50% reduction in both product cost and manufacturing cycle time in first year along with accelerating supplier lead times by 40% through introduction of a flexible supply chain.
Evaluated the utility consumption at White Sands Missile Range and developed a proposal that would maximize utility savings through the implementation of recommended technologies in the area of water, waste-water, natural gas, and electricity.
Acted as principal project representative and received a letter of recommendation from the government contracting officer.
RADISYS CORPORATION Senior Director – Site Operations
Converted a boutique embedded computer manufacturing facility into a high volume operation, directing entire plant operations, 5 executives and 400 employees across production, engineering, production, quality and facilities design.
Revamped the operations division, implementing business process reengineering initiatives that resulted in the division increasing its revenue contribution 48% to $200M within 15 months.
Initiated Lean program that increased production by 100% and reduced costs by 30% in 15 months.
Core Competencies
Strategic Transformations Lead
National / Global Operations
Program Development
Project Management
New Business Development
Transition / Change Management
Continuous Improvement
Strategic Partnership Relations
Business Process Reengineering
Supply Chain Management
New Product Development
Team Building & Training
Core Process Development
Education and Certifications
Master of Business Administration – General Management Murray State University
Bachelor of Science – Business Administration University of Arizona
PMP Certified Project Management Institute
Engineering Certificate Army Corps Of Engineers
FAA Instrument-Rated Commercial Pilot