We're back with another installment of My Workstory: VisualCV's project to spotlight women from different backgrounds, industries, and environments, sharing exactly how they got to where they are today. Despite their variety of experiences, all of the women you'll hear from throughout this series have one thing in common: they're high-earners who've put in the work to climb the ranks and want to share advice for getting there too.
In the US, women make up less than 20% of six-figure earners. We'll be speaking to several people who fall into that category over the course of this series, and sharing plenty of interview, resume, and career advice from both our subjects and our resume experts.
Quick Facts
__ Name: E Age: 31 Location: Washington, DC Area Job Title: Senior Project Manager Salary: $143,000, plus a 10% maximum merit bonus and additional $10,000 from consulting
Often, when you look at successful people, it can be easy to assume that the path they're following is one they've been planning for years. We often assume that success comes with careful planning and never deviating from the plan, but that's not always the case. In fact, being able to pivot a plan and take advantage of all that comes with it can make or break success!
E, a senior project manager located in the DC area, assumed she'd become a diplomat or journalist when she started college. "I really craved an international career," she explains. "Over time, I didn't think the journalism plan would be lucrative. I switched gears and decided I'd go into something public-health related, because at the time, the discipline was really up-and-coming. My first job was in clinical trials and I've stuck with that research path my entire career."
Over the past few years – especially since the pandemic began – it's become more and more apparent that office perks or other non-monetary benefits aren't at all important to a large group of millennial workers. It's certainly not uncommon for millennials to have decided early on that salary and benefits are the priority in their careers, rather than company culture. And, with the average American millennial carrying nearly $35,000 of student loan debt, it's not difficult to see why that might be. "I would say the choice to pivot away from journalism and toward public health was both salary driven and 'future proofing' my career," E explains. "I realized at the root of my career interests, I wanted something that would allow me to work internationally and focus on health. Originally I had been viewing this through the lens of writing and reporting on international and health issues, then I realized with public health I could actually be actively working in these arenas. Currently, my career moves focus on both salary potential and level of comfort in company culture. I need somewhere I find inspiration in my work and I need to be paid well for doing it."
High Salary, High Cost of Living
As things stand now, E feels as though her salary is enough for her, but that doesn't mean she's happy to stay there forever. "With living in a high cost of living area, I feel immense pressure to keep up with this crazy salary goal post," she says. "I know money doesn't equal happiness, but I think I will consider myself fully comfortable once I'm able to reach a salary of about $250,000." A salary that high would put E into the top 5% of earners in America, but with E's determination and ascent so far, we have no doubt she'll make it there in no time at all! Thankfully, E considers herself very happy in her current company. "There is an amazing company culture and work-life balance. The role is entirely remote. I'm a project manager, but hope to make a move into a more technical science role in the next year in order to put myself on a trajectory [to] climb the corporate ladder."
In addition to her current job, E also supplements her income through consulting for her former clinical research employer. "I've been doing it for about 2 years, and post-tax it nets me about $5,500-$7,000 a year. I enjoyed working for my former team, but ran out of growth opportunities and wanted to relocate (the organization didn't allow for fully remote or out of state work), so I struck a deal with them where I could be a 1099 contractor and work about 5-10 hours a week."
Even before the pandemic brought remote working to the forefront of employers' minds, it was a massive perk that many job-seekers were looking for. In fact, a recent study found that about half of millennials now prioritize fully remote positions.
While E's career plans have changed throughout the course of her workstory, she's proud of her current position and the way she's been able to make the most of each role she's held. Her best advice for someone beginning their own career in a similar industry? "Take time to reach out to people in the field who have the job that you want. When you interview for a role, always ask about growth and professional development opportunities." Specifically for roles in healthcare or other industries where graduate degrees are required or beneficial, she also urges, "Try to work for a company that will pay for your graduate degree or a certificate if you need additional education. Do your own 'competitive intelligence' research and understand industry trends."
Taking the initiative to continue your education while employed can mean big things for your career and your relationship with your company. "Companies will pay for continuing education if they see the value in investing in you," E says. "When advocating for yourself, I'd approach it like 'hey boss, I really enjoy working here and can see myself here for many years to come. However, in order to be the strongest employee I can be, I think I'm going to need to learn a few new skills. Could we talk about a few certificate opportunities I've had my eye on, the cost of those courses, and how I think I can use them to strengthen my current role and grow within the company in the future?'" This approach has served E well throughout her career so far: "I've only had one company turn down my request when I've worded it like this, and it's because they were a completely terrible company to work for!"
E's Career Progression
E began her career as a clinical trials assistant in a small hospital-based research team, earning $32,000 per year. However, just 10 months later she was promoted to a clinical research coordinator role, having taken on her boss' job. Not only did this come with a $13,000 raise – E was now making $45,000 per year – it was also a major step up in responsibility, as a supervisor of 2 people. In this role, E was also responsible for growing the team.
Two years later, E left her job for grad school, pursuing a Masters of Public Health. "I had a really transformative summer abroad during that program," E says. "(I) wanted to shift my goal to work internationally." After applications to EU-based jobs didn't pan out, E put that plan on pause and returned to her clinical research job. While this return wasn't in E's dream career path, she took the position as a way to help pay off her loans.
"Deciding to rejoin my company was a decision I meditated on for some time," E says. "I talked to my former boss before rejoining about growth opportunities, salary, etc. After thinking about it, I decided it would be the best fit for where I was in my life at the time."
She re-joined the team as a clinical research coordinator, doubling her team from 25 people to 50. Re-joining came with a $10,000 salary boost, making E's new salary $55,000. E counts this moment as her proudest career achievement so far. She also spent time strategically planning with her boss and mentor to determine a vision for the team beyond her tenure there. "I put a lot of blood, sweat, and tears into that role, and I learned things I thought I'd never learn, like lab management and drawing blood from patients." This stellar performance led to another promotion, an associate director role that came with a salary increase of $15,000 (bringing E's total salary to $70,000).
Career advice is usually fairly straightforward – network, build your skills, and do whatever you can to demonstrate you can go the extra mile. But sometimes, the best thing you can do for your career is to trust your gut, and go where it takes you. After a stretch of time in her associate director role, E's gut told her she needed to make a career jump; growth opportunities at her company had dried up, and she was ready to take the leap.
A new job in healthcare consulting brought E up to a six-figure salary in the $100,000 range, a move to the DC area, and… huge strain on her mental health. Again trusting her instincts, E quit that position and worked for an association management company as an oncology program manager for a brief period before settling in her current role as a senior project manager at what she calls her "dream" company. All the same, E still aspires to an international career. "I actually work with international colleagues now, so it's a nice opportunity to expand my cultural working competency and learn about healthcare abroad," she says. "However, I would like to eventually advance in my company to where I'm overseeing an entire overseas business unit, or something along those lines."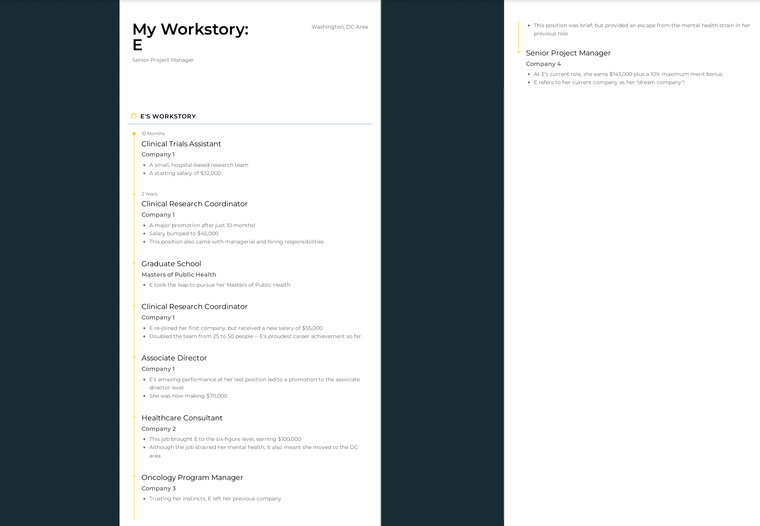 Our Questions, Her Answers
Did you receive a post-secondary education? If so, where?
"Yes; a large public school in the South for my BA and a smaller private school for my Masters of Public Health."
Did you take out student loans? What's your relationship like with that loan today?
"My undergraduate education was paid for by my parents. I took out loans for my graduate degree for full tuition ($72,000). I feel pretty awful having taken out the loan. It's held me back from a lot of financial goals. I'm behind on retirement, for example (though not incredibly so). However, the loans will be paid off this year."
What do you believe is the biggest thing that's held you back throughout your career?
"My own self-doubt and imposter syndrome, which really shined through in my healthcare consulting role. I feel like I learned a lot about myself in what was ultimately a toxic work environment. It's actually helped me in my current role, where I am no longer afraid to ask questions and reveal my shortcomings."
What do you believe is the biggest thing that's propelled you forward in your career?
"I would say others' confidence in me to do well and my own blind ambition to go with the vibes (as the kids say) of jumping ship in a role when I felt like I needed to. This has only paid off for me so far."
What is one interesting fact, good or bad, that surprised you about your job or your industry?
"I thought I would never be able to take my career far without a PhD in a hard science. With enough discipline and interest, you can go pretty far in the world of research with just a masters."
How many jobs in your field have you had so far?
"4."