On this International Women's Day, VisualCV is proud to begin a new series about women and their work stories. We'll be profiling women from different backgrounds, industries, and environments, sharing exactly how they got to where they are today. Despite their variety of experiences, all of the women you'll learn about throughout this series have one thing in common: they're high-earners who've put in the work to climb the ranks and want to share advice for getting there too.
In the US, women make up less than 20% of six-figure earners. We'll be speaking to several people who fall into that category over the course of this series, and sharing plenty of interview, resume, and career advice from both our subjects and our resume experts.
Everyone's workstory looks a little bit different. It's certainly not uncommon for people to begin college thinking their life is going to look one way, only for things to be very different ten years later. R, Vice President of Media for a pharmaceutical advertising company, started her college life thinking she would become a lawyer. However, after a few classes and internships, she realized her true calling was communications. Post-grad, R began working in public relations. Her first job paid her $37,000 a year: slightly under the average entry-level salary in DC, but R was quick to make up for that. After a transition to paid media and years of hard work developing her skills and her network, R's six-figure salary of $161,000 per year is nothing to sneeze at!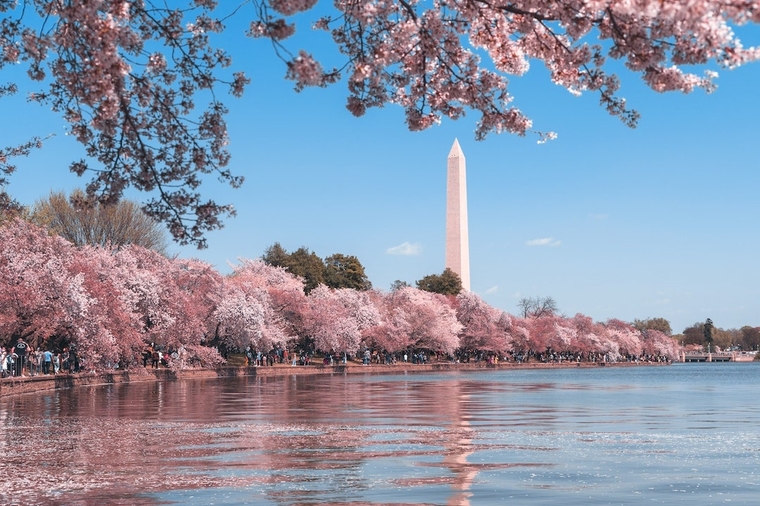 Living in Washington, DC on a Six-Figure Income
While DC is a high cost of living city, R considers her financial situation to be stable. "I do live with my husband, who also works full-time as a social worker + part-time as a therapist, while he finishes up his graduate degree in the evenings. He contributes roughly $75,000 on top of my $161,000 salary, so that certainly helps us live comfortably and save aggressively (we're hoping to purchase a house in the next 3-5 years). Our income is definitely able to afford our desired lifestyle (it hasn't changed much as we've earned more, which helps!). If I had to rely on my salary alone, I would still be able to live comfortably in the city, but probably not save as much as I would like. We did purchase a condo in 2019 for $365,000. Our mortgage is fairly low [at] $1,500 per month when compared to average rents for 2BR, 2 Bath apartments - so that definitely has helped us save!"
Quick Facts:
Name: R Age: 32 Location: Washington, DC Job Title: Vice President of Media Salary: $161,000
One study estimates the percentage of women who hold a Vice President title at work is just about 35%. "[It] makes me feel really accomplished for my age," R says. "My title finally affords me a level of respect in the workplace, which is something I've not experienced previously as a woman with very little assistance from my managers. I love my team, which consists of all high-achieving women."
Still, the concept of a "dream job" doesn't quite suit R. "I don't aspire to any 'dream jobs,' as my expectations from my work are to challenge me and help me pay the bills." R's perspective is an increasingly-popular one; in a movement that largely began during the pandemic, more and more people are beginning to reconsider what they want out of a job. "I'd love to retire and run a bed and breakfast for fun," R says, "But that's a long way in the future!"
Surveys conducted on Millennials and Gen Zers in 2022 showed that R's mindset closely mirrors that of other members of her generation. Respondents' biggest requirements for their employers include a good work-life balance and improved mental health and wellness support. The perfect manager, to R, is someone who respects that balance and her autonomy in her career. "I basically treat my manager as a consultant at this point in my career," she shares. "It's a trait I carry through with my team that I manage (to various degrees based on experience level). This allows for a sense of ownership over clients, brands, tasks, etc. that provides significant opportunity for creativity when delivering outputs. Since I tend to be more collaborative and sensitive to feelings, I need a manager that is blunt and experienced to help guide me through tricky situations."
After her most recent promotion, R inherited a team of "amazing, ambitious, talented women," which she says inspires her day to day. Has she noticed a difference in work style between men and women? "In my experience, when compared to men, women earlier in their careers have been stronger at communication and have been hungrier for success. The men in my field seem to have a much more casual approach to their work, which can sometimes make them seem more confident and trustworthy. The women I'm around seem to juggle so much more in the hopes of greater achievement. I do appreciate that women succeed in my field at similar rates as men."
R's Career Progression
R admits she has a habit of leaving her job every two years, though this is a habit she's currently trying to break! She's not alone, however; on average, a millennial stays at each job they have for 2.75 years. As the generation that pioneered side-hustles, freelancing, and job-hopping as a rule and not the exception, millennials have continued this trend well into the pandemic years. Millennials are currently the largest working generation in the US, with 35% of the total US labor force belonging to the generation. Maybe that's why the "great resignation" of 2022 had such an impact on the work world; a ton of millennials were seeking work elsewhere. Gen Z are following in their footsteps, too: in one report, 65% of Gen Zers said they were planning on leaving their jobs by the end of the year.
R spent one year as an Account Coordinator at Company 1, making $37,000

After that year, R received a promotion to Digital Strategist, which came with a pay increase to $45,000.

"After one year at this level, I took a job at Company 2 as an Associate Digital Strategist, Paid Media." This move came with a hefty 60% salary increase; R was now making $72,000.

Another year later, R was promoted to Digital Strategist, Paid Media, increasing her salary even further, to $85,000.
"These first two companies were Public Relations agencies," R explains. She spent 4 years in these two companies altogether.
"My transition to Company 3 was a shift, as I began to work in Political Media as a Senior Media Planner." This lateral move left R's salary the same as it was at position number 4; $85,000. "This was a significant job for me, as I learned how to operate in a stressful, fast-paced work environment with brilliant (but toxic) colleagues during the 2018 midterm elections."

"After two years, I left to become a Senior Media Manager at Company 4, where I specialized in pharmaceutical advertising." R continues. This job marked that all-important high earner milestone of being R's first six-figure salary: she was now earning $110,000.

Another two years later, R left for her current company, Company 5. As a Media Director leading a team of pharmaceutical advertisers, she earned $140,000.

A little over a year after that, she was promoted to Vice President of Media at Company 5, which came with another raise, to $161,000. "My boss is currently pushing for a pay bump, as I'm underpaid for this role, since I am very young to be at this level," R adds.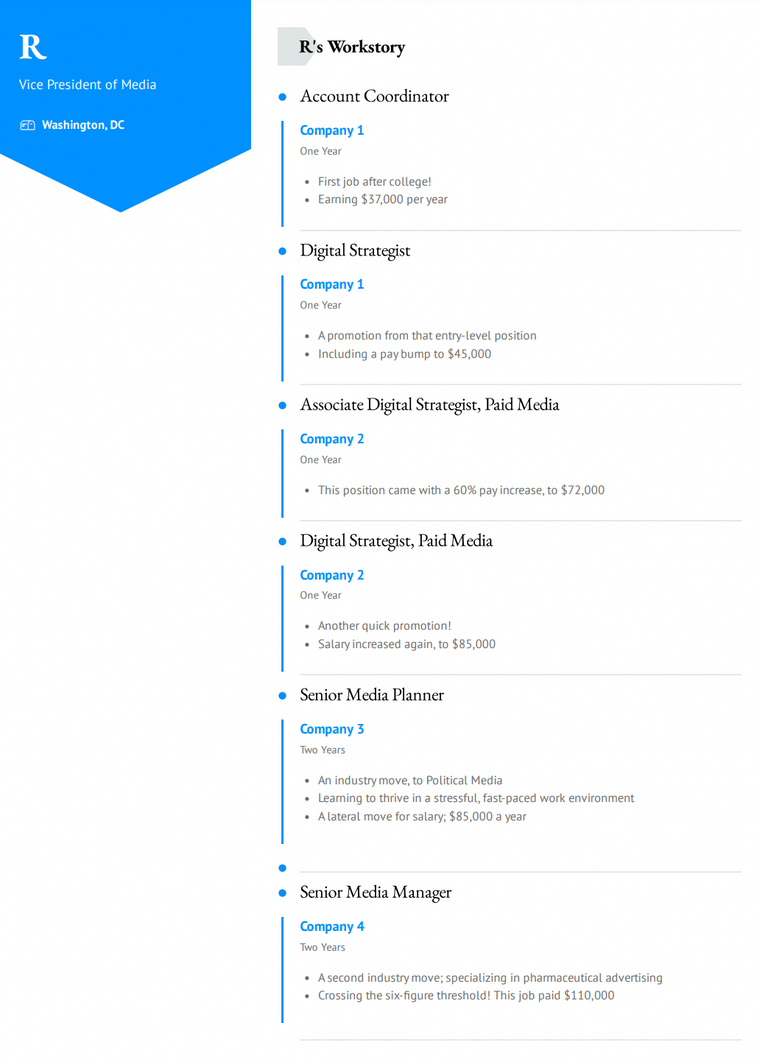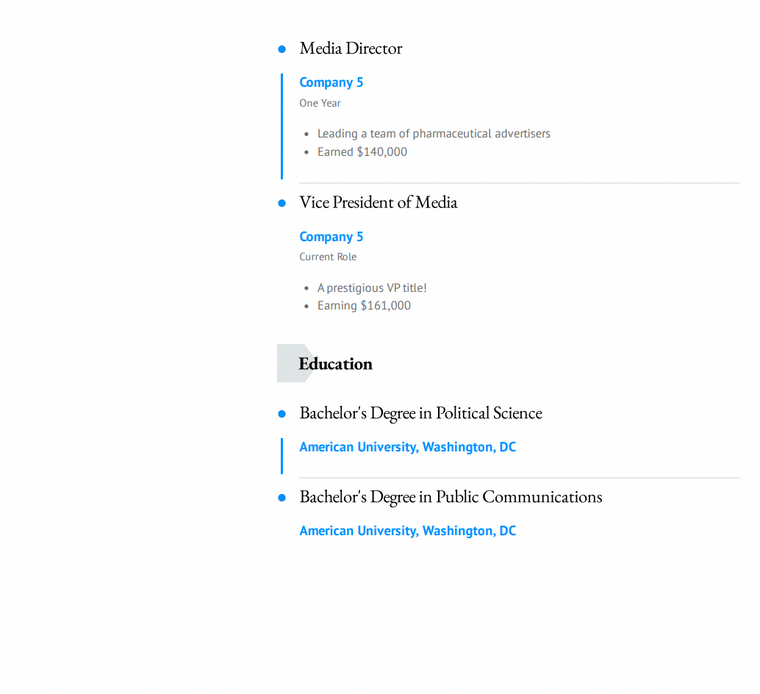 Throughout her career, R has consistently worked to level up her skills and find new opportunities for herself. Not only is her job-hopping consistent with others in her generation, R believes that job-hopping has helped her career "immensely."
"I don't think anyone should stick around in one job for too long early in their career (at least not in my field). There's so many benefits to switching job roles and companies that help you grow professionally and financially - new skill sets, new teams and management styles, higher salaries. Thankfully I have found a company and role that I really enjoy now, so I do intend to stay longer (fifth times the charm, right?). However, I also don't think you should switch around just to switch around. If you're happy with a few of the important factors (e.g., company culture, benefits, team, salary, work/life balance), don't just throw that away - those are priceless when it comes to overall life quality."
She counts her recent promotion to Vice President as her proudest career achievement. "I finally felt like I had broken into senior leadership! I have so much to learn, but I'm surrounded by incredibly intelligent individuals and am excited to grow alongside such an impressive peer group."
Our Questions, Her Answers
*Did you receive a post-secondary education? If so, where? *
"I received two bachelor's degrees, in Political Science and Public Communications, from American University in Washington, DC."
Did you take out student loans?
"I took out student loans, but I [also] received a Presidential Scholarship and a National Merit Scholarship that covered half of my tuition. My parents were graciously able to pay off the remaining loans quickly, so I graduated without debt."
What do you believe is the biggest thing that's held you back throughout your career?
"Bad bosses!"
What do you believe is the biggest thing that's propelled you forward in your career?
"Even though my bosses didn't push me or support me, I made time to grow myself. I participated in training in my free time so I could better understand various tools and platforms. I didn't narrow my focus too much, so I have a breadth of skills that help me consult my clients. I highly suggest that people find time to learn outside of their day-to-day tasks."
What is one interesting fact, good or bad, that surprised you about your job or your industry?
"Succeeding isn't always about knowing everything, but being able to connect dots for your clients and speaking confidently. How you show up is critical for every conversation."
What's your biggest career regret?
"My biggest regret was blindly accepting sub-par management from my bosses. They either ignored me or didn't grow me in any capacity, which set me back on my learning path. I wish I had been more aggressive about voicing concerns and receiving more support."
What's your biggest piece of career advice?
"Negotiate your salary and don't be afraid to take time off! Stand up for your mental health and your well-being by setting better boundaries and expectations."