Amazon is a large global corporation with thousands of employees all across the world. If you want to land a job at Amazon, you will need to write a great Amazon resume.
To do this, it's important to develop a strong understanding of the specific job you are applying for. Amazon is an enormous organization, with many different products, departments, and services. When you apply for a job at Amazon, your resume will have to be targeted for the position you want. Amazon employs warehouse workers, delivery drivers, accountants, SQL developers, IT engineers, animators, and much more.
This means you will have to write your resume specifically so that it suits the application.
This guide will go over how to write an Amazon that lands the interview, with steps including:
Highlighting your skills
Describing your work experience
Using an Amazon resume example
Customizing your resume
How to write an Amazon resume
Positions at Amazon are competitive, so it's important to get your Amazon resume right. To do this, take the following steps:
As with any job application, you should start your Amazon resume by listing your contact information. No matter what Amazon job you are applying for, the hiring manager will need a way to contact you.
At or near the top of your resume, list your:
First and last name
Phone number
Email address
City of residence
Optionally, you can also list your:
LinkedIn profile
Personal website
Portfolio
Other professional online profile
Personal information specific to your country
Remember to read the job posting carefully, as it may request specific information depending on the role you are applying for.
Write a great summary
On an Amazon resume, your Summary section is your introduction to the hiring manager. It's where you can offer your best elevator pitch and provide some highlights from your career in a short paragraph or bulleted list. Your Summary should be located near the top of your resume. This way, it will be the section the hiring manager sees first.
In your Summary, list some key skills, highlights, or achievements from your career, using only a few sentences or bullet points. These should be impressive, relevant, and representative of what you can do for Amazon as an employee.
If your Summary does its job, the hiring manager will be impressed by your key highlights and encouraged to keep reading the resume.

Highlight relevant Work Experience
Your work experience should be the longest and most important part of your Amazon resume. This is the section where you can list and describe your past roles, including titles, dates, and achievements. Your work history is the most important aspect of your career story, so make sure to make an effort in this section when writing your resume.
In your Work Experience section, list your past roles in reverse-chronological order, beginning with your most recent position and working backwards. For each Work Experience entry, list the:
Job title
Company or organization name
Start and end date of your employment
Job description
The job descriptions of your past roles are key to a successful resume. You need to make sure that each job sounds impressive and relevant, and that your accomplishments in each role show you to be a great employee.
To do this, focus on your achievements. Many job-seekers make the mistake of listing their responsibilities in each job, ignoring their accomplishments, which makes for a boring and unimpressive job description. At a competitive company like Amazon, that isn't going to cut it. You need to have clear, concrete examples of things you have done and how they helped your previous employer succeed in reaching its goals. These will give the hiring manager a better picture of what you are capable of.
A great way to provide examples of your achievements is to include numbers that measure your performance in past roles. Describing quantifiable aspects of your past jobs will demonstrate to the hiring manager that you are data-driven and effective. What you can quantify will depend on the role, but examples of measurable aspects of a job might include team size, revenue, budget, clients, user growth, user retention, inventory, and more.
Further, be sure to use active language as much as possible when describing your experience. Action verbs like "Spearheaded", "Managed", "Implemented", and "Led" will make your work experience sound more impressive than boring phrases like "Was responsible for" or "Handled". The right phrasing can make you sound like an employee with initiative.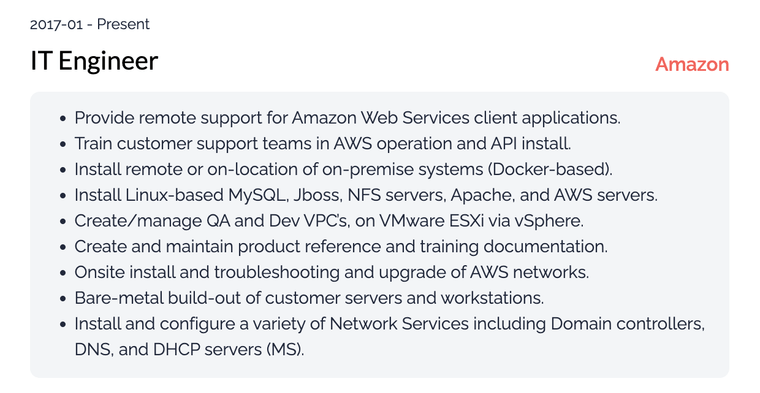 List your education
A strong Education section is an important asset to your Amazon resume. Whether you want to work as a software developer or a delivery driver, it's important to display your Education. It won't be the longest part of your resume, and it probably won't be the most important part (unless you're a student), but it is still necessary to include it.
In your Education section, list your degrees in reverse-chronological order, beginning with your most recent degree and working backwards. For each entry, include the:
Degree and subject
School name
Month and year of graduation
If you are an experienced professional with several years of education, the above information will be enough.
If you are a student or recent graduate, however, you may want to add more details to your Education section in order to include some relevant achievements or fill out your resume. If this is the case, you may want to include a description, with details like GPA, research topics, specializations, or notable projects.

Highlight relevant skills
Your Skills section is an opportunity to showcase your most important and most relevant abilities. In a Skills section, you can highlight the skills that you think are important for the hiring manager to know, and display them in a concise and readable format.
If you are writing a reverse-chronological resume, you will likely want to keep your Skills section relatively short. If this is the case, simply list your skills in a simple bulleted list, with the most important skills listed first. This will make it easy for the hiring manager to quickly see what you do best without having to closely read through your entire Amazon resume.
If you are writing a skills-based resume, your Skills section is more important. If this is the case, you can make each skill or skill area a heading, and then provide a description or list of relevant achievements for each skill in a description below. This type of skills section can work well if you want to highlight specific abilities and achievements in a concise way, grouping relevant achievements together instead of scattering them throughout your Work Experience section. This method can be useful if your work history has some unusual features such as long gaps, job-hopping, or notable career changes.
Add additional Amazon resume sections
Additional sections for your Amazon resume might include:
Certifications
Publications
Memberships
Additional Experience
Volunteering Experience
Portfolio
Core Competencies
Customize your Amazon resume
When you apply for a job at Amazon, your resume will almost certainly be read by an Applicant Tracking System before it reaches a human hiring manager.
An Applicant Tracking System, or ATS, is a type of software that reads resumes, identifies important keywords, and passes the best ones along to the hiring manager.
This means that you need to customize your resume to suit the specific role you are applying for.
To do this, study the job description closely. It will use specific keywords and phrases to describe the type of skills and qualifications the hiring manager is looking for. Then, use those keywords to describe your own experience throughout your resume (as long as it's true!). This way, the correct keywords will be flagged by the ATS and your Amazon resume will be sure to make it to the next round.
Amazon Resume Examples
Of course, the best place to find inspiration is in examples. Here are two Amazon resume examples to help you get started on your application:
Amazon Resume Example: Warehouse Manager
Summary
Warehouse Manager with 7 years of experience delivering great results in warehouse environments. Skilled in shipping, receiving, inventory, scheduling, and reporting. Received consistent promotions at Acme Corp and graduated with recognition from Amazon Career Program. A dedicated worker with strong people skills.
Work experience
Warehouse Manager Amazon
Maintain accurate digital records of materials weights, bill amounts and identified variances.
Organize storage areas to optimize material movements and minimize labor hours.
Conduct counts and audits of items to identify and resolve discrepancies in records.
Process returns and maintain up-to-date accounts.
Review paperwork to determine priorities and set schedules.
Generate end-of-day reports covering shipments, productivity and financial totals.
Train new staff on job duties, company policies and safety procedures for rapid on-boarding.
Receiving Supervisor Acme Corp
Monitored storeroom and warehouse material usage.
Developed delivery schedules and drop shipment strategies.
Maintained accurate records and documents describing inventory usage.
Prepared and presented staff reports and other correspondence as needed.
Provided leadership in warehouse space utilization by designing facility layouts to achieve maximum storage efficiency.
Coordinated the organization, staffing, and operational activities for regional warehouses and stores.
Developed and implemented the structuring of goals, objectives, policies, and priorities for the receiving team.
Implemented appropriate safety guidelines, reducing workplace injuries by 15%.
Receiving Supervisor Acme Corp
Ensured safety and operational guidelines were consistently followed.
Recommended improvements to reduce cost and drive productivity within the department.
Ensured all incoming products were accurately accounted for and entered correctly into the system.
Established and monitored employee work schedules.
Inspected and ensured incoming products are in acceptable condition and record any shipping damage.
Organized product placement within the warehouse and material handling activities.
Education
Receiving Supervisor Specialty Certificate Amazon Career Program
Bachelor of Arts Ace University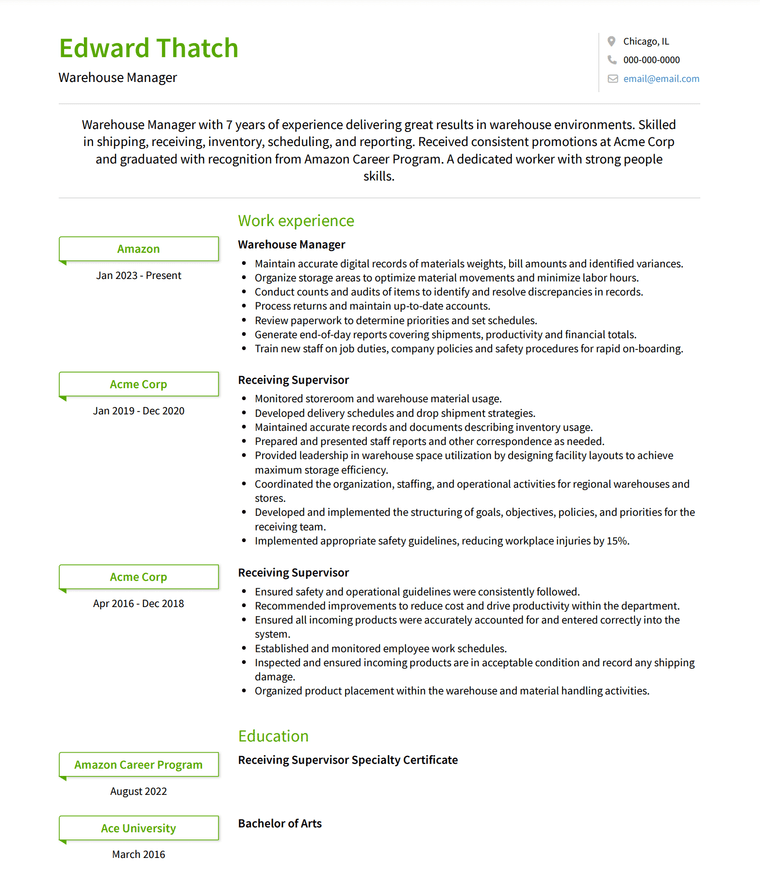 Amazon Resume Example: IT Engineer
Summary
Dedicated IT system administrator with strong experience in managing application server operations across Linux, Windows, and Mac OS X platforms. Can effectively plan, install, configure IT infrastructures to achieve high availability and performance. Skilled troubleshooter with experience managing different systems and projects in a range of IT environments. Exceptionally strong customer-facing skills, technical expertise, and a commitment to service excellence have resulted in global partnerships with recognized market leaders. Positive attitude, intense competitive drive, teamwork, and creativity that gains trust and builds rapport across different cultures.
Work Experience
IT Engineer Amazon
Provide remote support for Amazon Web Services client applications.
Train customer support teams in AWS operation and API install.
Install remote or on-location of on-premise systems (Docker-based).
Install Linux-based MySQL, Jboss, NFS servers, Apache, and AWS servers.
Create/manage QA and Dev VPC's, on VMware ESXi via vSphere.
Create and maintain product reference and training documentation.
Onsite install and troubleshooting and upgrade of AWS networks.
Bare-metal build-out of customer servers and workstations.
Install and configure a variety of Network Services including Domain controllers, DNS, and DHCP servers (MS).
Support Engineer Alphabet
Worked as a fully managed services project team member.
Checked network IT-security/firewalls/IDS/security concepts.
Installed MacAfee Epo 3.6 Version and 4.0 Versions and Symantec Anti-Virus Corporate Edition.
Mainteined telecom infrastructure using G651 Gateways and S8700 Voice Server.
Planned and deployed IT infrastructure including Cisco routers, switches, and firewalls.
Specialized in server and network hardware and software.
Information Security Analyst Nvidia
Reported on security on a monthly, weekly, & daily basis.
Spearheaded network security and vulnerability assessment projects.
Acted as the Symantec SEP Endpoint Protection administrator.
Served as the IT Risk and Information Security Management committee member.
Served as the Microsoft Security Assessment team member.
Configured basic firewalls for 5+ clients.
Installed devices for network operations.
Implemented systems, applications, and anti-virus tools for 20+ clients.
Operated reservation software (GALILEO).
Provided full support to 20+ clients.
Troubleshot and supported client applications.
Configured and implemented VPNs for multiple clients.
Served as the IT Inventory management team member.
Served as the billing system team member.
Education
Bachelor of Technology Harvard University
Key Competencies
AWS configuration
Apache server configuration
API configuration
Sales and marketing support
Systems installation, configuration & upgrading
Technical support for on-premise applications
Linux 7
Docker install and configuration
MySQL
vSphere virtual machine management
Customer training and documentation