Do you want to apply your skills as an accountant to one specific company? If the answer is yes, a career as a staff accountant could be right for you! These accounting professionals provide financial services to companies in almost every field, which means you can break out of the finance bubble and do something different with your accounting experience.
So how do you build the most competitive application possible for a staff accountant role?
That's where we come in!
In this post, we'll tell you everything you need to know about all of the following points:
How to write a staff accountant resume (with examples)
How to format a staff accountant resume
General Staff Accountant Resume Example
John M. Smith
Staff Accountant
123-456-7890
Resume Summary:
Dedicated Staff Accountant with expertise in managing financial transactions and ensuring accuracy in financial records. Proficient in bank reconciliation, tax filings, payroll journal entries, and general ledger account reconciliation. Seeking to leverage my skills and experience to contribute to the financial success of ABC Company.
Work History:
Accounting Specialist
XYZ Corporation, New York, NY
Jan 2018–Present
Manage and update the banking module within the Company's general ledger system.
Perform all monthly bank reconciliations and promptly resolve any discrepancies.
Prepare bi-weekly federal excise tax filings and other periodic filings for airline-specific taxes.
Serve as a key business partner to the payroll department by recording all payroll journal entries.
Account for all insurance premiums and accurately record monthly expense allocations.
Prepare journal entries for month, quarter, and year-end close.
Conduct general ledger account reconciliations and promptly address any discrepancies.
Engage in process enhancement activities as required.
Compile documentation for internal and external auditors as needed.
Education:
Bachelor of Science in Accounting
University of XYZ, New York, NY
Graduated: 2017
Key Skills
Bank Reconciliation
Tax Filings
General Ledger Accounting
Payroll Journal Entries
Financial Recordkeeping
Account Reconciliation
Process Enhancement
Documentation Management
Attention to Detail
Analytical Skills
How to Write a Staff Accountant Resume and Win Interviews
To write a great Staff Accountant resume, follow these tips:
Select a resume template that supports a reverse chronological format.
Create the following sections in it: Header, Professional Summary/Objective, Education, Certifications, Professional Experience, Skills, Achievements/Awards, Technical Proficiencies, Professional Affiliations.
While writing your Professional Experience section use the STAR method to show the situations you faced, how you solved them, and quantify your achievements.
Write a short summary that lists years of accounting experience, your top skills, and achievements.
How to Write a Staff Accountant Resume Summary
To write a great Production Coordinator resume summary, follow these steps:
List your years of accounting experience.
List your top accounting skills in the summary (e.g. financial data analysis, identifying discrepancies, financial reporting accuracy, etc).
Keep your Staff Accountant resume summary to a max of three lines. Anything beyond that isn't very skim friendly for the hiring manager.
Staff Accountant Resume Summary Example
Certified public accountant with 5 years of experience, licensed to work in New York state. Proven track record of accuracy, attention to detail, and integrity, with a 99% client satisfaction rate. Dedicated to delivering top-tier financial services as Nyoom Technologies continues to grow.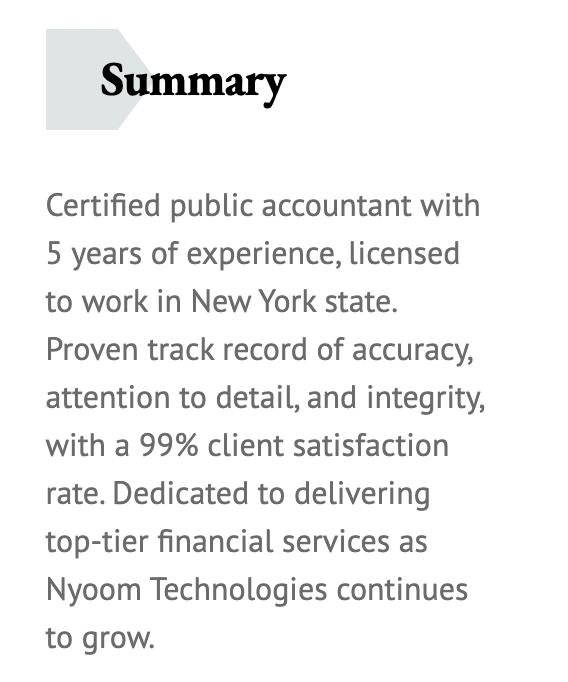 This resume summary works because it gets to the heart of why this candidate suits the requirements of the job. It calls attention to their experience, their strongest skills, and a statistic that reflects their high performance in their current role. It also demonstrates their commitment to the specific company they're applying for, and an understanding of its current priorities.
Experience Section for a Staff Accountant Resume
This section is the most important section on your resume. It should tell hiring managers exactly what you've achieved and how you've achieved it in your previous roles. And wherever possible, it should show that you have the skills required to do the job you're applying for.
In almost every situation, you should list your work experience in reverse-chronological order—starting with the most recent job, then working backwards. You should list the job title, the company you worked for, the approximate dates of your employment in that role, and a bulleted list of your biggest achievements from that job. Wherever you can, you should back up those achievements with statistics that demonstrate exactly how successful you were.
Here's an example of a great experience listing for a staff accountant: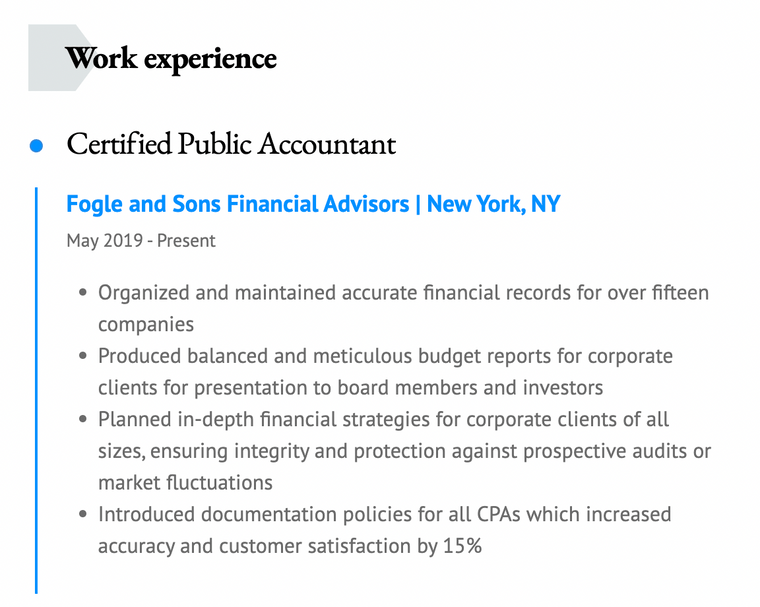 Certified Public Accountant | May 2019-present Fogle and Sons Financial Advisors | New York, NY
Organized and maintained accurate financial records for over fifteen companies
Produced balanced and meticulous budget reports for corporate clients for presentation to board members and investors
Planned in-depth financial strategies for corporate clients of all sizes, ensuring integrity and protection against prospective audits or market fluctuations
Introduced documentation policies for all CPAs which increased accuracy and customer satisfaction by 15%
This listing contains all the necessary bare-bones information about your former role—plus, it points out the candidate's biggest achievements. Crucially, though, all of these achievements are relevant to a staff accountant role. It shows that the candidate can perform many of the responsibilities required in the position they want.
Staff Accountant Resume Education Section
The education section of your resume is most important when your work experience is limited. In those circumstances, it's a great way to add value to your resume, showing that you have what it takes to work towards a qualification.
But many jobs require a minimum level of education—for a staff accountant, that will usually be a bachelor's degree. This is the place to show hiring managers that you check that box! It's also a smart idea to list any relevant licenses or certifications in this section of your resume.
Like your work experience section, your education should usually be listed in reverse-chronological format. Start with your newest qualification (which will also usually be your most advanced qualification), and work back. Include the qualification you earned, the institution where you earned it, and the dates of the beginning and end of your studies.
You can also include any awards, prizes or accolades you earned during your studies. But if you already have plenty of work experience, this can take up space that could be used more wisely. It's generally only a good idea to do this if you're a fairly recent graduate—or if those prizes were really prestigious.
Here's an example of an education section for a staff accountant resume: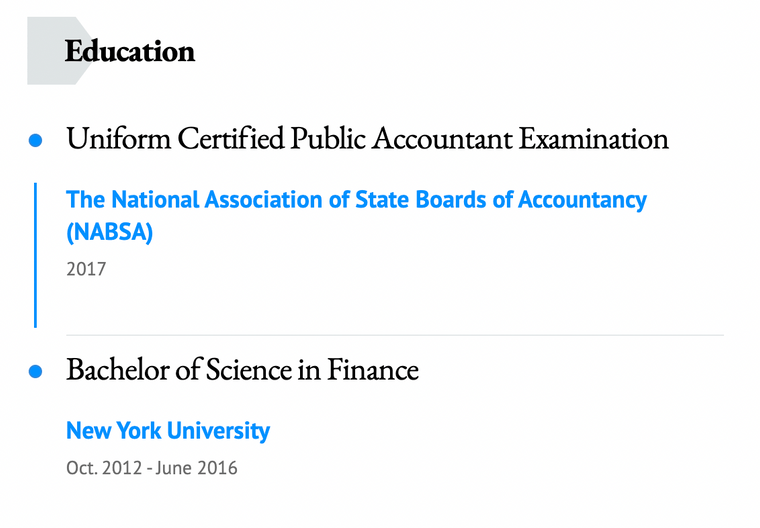 Uniform Certified Public Accountant Examination | 2017 The National Association of State Boards of Accountancy (NABSA)
Bachelor of Science in Finance | October 2012-June 2016
New York University, New York
As you can see, this section doesn't need much detail! It makes it easy for hiring managers to verify the candidate's qualifications if necessary, and it shows that they meet the minimum requirements of the job description. If the candidate had graduated more recently, they might also have listed any academic prizes or honors in bullet points underneath their bachelor's degree.
Staff Accountant Resume Skills
You might be wondering why you even need a skills section! After all, your experience section should cover those bases by describing how you've used those skills in the past, right?
The fact is that hiring managers don't always have time to read your experience section in depth. If you don't lay out your strongest and most relevant skills in an easy-to-read format, they might miss them while skim-reading your resume. So it's in your best interest to include a skills section, to call attention to the skills that the role requires.
But what are those skills? It's easy to find out by reading through the job description! Most job descriptions will list the relevant skills you'll need to succeed in the role—at which point you can identify which of those skills you actually have, and make sure they're listed prominently on your resume.
Some resume templates use visual aids (like progress bars, for example) to represent your proficiency in a particular skill. You don't have to do that! But it can make your skills section more eye-catching if you do.
Here's an example of a skills section for a staff accountant resume: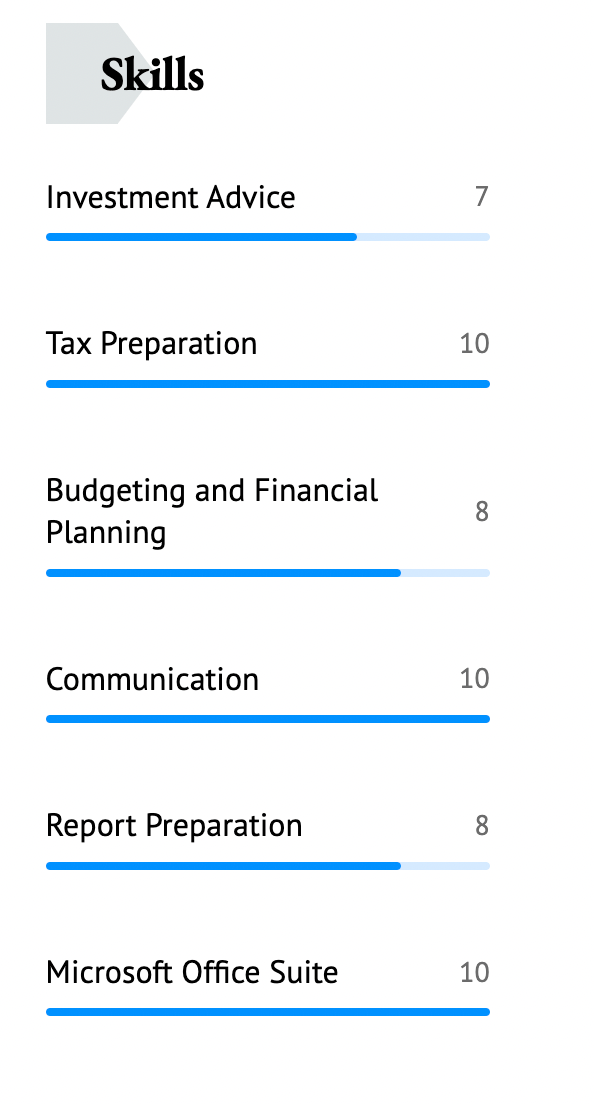 Investment advice
Tax preparation
Budgeting and financial planning
Communication
Report preparation
Microsoft Office suite
This candidate has drawn on their previous accounting experience and used their skills section to reflect their strongest skills! But they've also clearly paid attention to the job description—which demanded proficiency in the Microsoft Office suite of products.
Certifications to List on Your Staff Accountant Resume
Adding the following Staff Accountant certifications would increase your chances of getting shortlisted for a job:
Certified Public Accountant (CPA)
Certified Management Accountant (CMA)
Certified Internal Auditor (CIA)
Certified Financial Services Auditor (CFSA)
Certified Government Auditing Professional (CGAP)
Certified Fraud Examiner (CFE)
Accredited Business Accountant/Advisor (ABA)
Certified Bookkeeper (CB)
Chartered Global Management Accountant (CGMA)
Certified Payroll Professional (CPP)