Do you want to apply your skills as an accountant to one specific company? If the answer is yes, a career as a staff accountant could be right for you! These accounting professionals provide financial services to companies in almost every field, which means you can break out of the finance bubble and do something different with your accounting experience.
So how do you build the most competitive application possible for a staff accountant role?
That's where we come in!
In this post, we'll tell you everything you need to know about all of the following points:
How to write a staff accountant resume (with examples)
How to format a staff accountant resume
How to Write a Staff Accountant Resume
So you want to become a staff accountant—but how do you write a staff accountant resume? The good news is that with a basic understanding of the standard resume format, it's easy! Keep reading, and we'll break down the structure of a great staff accountant resume, and show you some examples of how to really nail the resume format.
Staff Accountant Resume Summary
Your summary is the first thing most hiring managers will see when they look at your resume. It should go without saying that it needs to be impressive! Remember, hiring managers are famously short on time—if they don't like the look of your resume at a glance, they'll probably put it to one side and move on.
A good summary should be short, direct, and impactful. Aim for about three sentences if you can. Use it to call immediate attention to your strongest qualities, skills and achievements, so that even if the hiring manager doesn't read much further, they still see the very best of you.
It's never a good idea to write an overly-long summary. If you get too wordy or too personal, hiring managers are likely to lose interest fast. Remember, you can tell them more about yourself in your cover letter—keep your summary short and to-the-point!
Here's an example of a top-tier staff accountant resume summary: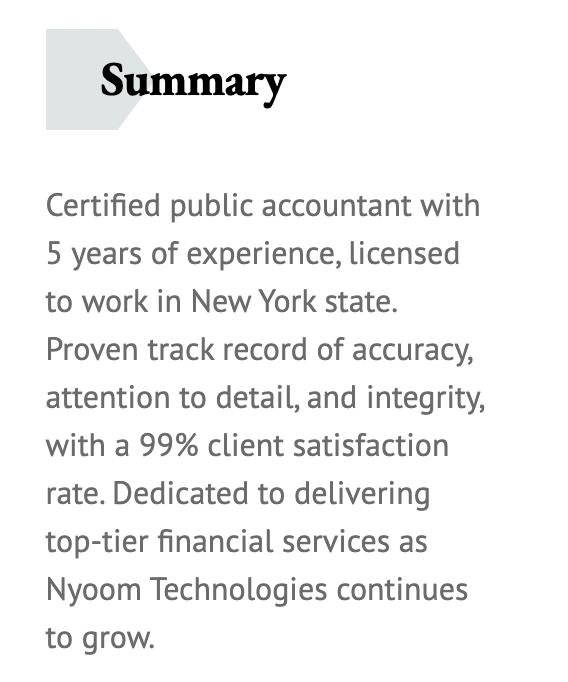 Certified public accountant with 5 years of experience, licensed to work in New York state. Proven track record of accuracy, attention to detail, and integrity, with a 99% client satisfaction rate. Dedicated to delivering top-tier financial services as Nyoom Technologies continues to grow.
This resume summary works because it gets to the heart of why this candidate suits the requirements of the job. It calls attention to their experience, their strongest skills, and a statistic that reflects their high performance in their current role. It also demonstrates their commitment to the specific company they're applying for, and an understanding of its current priorities.
Experience Section for a Staff Accountant Resume
This section is the most important section on your resume. It should tell hiring managers exactly what you've achieved and how you've achieved it in your previous roles. And wherever possible, it should show that you have the skills required to do the job you're applying for.
In almost every situation, you should list your work experience in reverse-chronological order—starting with the most recent job, then working backwards. You should list the job title, the company you worked for, the approximate dates of your employment in that role, and a bulleted list of your biggest achievements from that job. Wherever you can, you should back up those achievements with statistics that demonstrate exactly how successful you were.
Here's an example of a great experience listing for a staff accountant: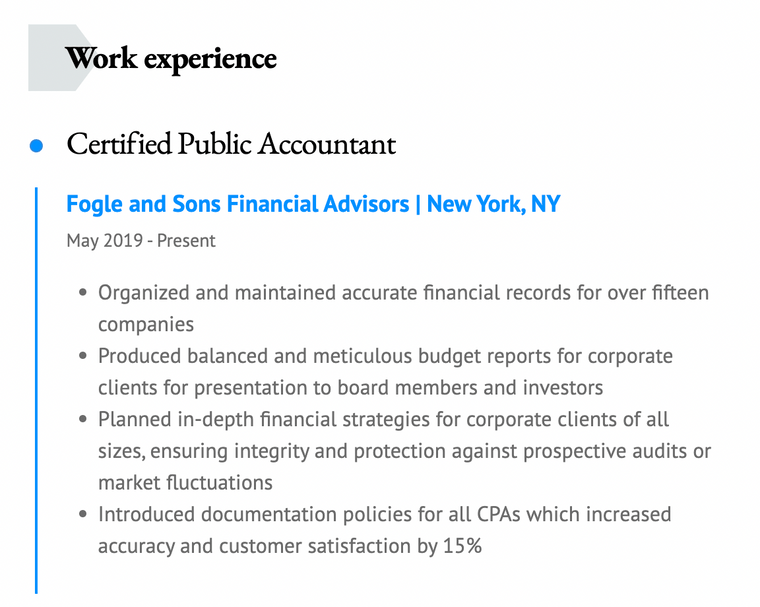 Certified Public Accountant | May 2019-present Fogle and Sons Financial Advisors | New York, NY
Organized and maintained accurate financial records for over fifteen companies
Produced balanced and meticulous budget reports for corporate clients for presentation to board members and investors
Planned in-depth financial strategies for corporate clients of all sizes, ensuring integrity and protection against prospective audits or market fluctuations
Introduced documentation policies for all CPAs which increased accuracy and customer satisfaction by 15%
This listing contains all the necessary bare-bones information about your former role—plus, it points out the candidate's biggest achievements. Crucially, though, all of these achievements are relevant to a staff accountant role. It shows that the candidate can perform many of the responsibilities required in the position they want.
Staff Accountant Resume Education Section
The education section of your resume is most important when your work experience is limited. In those circumstances, it's a great way to add value to your resume, showing that you have what it takes to work towards a qualification.
But many jobs require a minimum level of education—for a staff accountant, that will usually be a bachelor's degree. This is the place to show hiring managers that you check that box! It's also a smart idea to list any relevant licenses or certifications in this section of your resume.
Like your work experience section, your education should usually be listed in reverse-chronological format. Start with your newest qualification (which will also usually be your most advanced qualification), and work back. Include the qualification you earned, the institution where you earned it, and the dates of the beginning and end of your studies.
You can also include any awards, prizes or accolades you earned during your studies. But if you already have plenty of work experience, this can take up space that could be used more wisely. It's generally only a good idea to do this if you're a fairly recent graduate—or if those prizes were really prestigious.
Here's an example of an education section for a staff accountant resume: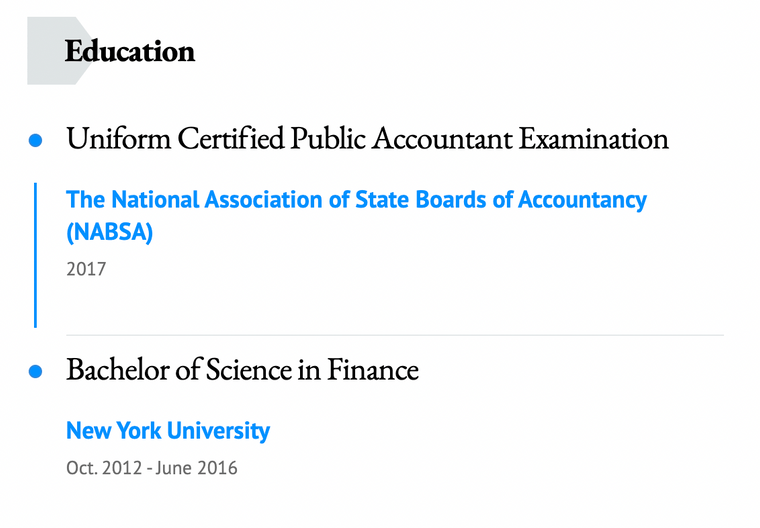 Uniform Certified Public Accountant Examination | 2017 The National Association of State Boards of Accountancy (NABSA)
Bachelor of Science in Finance | October 2012-June 2016
New York University, New York
As you can see, this section doesn't need much detail! It makes it easy for hiring managers to verify the candidate's qualifications if necessary, and it shows that they meet the minimum requirements of the job description. If the candidate had graduated more recently, they might also have listed any academic prizes or honors in bullet points underneath their bachelor's degree.
Staff Accountant Resume Skills
You might be wondering why you even need a skills section! After all, your experience section should cover those bases by describing how you've used those skills in the past, right?
The fact is that hiring managers don't always have time to read your experience section in depth. If you don't lay out your strongest and most relevant skills in an easy-to-read format, they might miss them while skim-reading your resume. So it's in your best interest to include a skills section, to call attention to the skills that the role requires.
But what are those skills? It's easy to find out by reading through the job description! Most job descriptions will list the relevant skills you'll need to succeed in the role—at which point you can identify which of those skills you actually have, and make sure they're listed prominently on your resume.
Some resume templates use visual aids (like progress bars, for example) to represent your proficiency in a particular skill. You don't have to do that! But it can make your skills section more eye-catching if you do.
Here's an example of a skills section for a staff accountant resume: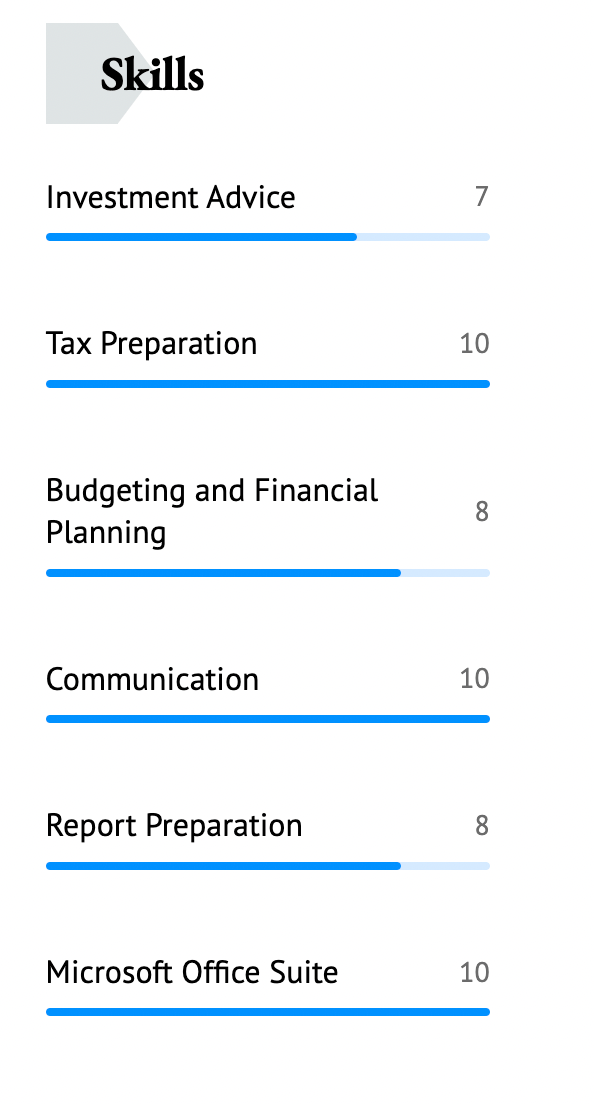 Investment advice
Tax preparation
Budgeting and financial planning
Communication
Report preparation
Microsoft Office suite
This candidate has drawn on their previous accounting experience and used their skills section to reflect their strongest skills! But they've also clearly paid attention to the job description—which demanded proficiency in the Microsoft Office suite of products.
How to Format a Staff Accountant Resume
Congratulations—you've written a great resume for a staff accountant position! But how do you put it all together on the page? Here are some things to keep in mind as you format your staff accountant resume.
Putting Your Staff Accountant Resume in Order
What's the best way to order the sections of your resume? It depends on your circumstances! If you're a new graduate, your education and skills sections should appear before your work experience section—whereas if you're an experienced worker, you should always foreground your work experience section.
There's one exception to this rule, and that's your resume summary. This should always appear at the beginning of your resume, directly after your header. Remember, it's the first thing a hiring manager should read about you!
ATS Compatibility
Many hiring managers use applicant tracking systems (or ATS) to sort through applicants for open positions. This helps them streamline the hiring process, and can reduce the time it takes to find a new hire!
But ATS software filters out resumes from consideration based on whether or not they include key words drawn from the job description. It can also be confused by intricate resume formatting. This means that, if your resume isn't carefully written and formatted for ATS purposes, it might never be seen by a real person.
It's worth your time to make sure that your resume is ATS compatible. Luckily, all of VisualCV's resume templates are built to beat ATS software—and to look great doing it! When you use one of our templates, you can be confident that it won't confuse the software and cost you the job of your dreams.
But remember, you still need to make sure that you're hitting as many key words from the job description as possible. It's always smart to use the exact phrasing used in the job description when you're explaining how you meet the requirements.
Choosing the Right Template
When laying out your resume, it's important to choose a template that makes the right impression on a hiring manager. But 'the right impression' for one role may be the wrong impression for another! A resume template featuring classic, traditional fonts and no colors whatsoever will look elegant and professional for jobs in finance or administration—but if you use that template when applying for work as a graphic designer, you risk looking uncreative and bland.
For a staff accountant role, it's smart to choose more traditional templates to format your resume. You want to show hiring managers that you are professional, organized, and serious. That means using fonts like Times New Roman or Calibri, minimizing your use of bright colors, and focusing on substance over style.
That doesn't mean your template needs to be completely utilitarian! VisualCV offers a range of amazing templates, and many of them strike a great balance between design and professionalism. Take a look through our catalog, and we promise you'll find a template that suits your needs.