You might not think of accounting as a particularly high-stress job. It's office-based, largely sedentary, and not – at least at first glance – the sort of role that was heavily impacted by the shock of the pandemic. So why are accountants leaving to find new careers elsewhere?
It's true: while workers across every industry are moving into new fields, accountants stand out for resigning in especially high numbers. In fact, even before the pandemic, the turnover rates in accounting were above average. It's a serious trend, and one that raises a real question – after qualifying as an accountant, what other career options are available?
If you're an accountant and you're thinking about making a career move, you might have more options than you think. We're here to help you navigate a future outside of accounting, and set you up for success as you begin your job search.
In this article, we'll cover the following points:
Why switch careers as an accountant?
Common transferable skills for accountants
Common career changes for accountants
How to prepare for a career change
Why Move Away From Accounting?
Job dissatisfaction has been high among accountants – particularly public accountants – for some time. The most significant reason for the Great Resignation's impact on accounting is simple: salaries just aren't high enough to make up for the pressures of the work.
Public accountants can work around 70 or 80 hours every week, and may even spend some of their off-hours on call. While accounting offers better pay than many other roles in finance, even at the lower levels – a junior accountant might make $80,000 per year, while a bank teller would make only $55,000 – the salary isn't enough to make the long hours and constant pressure feel worthwhile. Moreover, accountants' pay has not made any significant increases in twenty years, meaning that wages have failed to keep up with the cost of living.
Money isn't the whole story, of course. The pressure itself is a problem for accountants, many of whom succumb to burnout as a result of their demanding schedules. As a relatively conservative industry, accounting also offers limited flexibility – for instance, it has largely rejected the shift toward remote working caused by the pandemic.
The combination of inadequate compensation and low flexibility presented challenges for the industry before the pandemic. But since the pandemic, employees everywhere have seized the opportunity to reflect on their career plans and make major changes in their lives. As a direct result, staff turnover in accounting has skyrocketed.
In short, people are moving away from accounting because accounting, as an industry, is failing to provide them with a satisfying or sustainable career.
Common Transferable Skills Learned in Accounting
Most accounting roles demand a certification, making accounting a fairly specialized role. But the training required to enter the industry is only half the story. In order to thrive as an accountant, employees need a wide range of transferable skills – all of which can also be applied elsewhere.
If you're considering leaving accounting and you're not sure where to start, think about the skills you use every day at work. You'll find that many of them are widely applicable, and could give you a great head-start in a new field. Here are just a few of the skills you will have developed as an accountant.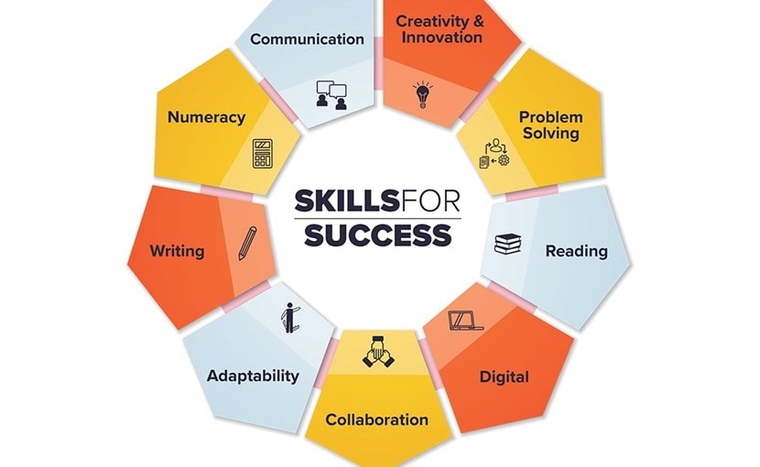 Work Ethic
As an accountant, you've experienced a tax season or two. You know how important it is to put in the work to meet fixed deadlines – not just for you and your business, but for your clients.
What's more, you understand that you can't compromise on the quality of your work in order to hit a deadline. Accountants have to handle their clients' finances with honesty and integrity, or the consequences for all parties could be severe.
That kind of work ethic is worth its weight in gold in almost any industry. Most employers will be delighted to hire a team member who treats every deadline with the seriousness it deserves. The dedication, diligence and personal integrity with which you approach your work will shine through, no matter what field you're hoping to join.
Mathematical Skills
There's no getting around it: to qualify as an accountant, you need to be reasonably good at math. Accountants use their mathematical know-how every day, for everything from preparing budgets to calculating the value of investments. It's part of the job – and it's a part of many other jobs, too.
Math is a hugely applicable skill, particularly in data-driven fields like tech, administration, and advertising. If you can find a role that will require you to work with figures, finances or data, your accounting experience will give you a serious competitive edge when it's time to put in an application.
Attention to Detail
Any work related to finance requires a keen eye for detail, and accounting is no exception. Not only do you need to stay up to date on the finer points of tax and financial law – you need to be able to apply that knowledge, all while avoiding even the smallest errors in your work.
Coming from an industry where this level of care and attention is paramount, you will have a real advantage in almost any other field. Whether you stay in finance or move into other fields requiring attention to detail – tech and administration are just two – your experience in accounting will be proof of your ability to pay attention. It's a quality that any employer will value in a new team member.
Communication
Accountants have to work with a wide range of clients. More than that, they have to distill complex legal and financial ideas into terms their clients can understand. Being able to explain complicated concepts in straightforward and accessible ways is a real skill, and one which can be applied almost anywhere.
Your communication skills will obviously be valuable in customer-facing roles, like IT support or reception-based admin. But they can also be applicable in more highly-specialized careers. It's not unheard of for accountants to turn their talent for explanation to advertising, communications, or even the law.
Common Career Changes for Accountants
If you've decided to move away from accounting and into a new career, it's important to know where you'd like to end up. Part of the work involved in any career move is thinking about what you love (or don't love) about your current work, and applying that knowledge as you decide which other fields could suit you well.
Don't worry if you're not sure where to start! Here are a few careers popular with former accountants, to inspire you to think about your next steps.
Banking
Average salary: $40,000
If you're keen to stay in the world of finance, but you want to find a better work-life balance than accounting will allow, a career in banking could be a smart move. While the salaries available skew lower, you'll find that the higher level of flexibility on offer will make up for the shortfall in income.
As a banker, you'll be responsible for handling financial transactions on behalf of clients – whether businesses or individuals. You might find yourself opening accounts, extending loans, or advising clients about their finances. You'll also find that you have plenty of options when selecting a work environment – if a larger national or international bank doesn't feel like the right fit, you could consider working at a local bank or even a credit union.
Banking requires a degree of customer service expertise, as well as a thorough understanding of financial regulations. You'll need to use your ability to explain complex concepts in straightforward ways, all while providing a helpful and supportive experience to your clients. Most importantly, you'll need to apply the financial knowledge you learned as an accountant – as well as your ability to adapt to changing laws and regulations.
This is a fairly gentle career move, taking you out of the pressure cooker of accounting without requiring you to retrain entirely. If you're daunted by the prospect of switching careers, or if you just love the world of finance too much to leave it behind, this could be the way to go.
Communications
Average salary: $45,000
If you love translating your financial knowledge into simple explanations for the general public, communications could be a logical career move for you. As a communications associate, you could apply everything you learned while training to become an accountant, without having to stay in the world of finance.
Communications is all about making ideas understood, and it's a necessity for almost every business. Communications associates help the press and the public alike to understand what a company actually does, developing multimedia campaigns and strategies to raise awareness and understanding of a company's work. It's an opportunity to combine facts and data with creative flair – something that can be hard to come by as an accountant.
As a communications associate, you'll need to be able to work collaboratively with others, and to build strong professional connections with external stakeholders. But most importantly, you will need to understand what your company does. Many former accountants find themselves managing communications for companies working in finance, allowing them to apply their expertise in a brand new context.
Human Resources and Personnel
Average salary: $62,000
Accountants need an unshakeable attention to detail, as well as the ability to approach every problem calmly and analytically. These skills are in high demand for HR professionals, who take responsibility for the wellbeing and safety of employees at work. For a practical person with strong interpersonal skills, HR can be a surprisingly logical career move.
As a HR officer, you'll be responsible for providing other employees with the resources they need to succeed at work. That could mean negotiating disputes or instances of workplace misconduct, or it could just mean coaching people through their performance reviews. You may also have to take responsibility for onboarding new employees, at every stage from budgeting for their salary to carrying out their workplace induction.
HR professionals need to understand company policy inside and out, and apply it thoughtfully in the course of their day-to-day work. They need to be able to solve problems proactively, keep meticulous records, and safeguard employees' confidential information. As an accountant, you will have learned all the skills you will need to thrive in this rewarding career.
Preparing for a Career Change
It's no secret that career changes can be scary. But with the right preparation, making the move to a new field doesn't have to be as daunting as you expect! Here are some tips to help you plan for your transition into the career of your dreams.
Know What You Have
Think about the skills you've acquired during your time as an accountant. We've already listed a few of them in this guide – but there are almost certainly more, and only you can be sure of what they are. As you're considering the skills you have, think about how they could be useful to you in your new field. This is a great first step to preparing a cover letter or a resume.
You should also think about the skills you don't have, particularly if those skills are in demand in your new industry. Now is the time to start filling in any gaps on your resume, by seeking out further training or qualifications where you need them. Whatever you need to learn, there are online options available to suit your schedule and your budget.
Explore Who You Know
If you've spent any amount of time in your current career, you probably have some professional connections in that field. But if you're moving into a new field, how much help will your existing network be?
This is the moment to comb through your contacts and identify anyone you know in your chosen field. If you don't know anyone, head to social media and look around! There may be online groups you can join and participate in, or even local meet-ups or societies for people in your new profession of choice.
Put yourself out there, and don't be afraid to ask for help. If you take every opportunity to get onto the career ladder in your new field today, you may be in a position to return some favors in the future.
Rework Your Resume
A new career demands a new resume! You'll need to make an application that reflects the skills you will need in your new role, so don't just recycle the resume you used to find work in accounting. It's important to tailor your resume, so a hiring manager in your new field can see at a glance why you're worth their time.
If you don't have work experience in your new field, make sure your transferable skills are at the heart of your resume. If you're not sure where to start, consider personalizing one of our amazing resume templates! We even have sample resumes available for a wide range of careers, so you can draw inspiration from examples and build a resume that truly represents you.