For the right type of person, private equity is a highly rewarding line of work, both emotionally and financially. Entry-level private equity analysts can report salaries of $120,000 per year, but it's also an intensely competitive career.
So if you want to improve your chances of finding success in private equity, you need a top-tier private equity resume. That's where we come in! In this post, we'll cover the following points:
What is private equity?
How to write a private equity resume (with examples)
Private equity resume templates
Private equity resume examples
What is Private Equity?
Private equity firms invest in companies that are not publicly traded. This allows them to acquire some control over a company's operations, productivity, and profitability. They can then make changes to a company to increase its value, so they can sell their investment later for a profit.
People working in private equity usually do all of this on behalf of high-net-worth investors. It's a line of work that involves making high-risk decisions with huge amounts of money—so it's not for the faint of heart! As a private equity analyst, here's what you can expect to do from day to day:
Use modeling techniques to decide investment strategies
Design hedging strategies to gather information
Prepare reports and make recommendations based on analysis
Liaise with external contacts
Develop strategic plans for portfolio companies
In this section, we'll show you some amazing examples of private equity resumes. We'll also take you through the standard resume format, so you know exactly how get started.
How to Write a Private Equity Resume Summary
Here's an example of a top-tier private equity resume summary:
Investment banker with five years of experience managing sales and investments at Walkers Bank. In current role, assisted with over 20 M&A deals worth an average of $1 billion each. Seeking to grow returns and pursue bold new investments at AKB Capital.
This works because it gets to the heart of why this candidate suits the requirements of the job. It calls attention to their experience, their strongest skills, and their most relevant achievements. It also shows their commitment to the company they're applying for by mentioning its name specifically—an easy way to show that you haven't just copied and pasted a generic summary into your resume.
How to Write a Private Equity Resume Experience Section
In almost every situation, you should list your work experience in reverse-chronological order—starting with the most recent job, then working backwards. You should list the job title, the company you worked for, the approximate dates of your employment in that role, and a bulleted list of your biggest achievements from that job. Wherever you can, you should back up those achievements with statistics that demonstrate exactly how successful you were.
Here's an example of a great experience listing for an aspiring private equity analyst:
Investment Banking Analyst | October 2017-present Walkers Bank | New York, NY
Supported and closed over 20 M&A deals with an average worth of $1 billion
Worked closely with high-profile clients and internal management team members, participating on engagement teams over 10 full transactional execution cycles
Created and analyzed financial models to support valuations and maximize returns
Because this candidate has prior experience in investment banking rather than private equity, they've carefully selected the most relevant parts of their work experience here. They've chosen achievements, backed up by statistics, that reflect what a private equity hiring manager will want to see. Plus, this listing highlights several relevant skills—including analytical skills, networking skills, and industry knowledge.
How to Write a Private Equity Resume Education Section
When you don't have much work experience behind you, your education section is crucial. It's a great way to add value to your resume, showing that you have the skill and the dedication it takes to work towards a qualification.
Like your work experience section, your education should usually be listed in reverse-chronological format. Start with your newest qualification (which will usually be your most advanced qualification), and work back. Include the qualification you earned, the institution where you earned it, and the dates of the beginning and end of your studies.
You can also include any awards, prizes or accolades you earned during your studies. But if you already have plenty of work experience, this can take up space that could be used more wisely. It's usually only a good idea to do this if you're a fairly recent graduate—or if those accolades were really prestigious.
Here's an example of an education section for a private equity resume:
Master of Business Administration | September 2015-June 2016 Harvard University, Massachusetts
Bachelor of Science in Finance | September 2011-June 2015 New York University, New York
This section doesn't need much detail! It makes it easy for hiring managers to verify the candidate's qualifications if necessary, and it shows that they meet the minimum requirements of the job description. If the candidate had graduated more recently, they could also have chosen to list any academic prizes or honors in bullet points underneath their bachelor's degree.
In-Demand Skills for Private Equity Resumes
Financial modeling
Valuation analysis and valuation methodologies, such as Discounted Cash Flow (DCF), Comparable Company Analysis (CCA), and Precident Transactions Analysis (PTA)
Industry knowledge
Deal sourcing and evaluation
Financial analysis
Transaction execution
Communication and presentation skills
Strategic thinking
Teamwork and collaboration
Entrepreneurial mindset
Private Equity Resume Template
As a private equity analyst, you'll need to present yourself with high levels of professionalism at all times. That means it's generally a smart idea to pick a streamlined, professional resume template. A template with too many flourishes and decorative touches might risk making you look frivolous, and hurting your chances of success.
But standards vary between firms—so look into the firm where you want to work, and make your choices accordingly! Remember, VisualCV offers an amazing range of templates, so you're guaranteed to find something that works for you. Whatever you need from your resume template, we've got your back.
Private Equity Resume Examples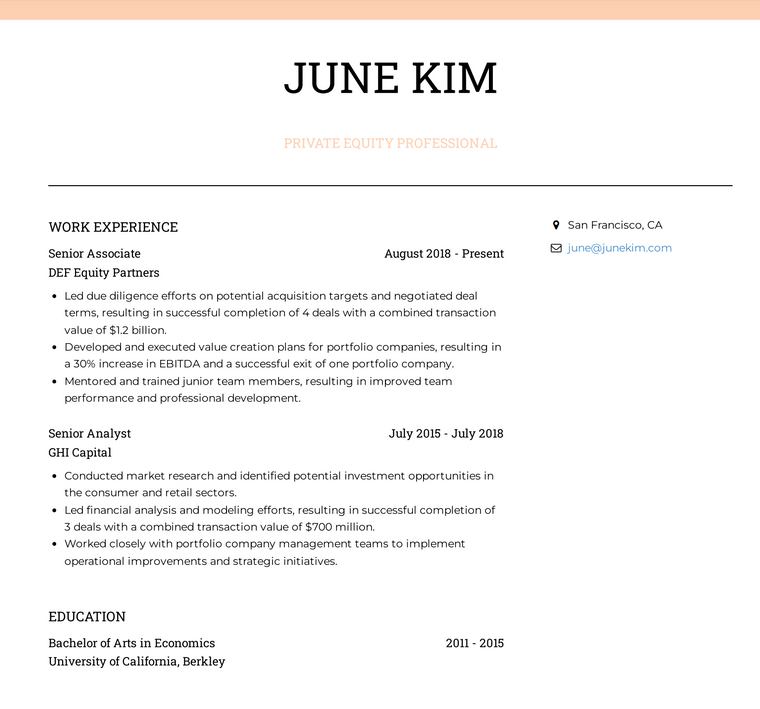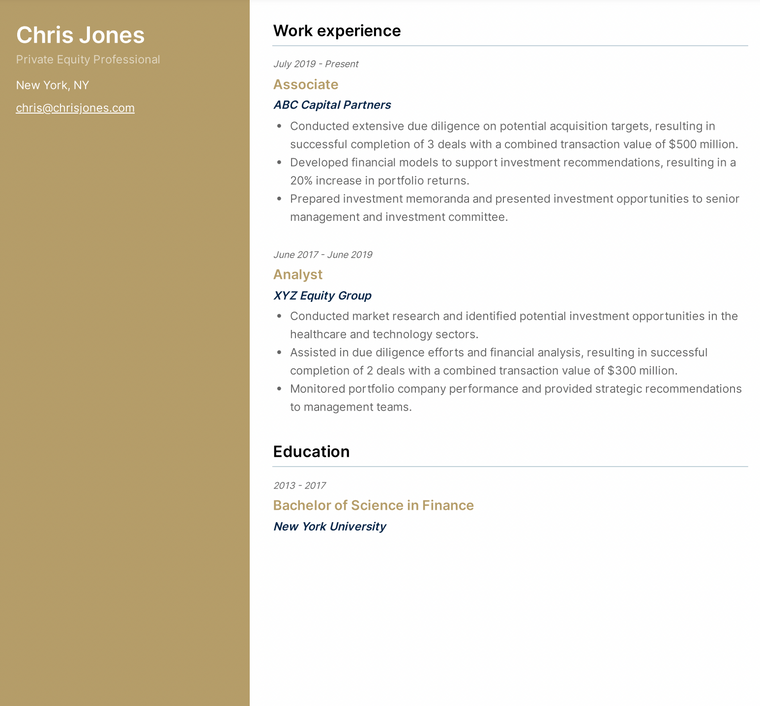 Private Equity Vice President Resume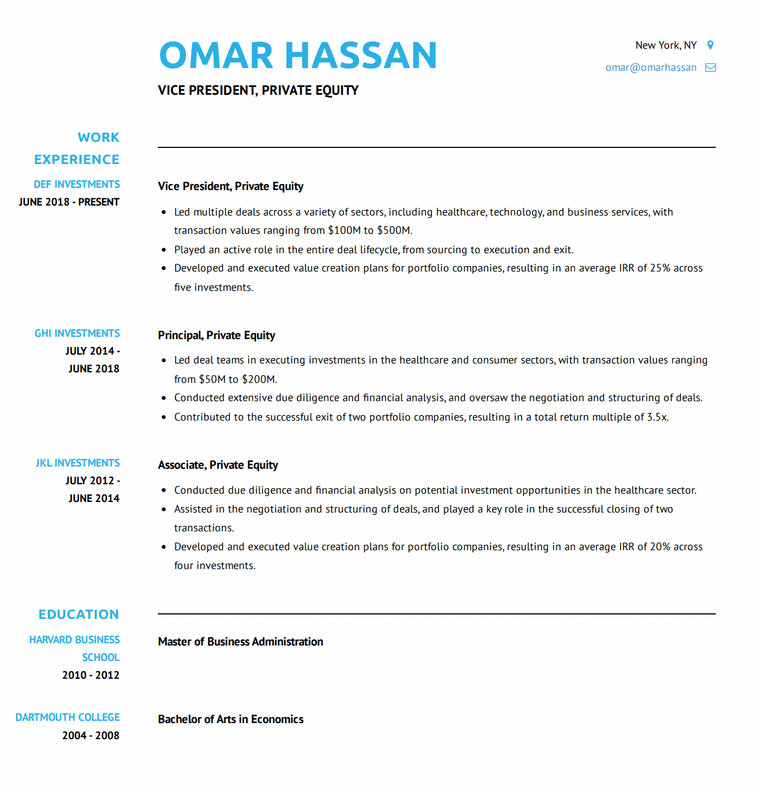 Private Equity Intern Resume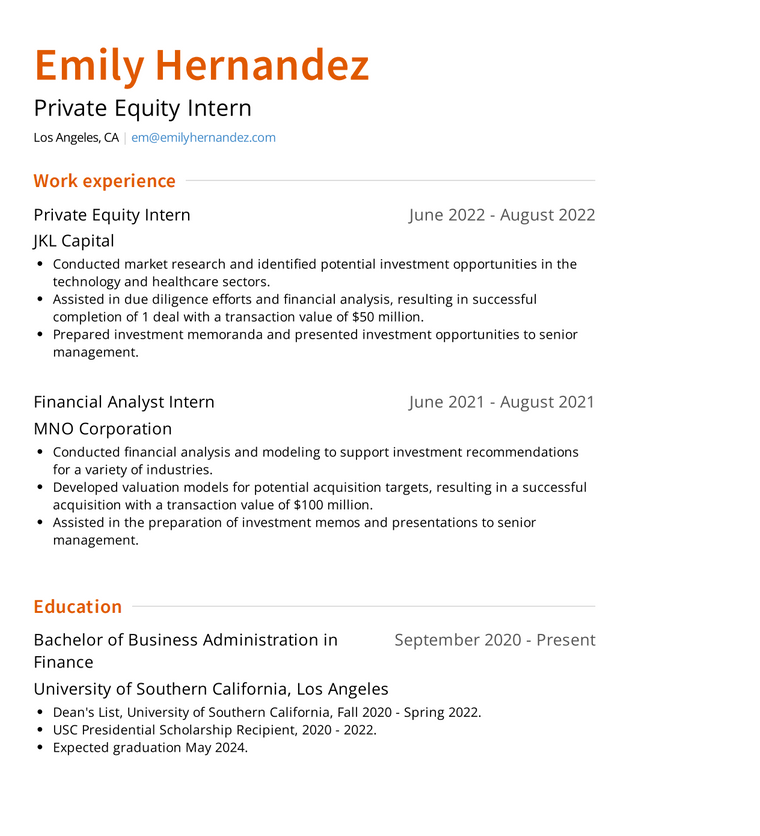 Private Equity Associate Resume Example