Throughout your job search, you may have noticed that some job postings ask for a letter of intent with your application. Exactly what this means, and how it is different from a cover letter, may not be clear. In this article we will discuss letters of intent, their uses, and how they are different from cover letters.
Recommended links:
Our collection of 500+ professional resume examples.
Our gallery of 20+ downloadable resume templates.
What is a letter of intent?
A letter of intent is a brief document, usually paired with a resume, that states your intention to work for a particular company. It should summarize your relevant skills and express why you are a good fit for that organization. Letters of intent are highly tailored to the company they are addressed to, and can be sent when requested by a job posting or independently.
Browse our gallery of resume examples here.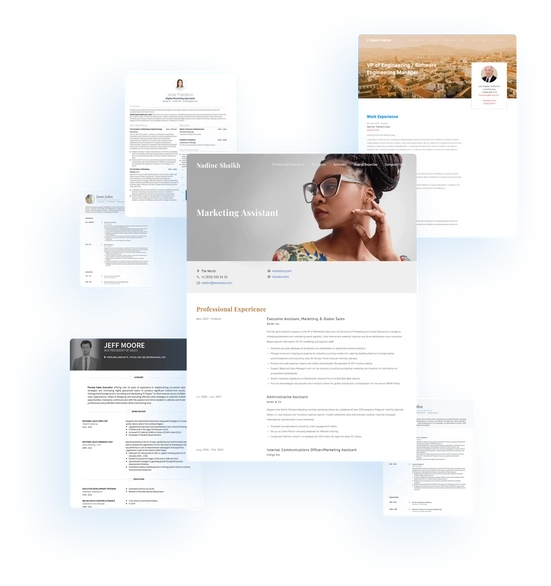 What is the difference between a letter of intent and a cover letter?
Whereas cover letters are specific to an open position and tailored to suit the needs of that role, letters of intent tend to focus on the larger company. Instead of detailing why you are the best person for a job based on a job posting, a letter of intent will show your interest in the company as a whole by showing your respect for the company's values, the relevant skills you have to contribute, and your ideas for how you could fit right in if hired. Even if the company does not have a position open right now, this enthusiasm is a great way to get your name in the running for the next one.
Suggested - Cover letter examples
Why write a letter of intent?
Letters of intent are most often used by job-seekers when they are requested by a job posting. Cover letters are more common, but if a job posting specifically asks for a letter of intent you should be ready to write one.
You can also send a letter of intent when it hasn't been requested to show your enthusiasm for a company. When you have a specific organization that you would like to work for but they aren't hiring, a letter of intent is a great way to make yourself known. The hiring manager may not have a position open for you now, but with a good letter of intent that shows your personality and qualifications you will be at the top of their mind when they do.
Browse our gallery of resume templates here.
Why do companies ask for letters of intent?
Letters of intent are most commonly asked for by small or new companies who do not have clearly defined roles like larger companies. Where a large company would likely be hiring for an established position with specific requirements, positions at newer companies are often flexible, with employees wearing many hats. A letter of intent allows you as the job seeker to express what experience you bring to the company and how you can create value in your own unique way. When the responsibilities of a role are not yet clearly defined, allowing applicants to define their niche is a great way for companies to get new ideas for what they need.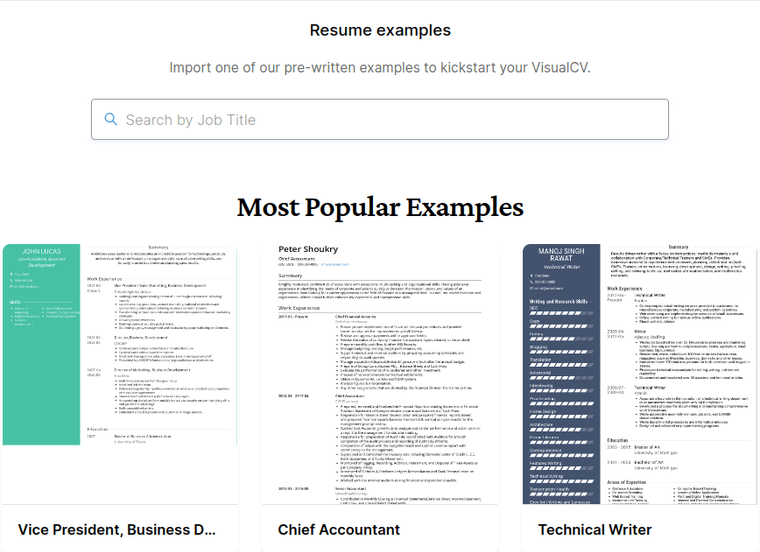 What should I include in my letter of intent?
The contents of a letter of intent are flexible, as the specific skills or anecdotes you choose to highlight will depend on your experience and industry. However, you should still make sure that your letter contains everything you need to impress an employer. When you write your letter of intent, it can be useful to use a standard format to make sure it is readable and professional.
Greeting. Begin your letter of intent with a polite salutation. If possible, find the name of the hiring manager or department head that you would like to reach so that you can address your letter to them directly. This information is likely available on the company's website, or you can browse the company's employee's profiles on LinkedIn.
Introduction. Open the body of your letter with a sentence or brief paragraph that introduces you, including your name and skillset, and what your intention is for the letter. This can be as simple as saying "My name is Sam Rogers. I am a recent graduate of NYU's business program and I am writing to express my interest in your company," though including more details, such as how you discovered the company, will better show your personality.
Body. The bulk of your letter will be in the two or three body paragraphs. This is where you can show that you are passionate about your industry, admire the company, and have the right skills to make an impact.

Mirroring the language that the company uses will let them know that you share similar values. If you are writing in response to a job listing, you can use the key words found there to choose the skills you highlight. If you are sending the letter unrequested, use what you know about the company and your industry to choose the skills you emphasize.
Be very clear about what level of experience you can bring and what type of responsibility you are looking for. If you are an experienced manager, you don't want to write a great letter of intent only to be considered for an entry level role.
Show that you are the right fit for the company, and show that you have the right attitude to make a difference. Explain what draws you to the company, why your skills are a match, and how you can contribute to company culture.

Call to action. Before signing off, it is important to give the employer an easy way to follow up with you. This can be as simple as saying that you look forward to their response and leaving your number, or you can say that you will be following up yourself at a later date. Either way, if you want to hear from that employer again you must make sure they know that you would like to hear from them and how they can contact you.
Closing. "Sincerely," "Best," "Cheers,'—use whichever sign-off best suits your personality, so long as it is professional and appropriate. Leave them with your name, email, phone number, and any online portfolios that may help, such as LinkedIn.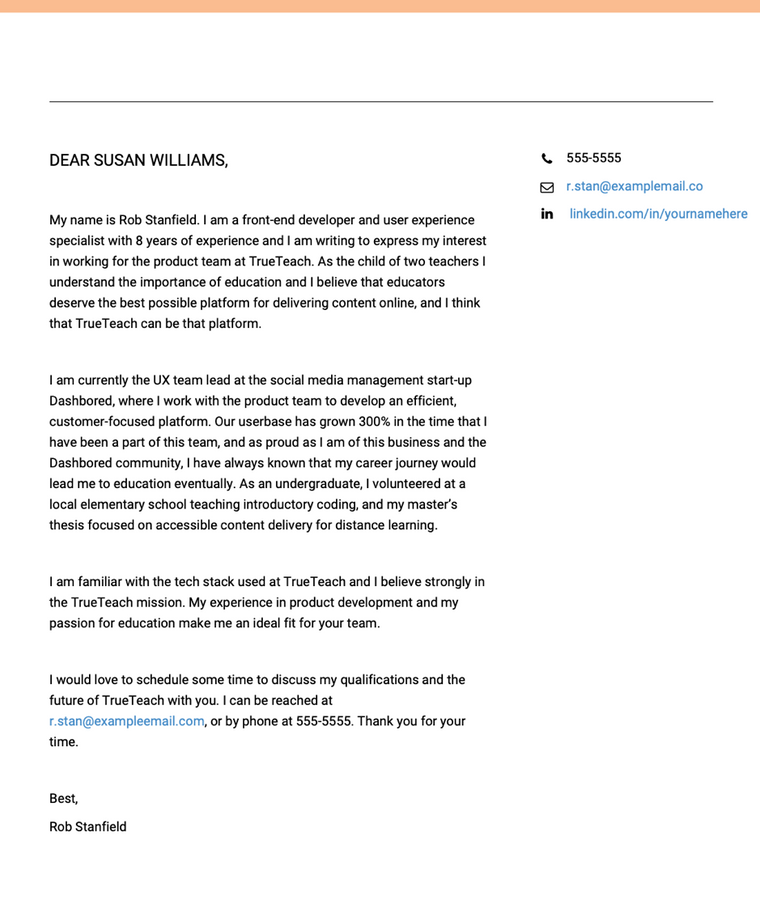 Tips for writing a letter of intent
Research the company. Before writing your letter, make sure you know your audience. Browse the company's website and social media, and see if they have been featured in any news items. You will be much more able to describe your interest in the company if you really do know them well.
Format your letter well. Use a readable, professional font, and keep paragraphs short and readable. No employer likes reading a huge block of text. VisualCV's cover letter builder works great for both cover letters and letters of intent.
Be brief. Your letter should not be longer than a page. Even if you are a great candidate, employers are unlikely to read much more than a page, if that.
Proofread. Typos and spelling errors will leave a terrible first impression. No matter how perfect you are for the company, employers will find it difficult to look past spelling mistakes. It is important to read and reread your letter to check for errors, and if you are not a confident writer, you may even want to have a friend look it over for mistakes.
Letter of Intent Sample #1
Dear Susan Williams,
My name is Rob Stanfield. I am a front-end developer and user experience specialist with 8 years of experience and I am writing to express my interest in working for the product team at TrueTeach. As the child of two teachers I understand the importance of education and I believe that educators deserve the best possible platform for delivering content online, and I think that TrueTeach can be that platform.
I am currently the UX team lead at the social media management start-up Dashbored, where I work with the product team to develop an efficient, customer-focused platform. Our user base has grown 300% in the time that I have been a part of this team, and as proud as I am of this business and the Dashbored community, I have always known that my career journey would lead me to education eventually. As an undergraduate, I volunteered at a local elementary school teaching introductory coding, and my master's thesis focused on accessible content delivery for distance learning.
I am familiar with the tech stack used at TrueTeach and I believe strongly in the TrueTeach mission. My experience in product development and my passion for education make me an ideal fit for your team.
I would love to schedule some time to discuss my qualifications and the future of TrueTeach with you. I can be reached at r.stan@exampleemail.com, or by phone at 555-5555. Thank you for your time.
Best, Rob Stanfield
Letter of Intent Sample #2
Hello Caroline,
My name is Stephanie Ross and I am a marketing director with over 10 years experience in the startup, tech and SaaS space. I've spent the majority of my career building brands and exceptional customer experiences and I'd love to express my interest in discussing opportunities to join the marketing team at Hubspot.
From the outside looking in at the growth at Hubspot over the last several years, the company has looked after your customers above everything else - this is a mission-driven organization and brand that aligns perfectly with my beliefs on marketing and customer experiences. From early on in my career, I've always approached marketing strategy from an empathetic position to make sure that the experience we've created at the companies I've worked for puts the customer's needs first and really getting to the root of what problems they need help solving.
I pride myself on being a critical and open-minded thinker and with extreme attention to detail. My approach to building marketing strategies always starts with speaking with and learning from the customers directly, as well as building tight-knit relationships with other teams across the organization. I believe it's critical to connect with and learn from sales, engineering, support and others to understand what their internal challenges are to find synergies that marketing may be able to help solve.
I'd love to chat further with you and answer any questions you may have, and discuss opportunities on your team. I'm available by phone at 555-555-5555 or by email at stephanie@examplemail.com. Thank you very much for your consideration and look forward to speaking soon.
Sincerely, Stephanie Ross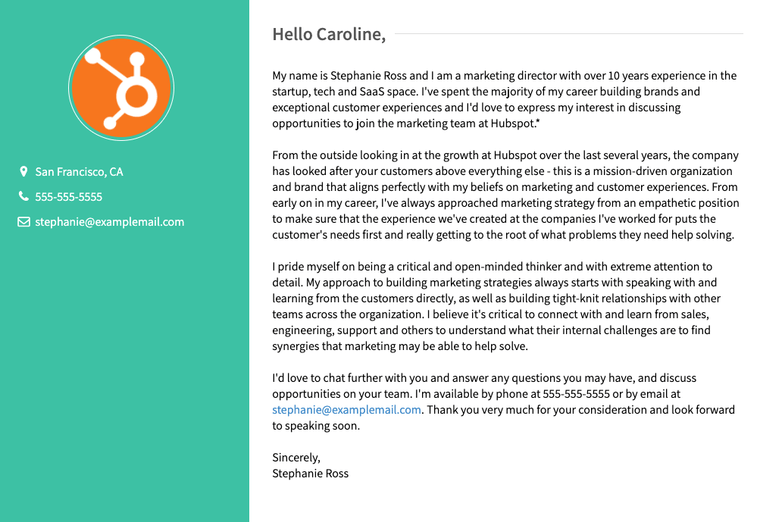 How do you Start a Letter of Intent?
Here's how you can start a letter of intent for a job in the right way:
Select the right layout for the letter.
Start the letter of intent with a professional salutation.
Then, start with an introductory paragraph
How do you Introduce yourself in a letter of intent?
When writing a letter of intent for a job, start writing your letter by informing the reader who you are and why you want to apply for this job. A good example is "My name is Jane. I am a quality assurance lead at FrontEnd Co. with over 11 years of experience…"
How do you Write a Simple Letter of Intent?
To write a simple letter of intent you should:
Write the letter in a very easy to understand language.
Avoid using hyperboles in your writing.
Make sure to add a date, address of the recipient and your address
Ensure that you add a salutation followed by an introduction.
Briefly talk about your skills and have a final call to action.
Add a closing to your simple letter of intent
What is an example of a letter of Intent?
Dear hiring manager,
My name is Jane. I am a quality assurance lead at FrontEnd Co. with over 11 years of experience. I am writing this letter to express my interest in working for the digital experience team. I am extremely passionate about end user experiences and developing a world class proactive QA program at ThingsPort would be a dream come true.
In my current role as a quality assurance lead, I manage a team of 10 quality assurance professionals who support digital transformation across 10 business units at FrontEnd Co. I worked with technical, business and design teams to establish QA processes to oversee agile deployment of business transformation projects. Writing QA documentation from scratch and improving line of communication with the dev team are some of the most rewarding aspects of my work here.
Processes followed at ThingsPort and the technology used is well within my expertise. And my experience of managing QA for 10 business transformation projects makes me an ideal fit for the QA team at FrontEnd Co.
I would love to schedule a call to discuss my goals and past relevant experience in depth with you. I can be reached at email@example.com or at 555-555-5555. Thank you for your time.
Sincerely, Jane