When you apply for any job, it is important to include your key strengths on your resume. Your key strengths will show employers what you are best at, what your experience is in, and what you will bring to the role.
Recommended links:
Our collection of 500+ professional resume examples.
Our gallery of 20+ downloadable resume templates.
When you have a resume that clearly demonstrates your strengths, you can ensure that you make a great first impression with every job application.
What are key strengths?
Your key strengths are the characteristics that make you a great employee and the abilities that make you great at your job. They are the things you are best at, and they may be technical skills or soft skills.
Technical skills are the hard skills that are relevant to your specific career, like gasfitting or server management. Soft skills are the interpersonal skills and characteristics that are assets in any field, like communication or organization.
Whether technical skills or soft skills, your key strengths are the things that you most excel at, and the talents that you bring to your work that no one else can.
How can you identify your key strengths?
"What are your greatest strengths?"
This is a classic job interview question, and you should have your answer ready not only for the interview, but for your job application. Your strengths should be clearly demonstrated throughout your resume, so employers can have an idea of your skill set before the interview even begins.
To identify your key strengths, begin by brainstorming. Think about what your work style is like, what methods and processes you use to collaborate with others, and what technical skills you specialize in. Consider any goals you have achieved or awards you have earned, and think about what skills you needed to accomplish those things.
Any skill that has helped you succeed in your career is one of your strengths. This may include soft skills, like leadership or time-management, or hard skills that relate directly to your responsibilities.
Make a list of all of your strengths, then pick the ones that are most appropriate for the job you are applying to. It is important to update your resume every time you apply for a job so that you can make sure it features your most relevant strengths.
Once you have a good idea of what your strengths are and what skills the position requires, you can begin showcasing your strengths in your resume.
How to show your strengths on a resume
An efficient way to show your resume skills is with a skills section. In a Skills section, you can create a simple bulleted list of your most important skills. Begin with your most important skills at the top of the list, and group related skills together. This method makes it easy for employers to find and read your key strengths.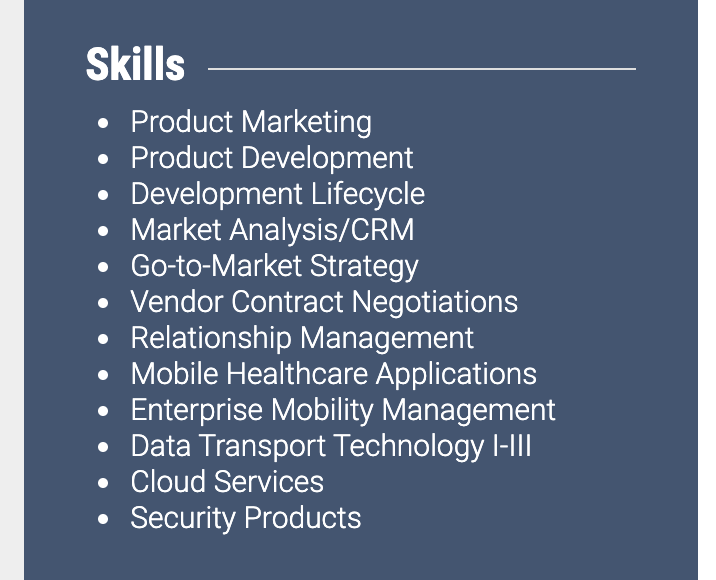 Beyond the Skills section, your key strengths should be demonstrated throughout your resume as well. As you describe your qualifications and work experience, ensure that you are phrasing your achievements and responsibilities in a way that emphasizes your strengths and capabilities. Instead of describing your responsibilities in your previous roles, focus on your accomplishments and what it took to achieve them.
For example, if you are a project manager, use language that demonstrates your leadership capabilities:
Led a team of 5 to overhaul a large development project on time and within budget.
If you are in the customer service field, show your interpersonal skills and client management expertise:
Increased referral rates by 5%.
Maintained a customer satisfaction rate of over 90%.
If you will be training new staff or students, show that you have experience with curriculums and mentoring:
Developed and delivered training to support staff on trial procedures.
Ensured trial protocols were observed.
With well-written job descriptions, your strengths will be clear in each part of the resume. For more tips on how to write active, accomplishment-focused work experience, check out our top 19 Action verbs that demonstrate leadership.
Examples of key strengths for your resume
Remember, your key strengths will depend on your industry, your experience, and your personality. The things you excel at are all informed by the career you have had so far, so no one will know better than you what you are good at. However, if you need some inspiration to get started brainstorming, here are some great examples of key strengths to inspire you:
Productivity skills
Dependability
Solutions-orientation
Time management
Organization
Communication skills
Written communication
Negotiation
Giving feedback
Active listening
Empathy
Technical skills
Technical writing
Point of Sale systems
TIG welding
Javascript
Microsoft Office
Management skills
Conducting interviews
Client management
Project management
Teambuilding
Planning
Teamwork
Collaboration
Critical thinking
Problem-solving
Communication
Responsibility
How to list strengths on a resume?
You can list your strengths directly by creating a resume skills section and listing your top strengths in it. Additionally, you can also display your strengths by placing your skills close to quantifiable achievements within your resume summary and work experience section.
What are good key strengths for a resume?
There are no general good key strengths, instead look at the job that you are applying for and extract key strengths from it. And, any relevant strength that you can quantify within your resume will be a good key strength.