One Page Resume Template
In the past, standard resume advice has been to always, always, keep your resume to one single page. Some industries, and some individual jobs, still stick to that rule (just another reason to always do your research and read job postings very carefully!). However, other industries and companies have become more relaxed in recent years, allowing applicants to expand their resumes to two or even three pages long. So, barring explicit instructions on the job posting, how do you actually know when to use a one page resume template? And, if you're planning on using a one page resume template, which one should you choose?
Don't panic: VisualCV is here to help. We have everything you need to know about one page resume templates, including one page resume examples, right here!
When to Use a One Page Resume Template
One page resumes are often seen as an industry standard. It's a skill in and of itself to be able to condense your work history and skills into a single page, especially when you have a lot of work experience! However, you should use a one page resume template when you're applying for a job that requests a single-page resume, or if you aren't sure how long your resume should be. If you don't see specific instructions about resume length, it's generally best to try and keep your resume as concise and to the point as possible, and a one page resume template will do just that.
When Not to Use a One Page Resume Template
In some cases, a one page resume template isn't the best choice. You should not use a one page resume template if a job asks for a complete CV – CVs are almost always longer than resumes, because they encompass information such as awards, scholarships, conferences, and publications. Often, positions in academia require longer resumes or CVs, because they're looking for in-depth information about your academic and professional history that simply wouldn't be able to fit onto one page. Usually, however, a job description will specify how long they'd like your resume to be, if it falls outside of the standard one page format.
One-Page Resume Template Examples
Denali
Denali's colorblock design and timeline-like work experience section allow plenty of room to include everything you need onto a one page resume template. With a sidebar that can be customized to include summaries, skills, competencies, awards, and anything else you can think of, Denali gives you the space you need and looks good doing it.
VisualCV's Denali One Page Resume Template
Bravo
A two-column, one page resume template, Bravo displays work experience on one side, and education, skills, and optional sections such as volunteering or awards on the other, all underneath a header for your contact information and summary. Bravo is a great one page resume template for more formal industries, such as finance or law, but its customizable colors also allow you to showcase your creativity.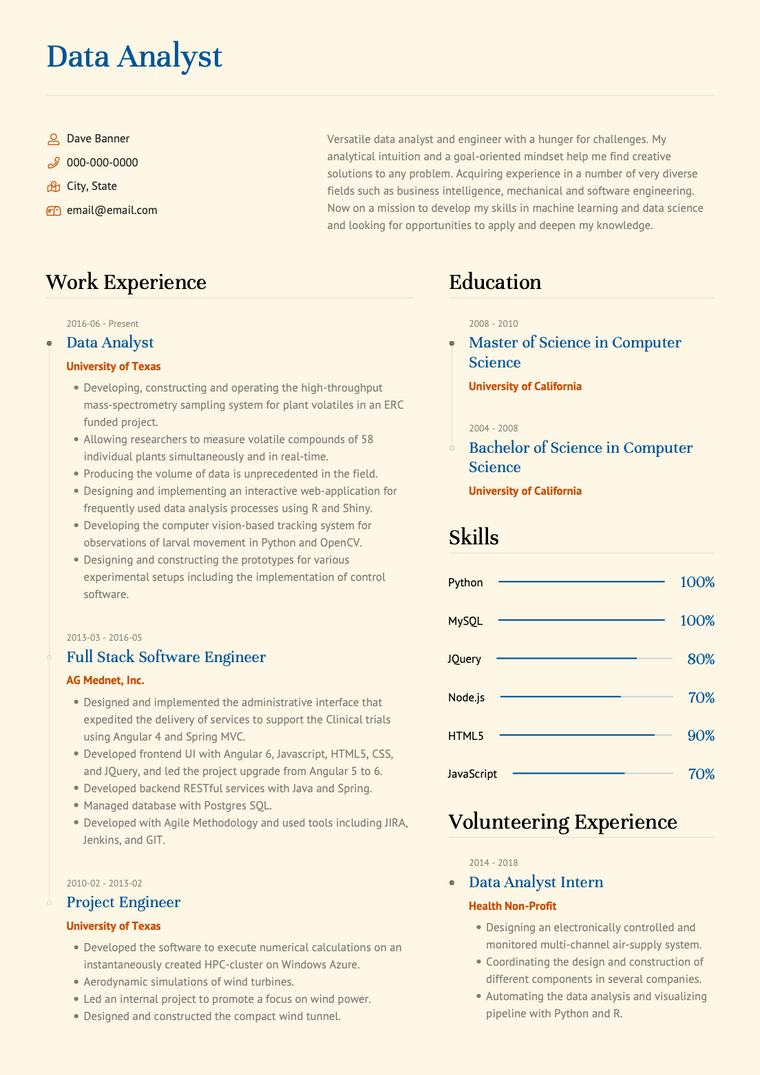 VisualCV's Bravo One Page Resume Template
Chloe
Another two column, one page resume template, Chloe is a great option for new grads or those with fewer work experience entries. A summary, work experience, and education are on the right, and skills and contact information take up the left side – but remember, VisualCV's resume templates are customizable, so you can always make your own decisions about what goes where. Chloe also allows for color customization, meaning you can brighten it up for a creative resume template or tone it down for a more subdued – but still eye-catching – option.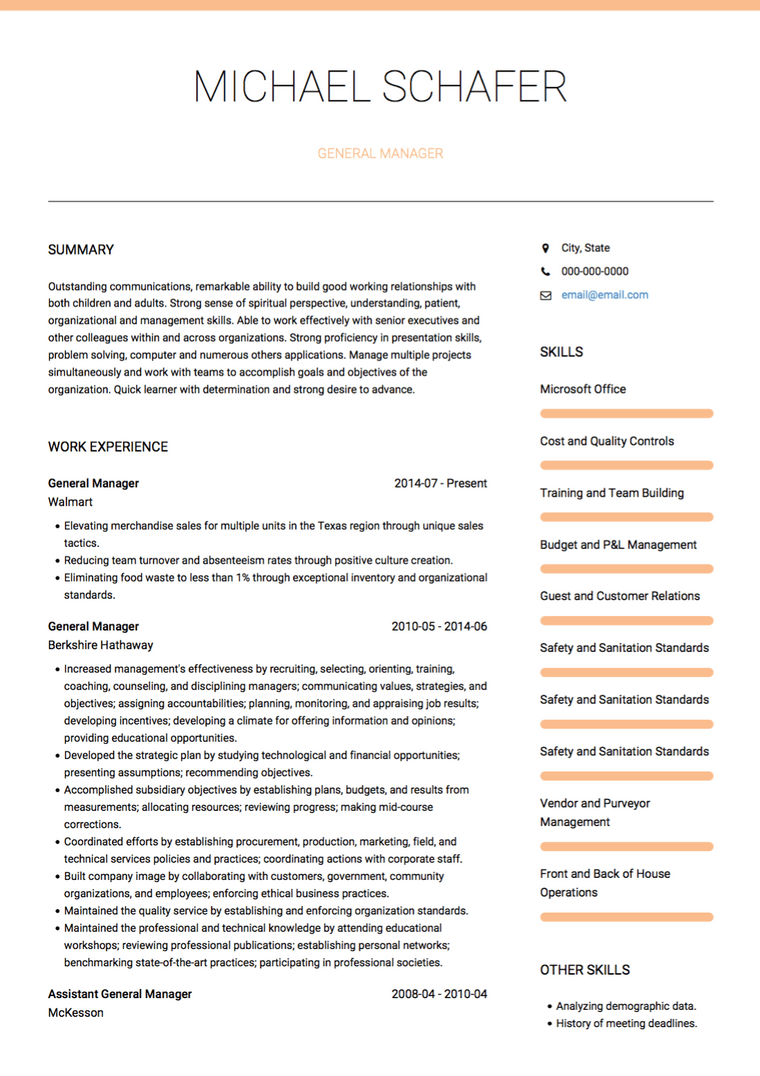 VisualCV's Chloe One Page Resume Template
Rainier
Rainier is an excellent one page resume template choice for those looking for a creative way to showcase their skills. This template uses a customizable background image – perfect for job-seekers in creative industries like the arts or food & beverage – and a two-column design. A summary, skills, and education are located on the left, leaving the majority of the resume dedicated to work experience; a great option when you have a lot of experience to show off!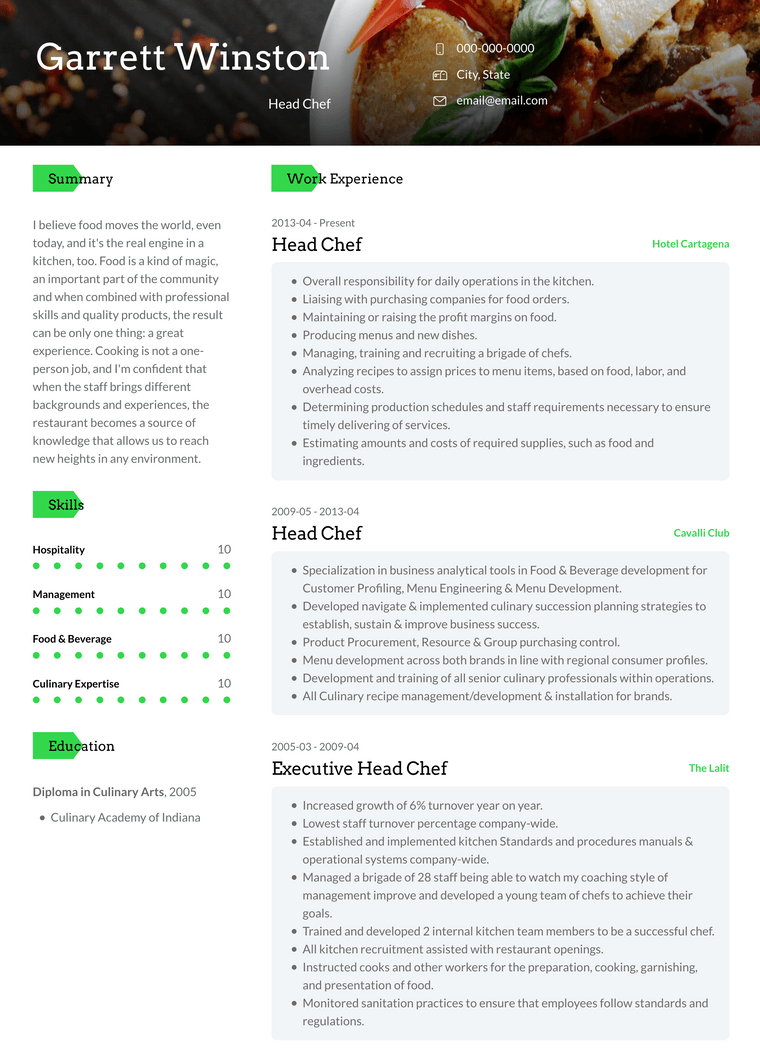 VisualCV's Rainier One Page Resume Template
Vida
The Vida resume template allows you to be personal, with its many options for customization, as well as professional, with its clear headings and elegant margins. A summary heading, followed by work experience on the left and education, skills, and any additional sections you'd like on the right make Vida a clean, visually-pleasing one page resume template option. Pair the minimalist black and white template with a bright accent color to stand out even more!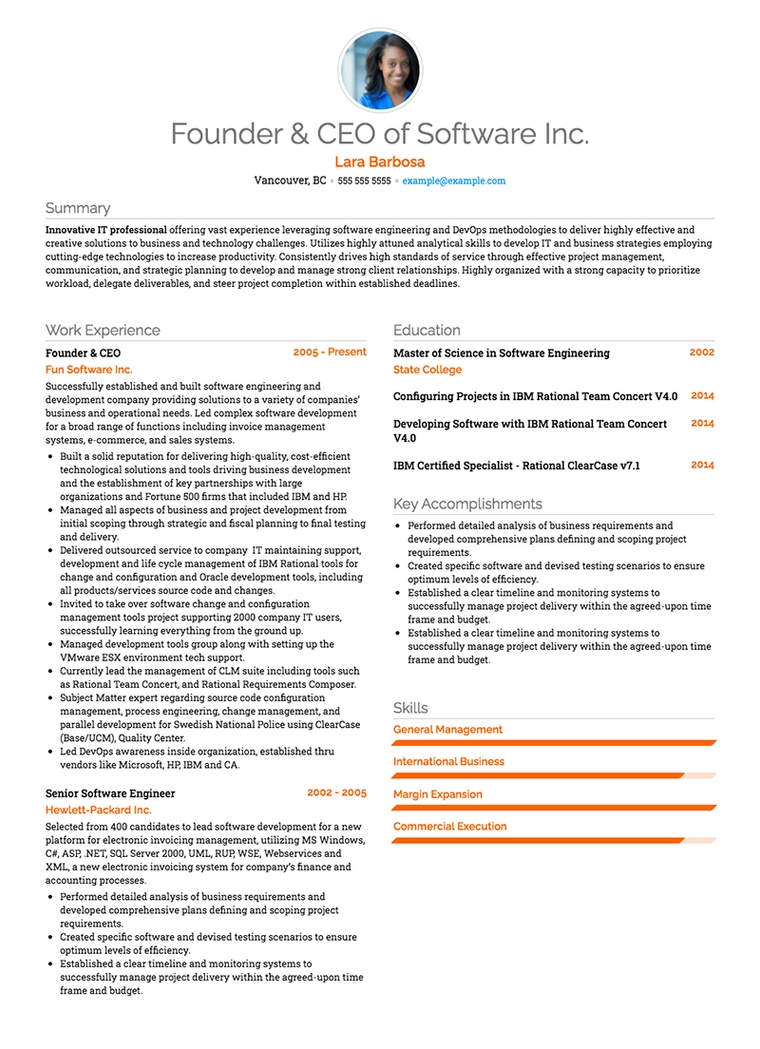 VisualCV's Vida One Page Resume Template