Not every job is the same, and not every job requires the same type of resume. If you're applying for work in a creative field, or for a company that leans toward a more informal culture, you might benefit from using a creative resume template. Creative resume templates can allow you to show a little more of your personality when job searching, while still incorporating all the information a hiring manager will need.
With the right creative resume template, your resume will stand out from the others on the pile for all the right reasons. Whether it's unconventional, image-driven formatting or just a few pops of bold, bright color, you can set yourself apart from the competition easily. And with the help of our professionally-designed resume templates, it's never been easier to find a creative resume template that works for you.
In this article, we'll cover the following points:
Some great examples of creative resume templates
How to write a creative resume
Whether a creative resume is a good fit for your industry
When you should use a creative resume template…
…and when you should avoid one!
Creative Resume Template Example #1 – Avant
Avant is a great resume template for creatives looking for work in industries which are, generally speaking, less creative. It makes use of a pop of bright color—which you can customize—to add a spark of personality to the template. However, the two-column format of the resume itself will be familiar and easy to read for any hiring manager.
It makes use of modern fonts which don't compromise the readability of the resume, as well as graphic design features to highlight qualities like skills. What's more, it does all this without forcing you to compromise on your own design aesthetic. If you're hoping to assert your personality without losing out on the structure of your resume this is the right template for you!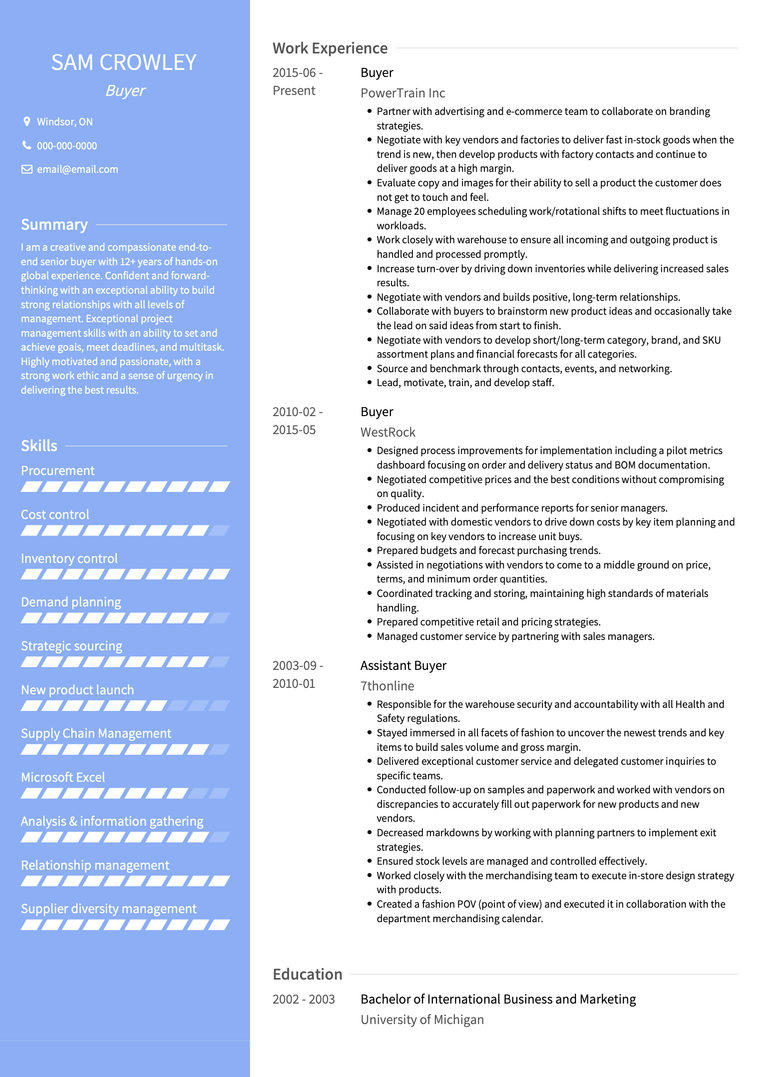 VisualCV's Avant resume template
Creative Resume Template Example #2 – Chloe
Chloe might look conventional at first glance, but it includes a number of design features that make it unique! Its customizable accents of color allow you to incorporate your personality into your resume at every level. Plus its use of an unusual (but still readable!) accent font in its headers will ensure that your resume stands out from others on the pile.
Chloe also has an option to include a portfolio, so you can ensure that your creative work is front and center when you're applying for your next job. If you need a template that integrates your visual portfolio seamlessly into its design, that's Chloe! It will give you a great platform to showcase the very best of your work.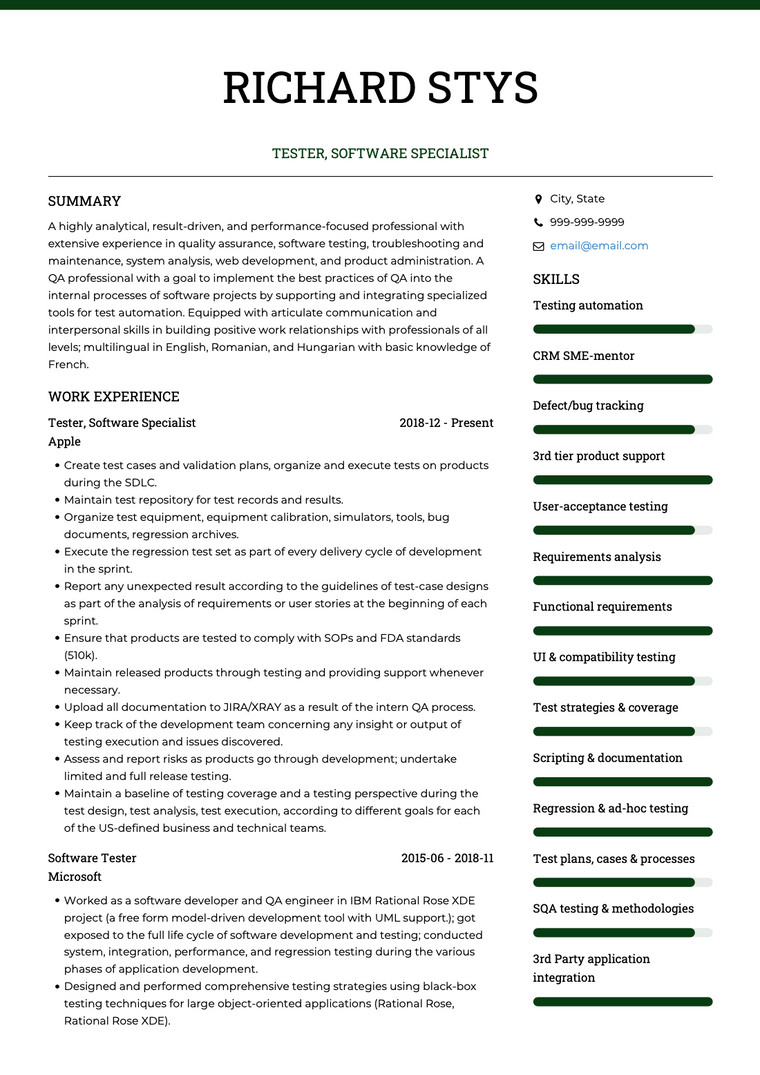 VisualCV's Chloe resume template
Creative Resume Template Example #3 – Fuji
From the very first look, Fuji makes a bold statement. Its two-column layout may look familiar, but its bold, image-forward header is eye-catching in a way that resumes rarely are! If you're a photographer hoping to make a strong first impression with your best work, including a photo in Fuji's header could be a great way to stand out.
Fuji's creativity doesn't stop at its header, though. It uses accent colors to emphasize each heading on the resume, as well as to pick out key information so hiring managers can parse the crucial details easily. And a simple, graphical representation of your skills makes it easy for anyone to see at a glance where your greatest strengths lie.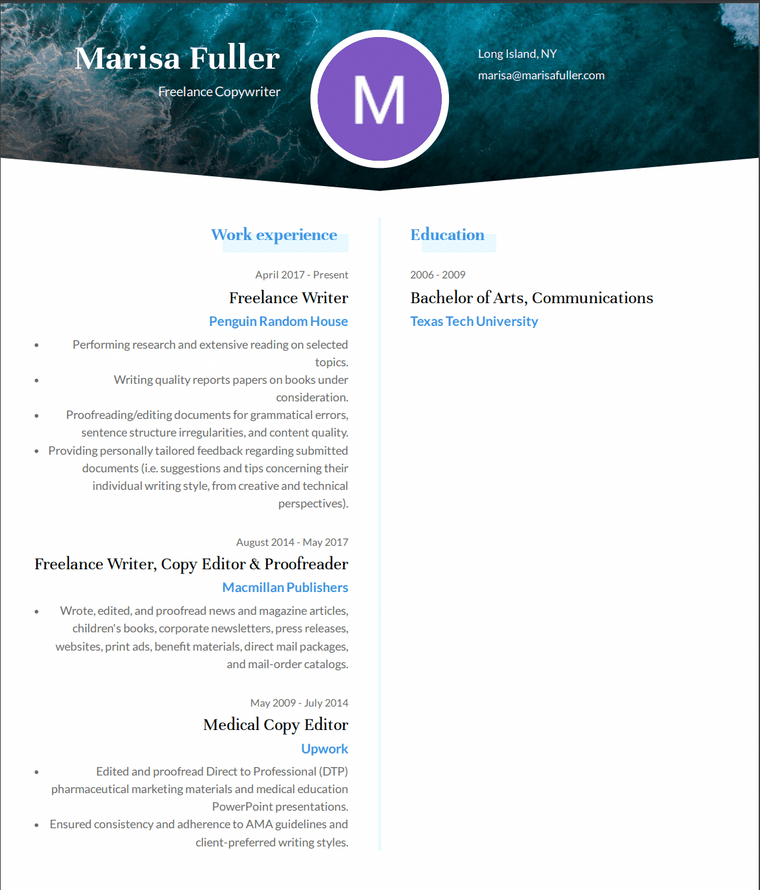 VisualCV's Fuji Resume Template
Creative Resume Template Example #4 – Lingo
Lingo is another resume template that makes a strong first impression with a highly visual, image-driven header. But that header isn't just for show! It integrates an unconventionally placed skills section right at the top of the resume, so hiring managers can see immediately where you excel and what you can bring to the table.
The body of the resume itself is easy to read, using a single-column format to ensure that the focus remains on you and your strengths. It strikes a perfect balance between personalization and professionalism, as all good creative resume templates should. If you're a visual creative hoping to show off your best work from the very beginning of the hiring process, Lingo will give you a head start without compromising your chances of landing the job.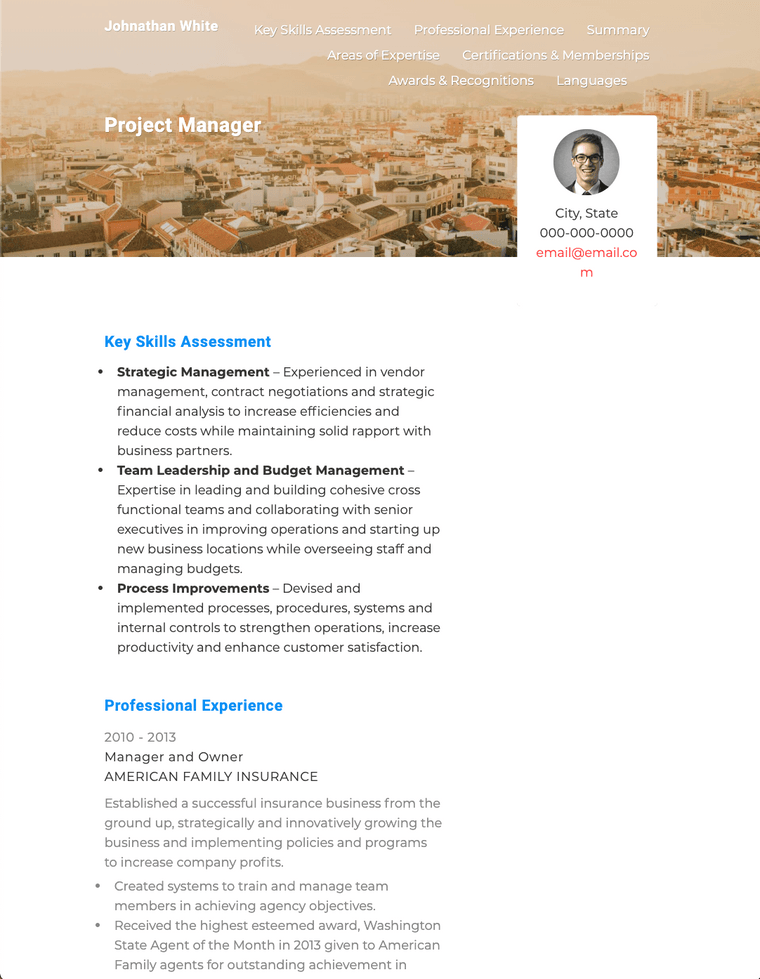 VisualCV's Lingo resume template
Creative Resume Template Example #5 – Verge
Verge doesn't stop with just the header—it incorporates a customizable image into the background of the entire resume! It makes a big, bold statement right away, showcasing your creativity in a way that immediately grabs attention. It also makes use of a semitransparent dark background for the body text of your resume, so hiring managers can still read it easily regardless of the image you use.
That mix of creativity and practicality defines Verge as a template. It uses a straightforward two-column format, to offset its bold design and make the resume as readable as possible. And its timeline-style approach to your work history and education sections will allow you to tell a clear story about yourself as a candidate.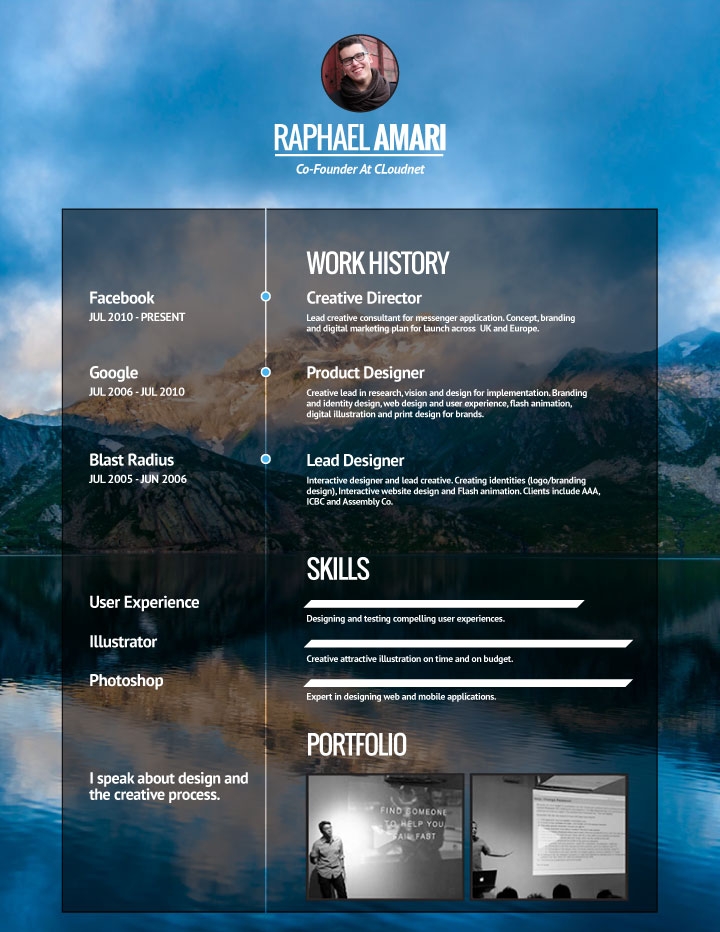 VisualCV's Verge resume template
Printable Creative Resume Templates
The job searching process has been digitized to a great extent—but that doesn't mean everything can be done online. If you're in need of a physical copy of your resume, you may want to look for a printable creative resume template to use. That way, you can create an amazing resume digitally and still keep physical copies on hand in case you need them.
Fortunately, all of VisualCV's resume templates can be printed out without any changes to their formatting. Physical or digital, they'll still look incredible! So whatever you need from your resume, you can be confident that our templates can deliver it.
How to Write a Creative Resume
A creative resume, like any other resume, should contain all of the following elements:
Your contact information
A summary and/or objective
Your work experience
Your education and any relevant qualifications
Your skills
But it may also include one or more of the following, depending on your field:
A portfolio of photography or art
A portfolio of writing
Any accolades or awards you have received
These sections don't need to be in any particular order, although it's standard for a summary or objective to appear near the beginning of your resume. In fact, a creative resume offers scope for you to experiment with the order of each component part of your resume. With a creative resume template, you will have more freedom than you might otherwise have to move things around and try something new.
The real purpose of a creative resume lies in the ability to showcase more of your talents as a creative. If you're a writer, a more creative resume can be a way for you to show off your writing skills at their very best. If you're a graphic designer or photographer, you can incorporate your own work into the fabric of your resume—opting for a template that allows you to customize the header or background image can be a smart move in these situations.
But ultimately, a creative resume is still a resume, and it still needs to be professional. You'll still need to respond directly to the job description when writing your resume, pointing out the exact ways in which you fit the criteria. And you'll need to make sure that you include all the information that a hiring manager will need to make an informed decision about you as a candidate.
It's also important to avoid the temptation to prioritize design over readability. Remember, hiring managers have to read a lot of resumes in a short amount of time, and they'll be looking for any reason to put your resume to one side. Make sure that all your fonts are easy to read, and that the layout of your resume makes it as easy as possible for someone to skim it without missing key details.
Choosing the right color scheme for your resume is also a key part of this. You should choose colors that look good together, that are easy to read, and that don't clash—either with each other or with your resume as a whole. Part of building the best creative resume is knowing how to make those creative elements work for you; colors that look out-of-place will work against you, instead.
In brief, here's what you need to pay attention to when writing a creative resume:
Include all the relevant information
Make sure your resume layout is easy to read
Choose fonts that can be read in a hurry
Choose colors that look elegant and professional together
Build your creative skills into the design and content of the resume
Is a Creative Resume Template Right for Me?
Creative resume templates are increasingly mainstream, even in industries that aren't focused on creativity. Design elements like color, graphics and bold font choices are becoming more standard. While some industries still hold a strong preference for more classic, traditional resume styles, you're more likely to find traction with a creative resume template than ever before.
This means it's more likely than ever that a creative resume template is the right move for you! But for more detailed guidance on when it's best to use a creative resume template—and when it's best to avoid one—read on.
When to Use a Creative Resume Template
You should use a creative resume template if you are a creative professional yourself, and you want to incorporate your creative work into the fabric of your resume. This goes double if you're applying for a job at a younger, less formal, or less conservative company—and triple if you're applying for a job that will specifically require your more creative skills.
You can also use a creative resume template when applying for jobs—even non-creative ones—with companies that have a more liberal or informal workplace culture. It's important to do your research on the company beforehand, so you can make the smartest decisions about the design of your resume. While creative resume templates are more acceptable than ever, you will need to use your best judgment when deciding whether a creative resume template will give you the best chance at the job you want.
You might think that a creative resume template would be incompatible with ATS software, which often struggles to read text interspersed with lots of images. Fortunately, all of VisualCV's resume templates are compatible with ATS software, regardless of how complex their design might be! So even if you're worried about getting caught in the ATS dragnet, you can still make the most of a creative resume template from VisualCV.
When Not to Use a Creative Resume Template
Creative resume templates aren't always the way to go. If you're applying for a job in a more formal or conservative industry—or with a more conservative organization—you may want to avoid a creative resume template. In those situations, we recommend opting for a more traditional resume template instead.