The best free resume template is the one that gets you the job.
Different companies and industries have different expectations for what makes a great resume. Some large corporations will prefer a simple, old-fashioned resume template that suits their company culture. Smaller or newer companies, however, might prefer a colourful resume that shows your personality.
Even if you decide to use a traditional resume template, however, it's important to find ways to stand out from the crowd. Hiring managers receive dozens–even hundreds–of resumes when sourcing candidates, and you need to make sure that your resume catches their eye. A bland or poorly formatted resume will lead you straight to the rejection pile.
To make sure your resume is well-designed and well-formatted, use a resume template. A resume template will allow you to focus on the content of your resume, rather than the appearance, and the difficult work of designing an attractive resume will be done for you.
The 5 best free resume templates
With VisualCV, you can sign up for free to test out all resume templates. The best resume template for you will depend on the application you are preparing. To get started, here are the best free resume templates you can take for a test-drive:
1. Standard resume template
The Standard template is a traditional one-column template with clear headings, simple structure, and plenty of whitespace. This template is ideal for job-seekers looking for a traditional professional resume that will appeal to old-fashioned industries and modern disruptors alike.
The Standard template will look similar to resume templates you have seen before, with its black text, bold headings, and straightforward organization. It is sophisticated and simple, and will work well in any industry. When you use the Standard template, you will have a well-organized template that showcases your qualifications in a readable and professional way, without looking dated or obsolete. Further, the fonts and heading colours can be customized, so you can give your resume a pop of personality if you think it will help your application.
At the end of the day, you can't go wrong with a straightforward, readable, and traditional resume template.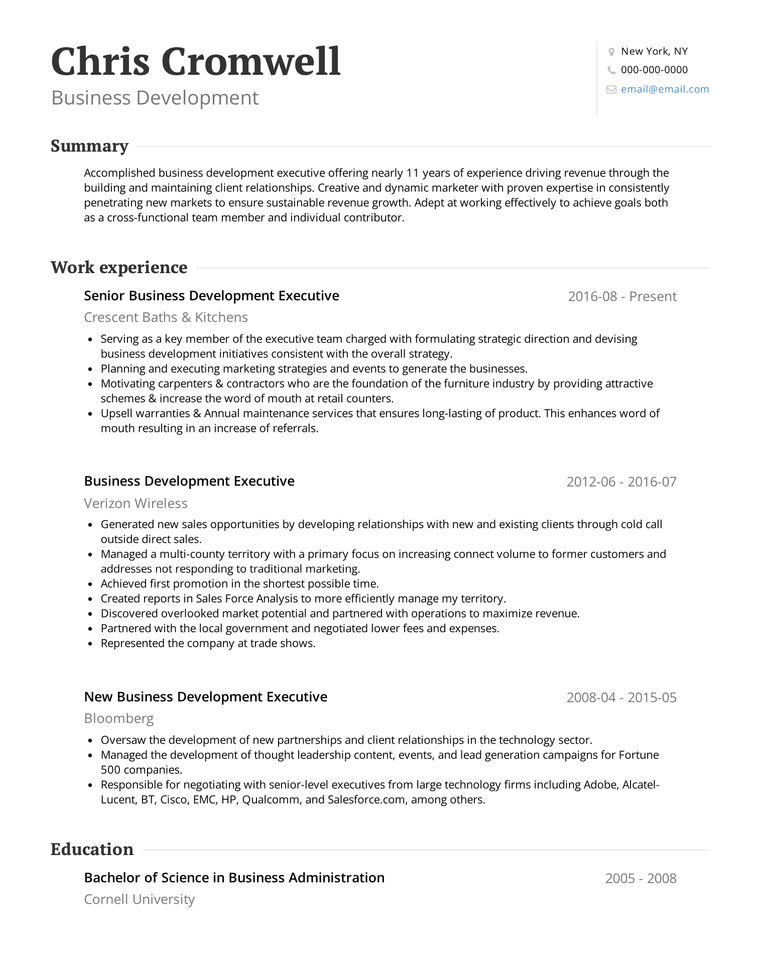 2. Corporate resume template
The Corporate resume template is slick and professional, with an authoritative design perfect for corporate industries like finance or law. In a slightly modern twist, it also features two columns, allowing for efficient use of space.
With this resume template, you can use the wider primary column to display your most important qualifications, like work experience and education. In the narrower side column, you can display shorter sections, like your personal summary or professional memberships. This column is ideal for simple lists, like Skills or Core Competencies.
While this template is excellent for corporate positions, don't let the name dissuade you if you are looking for a more entry-level position. This template supports some more modern and eye-catching features too, like colour customization, a logo, and a portfolio.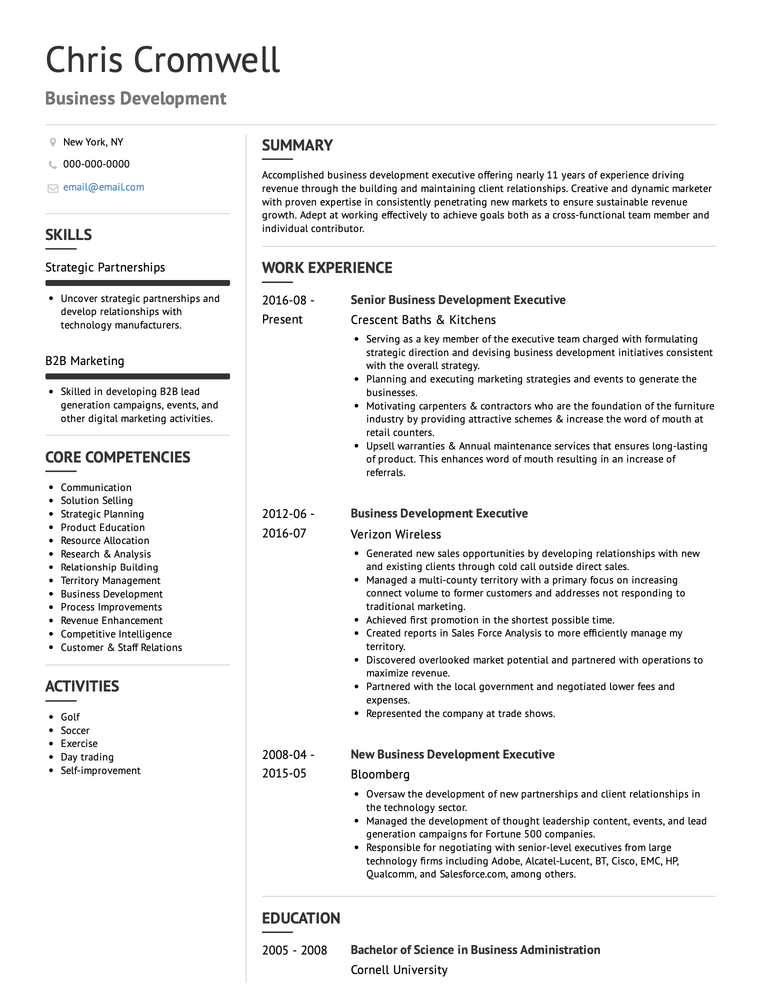 3. Gallant resume template
The Gallant template, much like the Corporate template, uses two columns, one wider than the other. In Gallant, the narrower left-side column is a different colour, which both draws the eye and allows you to show a little personality in your resume template. You can customize the colour to match the company's colours, your personal brand, or just your aesthetic preference.
Further, the Gallant template allows for a profile picture, a logo, and a portfolio, so you can add plenty of visual flair to make a strong impression with hiring managers.
Even if you prefer a subtle colour scheme without pictures, however, the Gallant resume template is a great choice. You can leave out the distracting images, and simply use Gallant's wide main column to showcase your work experience and education, and use the colour column for your skills and other qualifications. No matter your industry, the Gallant template will work for you.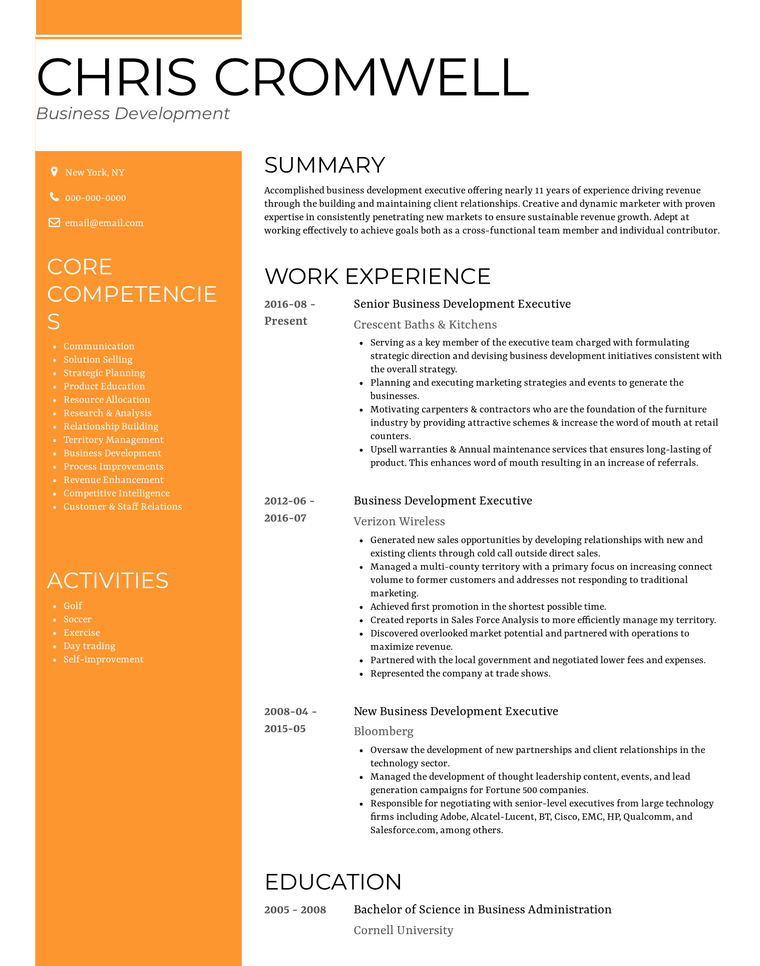 4. Oak resume template
The Oak resume template is popular among executives and other professionals. Its strong section headings, two-column format, and clearly defined sections make it a bold choice for job-seekers looking to make an impression.
Oak's section headings all feature a coloured highlight, and individual items are distinguished by separate text boxes, making this template visually striking while remaining easy to navigate. Its colours can be customized to suit your individual style, and the template supports a logo so you can include your personal brand.
The Oak template is a great option for displaying your work experience, education, skills, and other qualifications with an eye-catching and impressive design that is sure to impress employers.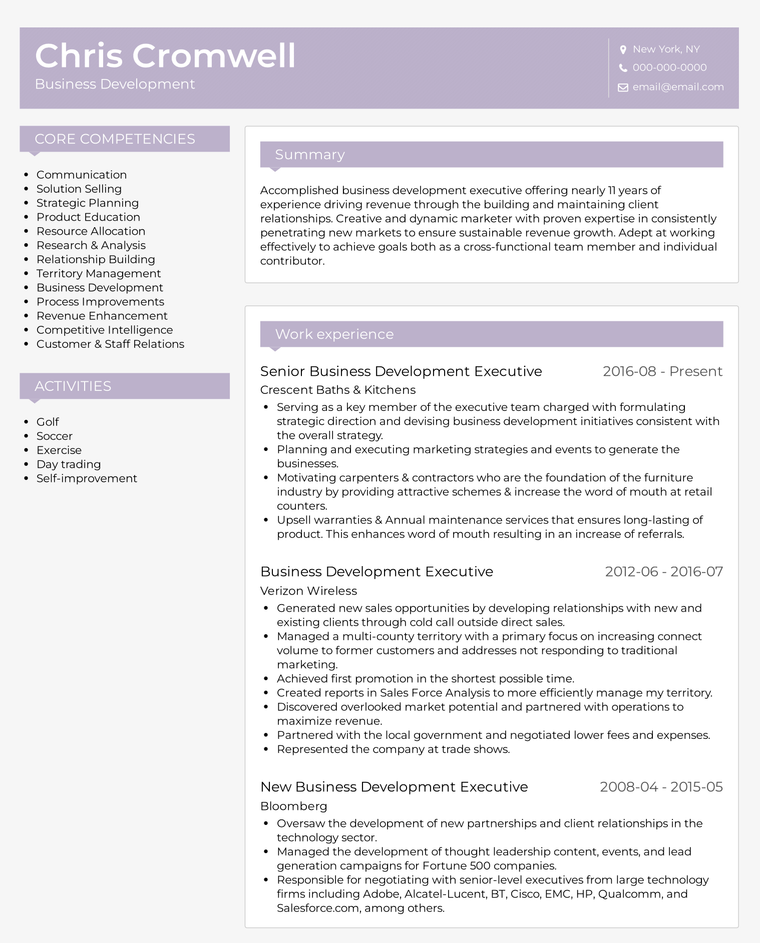 5. Rainier resume template
The Rainier resume template is a striking resume template that features not only two columns, colour highlights for each section heading, and distinct text blocks for every job description, but a prominent banner image that you can customize to suit your industry.
With Rainier, the header image is sure to stand out to an employer. The multiple columns and timeline-like work experience section, however, ensure that even though this template is eye-catching, it is still practical. The wider main column is perfect for displaying your previous jobs and academic achievements, and the narrow side column can be used to present your professional summary, as well as your hard and soft skills.
This is an ideal template for showing off your personality, while remaining professional and creative.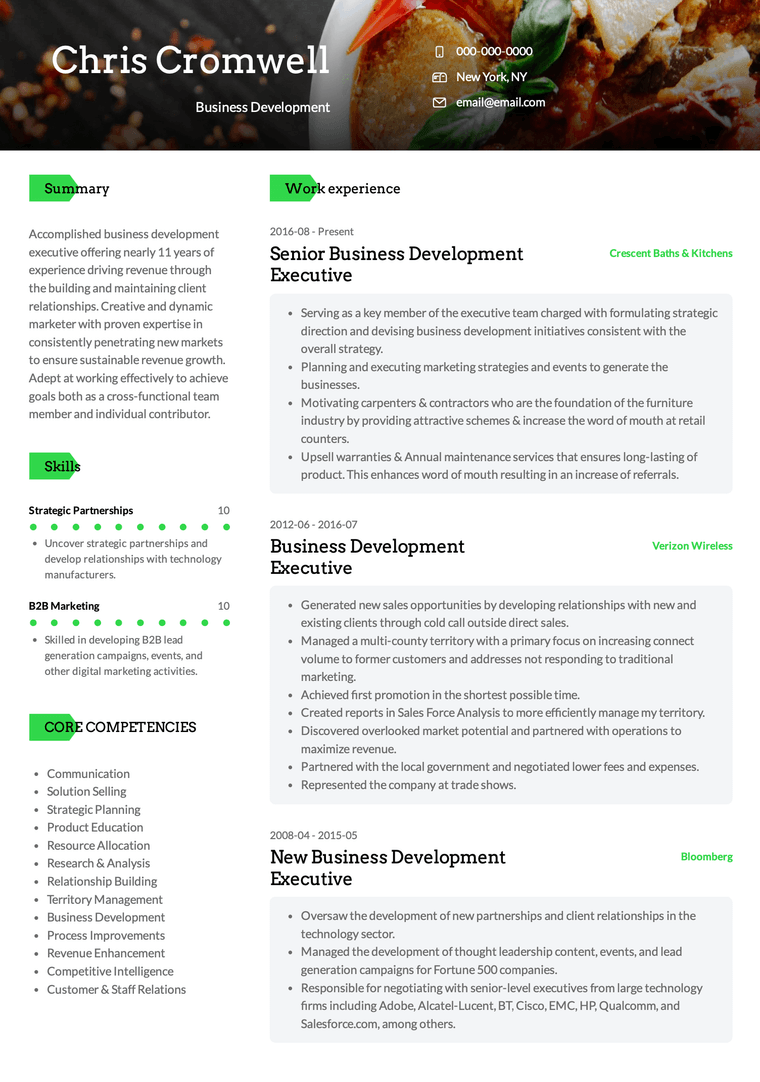 What is a resume template?
A resume template is a pre-made design and layout for a resume. It is not the content of the resume, and not the actual words, but the styles, margins, and organization. It might include columns, header design, and fonts. It dictates how information is laid out on page, and how different details are displayed.
If you want to see some resume templates for yourself, VisualCV has more than 20+ resume templates you can try out for free. Just sign up and choose a resume template, and you can easily write your resume inside. You can even swap between templates without losing any of your writing.
Why should you use a resume template?
Why bother looking for a resume template when you can design your own resume for free?
Simply put, a resume template does all the hard work for you. If you can find the best free resume template, you save yourself the trouble of testing out different layouts, structures, and fonts yourself. When you're a busy job-seeker, you don't have the time to design a resume on your own. Fighting with Word or Pages to design an original resume that looks good not only on your computer, but on everyone else's, is no easy task. Using a resume template saves you that trouble.
A tried and tested resume template also ensures that your finished resume meets all the necessary requirements for a successful resume. The best resume template will be stylish, readable, and professional. It will be ATS-compliant and it will have all the resume sections and necessary details laid out for you.
Ultimately, a great resume template will do much of the hard work of creating a resume for you. You just need to fill in your own details and work experience and you will be on your way.
How to use a resume template
A well-designed resume template will have a great design and structure, with clearly labeled resume sections laid out for you. This allows you to open the template, fill out your resume information, and send it to an employer, all without having to worry about the appearance. With the organization and style of the resume template done for you, you can focus your efforts on writing a great resume and customizing your experience to suit the employer, rather than on finding the right typeface.
With VisualCV, you can sign up for free and test out all templates. Then, once you have written your resume, you can upgrade to a Pro account to share or download your resume.
With the best free resume template builders like VisualCV, you can even test out multiple resume templates without writing the same resume over and over. At VisualCV, you can easily swap between templates using your existing resume, so you can test out a whole new look without having to rewrite anything. This will save you time, and allow you to use different templates for different applications.
Your free resume template should have all of the typical resume sections. Standard resume sections include:
Contact Information
Professional Summary
Work Experience
Education
Skills
If you use a resume builder like VisualCV, you will also be able to add more sections to your resume if it suits your application. Optional resume sections include:
Volunteering Experience
Certifications
Professional Memberships
Publications
Portfolio
Work Samples
…and more.
The best free resume templates will accommodate all of these sections, as well as all the customization and personalization your application needs.
Writing a great resume
Of course, even if you have the perfect resume template, you still need to fill it out with compelling qualifications. To make sure you are getting the most out of a template, it's important to learn how to write great work experience inside of it.
To write work experience that gets you the job, use action words and quantifiable achievements when describing your previous roles. This will ensure that each past job is described in a dynamic and measurable way, so your skills seem concrete and verifiable.
For example, action words like spearheaded, demonstrated, and oversaw all imply leadership capabilities that employers will be looking for. Ensuring that you use energetic and professional language to showcase your achievements will be an asset to any resume template.
For even better job descriptions, try to come up with measurable successes in each previous role. Any goal or achievement that can be expressed with numbers will give your work experience credibility. Sales numbers, revenue generation, customer support scores, or the number of clients you managed can all be used to show exactly what you are capable of. Numbers also show that you actively track your performance and will bring that dedication to your next job.
Customizing your resume template
The best resume template won't need any customization–it will look great already–but that doesn't mean you can't customize it, or even that you shouldn't. You know your career best, and you can always change a font or colour to suit the resume you are writing.
Further, you should always customize the text of your resume for every application. It's important that your skills and experience match the job you are applying to.
To do this, study the job posting. It will have a list of duties and requirements, using specific words and phrases to describe each item. Find the key phrases, and use those exact words in your resume.
Don't lie, or pretend to have skills you don't actually have; simply use the exact language of the job description in your own resume when describing your experience. This will make it more likely that your resume stands out as a perfect match.
A general resume, with generic descriptions of your experience, is not going to work for every application. You should always customize your resume, even if you're using a free resume template, so that is a perfect match for the specific application you are writing.
Which resume template is best for you?
The ideal resume template will depend on your career, the company you are applying to, and your personality.
If you work in a more traditional industry, like banking or accounting, a more traditional resume will likely be your best choice. Old-fashioned resumes with one column, black text, and a white background are likely what employers in that industry expect. If you are applying for a more formal, corporate career, templates like VisualCV's Monte or Monaco are a great choice.
If you are applying for roles in a more modern field, like graphic design or digital marketing, you might want to demonstrate your visual style with a more modern template. Templates like Baker and Modern, for example, are more creative and eye-catching than a traditional resume, while retaining a professional structure that makes them a strong choice for many job-seekers.