Production Coordinator Resume Overview
If you've always dreamed of working in film and television, you might have found yourself looking into becoming a production coordinator. Production coordinators are valued members of an on-set team, and you'll have to be skilled in many different areas in order to succeed in this role. From leadership and management skills to knowledge of film and television production, your favorite shows and movies simply wouldn't happen without production coordinators.
Of course, if you're looking to secure a job as a production coordinator, you'll first have to create a resume that stands out from the rest. The competition in this industry is fierce, and you'll need to find a way to differentiate yourself.
Research suggests that potential recruiters look at a resume for an average of 6 seconds. With so many variations in a professional production coordinator resume, it can be tricky to know what the differences are.
In general, your production coordinator resume should contain the following:
A summary
Your experience
Your Education
Your skills, including any professional certifications
Experienced Production Coordinator Resume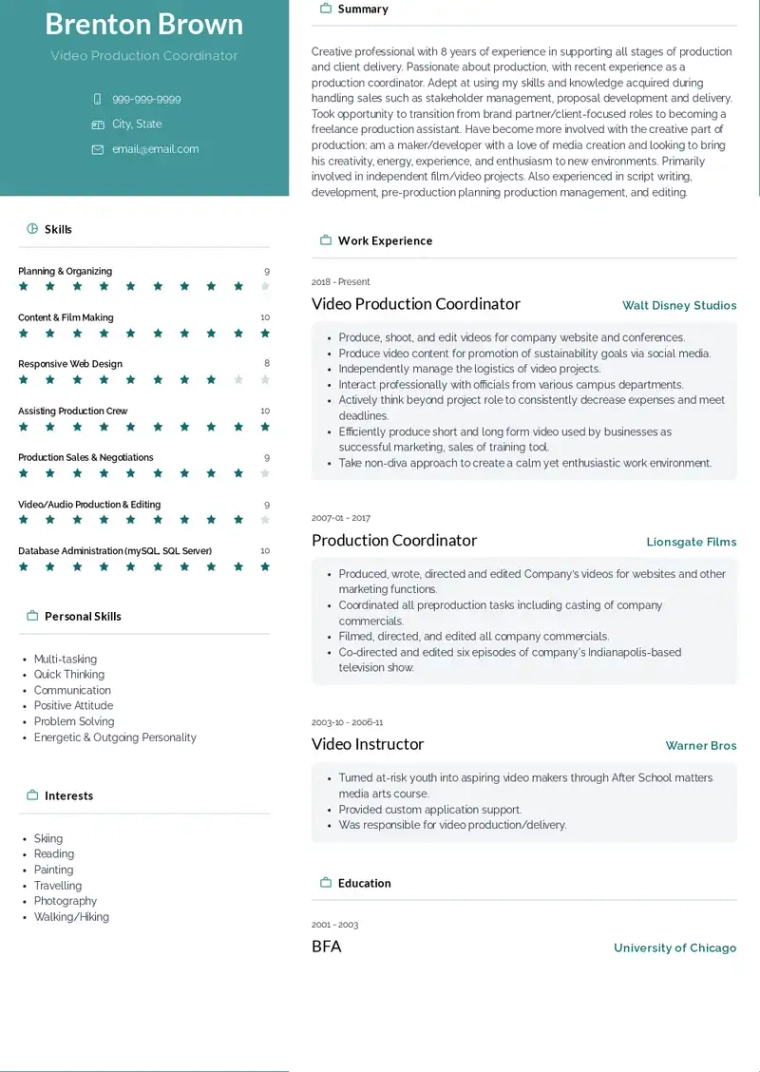 How to Write a Great Production Coordinator Resume Summary
To write a great Production Coordinator resume summary, follow these steps:
List your years of experience in the production industry.
List your top production skills in the summary (e.g. production inventory management, production cost control, production planning, etc).
List your top achievements. It would make you stand out if you could list productions that are very recognizable.
Keep your Production Coordinator resume summary to a max of four lines. Anything beyond that isn't very skim friendly for the hiring manager.
The Best Format for a Production Coordinator Resume
Writing your production coordinator resume in a reverse-chronological format is ideal when looking to show off your skills, experience and accomplishments.
Be sure to use big headings, clear and neat typeface and plenty of white space when constructing your resume. Export your production coordinator resume in PDF rather than Microsoft word - the result will be a professional and intact product to deliver to recruiters.
3 Production Coordinator Resume Summary Examples
Your summary should be short and to the point. This is the very first thing a recruiter will see, so make sure you're putting your absolute best foot forward. Highlight your level of experience if you aren't applying for entry-level positions, or your recent academic accomplishment if you're a new graduate. Make sure to read the job description carefully and adjust your resume to fit it -- as long as what you're saying is true, of course!
Many recruiters and companies now use Applicant Tracking Systems to automate and streamline the recruitment process. While this is a great benefit for companies, some applicants have been met with the frustration of their resumes not ever being seen by a real person -- if the resume doesn't get past the ATS software, it's usually discarded. Thankfully, VisualCV's resume templates have been specifically designed to beat applicant tracking systems, making your production coordinator resume much more likely to make it in front of the right person.
The Wrong Way to Write a Production Coordinator Resume Summary
Your summary shouldn't be too wordy or personal – that's what your cover letter is for! This first step in your production coordinator resume exists to give hiring managers a brief glimpse into your personality and experience. Not all hiring managers agree that a resume summary is necessary, but if your resume summary is clear, to the point, and hones in on what the job description is asking for, include it!
DON'T:
I'm a production assistant with 10 years of experience working on movie sets. I've had many different responsibilities over the years, so I'm sure I'd be able to handle whatever you throw at me in this new position.
Production Coordinator Resume Summary Sample
Established production coordinator with 15 years of experience. Recently wrapped a $10 million film on schedule and on budget. Experience in building high-performing teams.
Professional Summary for a Production Coordinator
Production coordinator with 5 years of experience and a comprehensive background in the film industry. Experience running production offices for both independent and major films and streaming television.
Production Coordinator Resume Summary Example
Motivated and energetic production coordinator with experience in determining best staff fit for each task and thinking on the fly. I have three years of experience working in independent film and solving problems before they arise, and have wrapped my last two productions under budget.
Do You Need a Production Coordinator Resume Objective?
Many people think resume objectives are a requirement for each and every production coordinator resume they write. However, production coordinator resume objectives are only recommended for people looking to transition into a production coordinator role from a different field.
Production Coordinator Resume Objective Example
Motivated, enthusiastic production coordinator with experience in student film production. I've recently completed my BA, majoring in Cinema with a minor in Business, and I'm looking to leverage my management and film experience into a successful production coordinator role with this production.
Best Way to Describe Your Production Coordinator Work History on Resume
To describe your Production Coordinator work history on resume:
List the name of production, your job title, and time in form of month, year - month, year. Add a bullet list instead of a paragraph to describe each production.
Except for when you can't, try to follow the STAR method to show the production situations you faced, how you solved the problem/situation, and the results you achieved.
While describing your experience try to showcase your expertise across the production related duties you have (e.g. production resource allocation, production planning, liaising with production suppliers or vendors, etc).
Production Coordinator | The CW | 2019-2021
Oversaw all phases of production, from pre to post-production, to ensure a seamless output and schedule
Scouted filming locations for several major television shows, often finding less expensive alternatives which resulted in under-budget shoots
Led bi-weekly production meetings to proactively identify and resolve issues
A hiring manager will be looking for the facts. What did you do at your previous jobs that made you stand out? For which projects did you receive the most praise? Providing tangible facts shows hiring managers that you have the potential to do the same at your next job.
Do (Summarize your work history)
Include at least two pieces of work experience, if possible
Let the recruiter know what you have enjoyed about these experiences.
Showcase figures and percentages that demonstrate success.
DON'Ts (Summarize your relationship history)
Avoid talking about bosses or previous employers.
Explain why you were fired or let go from a past role.
Talk about you if it doesn't involve your work.
A Bad Production Coordinator Job Description on a Resume
Consider the following entry.
Production Coordinator | The CW | 2019-2021
Oversaw production
Scouted filming locations
Led production meetings
This entry focuses on responsibilities you had at a previous job, but doesn't describe what you achieved there. Hiring managers will likely already understand the types of tasks you performed at previous jobs. Your goal is to show them how good you are at performing those tasks!
How to List Skills on Your Production Coordinator Resume
What skills should you include on a production coordinator resume? While you should always try and list the skills that the job posting is asking for, there are some skills that come with the territory of being a production coordinator. Looking for more information about adding skills to your resume? Check out our resume skills guide here.
50 Top Production Coordinator Skills to List on Resume in 2023
Production scheduling
Resource allocation
Inventory management
Quality control
Lean manufacturing
Six Sigma methodologies
Process optimization
Supply chain management
ERP systems
Production planning
Capacity planning
Material requirements planning (MRP)
Workflow coordination
Data analysis
Statistical process control (SPC)
Root cause analysis
Continuous improvement
Kaizen
Value stream mapping
Project management
Gantt charts
Risk assessment
Cost control
Budgeting and forecasting
Vendor management
Contract negotiation
Regulatory compliance
Occupational health and safety
Equipment maintenance
Quality assurance
Document control
Standard operating procedures (SOPs)
Troubleshooting
Root cause analysis
Change management
Workforce management
Training and development
Performance evaluation
Communication skills
Technical writing
Data entry and analysis
MS Excel
Database management
Production software proficiency
Manufacturing equipment operation
CAD software
Process documentation
Material handling
Workforce coordination
Conflict resolution
Top Production Coordinator Resume Skills in Demand in 2022
| Hard Skills for Production Coordinators | Soft Skills for Production Coordinators |
| --- | --- |
| Final Draft | Flexibility |
| Final Cut Pro | Collaboration |
| Digital Video Production | Multi-Tasking |
| Graphic and Visual Sense | Self-Starter |
| Valid Passport/Driver's License | Organization |
Top Soft Skills for Production Coordinators
Organization
It takes a lot of organization to run an entire production office! When writing your production coordinator resume, make sure to highlight your organizational skills. On any given day, you might be scouting locations, hiring production staff, and putting out fires with catering… before lunch! Demonstrate your knack for organization by sharing different ways you've kept everything in previous positions running smoothly. For example, discussing how you were in charge of multiple simultaneous projects implies to the hiring manager that you know how to stay on top of your responsibilities.
Flexbility
In the same way that you'll need to be organized to be an effective production coordinator, flexibility is also key. With all of those responsibilities, you should understand how to prioritize and change your schedule and priorities at the drop of a hat. Hiring managers will usually be looking for flexibility to be listed in your work experience and resume skills section on a production coordinator resume.
Collaboration
Because production coordinators work across departments over the course of a production, you'll need to have a collaborative spirit to succeed. Demonstrate to a hiring manager that you can effectively communicate with anyone, from production assistants to talent to directors, and show your willingness to collaborate by sharing examples of times you've worked effectively in a team.
Something about this job catch your eye, but you aren't quite sure if it's a match? Check out these related resumes and discover where your next career move could take you.
Production Coordinator Salaries
A production coordinator's salary really depends on the overall budget of the production or production company for which they work. Small, independent productions won't pay as much as major studio productions. According to Comparably, the median salary of a production coordinator in the US is $46,000. However, higher earners – very experienced production coordinators or those who work for major studios – make up to $250,000.
Keep in mind that, depending on the cost of living in your state or region, salaries may fluctuate. If you live in a city with a very high cost of living, for example, your salary may be much higher, but your day-to-day expenses will also be more expensive.
How to Become a Production Coordinator
Production coordinators generally hold an undergraduate degree, but others gain experience in the film and television industry through internships or community college production programs. To become a production coordinator, you should first familiarize yourself with all aspects of the production office on a set. As a production coordinator, you'll be in charge of most – if not all – of the comings and goings in the production office, so gaining work experience in any of these departments can ultimately be extremely beneficial. All production coordinators should have a strong understanding of departments such as accounting, camera, and payroll.
What Should You Study to Become a Production Coordinator?
Most production coordinators earn undergraduate degrees in related fields to film production, but there's no one set degree that all production coordinators should hold. Many production coordinators come to the industry through degrees in film, marketing, or communications. You may also consider a diploma or other certificate in film production from a college or filmmaking school.
Production Coordinator Career Path
Before you can become a production coordinator, you'll usually have to put in a few years as a production assistant. Production assistants keep a set going by running errands for directors and producers, as well as printing and distributing scripts and relaying messages between crew members.
Once you've familiarized yourself with the ins and outs of life in a production office, you may have the experience and connections necessary to work your way up to a production coordinator position. This is a dream career for many, but if you're hardworking and ambitious enough, you may aspire to work your way up to a production manager or producer role.
Final Thoughts
If the idea of working in TV and film production sounds like a dream come true, you might consider a job as a production coordinator. However, desire to live a Hollywood lifestyle is only one small part of this career. You'll also have to think quickly and on your feet, be prepared to pay your dues, and network constantly to help yourself work your way up the ladder. If that still seems like a fun and rewarding challenge, then you may have found your perfect career!
A professionally designed resume is one way to make your application stand out from the crowd. Whether you choose to use eye-catching color, a unique format, or simply a clean and polished template with your skills and achievements on display, a VisualCV Pro membership could be the thing that takes your career to the next level.