Overview
Business development is a field that could have a few different job titles - including business development manager, business development associate, along with director and VP positions. It is a competitive field that requires a concise and impactful resume to get the job.
Checkout our other related resume examples here:
Business Development Resume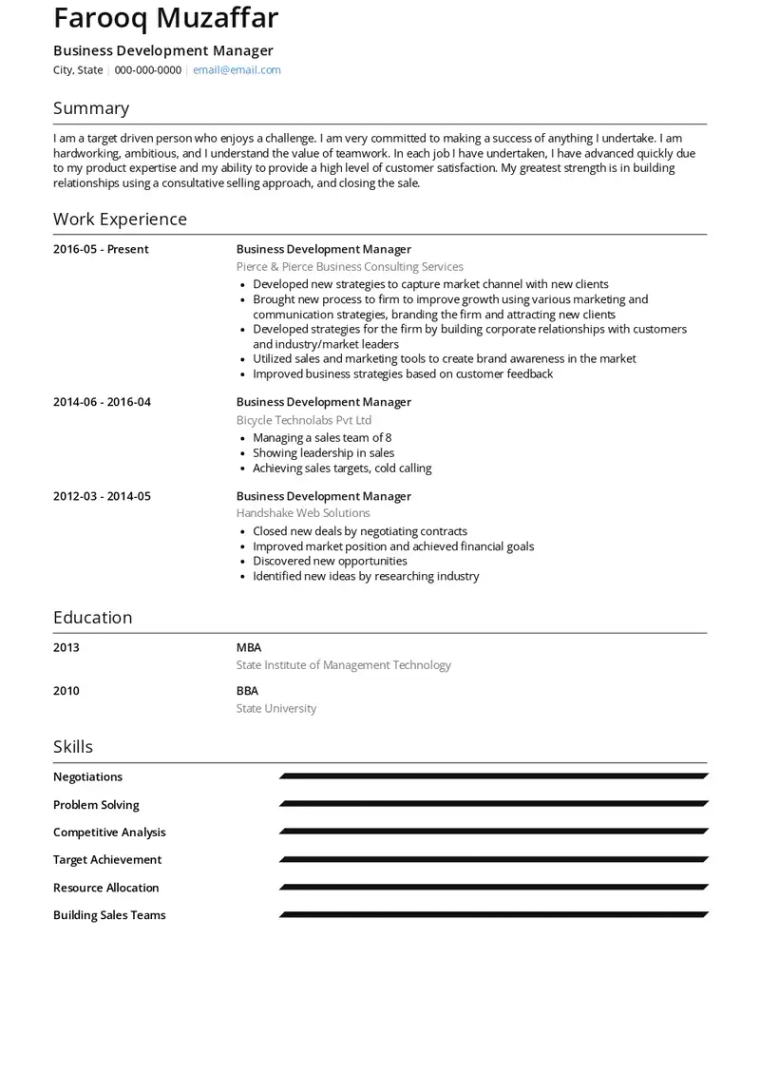 Senior Business Development Resume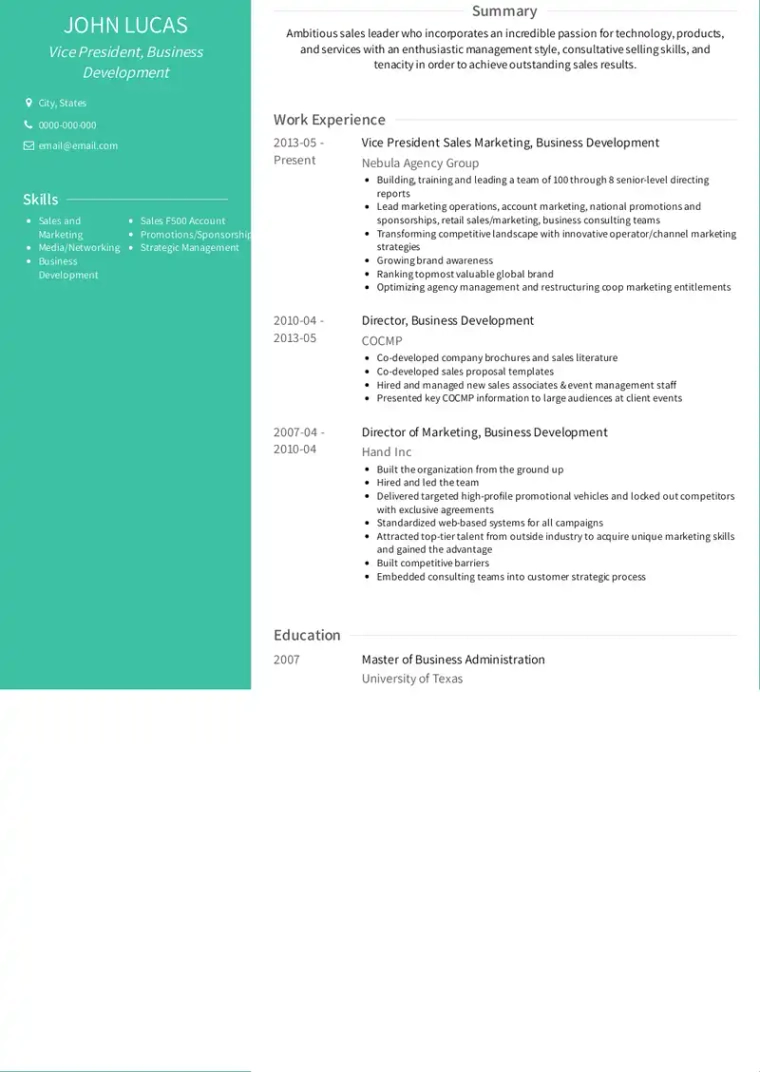 Business Development Executive Resume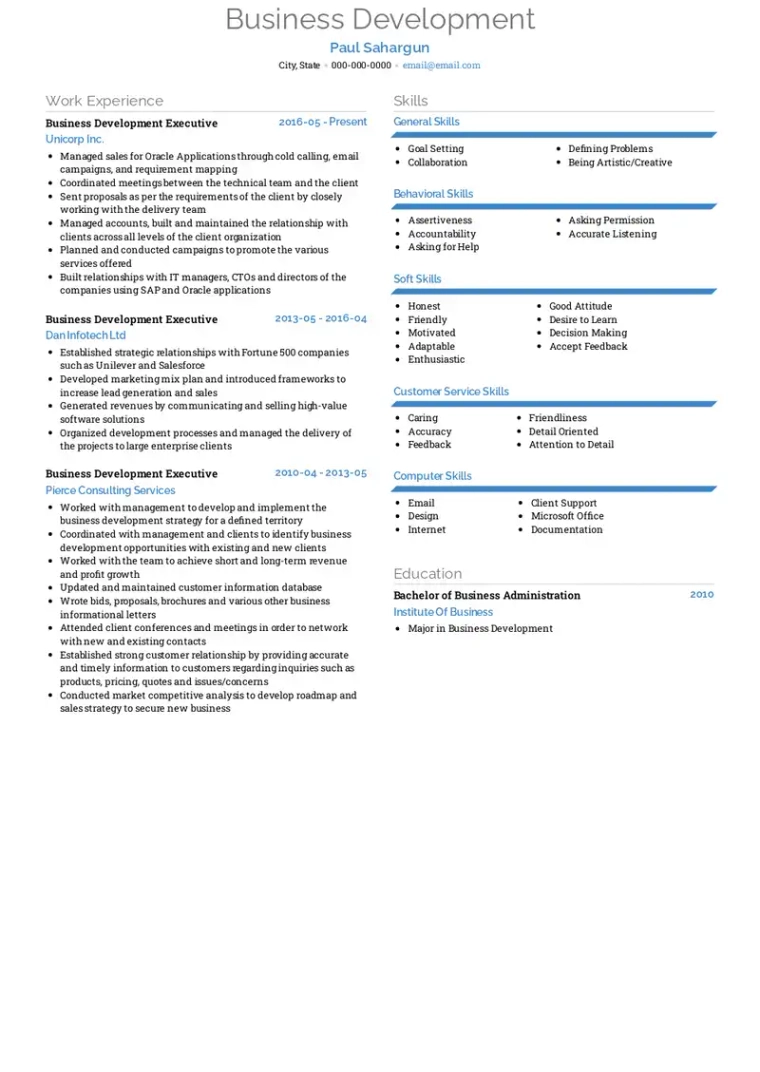 How do I write a Business Development resume?
To write a business development resume follow these steps:
Select the right Business Development resume template. Your format should be reverse chronological if you have less than 15 years of experience. Add summary, work history, skills, and education sections as minimum.
Within the work history section, provide specific examples of successful business development initiatives, major deals closed, and revenue growth achieved. Use bullet points to highlight quantifiable results, new client acquisitions, strategic partnerships, and any leadership or team management experience.
In the skills section, include a dedicated subsection for business development skills. List specific abilities such as lead generation, strategic planning, negotiation, relationship building, market analysis, and CRM proficiency.
Add summary at the beginning of the resume, highlight key achievements, expertise, and strengths as a business development professional. Mention notable accomplishments, industry recognition, and core skills that set you apart.
Most individuals in the business development field possess an impressive mix of skills. They come from a variety of backgrounds, though have a business or sales history.
Along with experience, business development professionals often bring their impressive list of contacts from one job to the next. Your resume should highlight your specific experience and focus on the best deals and partnerships you've created.
To start with, use the reverse-chronological layout to highlight your business development strengths and to show your top achievements. Make sure you use clear and legible fonts and headings, allowing plenty of white spaces to create an enjoyable reading experience for the recruiter.
Attention to detail and accuracy are two fundamental skills that employers would expect from professionals like you: please avoid typos or any other kind of mistake in your resume, they are sometimes lethal!
Last, but not least: save your resume as a .pdf. Unfortunately, Microsoft Word is not the best software when it comes down to keeping your layout intact!
Business Development Resume Summary
You definitely know what a pitch is, so sit down and relax, because we need you at your best right now: in fact, the recruiter will have a quick look at this section and will determine whether you deserve a second look or not: this is your chance, and we don't want you to blow it!
Simply, this section answers that question you'll definitely be asked at the interview: Tell me about yourself.
If you want to start landing more interviews now, follow these tips:
DO (Summarize your employment)
Highlight your top selling points that specifically fit the job description.
Showcase your best achievements and be proud of them!
Feature your two most recent work experiences and explain what responsibilities matched the current job offer
Be as specific as possible: you want to be unique, special, recognizable.
DON'T (Summarize your life)
Don't be generic
Don't fill your resume with technical terms
Do not oversell yourself & do not sell yourself short
Business Development Manager Resume Summary Sample
I am a target driven person who enjoys challenges. I am very committed to making a success of anything I undertake. I am hardworking, ambitious, and I understand the value of teamwork. I have advanced quickly due to my product expertise and my ability to provide a high level of customer satisfaction. My greatest strength is in building relationships using a consultative selling approach, and closing the sale.
VP Business Development Resume Summary Sample
Ambitious business development leader who incorporates an incredible passion for technology, products, and services with an enthusiastic management style, consultative selling skills, and tenacity in order to achieve outstanding sales results.
Business Development Resume Experience
While writing your business development resume, make sure you use numbers, percentages and figures.
Our tips below have helped many business development professionals get to the next level.
DO (Summarize your work history)
List your business developmemnt experience in reverse-chronological order.
Add sales figures, partnerships and other important wins within your work experience.
Customize your resume for each business development role you find. For example, for new business development roles highlighting new business generation should be the goal.
Focus on what you've accomplished, not what your duties were.
DONTs (Summarize your relationship history)
List more than 6 work experiences.
List every single responsibility you had.
Include unrelated achievements.
Business Development Executive Work Experience
Unicorp Inc
Managed sales for Oracle applications through cold calling, email campaigns, and requirement mapping.
Coordinated meetings between the technical team and the client
Sent proposals as per the requirements of the client by closely working with the delivery team.
Managed accounts, built and maintained the relationship with clients across all levels of the client organization.
Planned and conducted campaigns to promote the various services offered.
Build relationships with IT managers, CTOs and Directors of the companies using SAP and Oracle apps.
Business Development Resume Work Experience
Nebula Agency Group
Building, training and leading a team of 100 through 8 senior-level directing reports.
Lead marketing operations, account marketing, national promotions and sponsorships, retail sales/marketing, business consulting teams.
Transforming the competitive landscape with innovative operator/channel marketing strategies.
Optimizing agency management and recruiting coop marketing entitlements.
Business Development Manager Resume Work Experience
Handshake Web Solutions
Closed new deals by negotiating contracts.
Improved market position and achieved financial goals.
Discovered new opportunities.
Identified new ideas by researching industry.
Business Development Representative Resume Example
ACME Corp
Regularly research and create new sales opportunities in order to maintain a solid prospect pipeline and database.
Coordinate cross-functionally with accounts, marketing and stakeholders to handle client relationships and reach 100% client satisfaction.
Increased revenue within northwest region by expanding in new regions and acquisition of more prospects.
Improve ACV by leveraging strong negotiation and consultation skills.
How to List Education on A Business Development Resume
Some may not agree with us, but we are strong believers that education does matter: why would you not want to mention your studies? They have molded you in the successful professional that you are right now, so make sure you bring those storytelling skills and tell the recruiter how important that period of your life was for your professional development.
Start off listing the basics:
College name and location
Years in school
Degree
You could also include 3 or 4 college achievements that actually fit the current job description.
We are fairly sure the recruiter will not be interested to hear about your part-time bartending gig, but we strongly suggest you include anything that could potentially be connected to your future success as a professional, not necessarily as a business development executive.
How do you write Business Development skills on a resume?
To list your Business Development skills, create a new section on your resume. Use the Business Development job ad to find relevant skills to add or remove from the section.
Top Business Development Skills
With employers adopting new resume technology, it is essential to showcase your skills to ensure you pass the initial resume screen. Start by listing every single skill you have relating to your experience in business development. Please take your time on this personal brainstorming and make sure you include soft skills, hard skills, any professional skill at all.
As a reminder, hard skills are job-specific and include all the knowledge you need to perform a job. Soft skills, on the other hand, are interpersonal skills.
Ok, have you listed them all? All you have to do now is to match those with the skills list from the job description and add them to your resume.
50 Business Development Skills to List on a Resume
Prospecting
Relationship Building
Negotiation
Communication
Strategic Planning
Account Management
Lead Generation
Closing
Presentation
Consultative Selling
Market Research
Customer Relationship Management (CRM)
Networking
Rapport Building
Cold Calling
Persuasion
Solution Selling
Product Knowledge
Competitive Analysis
Customer Needs Assessment
Sales Forecasting
Relationship Management
Time Management
Business Acumen
Sales Pipeline Management
Client Retention
Problem Solving
Influencing
Customer Service
Data Analysis
Active Listening
Relationship Selling
Sales Presentations
Value Proposition
Proposal Writing
Cross-Selling
Upselling
Account Expansion
Objection Handling
Market Trend Analysis
Customer Segmentation
Sales Metrics Tracking
Consultative Approach
Building Strategic Alliances
Strategic Partnerships
Contract Negotiation
Forecasting
Territory Management
Sales Funnel Management
Client Consultation
Cover Letter: yes or no?
A great cover letter has never hurt anyone!
Match a brief one-pager with your resume will give you an advantage over other candidates. Follow our tips here.
DO (make yourself look great)
Keep your resume to 1-2 pages
List numbers and percentages!
Show your promotions or that you moved around at previous companies
Tell the truth
DON'T (embarrass yourself)
List an unprofessional email address
Say you are good at Microsoft Office package: this is not 1996!
Use too many colors or different fonts
Link to your Facebook or Twitter account
Break any confidentiality agreement
Finally, if you are looking for the best business development resume templates, you should check these masterpieces we have been working on here : many professionals like you have successfully used it to take their career to the next level.
Business Development Resume Example (Text Format)
VICE PRESIDENT, BUSINESS DEVELOPMENT John Lucas City, States 555-555-5555 email@email.com
SUMMARY Ambitious sales leader who incorporates an incredible passion for technology, products, and services with an enthusiastic management style, consultative selling skills, and tenacity in order to achieve outstanding sales results.
SKILLS
Sales and Marketing
Media/Networking
Business Development
Sales F500 Account
Promotions/Sponsorships
Strategic Management
WORK EXPERIENCE VICE PRESIDENT SALES MARKETING, BUSINESS DEVELOPMENT - 2013-PRESENT NEBULA AGENCY GROUP
Building, training and leading a team of 100 through 8 senior-level directing reports
Lead marketing operations, account marketing, national promotions and sponsorships, retail sales/marketing, business consulting teams
Transforming competitive landscape with innovative operator/channel marketing strategies
Growing brand awareness
Ranking topmost valuable global brand
Optimizing agency management and restructuring coop marketing entitlements
DIRECTOR, BUSINESS DEVELOPMENT - 2010-2013 COCMP
Co-developed company brochures and sales literature
Co-developed sales proposal templates
Hired and managed new sales associates & event management staff
Presented key COCMP information to large audiences at client events
DIRECTOR OF MARKETING, BUSINESS DEVELOPMENT - 2007-2010 HAND INC
Built the organization from the ground up
Hired and led the team
Delivered targeted high-profile promotional vehicles and locked out competitors with exclusive agreements
Standardized web-based systems for all campaigns
Attracted top-tier talent from outside industry to acquire unique marketing skills and gained the advantage
Built competitive barriers
Embedded consulting teams into customer strategic process
EDUCATION UNIVERSITY OF TEXAS - 2007 Master of Business Administration