If you are applying for a job in Kuwait, it's important to learn how to write a great Kuwait resume. You will need the right personal details, the right format, and the right qualifications.
Writing a great Kuwait resume is no easy task, however, whether you're already a Kuwait resident or planning to move there for work.
To make sure your resume is ready to land you an interview, make sure you understand:
Kuwait resume requirements
Kuwait resume templates
How to write a Kuwait resume
How to write great job descriptions
Kuwait Resume Requirements
It's important to include the right details in your Kuwait resume. When you write your resume, be sure to include:
Name
Phone Number
Email Address
Address
With your contact information, you can also include a picture.
Personal Details
In Kuwait, it is typical to include additional personal details in a separate Personal Information section. This section is usually at the bottom of a resume, but can be included closer to the top in the right template.
The exact personal details you include in your Kuwait resume will depend on your application. Try to include information that will help your candidacy, or information that would be suspicious if left out.
Personal details might include:
Marital status
Nationality
Date of Birth
Gender
Passport Number
Mandatory Kuwait resume sections
Besides contact information and personal details, you will have to include resume sections where you can showcase your qualifications. Some sections must be included, such as:
Summary or Objective
Work Experience
Education
Skills
Optional Kuwait resume sections
Some resume sections, while not mandatory, can be useful for displaying qualifications that might not fit in the typical sections. Additional sections can include:
Volunteering experience
Licenses
Certifications
Publications
Memberships
Languages
Kuwait resume tips
A great Kuwait resume is more than just its sections. It's important to have the right template, format, and length. Here are some tips to help you make sure your Kuwait resume is perfect:
Kuwait resume picture
In Kuwait, pictures are optional. However, many job-seekers do choose to include a professional headshot at the top of their Kuwait resume.
Kuwait resume length
The ideal Kuwait resume length is one to two pages. You should be able to fit all of your experience on one or two pages, especially if you are new to the workforce.
If you have decades of experience, it may be acceptable to write a longer resume. However, employers are often short on time, and they aren't likely to read long resumes. It is always best to condense your resume to one or two pages if possible.
Kuwait resume format
There are two resume formats to consider: the reverse-chronological resume format and the skills-based resume format.
In a reverse-chronological format, the Work Experience section is the most important part of the resume. In the Work Experience section, list previous positions in reverse-chronological order, beginning with your current or most recent position and working backwards. This resume format is the most common, and the one most job-seekers should use for a Kuwait resume.
In a skills-based format, the Skills section is the most important part of the resume. In the Skills section, you can detail each skill area and provide explanations and examples for each skill. The Work Experience section can be shorter, providing little to no detail for each job. Items in the Work Experience section can be organized reverse-chronologically, or by relevance. This resume format is best for job-seekers who have had a less traditional career path.
When you choose a resume format, consider your career. If you have had a typical career, with a clear progression through your industry, a reverse-chronological resume is the best choice. This format shows the timeline of your career clearly, and is the format most employers expect.
If you have had an unusual career, however, you may want to consider a skills-based resume. A skills-based resume format allows you to foreground your skills, showcasing your most important achievements outside of the Work Experience section. This can be useful if your work history shows frequent job-hopping, long stretches of unemployment, or notable career changes.
Is it "CV" or "resume" in Kuwait?
In Kuwait, the terms "CV" and "resume" are usually used interchangeably. Both words can refer to the same document.
Kuwait resume templates
In Kuwait, employers prefer more traditional resume templates. A traditional resume template is black and white, with clear headings and a single column.
VisualCV's Standard template, for example, is a great choice for a traditional Kuwait resume. It offers simple black-and-white design, while still allowing for a picture if needed.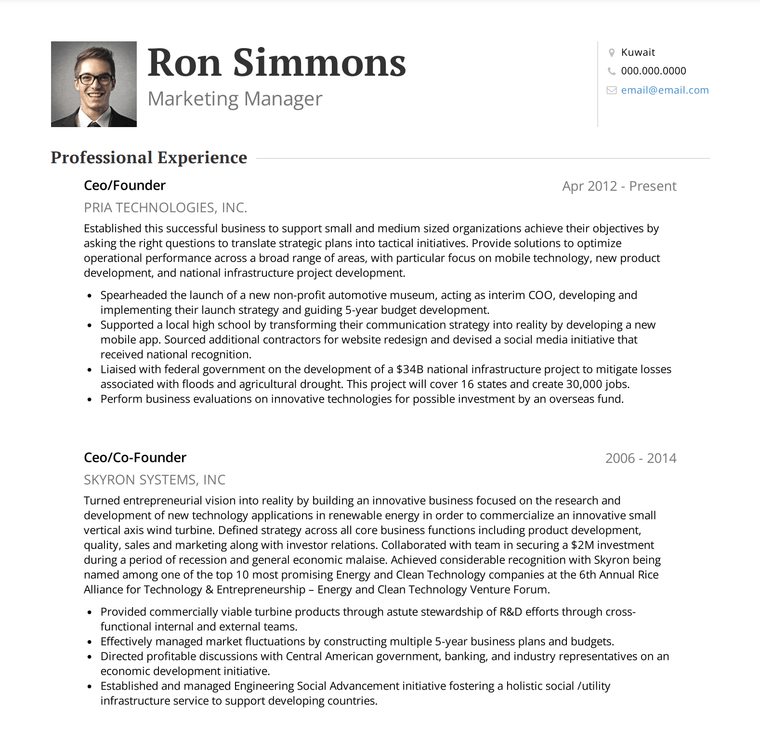 VisualCV's bold ATS template, with centred headings and clear structure, is another great choice for a Kuwait resume.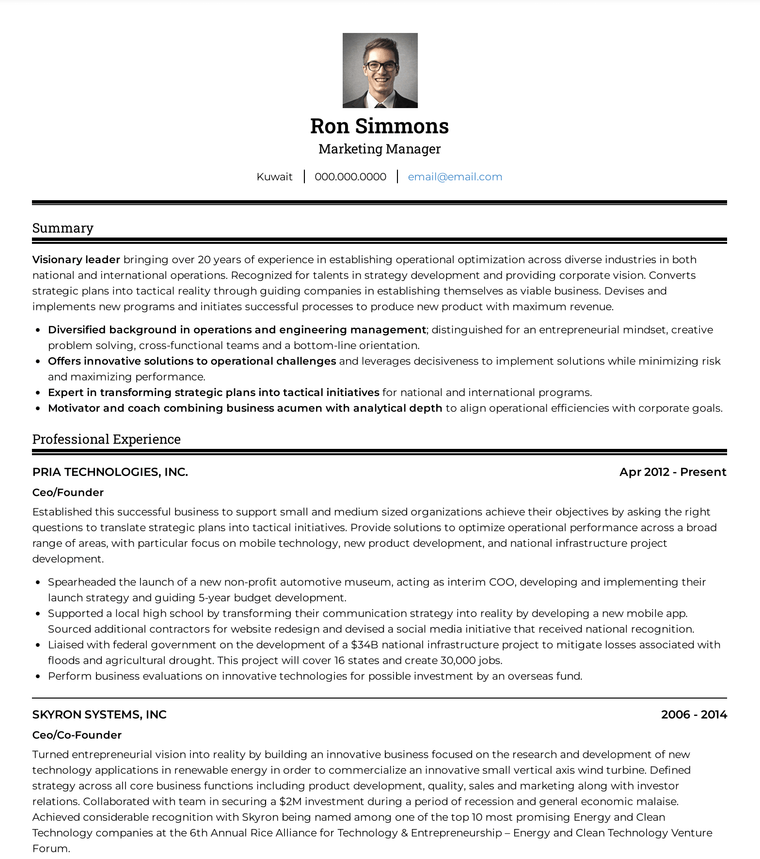 If you want to try out a more modern template, VisualCV's Corporate template offers clear, black-and-white formatting, but with the addition of a second column. A two-column resume template can be a great way to fit lots of information on a single page, efficiently showcasing your qualifications.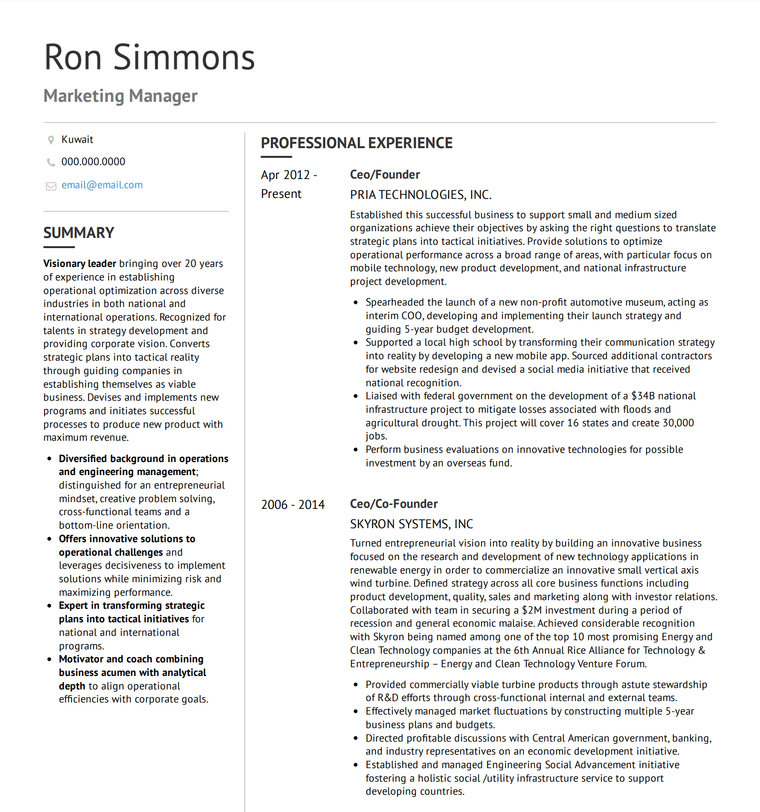 How to Write a Kuwait Resume
A great resume should have all the right sections and all the right content. To write a great Kuwait resume, follow these steps:
At or near the top of your resume, be sure to include your:
Full name
Phone number
Email address
Home address
In a Kuwait resume, you may also want to include a picture.
Write a summary
A short paragraph or bulleted list that introduces your and your key skills is a great way to begin your resume. While optional, a Summary or Professional Profile section allows you to provide some key highlights right at the top of your resume.
Hiring managers receive hundreds of applications, so it's important to impress them quickly. A great Summary section, right at the top of your resume, can be what your resume needs to ensure they keep reading.
Showcase your work experience
The Work Experience section is key to a successful resume. This is where you can showcase accomplishments from your career so far, listing past positions and highlighting your best achievements in each one.
In your Work Experience section, list past positions in reverse-chronological order, with the most recent one right at the top. In each position, provide the:
Company name
Job title
Dates of employment
Job description
In a reverse-chronological resume, the job description is your best opportunity to showcase your achievements. For each role, you should be able to provide key accomplishments, responsibilities, and skills that made you successful in the role.
To do this, focus on accomplishments. Specific examples of key projects are always going to be more impressive than a laundry list of duties.
To come up with achievements, try to think of quantifiable aspects of your job, like client satisfaction ratings, customer growth, or revenue. If you can provide numbers that measure your performance, your experience will seem more credible.
When describing each achievement, make sure to use active language to describe each task. Words like "initiated", "managed", and "spearheaded" sound better than "was responsible for". Active language can make you sound like a great employee can take responsibility and be trusted with important tasks.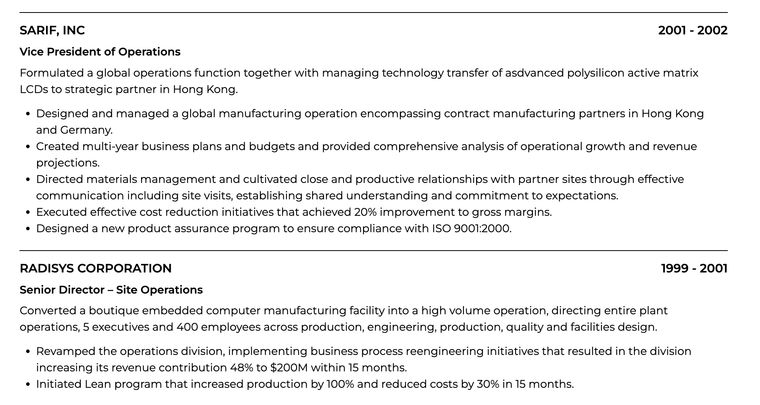 List your education
Whether you are in a highly competitive academic field, or are looking for an entry-level job, you shouldn't forget to include your education. Employers are always on the lookout for an education section.
This doesn't mean, however, that your Education section needs to be long. Unless you are writing a lengthy academic CV, your education only needs to list your degrees, without any descriptions of coursework.
In your Education section, list credentials in reverse-chronological order, beginning with your most recent. For each entry, include the:
Degree name
School name
Dates attended
If you are a mid-career professional with plenty of work experience to showcase in your resume, this is all your Education section needs.
If you are a student or recent graduate, however, you may want to include some more details. Information like GPA (if it's high), coursework, or specialties can be a good way to fill out your resume if you don't have enough work experience to take up space.
Show your skills
Employers are looking for workers with the right skill set to succeed in the position. You need to show that you have the right hard skills and the right soft skills to be a great employee. Your Skills section is the place in your resume where you can showcase your most important competencies.
Hard skills, or technical skills, are the job-specific skills that you need to be an expert in for your specific job. This can include skills, like object-oriented development, cash-handling, or TIG welding. It can also include tools, like Python, Microsoft Excel, or POS Systems.
Soft skills are the people skills and personal attributes that make you a great team member. This can include things like communication, problem solving, and time management.
Employers are looking for workers who have both, so it's important to highlight both in your resume.
If you are writing a reverse-chronological resume, a simple bulleted list of skills is all your Skills section needs. Make sure to place the most relevant skills at the top of the list.
If you are writing a Skills-based resume, your skills section can be longer. If this is the case, create a heading for each skill area, then include a description beneath with examples or descriptions of each skill. This can be a great way to provide clear examples of how you use each skill.
List your personal details
Most Kuwait employers will expect you to include certain personal details on your Kuwait resume.
Personal details for a Kuwait resume might include:
Marital status
Nationality
Date of Birth
Gender
Passport Number
Create a Personal Details section and include it at the bottom of your resume. While not related to your career, employers may still use this information to decide whether or not you are the right fit for a job.
Include additional resume sections
The sections above are typically enough for most job seekers to showcase their qualifications. If you have some other experience that you would like to show that doesn't quite fit, however, you can add more sections to your resume in order to fit them in. Optional resume sections might include:
Languages
Volunteering Experience
Memberships
Publications
Licenses
Certifications
Interests
These sections are not necessarily directly related to your work experience, but they can be a great way of demonstrating that you are a well-rounded candidate with a wide variety of qualifications in different areas. For example, if you are the treasurer of a local club or charitable organization, listing that in your Volunteering Experience or Memberships section can show that not only are you a person with diverse interests and activities, you have developed transferable skills in your capacity as a treasurer.
Customize your resume
It's important to customize your resume for every application. A resume that works for one application isn't likely to work for every application. You need to make sure that your Kuwait resume is perfect for the specific job you are applying to, and that means you need to tailor it every time you write an application.
To do this, study the job posting closely. The job description will have a list of the specific skills and experience the company is looking for as they interview people for the role. Use those same words and phrases when describing your own experience. This ensures that anyone reading the resume will know that you have exactly the qualifications they are looking for.
This can also help you beat the applicant tracking system, or ATS. An ATS is a type of software that many large companies use to help them manage the hiring process. This software will read resumes and pass the best ones along to the hiring managers. To make sure your resume makes the cut, use the exact keywords and phrases as the job posting so the ATS will recognize them.