What makes a CV different from a resume? Whether you are an experienced professional or a new graduate entering the job market for the first time, you will need a resume or CV to score your next interview. Which one you should use, however, is not always obvious. Before applying for your next job, make sure you know whether a CV or a resume is right for you.
What is a CV?
A CV, or Curriculum Vitae, is a comprehensive document that details your entire academic and professional history, including education, certifications, licences, work history, publications, and awards. CVs can be very long, taking as many pages as is necessary to tell your career story, and they are never changed or customized except to add new items. CVs are most common in academia.
What is a resume?
A resume, sometimes stylized résumé, is a short document summarizing your work history and education whose intent is to sell you as a candidate for a specific job. Resumes are customized for each application to feature the skills, experience, and academic achievements that are most relevant to the job at hand. It is rarely more than one or two pages, functioning as a brief, engaging display of your relevant work history rather than a comprehensive list.
The main differences between CVs and Resumes
The main differences between a resume and a CV are length and customizability. A resume is customized frequently while the CV never changes, and a CV can grow to ten pages whereas a resume is rarely longer than two pages. Before going into detail, here is a quick checklist of the different characteristics of resumes and CVs:
Resumes:
Contains Work History, Education, and Skills
Customized for a specific employer for a specific role
1-2 pages
Used in nearly most industries for nearly all job applications
CVs:
Comprehensive
Static except for new updates
As long as is necessary
Primarily used in academia, including research and education
The Standard CV
A standard CV template contains these sections:
Contact information
Education
Work History
Awards
Publications
Professional Memberships
Grants
Licenses
Throughout your career, items are added to your CV as you gain experience, but nothing is ever removed. The more positions you have held, book chapters you have published, and awards you have received, the longer your CV is. A CV's main purpose is to be used for teaching or research positions in academia. If you are writing a CV, it is important that they show the full scope of your accomplishments so that employers can see your areas of expertise, research specialties, and where your published work has been accepted. Items in each section should be listed in reverse-chronological order and the descriptions should be short, focussing on specific awards or honors.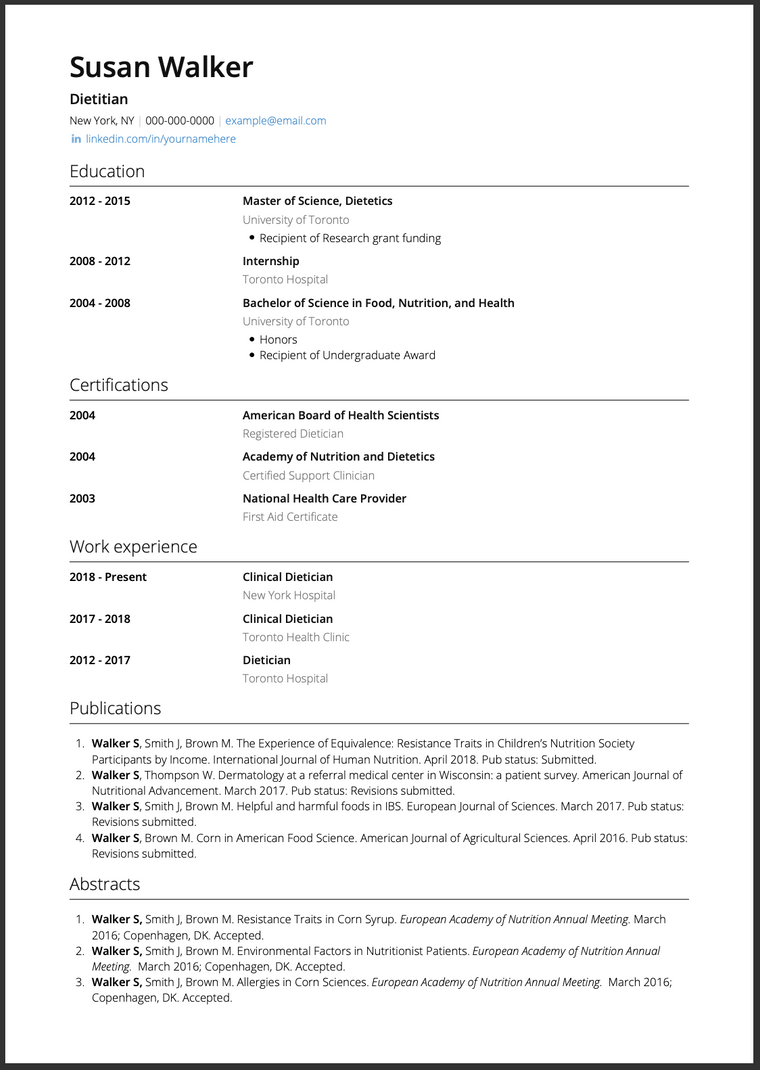 The traditional resume
Unlike a CV, the structure and design of your resume can be customized to suit your goals and your personality. Even so, there are some sections that all employers will be expecting, including:
Contact information
Skills
Work History
Education
Depending on your experience and the role you are applying to, you may also include other relevant sections like volunteer experience, certifications, or a portfolio. Resumes are most commonly written in a reverse-chronological format, beginning with the most recent jobs and working backwards. In certain situations, like changing careers or returning to work after a long gap, job-seekers may use a 'functional' or 'combination' resume format, which orders experience by relevance rather than by date.
Resumes are used for nearly all job applications. They are sent to employers in response to a job posting or open position, typically paired with a cover letter. Ultimately a marketing document that sells you to an employer, your resume should use action-oriented language and focus on impressing the reader with your skills and experience. This is best done by emphasizing results and using quantifiable information, like sales numbers or customer support tickets handled, as much as possible. For more details on how to write a great resume, be sure to check out our Resume Guide.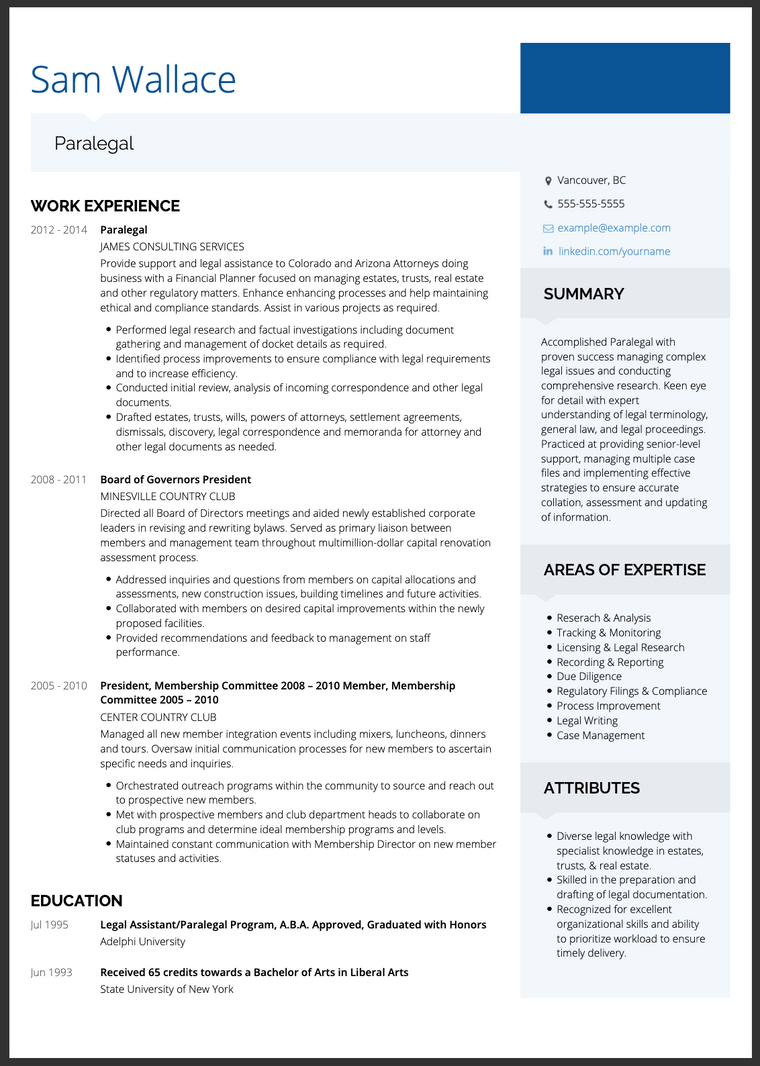 International considerations for resumes and CVs
It is important to note that the terms "resume" and "CV" may have different meanings in different countries. This article is using the definitions common in Canada and the USA, where resumes and CVs are distinctly different documents.
In the UK, however, the term CV generally refers to what Americans would call a resume—a short, succinct career summary. UK CVs may be slightly longer than American CVs, running up to three pages, but they are used for any job, not just academic positions.
In other countries, such as Australia, the terms resume and CV are used interchangeably. If you are applying to a job outside of North America, make sure you understand the expectations for resumes and CVs. For more details on how to write a resume or CV for a different country, be sure to read our International Resume Guide.
Resumes vs. CVs: How and when to customize for job applications
Academic CVs are only changed when you have new experience to add, like a new position or publication. Your CV does not need to be altered when you apply for different jobs. CVs are not customized; they simply get longer the more experienced you become.
Resumes, however, should be customized every time you apply for a new job. The needs of each employer are very specific, and in order to make the best impression your resume should be tailored to suit that organization and the specific role you are applying to. This means that before you apply for a job that you should target your resume to the company, using the keywords you find in the job posting and language that suits the company culture.
With VisualCV's free resume builder, it is easy to copy and customize your resume for every new role. For more tips on customizing your resume, be sure to check out VisualCV's guide to customizing your resume for each application.
Which industries prefer resumes over CVs?
In Canada and the USA, you should only use a CV if you are looking for a position in academia. Unless you are a lecturer, researcher or looking for some other career at a university, your best bet is to use a resume. All other industries, from retail to accounting to construction, will expect a resume and cover letter with your application.
Recommended link: Resume exmaples
CVs and resumes for students & entry-level jobseekers
If you are a student or recent graduate and are just beginning your career, you may not yet have any experience to add to your resume or CV. If this is the case, focus on relevant projects and achievements, and foreground your areas of study. Anything from volunteer work to school projects can demonstrate the skills you need for an entry-level job. For more tips for writing a CV when you are still a student, check out our guide to writing a CV when you don't have experience.
Resumes and CVs: two ways to help you land your dream job
The differences between a resume and a cv is nuanced, and which one you should use to apply for your next job will depend on your location, career goals, and industry. Knowing the difference is an important part of ensuring that you are using the best tool for the job when developing your career.