A two-column resume template is a great way to fit all of your qualifications onto a single page. While traditional resume templates use only one column that spans the full width of the page, a two-column resume will have two separate columns, one typically wider than the other.
While many job-seekers still choose a resume template with a single wide column, resume templates with two separate columns have become more popular in recent years. A two-column resume offers more efficient organization as well as a modern yet professional look, and with the availability of premade resume templates, you don't have to design the columns yourself.
If you have been having trouble fitting all of your skills and experience onto your resume in an appealing way, a two-column resume template may be just what you need.
Browse our gallery of resume examples here.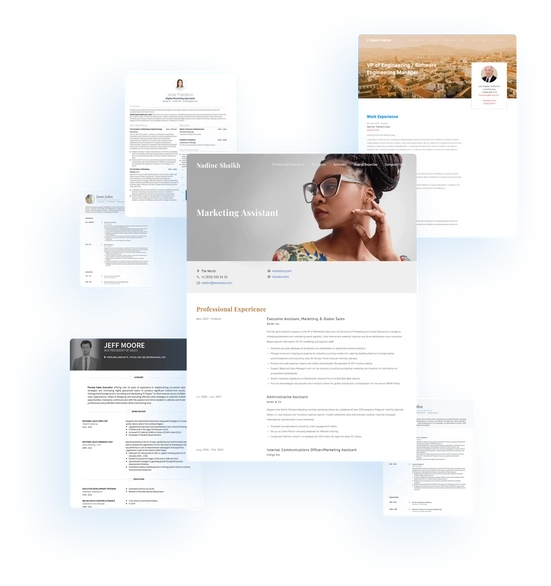 What is a two-column resume?
A two-column resume is exactly what it sounds like: a resume with two columns. That is, a professional document containing descriptions of your skills and experience, organized into two vertical sections.
Often, one of the columns is narrower than the other, and will contain less information. The narrower column might be used for a Summary, Contact Information Section, or Skills list. Larger sections, like Work Experience or Education, can be given more prominence in the wider column.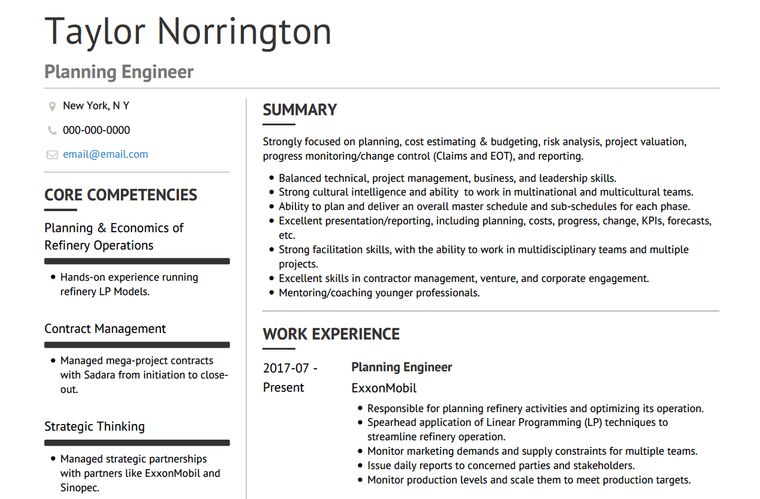 In some two-column resume templates, however, the two columns are the same width. With these templates, neither column seems more important than the other, and it's up to you as the job-seeker to decide which sections get more attention.

Traditional resume templates usually use one column that takes up the full width of the page. Many job-seekers still prefer this resume format. With the advent of more advanced word processors and resume builders (like VisualCV), however, it's easy to create a great looking resume template with more than one column. When you're using software to create custom resumes, there's no reason to limit yourself to one column.
Why use a two-column resume template?
Two-column resume templates are a great way to fit more skills and experience into your resume without needing a second page.
While there is no hard and fast rule that you need to fit your resume onto one page, shorter is always better, and you shouldn't let your resume get longer than two pages. With a two-column resume template, you can use space more efficiently by adding sections that don't take up much horizontal space, such as a list of skills, to the narrower column. This way, it's easy to use the whole page and keep your resume tight.
Two-column resume templates also allow for more customization. You can rearrange the contents of one column without disturbing the other, and you have more options for giving emphasis to different sections.
If you want to emphasize both your Skills and your Summary right at the top of your resume, for example, a two-column resume template allows you to place them both right at the top of the page where they will be seen first. Hiring managers won't have to read to the bottom of one section to get to the next–or worse yet, turn the page–they can just scan from the left column to the right column.
Further, you can use the two columns to keep your resume organized, even when you have a lot of different sections to pack in. With clear headings and well-placed sections throughout the columns, you can make sure the resume is easy to read and makes a great impact.
In short, two-column resumes are efficient, customizable, and they look great.
When (and when not) to use a two-column resume template
A two-column resume can be useful for job seekers in any industry. If you are an experienced professional with years of experience, a two-column template may help you fit all of your skills, achievements, awards, and certifications on your resume while keeping the page count low. If you're in a creative job such as marketing or graphic design, you may prefer a two-column format for its customizability. When you know your industry well and can make the format work for you, you can't go wrong with a two-column template.
However, if you are new to the workforce and would have trouble filling up one column, let alone two, you may want to stick with a one-column template. If you're a student or recent graduate writing your first resume, for example, you might not have enough experience for a two-column resume. In cases like this, there's nothing wrong with a traditional one-column resume.
Remember, you should always consider the company you are applying to when you choose a resume template. More traditional companies with very specific hiring guidelines may be reluctant to accept a two-column resume. Use what you know about the industry, the company, and the hiring manager to decide whether or not a two-column resume template is right for you.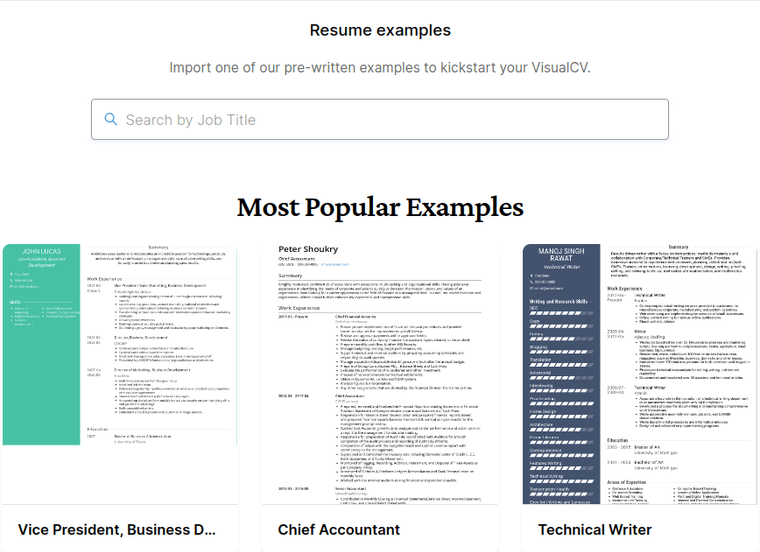 How to create a two-column resume
With a resume builder like VisualCV, creating a two-column resume is easy. You simply just select a template from the list and start writing. The hard part is making sure your resume is well-written and effective.
Step 1: Pick your two-column resume template
The simplest way to pick out a great two-column resume template is to find a great resume builder and select one of their templates.
If you're a designer, or willing to spend the time, you could try designing your own two-column resume template. Be careful, though–using tables or other complicated formatting elements in your resume could cause problems if you have to apply for a job using an ATS. For best results, use a premade two-column resume template.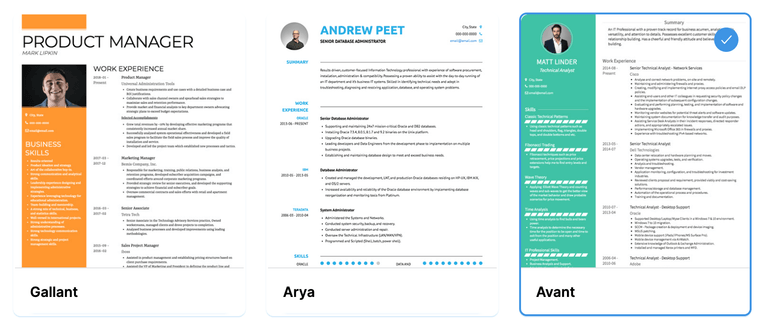 Step 2: Place your resume sections
Sorting sections between columns is integral to a successful two-column resume section. You need to make sure each resume section is given the prominence it needs for the most effective result.
Exactly where everything goes, however, depends on the relative width of the columns, as well as whether the narrower column is on the left or the right.
When writing your two-column resume, focus on what you want to emphasize most. As there can now be more sections on each page, it's important to make sure the most interesting and relevant information is near the top.
Begin, as always, with your name and contact information. Once that has been done, it's time to decide what to place at the beginning of each column. One column will likely feature your work experience at the top, as this is the focus of a resume.
For the other column, you will have to choose what you want employers to see first. It may be your skills, if you have a robust skill set that is relevant to the position you are applying to. It could also be your career summary, as this is an important way for the reader to get to know you. Decide what works best for you and your career.
Where each section goes on a two-column resume will also depend on the length of each section. If your Work History section is short, you may want to add sections beneath it in order to fill up that column. If that side of the resume is already full, however, you can add sections to the other column.
Step 3: Write a great summary
Now that your sections are placed, you can start writing sections. Whether it's in the larger column or the smaller, secondary column, your Summary section should be near the top of your resume. This is the section that introduces you to your employer, so it should come first.

Your Summary section is your elevator pitch to the employer. In a few brief sentences or bullet points, list some key details or achievements that let employers know who you are and what you are capable of.
Your Summary should be short but impressive. Make sure it's good enough that it encourages the hiring manager to keep reading.
Step 4: Write your work experience
Your Work Experience is the most important section of your resume. This is where you list previous positions, and showcase your most impressive skills and accomplishments in each role.
If you're using an asymmetrical two-column resume template, with one column larger than the other, you should place your Work Experience section in the wide column. Your work experience should receive lots of emphasis, and the best way to do this is to put it near the top of your resume in the main column of your resume. This will give you the space to make sure each role in your work history has all the information it needs, like the job title, company name, and dates of employment.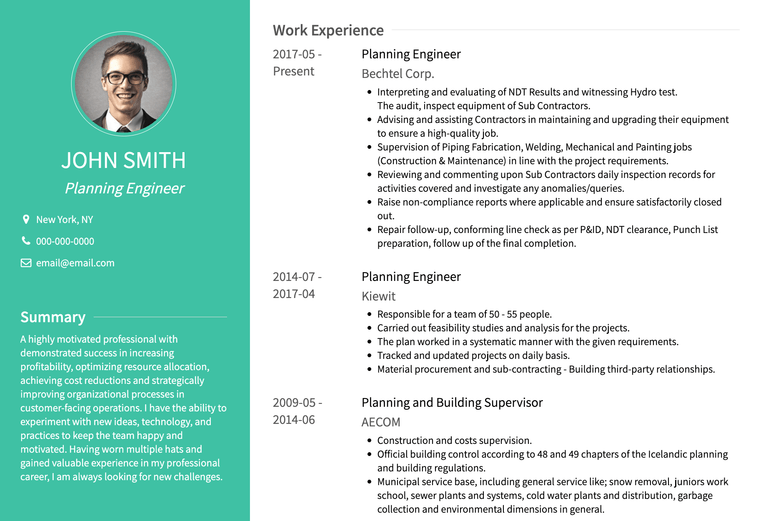 As you write your Work Experience section, begin with your most recent position and work backwards through each role in reverse-chronological order. Highlight your most impressive achievements in each role, and use active language to describe your responsibilities.
You should also use numbers and data as much as possible. Measurable success, like sales numbers or client satisfaction scores, are a great way to show that not only are you good at your job, you can prove it with numbers.
Step 5: Showcase your education and other credentials
The credentials you highlight and where you position them will depend on your career.

If you have been in the workforce for a decade and have plenty of work experience to showcase, your Education and Certifications sections can be relatively small. Place them in the narrower column of your two-column resume, and list your degrees and credentials in a simple bulleted list. When your resume is full enough with your skills and work experience, and your education mostly took place years ago, you don't need to take up space describing your college experience.
If you are a student or recent graduate, however, or looking for work in an academic field, you may want to give your education more emphasis. If you want to list details like your GPA, thesis topic, research area, or specific projects that you worked on, you may want to give your Education section more room. To give your academic success more emphasis, place it in the wider column so it has more space.
Step 6: List your skills
A Skills section is versatile. You can make your skills the centerpiece of your resume, or relegate them to a smaller section to fill up unused space. The way you display your skills depends on your resume and your job search strategy.
If you want to list your skills quickly and simply, you can use a bulleted list. A list of skills in the narrow column of your resume is an efficient way to fit all of your skills into a small space.
If you want to give them more emphasis, you can give more attention to each skill. Make each skill in your list its own heading and elaborate on that skill in a description. You could do this in the main column of your resume, or in the narrow column. For an added visual flair, you can even add strength ratings to each skill.

Exactly where in your two-column resume you place your Skills section is up to you. Just make sure the section is clearly labeled and easy to read.
Step 7: Customize your resume
Even if you've picked out the perfect two-column template for your industry, it's important to tailor your resume for every application. Every time you apply for a new role, you should customize your skills and achievements to suit the position.
To do this, study the job description and look for the key words and phrases that the company uses. The job posting will have specific requirements for the job, and it will list the responsibilities and tools that the job requires. Find these requirements and use the same language in your two-column resume where you know the hiring manager will see it.
For example, if a job posting is looking for experience in Microsoft Excel, make sure to list Microsoft Excel as one of your skills or competencies. Don't use synonyms, like "spreadsheet software" or "Microsoft Office." Use the same language as exactly as possible.
With the right keywords in a great two-column resume template, your resume is sure to score an interview.
Two-column resume template examples
VisualCV offers several striking two-column resume templates that can be used in any industry. To get started on a great two-column resume, begin by choosing a template.
For this example, we will use the Slate template, which features a prominent contact information section, a wide left column, and a narrow right column.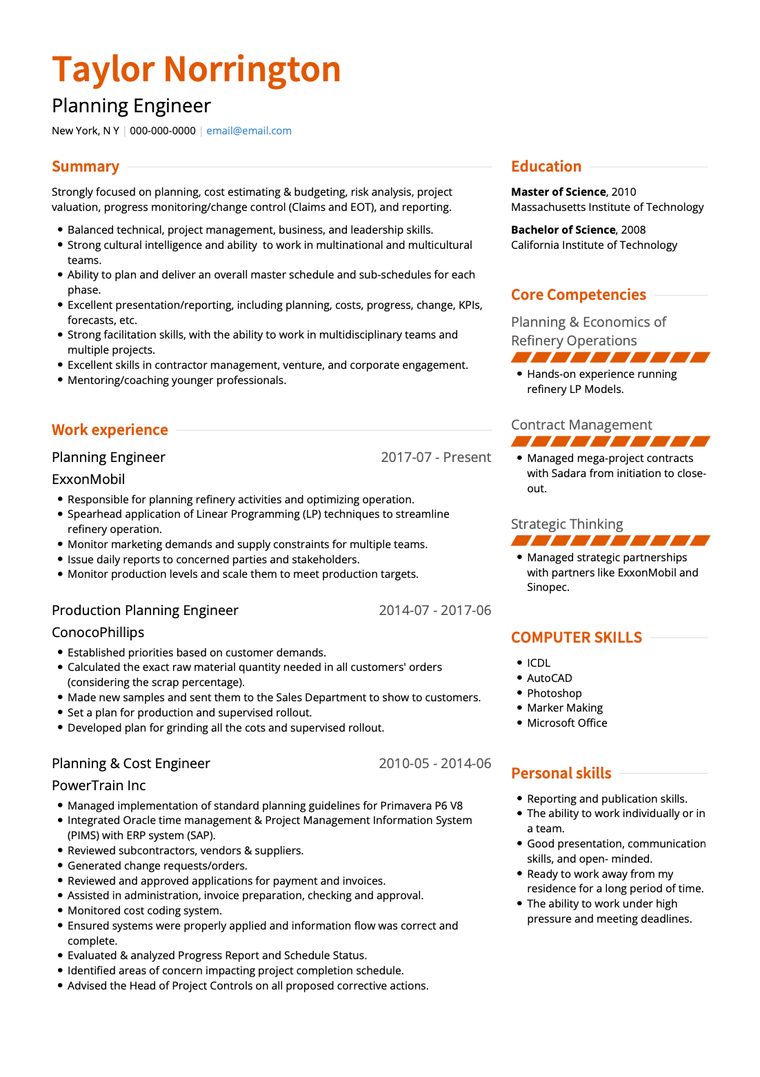 In this example, the important Summary and Work Experience are emphasized in the main column, and other sections are shown in the smaller right column.
Column one:
Summary
Strongly focused on planning, cost estimating & budgeting, risk analysis, project valuation, progress monitoring/change control (Claims and EOT), and reporting.
Balanced technical, project management, business, and leadership skills.
Strong cultural intelligence and ability to work in multinational and multicultural teams.
Ability to plan and deliver an overall master schedule and sub-schedules for each phase.
Excellent presentation/reporting, including planning, costs, progress, change, KPIs, forecasts, etc.
Strong facilitation skills, with the ability to work in multidisciplinary teams and multiple projects.
Excellent skills in contractor management, venture, and corporate engagement.
Mentoring/coaching younger professionals.
Work experience
Planning Engineer ExxonMobil
Responsible for planning refinery activities and optimizing operation.
Spearhead application of Linear Programming (LP) techniques to streamline refinery operation.
Monitor marketing demands and supply constraints for multiple teams.
Issue daily reports to concerned parties and stakeholders.
Monitor production levels and scale them to meet production targets.
Production Planning Engineer ConocoPhillips
Established priorities based on customer demands.
Calculated the exact raw material quantity needed in all customers' orders (considering the scrap percentage).
Made new samples and sent them to the Sales Department to show to customers.
Set a plan for production and supervised rollout.
Developed plan for grinding all the cots and supervised rollout.
Planning & Cost Engineer PowerTrain Inc
Managed implementation of standard planning guidelines for Primavera P6 V8
Integrated Oracle time management & Project Management Information System (PIMS) with ERP system (SAP).
Reviewed subcontractors, vendors & suppliers.
Generated change requests/orders.
Reviewed and approved applications for payment and invoices.
Assisted in administration, invoice preparation, checking and approval.
Monitored cost coding system.
Ensured systems were properly applied and information flow was correct and complete.
Evaluated & analyzed Progress Report and Schedule Status.
Identified areas of concern impacting project completion schedule.
Advised the Head of Project Controls on all proposed corrective actions.
Column two:
Education
Master of Science, 2010 Massachusetts Institute of Technology
Bachelor of Science, 2008 California Institute of Technology
Core Competencies
Planning & Economics of Refinery Operations
Hands-on experience running refinery LP Models.
Contract Management
Managed mega-project contracts with Sadara from initiation to close-out.
Strategic Thinking
Managed strategic partnerships with partners like ExxonMobil and Sinopec.
Computer Skills
ICDL
AutoCAD
Photoshop
Marker Making
Microsoft Office