Great news: your dream job just got one step closer!
Today, we've upgraded the VisualCV Pro experience to include our newest resume premium services. Now, you can have your resume professionally written, no matter what your experience level, field, or career goals.
It's never been easier to create the stand-out resume you need to land more interviews and find your next gig – let us tell you more.
VisualCV Resume Review Service
We know there's a good chance you already have a resume on-hand for your job search (or any unexpected opportunities that might come your way). You've probably spent hours fine-tuning your resume until it's absolutely perfect… right?
Even the most seasoned resume experts could sometimes do with an extra set of eyes. That's why our new services include a resume review. For $49, one of our industry experts will provide you with personalized video advice, from formatting to content. Our team know exactly what it takes to stand out in your field: just ask the thousands of people VisualCV has helped build their best careers.
Best option if: you're the type of person that always wants to be prepared for the future, but you're comfortable doing the heavy lifting yourself.
VisualCV Resume Writing Service
Whether you have a tried and true resume on deck or you're starting totally from scratch, a resume writing service takes the pressure off and lets you sit back and relax while a professional resume writer makes you look good.
Best option if: you know what you bring to the table, but you'd like the skills of a professional writer to help you showcase it.
At different stages of your career, you'll need to take different approaches to your resume. An entry-level resume, for example, usually focuses on skills, volunteer experience, and education. An executive's resume will contain many years of industry experience and tangible results. That's why our resume writing service is available in several different tiers.
Entry level resume writing: $149
Mid level resume writing: $259
Senior level resume writing: $399
Executive resume writing: $899
How to Choose the Right Tier
Each resume writing service tier was created with a certain level of work experience in mind. For example, an entry-level resume isn't usually expected to contain a great deal of work experience. VisualCV's resume writing tiers are as follows:
Entry Level: Less than 2 years of work experience
Mid Level: 2-5 years of work experience
Senior Level: 5-10 years of work experience
Executive Level: 10+ years of work experience
Experience comes in all forms. It might not be immediately obvious to you which resume writing tier would suit your experience and career goals best. Not to worry: if our resume writers find that you've selected a tier that doesn't align with your experience, you'll receive an email allowing you to change your selection.
How to Get Started
Our resume writing and review service is an add-on service available to new and existing VisualCV Pro members. If you aren't yet a VisualCV Pro member, the first step is to select a pro membership that suits you. Once you've logged into your VisualCV Pro account, you'll see a section in your dashboard called "VisualCV Expert." Simply click "Get my professional resume," select which service you'd like to purchase, and the card associated with your VisualCV Pro account will be charged the appropriate amount.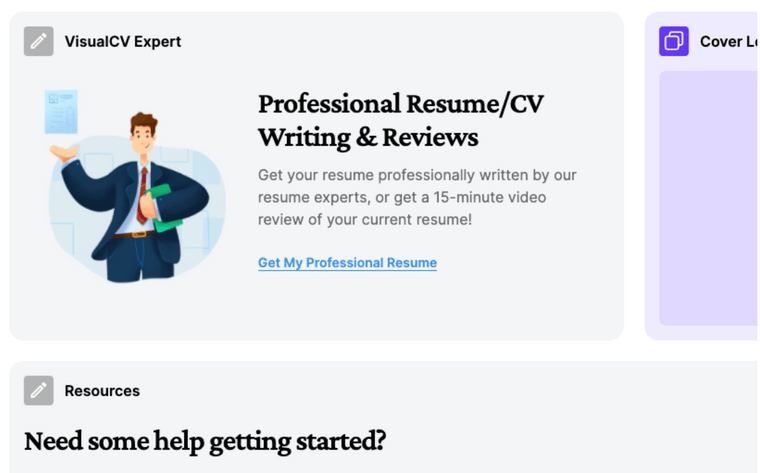 We're so excited about this new chapter for VisualCV, and we sincerely hope that you find these new services helpful. Log in to your VisualCV account to get started!