Professional resume writing services could provide a big boost to your job search.
Writing a great resume and navigating the hiring process are skills you can learn for yourself, but getting the help of a professional resume writer will make that process quicker and easier.
Resume writers aren't cheap, however. It's important to be certain that professional resume writing services are right for you before you commit to one.
To make sure you get the most out of your money, here is our complete guide to hiring professional resume writing services.
What is a resume writer?
First of all, it's important to understand what a resume writer can do for you.
A great resume writer will help you tell your career story. They can identify your skill set, showcase your greatest achievements, and demonstrate your qualifications clearly. They know how to catch the employer's eye with a great resume design and how to beat the applicant tracking system.
For most people, the job search is stressful and confusing. Writing about yourself is difficult, and figuring out what employers are looking for takes a lot of dedication, especially if you haven't applied for jobs in a long time. Good quality professional resume writing services can clarify these things for you, and make the resume writing process a little easier.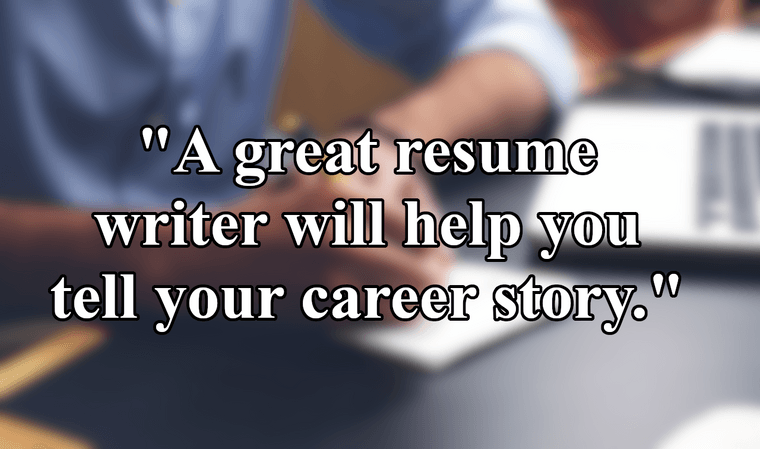 5 reasons for hiring a professional resume writer
Why hire a resume writer? If you aren't sure, here are 5 situations where you should consider hiring professional resume writing services.
You aren't getting interviews
If you've been through the resume guides, read all of the resume tips, and customized your resume for every application, but you still haven't landed a single interview, it might be time to let a professional take a look.
Professional resume writing can't guarantee you an interview. The market could be too competitive, your industry could be in a hiring slump, or you might not be qualified for the roles you're seeking. If your resume is the problem, however, hiring a professional resume writer could help you identify any weaknesses, emphasize your best achievements, and get you past the applicant tracking system.
Your work history is difficult to summarize
Unconventional careers can be difficult to summarize.
If you've done lots of job-hopping, for example, you may have trouble settling on a strategy for your resume. A professional can help you format your resume so that it downplays your weaknesses and highlights your strengths.
If you're returning to work after a long absence, whether it was to travel, go to school, or for family reasons, a professional can help you work the gap into your career story.
If you are trying to enter a new field in the middle of your career, a professional can help you identify transferable skills and target the right experience.
Professional resume writers may be able to help you make sense of your unusual career path.
You are applying for a competitive role
If you are looking to move up the industry ladder, you may want to consider hiring a resume writer. When you apply for jobs or promotions that come with a new title, increased responsibility, or a significant pay raise, the competition becomes stiff. A professional could help you score more important and more specialized roles.
You can't write
Great writing just isn't in everyone's skill set. You might be a world-class programmer, welder, or salesperson, but that doesn't mean you can write a resume that gets you a job. If the thought of writing a resume strikes fear into your heart, you might just need a little help.
A professional resume writer will help you identify your transferable skills, emphasize your greatest strengths and achievements, and create a resume that beats the applicant tracking system.
This way, instead of learning to write a resume, you can use that time improving the skills you need for your job instead.
You can afford it
The cost of unemployment adds up. Each day you spend without a job is a day you have no income. If a better resume will get you a job sooner, it will pay for itself, right?
This depends on how much money you can expect to make in your next role. Spending $500 or more on a professionally written resume might get you a job sooner, but if you end up in an entry-level job it will take a very long time to make that money back.
If a few hundred dollars won't strain your budget and you're expecting to earn a comfortable wage in your next role, hiring a professional resume writer may be worth the cost.
If not, you're better off learning to write a resume yourself.
5 things you must do before you pay for resume writing services
Once you've decided to hire a resume writer, it's time to find the right resume writing service for your situation. Here's how you can make sure the professional resume writer you pick will take your resume to the next level.
1. Research resume writing services
Not all resume writing services are entirely reliable. Some online services aim for quantity instead of quality, producing as many resumes as they can as quickly as possible. They hire writers that have little or no industry experience, and they don't offer revisions or ask for input from the customer. This type of resume writing company may be cheaper, but the resume still won't be worth the money.
To make sure that the company you select is worth hiring, research it as well as you can. Make sure the company has a real phone number you can call and an email address where you can contact them.
Look for an About page, or information about the team who will be working on your resume, to see if the writers attach their name to their work. Ideally the company will have a physical address where they can receive mail as well; even if it's an online service, an address is a good indication that the company is legitimate.
You should also check their marketing materials to make sure they are offering modern resume writing services and keeping up with industry trends.
2. Research the resume writer
Ideally, you will be able to find the name of the person who writes your resume before you hire them. If you hire a larger company they may assign you a writer. Alternatively, you can find independent resume writers and career experts in your city.
Any professional resume writer you hire should have years of experience in recruiting, hiring, and writing resumes. They should know what employers are looking for, how the hiring process works, and what strategies work best in the current economy.
If possible, the person you hire should have experience in your specific industry as well. Try to find someone who has had clients in situations similar to yours. Look for work samples and examples of resumes they have written and make sure they are high-quality.
To research the resume writer, check their website and other online profiles. They should disclose their credentials and other evidence of their experience. There is no one specific certification necessary to become a resume writer, but they may list courses, accreditations, or experiences that demonstrate their competence.
You should also look for independent reviews and testimonials that will give an indication of the quality of their work. If you can, try to get a real referral from someone in your network. First-hand experience is always better than online reviews.
3. Talk to the resume writer
With some online resume writing services, you will talk only to a salesperson or customer support specialist—or even worse, just upload a document—and never talk to the resume writer directly.
For your resume to succeed in getting noticed, it will have to be written by someone who understands your experience and career goals. It must be customized to suit your specific needs and the position you are seeking. To do this, the writer will have to speak with you directly.
In fact, even though you aren't writing the resume yourself, you should be involved in the resume writing process. There should be some back-and-forth as the writer consults you to gain an understanding of your skill set, your needs, and your goals. It might take several revisions to get your resume just right.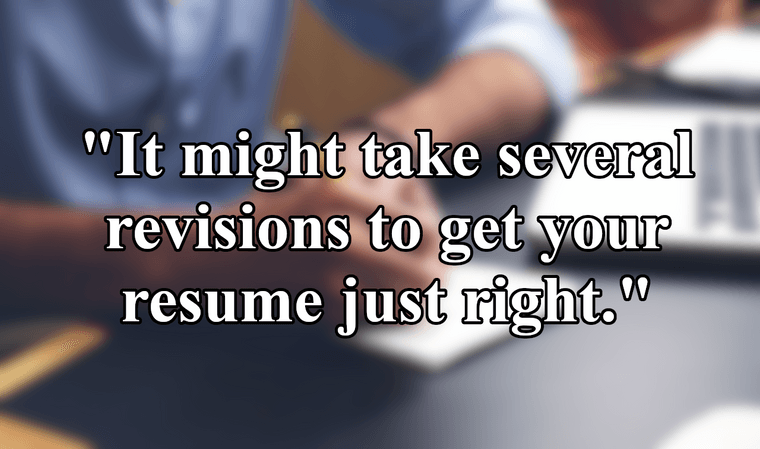 4. Make sure the resume writing process is reliable
It's important to make sure that the writer's process is thorough and professional. If the company promises a 24 hour turnaround, they probably aren't putting their all into your resume. Writing a resume with no meeting, or with only a 20 minute phone call, might not result in the best product.
Ask the writer what their process is like. Find out how long they want to interview you before they write the resume, how involved they expect you to be, and how quickly they work. Do they want to meet face-to-face, or only by email? Do they offer reviews or revisions? Do they offer more in-depth career resources, or only a resume writing service?
The more robust their process is, the more likely it is that the resume will be good.
5. Decide if you can write a better resume
Resume writing is a skill you can learn yourself.
If the cost of resume writing services is too high, the turnaround is too slow, or you can't find a writer you would trust, you can always write your own resume. If the work samples you see aren't any better than what you could do on your own, you may want to handle this part of the job search independently.
Professional resume examples
Still not sure if professional resume writing services are for you? Here are some examples of the great resumes that are possible when you have the right tools.
Senior product manager professional resume example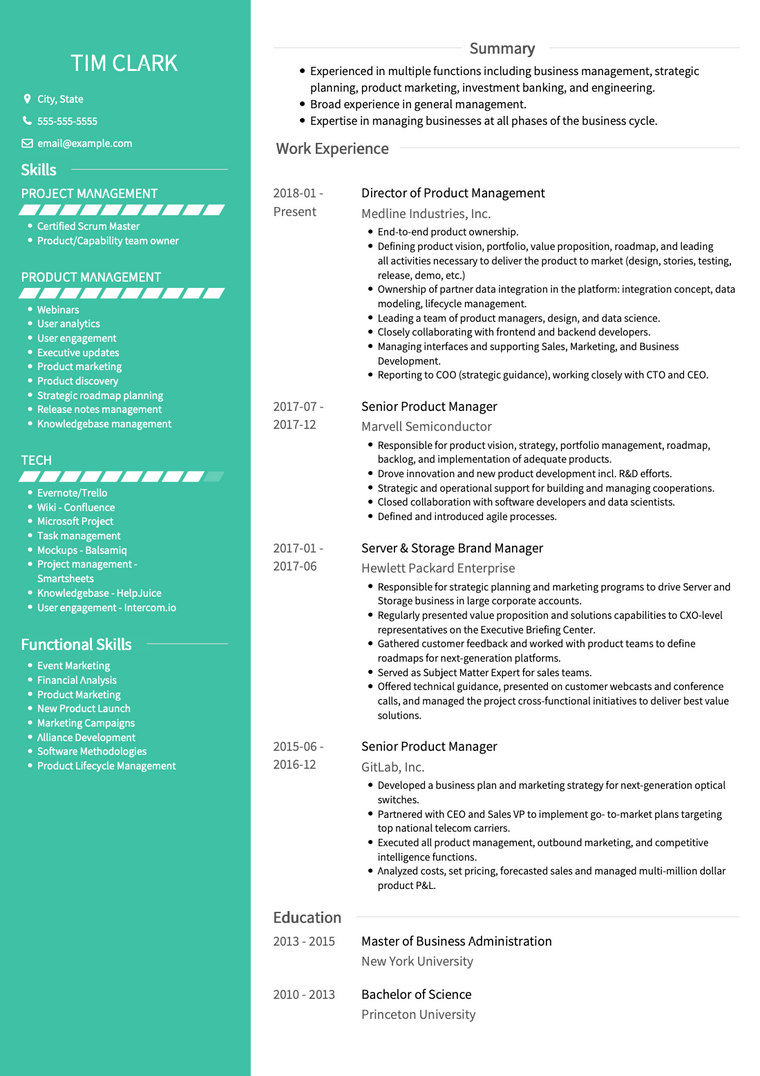 Summary
Experienced in multiple functions including business management, strategic planning, product marketing, investment banking, and engineering. Broad experience in general management. Expertise in managing businesses at all phases of the business cycle.
Work Experience
Director of Product Management
Medline Industries, Inc.
End-to-end product ownership.
Defining product vision, portfolio, value proposition, roadmap, and leading
all activities necessary to deliver the product to market (design, stories, testing, release, demo, etc.)
Ownership of partner data integration in the platform: integration concept, data modeling, lifecycle management.
Leading a team of product managers, design, and data science.
Closely collaborating with frontend and backend developers.
Managing interfaces and supporting Sales, Marketing, and Business Development.
Reporting to COO (strategic guidance), working closely with CTO and CEO.
Senior Product Manager
Marvell Semiconductor
Responsible for product vision, strategy, portfolio management, roadmap, backlog, and implementation of adequate products.
Drove innovation and new product development incl. R&D efforts.
Strategic and operational support for building and managing cooperations.
Closed collaboration with software developers and data scientists.
Defined and introduced agile processes.
Server & Storage Brand Manager
Hewlett Packard Enterprise
Responsible for strategic planning and marketing programs to drive Server and Storage business in large corporate accounts.
Regularly presented value proposition and solutions capabilities to CXO-level representatives on the Executive Briefing Center.
Gathered customer feedback and worked with product teams to define roadmaps for next-generation platforms.
Served as Subject Matter Expert for sales teams.
Offered technical guidance, presented on customer webcasts and conference calls, and managed the project cross-functional initiatives to deliver best value solutions.
Senior Product Manager
GitLab, Inc.
Developed a business plan and marketing strategy for next-generation optical switches.
Partnered with CEO and Sales VP to implement go- to-market plans targeting top national telecom carriers.
Executed all product management, outbound marketing, and competitive intelligence functions.
Analyzed costs, set pricing, forecasted sales and managed multi-million dollar product P&L.
Education
Master of Business Administration
New York University
Bachelor of Science
Princeton University
Financial accountant professional resume example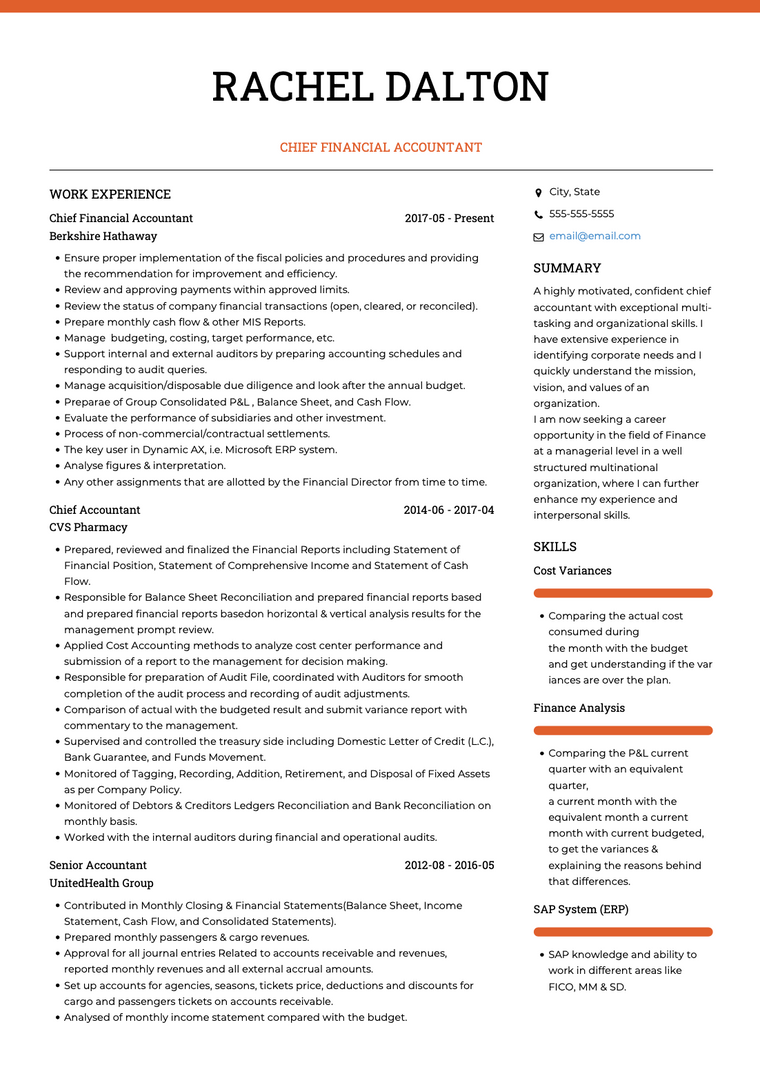 SUMMARY
A highly motivated, confident chief accountant with exceptional multi-tasking and organizational skills. I have extensive experience in identifying corporate needs and I quickly understand the mission, vision, and values of an organization. I am now seeking a career opportunity in the field of Finance at a managerial level in a well structured multinational organization, where I can further enhance my experience and interpersonal skills.
WORK EXPERIENCE
Chief Financial Accountant
Berkshire Hathaway
Ensure proper implementation of the fiscal policies and procedures and providing the recommendation for improvement and efficiency.
Review and approving payments within approved limits.
Review the status of company financial transactions (open, cleared, or reconciled).
Prepare monthly cash flow & other MIS Reports.
Manage budgeting, costing, target performance, etc.
Support internal and external auditors by preparing accounting schedules and responding to audit queries.
Manage acquisition/disposable due diligence and look after the annual budget.
Preparae of Group Consolidated P&L , Balance Sheet, and Cash Flow.
Evaluate the performance of subsidiaries and other investment.
Process of non-commercial/contractual settlements.
The key user in Dynamic AX, i.e. Microsoft ERP system.
Analyse figures & interpretation.
Any other assignments that are allotted by the Financial Director from time to time.
Chief Accountant
CVS Pharmacy
Prepared, reviewed and finalized the Financial Reports including Statement of Financial Position, Statement of Comprehensive Income and Statement of Cash Flow.
Responsible for Balance Sheet Reconciliation and prepared financial reports based and prepared financial reports basedon horizontal & vertical analysis results for the management prompt review.
Applied Cost Accounting methods to analyze cost center performance and submission of a report to the management for decision making.
Responsible for preparation of Audit File, coordinated with Auditors for smooth completion of the audit process and recording of audit adjustments.
Comparison of actual with the budgeted result and submit variance report with commentary to the management.
Supervised and controlled the treasury side including Domestic Letter of Credit (L.C.), Bank Guarantee, and Funds Movement.
Monitored of Tagging, Recording, Addition, Retirement, and Disposal of Fixed Assets as per Company Policy.
Monitored of Debtors & Creditors Ledgers Reconciliation and Bank Reconciliation on monthly basis.
Worked with the internal auditors during financial and operational audits.
Senior Accountant
UnitedHealth Group
Contributed in Monthly Closing & Financial Statements(Balance Sheet, Income Statement, Cash Flow, and Consolidated Statements).
Prepared monthly passengers & cargo revenues.
Approval for all journal entries Related to accounts receivable and revenues, reported monthly revenues and all external accrual amounts.
Set up accounts for agencies, seasons, tickets price, deductions and discounts for cargo and passengers tickets on accounts receivable.
Analysed of monthly income statement compared with the budget.
Prepared the trips profitability report after each trip, estimated revenues estimated operating expenses related to passengers, cargo, ships and ports per trip and actually per month.
Accountant
General Motors
Prepared daily journal entries.
Prepared monthly trial balance, all related analysis.
Prepared monthly expenses analysis.
Bank reconciliation, payroll.
Reported to the financial manager.
EDUCATION
Master of Science in Finance
Golden Gate University
Bachelor of Finance
University of Notre Dame
SKILLS
Cost Variances
Comparing the actual cost consumed during the month with the budget and get understanding if the variances are over the plan.
Finance Analysis
Comparing the P&L current quarter with an equivalent quarter, a current month with the equivalent month a current month with current budgeted, to get the variances & explaining the reasons behind that differences.
SAP System (ERP)
SAP knowledge and ability to work in different areas like FICO, MM & SD.
Budget
Coordination with the concerned department like sales, production, HR higher management for CAPEX. maintenance, etc. Build a strong budget and follow-up to ensure that the company is not exceeding that plan.
IT SKILLS
Good Knowledge of Microsoft Windows, Office.
Information Technology, Oracle, AX Dynamics.
Crystal Reports, Internet Accounting, and Auditing Software.
Reporting Tools.