If the pandemic has taught us anything, it's taught us the vital importance of healthcare workers. Since the onset of Covid-19, employees in all sectors of healthcare have been working incredibly hard to save lives and respond to the disease. If you've found yourself inspired by their hard work and dedication, have you considered building a career in healthcare?
Everyone comes into contact with the healthcare industry at some point – which means that healthcare workers have unprecedented opportunities to make an impact on people's lives. While the work is undoubtedly difficult, it's also highly rewarding. How many workers get to say they've ensured a patient's access to life-saving medication, or that they've managed a holiday night shift in an emergency room that treated hundreds of people in need?
If you're looking for a career that will reward you financially, emotionally and ethically, healthcare could be the field for you. But how do you get started?
Fortunately, we're here to help! In this guide we will cover: Some myths and misconceptions about healthcare
Common roles and salaries in healthcare
How to get hired in healthcare without experience
How to get hired in healthcare after college
Healthcare resume and cover letter examples
Myths and Misconceptions About Healthcare
If you're considering a career in healthcare, don't let these common misconceptions about the field deter you! We're here to bust a few of the most popular myths about finding work in healthcare, so you can pursue your career goals with confidence.
Myth 1: Everyone in healthcare is a doctor or a nurse
The healthcare industry is home to over 17 million workers. If everyone were a doctor or nurse, barely anyone would be able to get a job!
The truth is that healthcare offers a huge variety of career paths. You don't need to put in years of your life at medical school to work in the field – in fact, there are plenty of jobs available that don't require that kind of educational or financial commitment. Here are just a few of them:
Medical technician
Lab technician
Medical assistant
Dietitian
Home health aide
Healthcare administrator
We'll delve into some of these roles in more detail later on, to give you a clearer sense of what you can expect from healthcare if you don't want to retrain completely as a doctor or RN. Whatever your current level of education, skill or experience, you have options. Don't count them out before you start!
Myth 2: You'll end up working in a hospital
It's true that many people who work in healthcare do work in hospitals. But there are plenty of other settings where the delivery of healthcare is a high priority, too. If you're not keen on hospital-based work, it's just a matter of finding a role based elsewhere – and that's easier than you might expect.
You might find work in settings like assisted living facilities or care homes, if your work brings you into contact with elderly patients. More hands-off, research-driven careers could see you working in private medical laboratories, well away from patients. Depending on your specialization, you could even end up working in a college or school setting – remember, most schools need to be able to provide some level of medical care to their students.
As with most industries, healthcare has a surprising amount of flexibility. While hospital-based roles are some of the most visible, there's a whole world of possibilities for medical professionals who want to do something different.
Myth 3: You have to work long hours
Depending on your role, there can be a kernel of truth to this myth. Some doctors and nurses do have to work long hours as a matter of routine. Even worse, those hours can be erratic – you may move between day and night shifts, with very little long-term consistency.
But as we've already discussed, you don't have to be a doctor or nurse to work in healthcare. If the thought of long hours is enough to put you off the whole industry, don't give up on it yet! There are plenty of other roles which offer a much more generous work-life balance.
Most healthcare workers work approximately 40 hours per week, and some work even less. It's also important to note that if you work outside of a high-pressure clinical setting – like a hospital – you're more likely to be offered consistent and manageable hours.
So when considering which roles are right for you, take the working hours into account! In the right workplace and the right position, it's perfectly possible to keep a regular schedule and still have time to rest in the evenings.
Roles and Salaries in Healthcare
So you've decided to job search in the healthcare industry, but you're not sure where to begin. Given the sheer variety of roles available in the field, that's understandable! Depending on your level of education, your willingness to retrain, and your past experience, you could be a great fit for any number of roles in healthcare.
Here are a few of the most popular roles available in healthcare, along with salaries and education requirements. With any luck, you'll find the place where you fit!
Doctor
Average salary: $237,000 (family doctors); $341,000 (specialists)
Doctors are in high demand all over the world, and this is reflected in the high rates of pay available to them. While the exact salary you can expect to earn as a doctor is dependent on your specialization, as well as your location, there's no denying that the financial rewards of being a doctor are some of the highest in the industry.
If you're a dedicated, compassionate person with the ability to retain high quantities of information, you could thrive as a doctor. It's a profession where you can balance your head for facts, data and detail with your people skills and social wherewithal.
It's also a profession that demands serious commitment on almost every level. You'll need to make a big up-front investment of money and time to complete your degree in medicine, and then spend even more time learning on the job in order to progress. And no matter how you approach it, working as a doctor can be emotionally demanding, too – you will inevitably have to deliver bad news, or confront the human cost of a difficult day at work.
If you're looking for a career in healthcare that you can move into easily from outside the industry, this may not be it. But if you're prepared to put in the time, the energy and the work, this is a career that will reward you in kind.
Nurse
Average salary: $117,000
Are you compassionate and hard-working in equal measure? Do you thrive under pressure? If so, you may want to consider a career as a nurse.
Nurses are in extremely high demand, with the number of roles available projected to increase by 45% before 2030. Training as a nurse means you can enjoy a relatively high level of job security, as well as the flexibility to take work in settings that really work for you. Wherever in the country (or the world!) you'd like to live, you can be confident that there will be work available for you to do.
As a nurse, you also have plenty of scope to choose how you'd like to specialize. You could become a nurse anesthetist, a nurse midwife, or a geriatric nurse – or something else entirely! Once you're in, it's a career you can really make your own.
But just like doctors, nurses need to invest in education and training before they can get their foot in the door. At minimum, you will need a master's degree to become a nurse. You'll also need to pass a national nursing certification exam, and obtain a license to practice in your state.
Dentist
Average salary: $159,000-$208,000 depending on specialization
'Dentist' is actually a broad church – it encompasses a lot of sub-roles, from orthodontics to maxillofacial surgery. While your salary mary vary depending on your exact specialization, the range you can expect will generally be high.
Like doctors and nurses, dentists usually have to train extensively before they can practice. Most candidates will need to graduate from an accredited dentistry program, and will need to be licensed in the state where they want to work. If you're hoping to work adjacent to dentistry for a while, to see if the field is right for you, you could consider taking on work as a practice receptionist to get a feel for the role.
The benefit of dentistry, relative to other roles in healthcare, is the independence it can offer. While many dentists work as associates at existing practices, it's very common for dentists to start their own practices and work for themselves. If you have a head for business as well as a great bedside manner, this may be the career move for you.
Pharmacist
Average salary: $124,000
If you've ever had to pick up your medication from the drugstore, you've encountered a pharmacist. They're responsible for dispensing drugs and advising on their correct use. Pharmacists may also perform routine health screenings or administer vaccinations to members of the public.
This is another role that requires extensive training: most pharmacists have a Doctor of Pharmacy (DPharm) degree, as well as a license to practice. If you're not sure whether you want to commit to retraining yet, consider looking for work as a pharmacy assistant instead! The educational requirements are much more accessible, and you'll pick up valuable work experience in a pharmaceutical environment.
As pharmacists work directly with the public, you'll need very strong people skills to get ahead in this career. You'll also need a good memory for facts – a big part of practicing as a pharmacist is knowing how drugs interact with other drugs, with a view to keeping patients safe and healthy. If you have a great eye for detail and an enthusiasm for helping others, this might be the career for you.
And if you're hoping to progress further in your career as a pharmacist, you have plenty of options available. More business-minded pharmacists might want to open their own pharmacy, while others might move into more research-based roles in the pharmaceutical industry itself.
Healthcare Admin
Average salary: $115,000
Practical roles in healthcare are all extremely rewarding – but it's easy to forget who keeps their work sites functioning smoothly every day. If you're an administrative professional who wants to work in healthcare without the need for extensive retraining, you might just be a healthcare administrator in the making!
A healthcare administrator is responsible for keeping a medical facility operational. In roles like this, you'll take responsibility for staffing, budgeting, record-keeping, and legal compliance. You'll also make sure that the medical professionals working at your facility are happy and supported in their work.
If you're looking to find your way into healthcare admin, you might start as a practice receptionist or administrative assistant. In roles like this, you'll be able to build valuable work experience and learn whether healthcare administration is really right for you. You'll also be able to access on-the-job training to deepen your understanding of the laws and regulations you'll need to know to advance.
And as you climb the ladder as a healthcare administrator, you could find yourself managing larger facilities – or even whole networks of medical practices. You'll be in a position to make a difference to hundreds of thousands of lives over the course of your career.
How to Get a Job in Healthcare
When you're staring down the prospect of a job search in a new industry, it's easy to feel intimidated – but don't despair! Finding a job in healthcare is like finding a job in any other industry, albeit with a higher barrier to entry.
Here are some ways to improve your chances of finding the job you want. Remember, putting in the work now will make your life easier when you start sending out applications.
Consider Further Education
There's no getting around it: many roles in healthcare require at least a bachelor's degree. Depending on the role you want, you might even need a master's degree or a doctorate. For many people hoping to enter the healthcare industry after starting their career elsewhere, that means going back to school.
Fortunately, it's never been easier to learn in a way that suits you. Many schools now offer remote or part-time learning options, so you can fit your study around your existing work or family commitments.
Even if you already have the qualifications you need, it's always a good idea to affirm your existing skills – or develop some new ones – with a certification or training course. There are options available to suit your time, availability and budget. Plus, the kind of self-directed learning they involve will always look great on your resume.
Develop Your Experience
If you've never worked in healthcare before, the job search can feel particularly daunting. One of the easiest ways to stand out from other applicants is to build as much experience as you can. If you can prove that you already understand the basics of working in healthcare, you'll have a competitive edge over applicants coming into the industry without that prior knowledge.
If you're a college student, there's no better time to develop your experience in healthcare. Talk to your school's careers center about internships, work experience programs and other opportunities to get to know the field. You have a wealth of resources at your disposal, so make sure you put them to use!
If you're already in work, why not look into volunteering your time instead? Whether it's at a hospital, a clinic, or a local retirement home, it will all count in your favor as you start to apply for jobs.
Reach Out to Your Network
It can be frustrating, but it's true: when you're job-searching, having connections helps. If you've been lucky enough to build a strong professional network already, now is the time to put it to use. Reach out to your contacts and let them know you're looking for work in healthcare – you might be surprised by the help and advice they can offer!
If you don't have an existing network, or if your network has very little to do with healthcare, now is the time to make the connections you need. Try joining relevant groups on social networks like Facebook or LinkedIn. Talk to people who work in the industry, listen to their answers, and learn what you can.
And remember, the point of networking isn't to demand jobs or assistance. It's to make reciprocal connections with other professionals in your industry, so you can help each other out when the time comes. Stay friendly, stay mature, and stay supportive, and it will take you further than you think!
Healthcare Resume Examples
Pharmacist Resume Example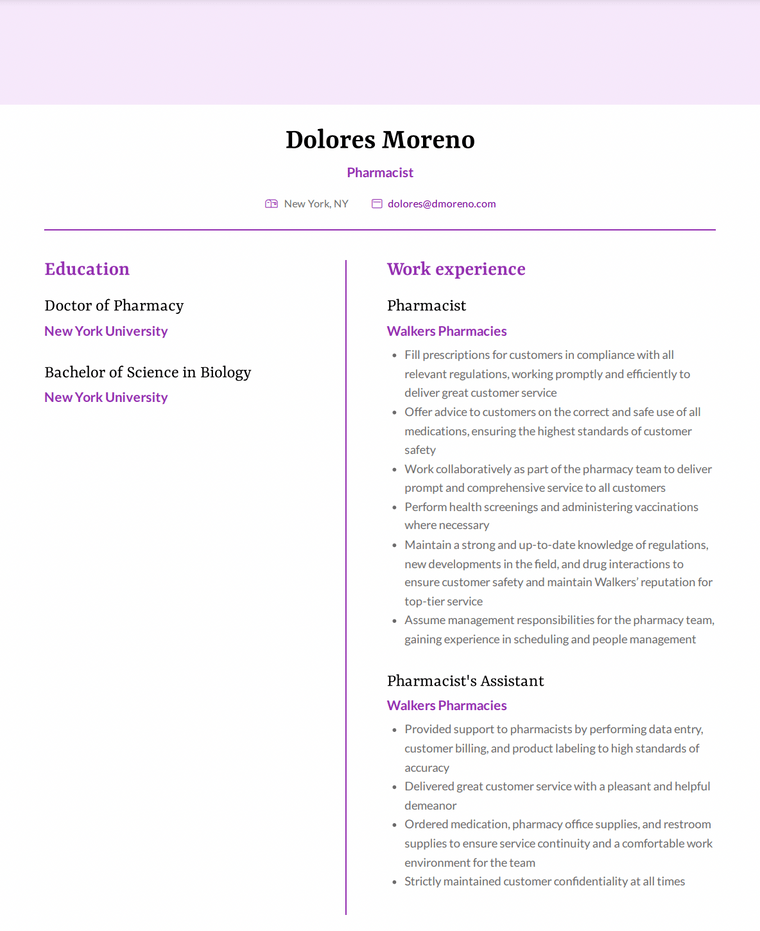 Summary An experienced, customer-focused pharmacist with years of experience in public-facing work. Experienced in performing routine health screenings and administering vaccinations. Strong attention to detail and proven ability to retain facts. Prioritizes delivering great customer service with compassion, diligence and care. A team player with management experience, able to perform administrative tasks and scheduling. Always seeking new opportunities to specialize and develop.
Work Experience Pharmacist | Walkers Pharmacies
Fill prescriptions for customers in compliance with all relevant regulations, working promptly and efficiently to deliver great customer service
Offer advice to customers on the correct and safe use of all medications, ensuring the highest standards of customer safety
Work collaboratively as part of the pharmacy team to deliver prompt and comprehensive service to all customers
Perform health screenings and administering vaccinations where necessary
Maintain a strong and up-to-date knowledge of regulations, new developments in the field, and drug interactions to ensure customer safety and maintain Walkers' reputation for top-tier service
Assume management responsibilities for the pharmacy team, gaining experience in scheduling and people management
Pharmacist's Assistant | Walkers Pharmacies
Provided support to pharmacists by performing data entry, customer billing, and product labeling to high standards of accuracy
Delivered great customer service with a pleasant and helpful demeanor
Ordered medication, pharmacy office supplies, and restroom supplies to ensure service continuity and a comfortable work environment for the team
Strictly maintained customer confidentiality at all times
Education Doctor of Pharmacy New York University
Bachelor of Science in Biology New York University
Skills
Medication administration
Medication dispensing
Medical knowledge and training
Organization
Customer service
Leadership
Teamwork
Analysis
Multitasking
Microsoft Office suite
Practice Receptionist Resume Example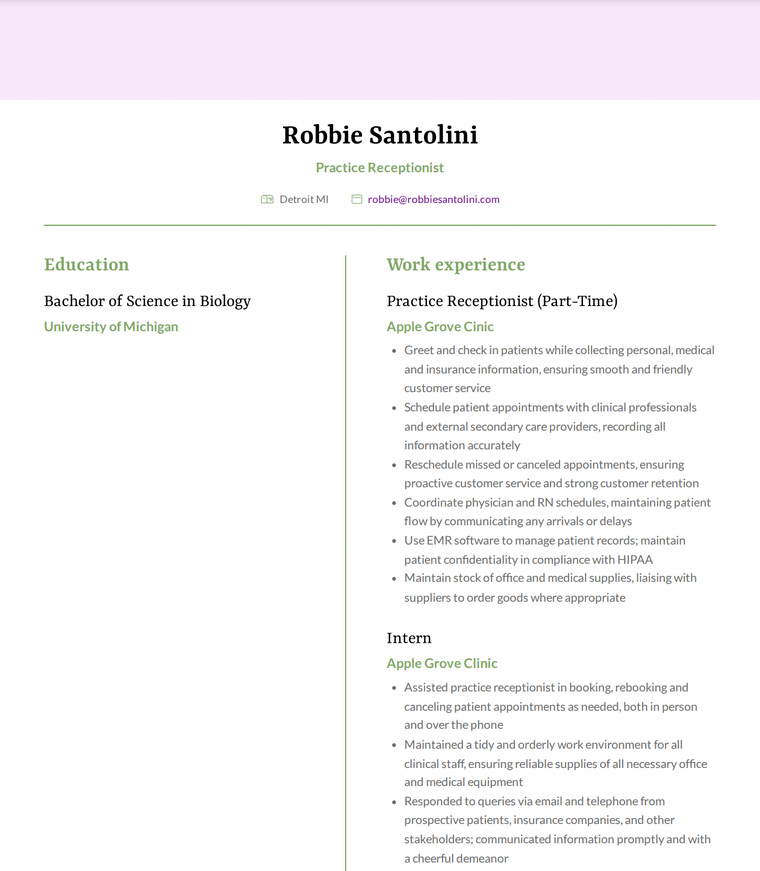 Summary An experienced and customer-focused practice receptionist with experience working with electronic health records. Prioritizes great customer service informed by an understanding of medical terminology and compassion for all people. Strong administrative skills, including office management, schedule management, ordering, billing, and payment processing. Seeking a role in a respected clinical practice dedicated to providing top-tier customer outcomes and service.
Work Experience Practice Receptionist (Part Time) | Apple Grove Clinic
Greet and check in patients while collecting personal, medical and insurance information, ensuring smooth and friendly customer service
Schedule patient appointments with clinical professionals and external secondary care providers, recording all information accurately
Reschedule missed or canceled appointments, ensuring proactive customer service and strong customer retention
Coordinate physician and RN schedules, maintaining patient flow by communicating any arrivals or delays
Use EMR software to manage patient records; maintain patient confidentiality in compliance with HIPAA
Maintain stock of office and medical supplies, liaising with suppliers to order goods where appropriate
Intern | Apple Grove Clinic
Assisted practice receptionist in booking, rebooking and canceling patient appointments as needed, both in person and over the phone
Maintained a tidy and orderly work environment for all clinical staff, ensuring reliable supplies of all necessary office and medical equipment
Responded to queries via email and telephone from prospective patients, insurance companies, and other stakeholders; communicated information promptly and with a cheerful demeanor
Education Bachelor of Science in Biology University of Michigan
Skills
Medical terminology
Multitasking
Personal organization
Office organization
Schedule management
Customer service
Electronic health record management
Billing and payment processing
Patient confidentiality
Healthcare Cover Letter Examples
Pharmacist Cover Letter Example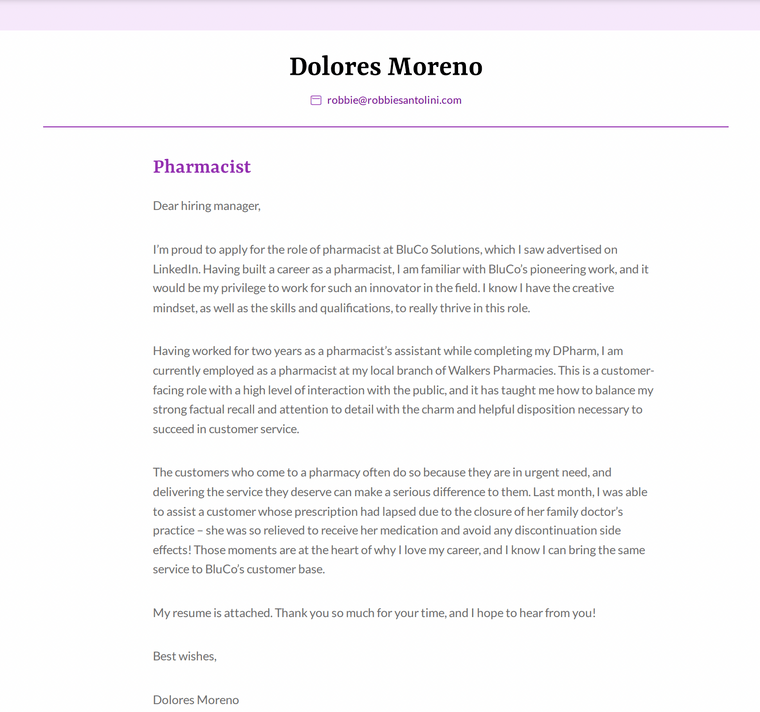 Dear hiring manager,
I'm proud to apply for the role of pharmacist at BluCo Solutions, which I saw advertised on LinkedIn. Having built a career as a pharmacist, I am familiar with BluCo's pioneering work, and it would be my privilege to work for such an innovator in the field. I know I have the creative mindset, as well as the skills and qualifications, to really thrive in this role.
Having worked for two years as a pharmacist's assistant while completing my DPharm, I am currently employed as a pharmacist at my local branch of Walkers Pharmacies. This is a customer-facing role with a high level of interaction with the public, and it has taught me how to balance my strong factual recall and attention to detail with the charm and helpful disposition necessary to succeed in customer service.
The customers who come to a pharmacy often do so because they are in urgent need, and delivering the service they deserve can make a serious difference to them. Last month, I was able to assist a customer whose prescription had lapsed due to the closure of her family doctor's practice – she was so relieved to receive her medication and avoid any discontinuation side effects! Those moments are at the heart of why I love my career, and I know I can bring the same service to BluCo's customer base.
My resume is attached. Thank you so much for your time, and I hope to hear from you!
Best wishes,
Dolores Moreno
Practice Receptionist Cover Letter Example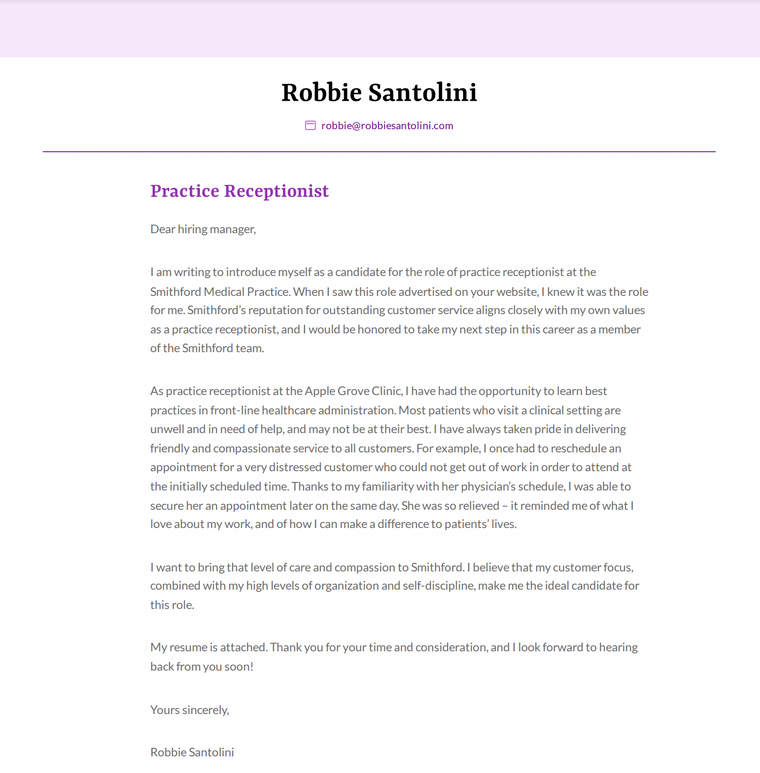 Dear hiring manager,
I am writing to introduce myself as a candidate for the role of practice receptionist at the Smithford Medical Practice. When I saw this role advertised on your website, I knew it was the role for me. Smithford's reputation for outstanding customer service aligns closely with my own values as a practice receptionist, and I would be honored to take my next step in this career as a member of the Smithford team.
As practice receptionist at the Apple Grove Clinic, I have had the opportunity to learn best practices in front-line healthcare administration. Most patients who visit a clinical setting are unwell and in need of help, and may not be at their best. I have always taken pride in delivering friendly and compassionate service to all customers. For example, I once had to reschedule an appointment for a very distressed customer who could not get out of work in order to attend at the initially scheduled time. Thanks to my familiarity with her physician's schedule, I was able to secure her an appointment later on the same day. She was so relieved – it reminded me of what I love about my work, and of how I can make a difference to patients' lives.
I want to bring that level of care and compassion to Smithford. I believe that my customer focus, combined with my high levels of organization and self-discipline, make me the ideal candidate for this role.
My resume is attached. Thank you for your time and consideration, and I look forward to hearing back from you soon!
Yours sincerely,
Robbie Santolini