If you're wondering how to get a job at Apple, you're not alone: it's widely recognised as an amazing place to work. From iPhones to AirPods, Apple's products are everywhere, and they've made an extraordinary impact on technology. It's also famous for its creative, innovation-driven workplace culture, where staff are encouraged to think outside the box – and then throw out the box altogether.
But positions at Apple are in high demand, and the interview process demands some serious preparatory work. If you've dreamed of working for Apple since you bought your first iPod in 2001, you could be in for a rude awakening if you don't do your research beforehand. So how can you get ready to make a strong, competitive application to Apple?
You've come to the right place to find out! In this article, we'll cover the following points:
The challenges of getting a job at Apple
What to expect from the Apple hiring process
How to get hired to work at the Apple Store
How to get a job at Apple with no experience
Apple cover letters
Apple resumes
How Hard is it to Get a Job at Apple?
To gauge how difficult it is to get hired to work for Apple, you need to balance several factors – the hiring rate at Apple, the intense competition for interviews, and the famously rigorous interview process.
As a large company, Apple sees fairly consistent financial growth. This means it can afford to hire regularly, which in turn means that there are usually jobs available at Apple. Given time and a little patience, you're highly likely to find Apple advertising for a role that suits your skills and experience.
On the other hand, Apple is considered a highly desirable place to work. The culture encourages creativity and collaboration; the benefits and pay are very competitive; and the opportunities for professional development are hard to beat. It's also a big deal to have a big name like Apple on your resume – it shows potential future employers that Apple considered you to be the best of the best in your field.
As a direct result, competition for roles at Apple can be intense. This is particularly true for technical roles, which are highly sought after. Only about 2% of would-be engineers are able to progress beyond Apple's demanding technical interview rounds!
For qualified candidates who are prepared to put the necessary time and effort into making a competitive application, the chances of success when applying to work at Apple are higher. But you need to be aware that you will have stiff competition for every role you apply to – and you need to work as hard as you can to set yourself apart from other applicants. What to Expect When Applying for Jobs at Apple Apple can afford to be selective, with every position in such high demand! As such, you need to make sure that your application meets and exceeds every hiring standard. Otherwise, you could be outperformed by other applicants.
Here's a rough guide to what you can expect from the Apple hiring process, to help you prepare your winning application.
Online Application
First of all, you'll need to create a profile on Apple's Jobs website. You can do this using your Apple ID – which, if you are a regular user of Apple's products, you probably already have! Once you've signed in, you can complete an online form to provide information about yourself and your work history.
This section will also contain some questions about your motivation for wanting to work at Apple. Remember, 'I stumbled across an ad' isn't the answer they're looking for, and neither is 'the pay looks great.' Read up on Apple's work and culture, identify the aspects that speak to you, and write about why they resonate with your own work style and career goals.
Make sure this aspect of your application is as strong as it can be, and keep all your answers in line with the job description – as well as Apple's company values. At this stage, Apple will be looking for any reason not to take your application forward. Don't give them any reason to doubt your experience, your skills, or your commitment to the role you want.
Phone Interview and Assessment
If you make it past the online application stage, you'll be asked to schedule a phone interview with Apple. The purpose of this interview is to establish whether or not you have the skills and competency to work for Apple. Have a copy of your resume to hand, and be prepared to answer some common behavioral interview questions.
There's an extra stage here for candidates applying for technical roles – the coding interview, which takes place remotely and is designed to test your coding skills in real time. You will be asked to solve one or two coding problems, so recruiters can watch your approach to problem-solving. You may also be asked some technical questions, so make sure you brush up on your coding and algorithmic knowledge beforehand!
After the phone interview, you'll be asked to complete an online assessment. This is intended to assess whether you can work as part of a team, and to gauge how you would fare as an Apple employee. Again, it's important to keep Apple's company values in mind – they want to see whether you're a cultural fit, so make sure you understand the company culture before you begin.
In-Person Interview
Making it to the in-person interview is a serious achievement in its own right. If you get this far, you'll be invited to meet the hiring manager in person to make a case for yourself as the right candidate. While other large companies sometimes spend a full work day interviewing candidates, with many hour-long interview rounds per applicant, Apple's process is relatively short and sweet: you get one chance to make a great impression.
This is an opportunity to explain in more depth why you think you are the right fit for the role. Revisit the job description and person specification before you go in, and make sure you cite relevant experience from your work history where appropriate. If you're applying for a technical role, you may be asked some more technical questions, so be ready to answer as thoroughly as you can.
This is also your chance to ask any questions you have about the role. Remember, asking the right questions can make you look attentive and engaged – both great things to be, when applying for a company that values problem-solving and teamwork! Make a note of any questions you have before your interview, and don't be afraid to ask.
How to Get a Job at the Apple Store
Apple Stores are the public face of Apple. If you've ever visited an Apple Store, you know how much pride the company takes in its gorgeous displays and its top-tier customer service. But as with any Apple role, jobs in Apple retail are ultra-competitive, and can be difficult to get.
When applying for a role at an Apple Store, you'll need to make an online application first. If you pass that stage, you'll be invited to schedule a phone interview – then to attend between two and six in-person interviews, some of which will take place in groups. Here are a few tips to give you an edge as you work through this long and stringent application process. Get a Referral It might seem unfair, but it's a fact: if a current Apple Store employee offers you a referral, you're far more likely to be invited to attend at least one interview. Knowing someone on the inside – particularly at the management level – can be a huge advantage.
Reach out to everyone you know, and ask if they know a current Apple Store employee – you may be surprised at the results! If you're lucky enough to be introduced to an Apple Store employee as a result of this networking, remember to be respectful when asking for a referral. They aren't obligated to give you anything; the best you can do is explain as clearly as possible why you want the job, and why you believe you are the right fit.
If you can't find a referral, don't give up! Proceed with your application as normal, and keep in mind that you will have to work extra hard to shine.
Know the Products
A big part of any role at the Apple Store is – unsurprisingly – selling the company's products to customers. In order to sell with authority, you will need to have a strong working knowledge of the products. That means it's time to do your homework, and get to know the products that Apple makes and sells.
While this can give you an edge, it isn't the whole story. Apple develops new products all the time, so your research will quickly fall out of date. What the company is really looking for is a willingness and an ability to learn new things, so you can keep up with the information that customers will want.
Building a strong understanding of Apple products will show hiring managers that you're prepared to learn on the job. In a tight competition for limited roles, that will give you a real advantage.
Be Prepared for Group Interviews
If you reach the later stages of the hiring process, you can expect to attend some group interviews with other candidates. If you haven't participated in group interviews before, this can be daunting. However, if you know what Apple's hiring managers are looking for, you'll find that a group interview is a great way to demonstrate some of those qualities.
To work at the Apple Store, you need to demonstrate both leadership abilities and a willingness to work as a team. You will need to be friendly and polite to your fellow candidates, but also take every chance you can to communicate your point of view. Be respectful, calm and confident, and you will stand out as a great retail employee.
Showcase Your Personality
To be successful in retail, you need to have the kind of personality that can engage customers instantly. Hiring managers are looking for candidates who combine charm, enthusiasm, and a sincere willingness to help. That's what you need to bring to the table when interviewing for a role at the Apple Store.
It might sound simplistic, but the best way to be competitive when applying for these roles is to be yourself. Be friendly, genuine and positive throughout, and show the hiring managers that you are the kind of person that will help their store to thrive. You might be surprised by how far a winning personality can take you!
How to Get a Job at Apple With No Experience
You don't necessarily need past experience to work for Apple, even if you're applying for non-retail positions. If you're a new graduate, or if you've never worked in the tech industry before, you can still take some important steps to make sure your application is competitive! Here are just a few ways to stand out from your competition.
Improve Your Skills
No matter how much experience you have, you can always do more to build your relevant skills before job-searching. Online certifications and courses are widely available at a range of price points, and can boost your credentials while also helping you to develop new skills. Whether you want to get better at softer skills like leadership or communication, or hard skills like coding, there's a course out there that can help you grow even further.
If you're in college, your careers center may be able to advise you on training sessions and courses available to students at your school. If you're already in work, it's worth talking to your manager about your professional development. There may be opportunities for you to participate in workplace training, to set you up for future success.
Taking the time to proactively build your skills will also show any hiring manager that you are a self-starter, with the motivation necessary to succeed. Particularly for a company like Apple, which is looking for the best of the best, that's a great quality to be able to demonstrate. Make sure your skills are front and center on your resume, and let them do the talking.
Create Your Own Experience
If you're applying for technical roles at Apple, and you don't have any past work experience in software engineering or coding, you will find yourself at a real disadvantage. Fortunately, there's a solution – work on your own coding projects, even if you have to do it on your own time.
Being able to point to something you've developed and produced yourself will give recruiters a clear indication of your technical prowess. It will form a topic of conversation at interview, and help to clarify your skill level in the absence of past technical work on your resume. You can also give yourself an extra edge by working as a freelance coder or developer, if you can bring your coding skills up to standard.
Just like developing your skills, creating your own work experience shows that you're proactive and self-motivated. It can also teach you some important skills in its own right! Whether you're learning a new coding language or drafting emails to chase up unpaid invoices, you'll be able to point to all of that experience in your interview.
Talk to Your Network
Let's be realistic: networking alone won't be enough to land you the job of your dreams at Apple. But if you know someone on the inside, you have a reliable source of information about the company culture and the application process. That knowledge can give you a real edge when preparing to make your application.
If you're a new graduate, you may not have much of a professional network yet. However, you still have access to your school's alumni network – so reach out and ask for advice! If you're lucky enough to find an Apple employee through this channel, they may well have an investment in helping a fellow alum succeed.
If you already have work experience in another industry, consider casting your net a little wider than your existing network. Ask your friends and family if they know anyone with experience working for Apple – and if that fails, ask your professional contacts if they can put you in touch with anyone, too. You never know who might have the connection you need!
Be Persistent!
As we've already discussed, roles at Apple can be competitive. You're more likely to be knocked back than you are to be accepted, particularly if you're applying for technical roles. It's important to be prepared for that possibility, and to be ready to learn from it.
Remember, every failure is an opportunity to do better next time. Keep building your skills and experience, and keep refining your resume. If you're prepared to take rejection in stride without being deterred, you will stand a much stronger chance of obtaining your dream role – even if you have to wait a little while to get there.
Apple Software Engineer Cover Letter Example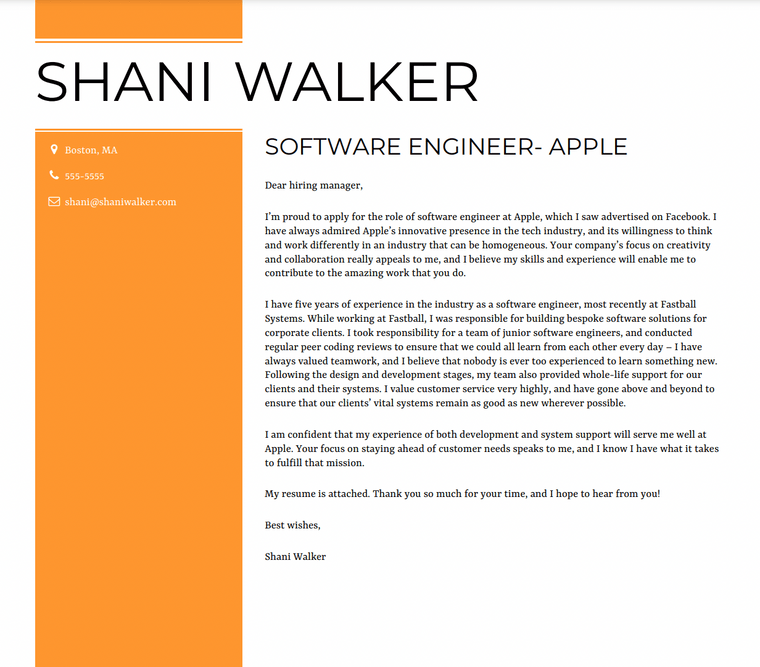 Dear hiring manager,
I'm proud to apply for the role of software engineer at Apple, which I saw advertised on Facebook. I have always admired Apple's innovative presence in the tech industry, and its willingness to think and work differently in an industry that can be homogeneous. Your company's focus on creativity and collaboration really appeals to me, and I believe my skills and experience will enable me to contribute to the amazing work that you do.
I have five years of experience in the industry as a software engineer, most recently at Fastball Systems. While working at Fastball, I was responsible for building bespoke software solutions for corporate clients. I took responsibility for a team of junior software engineers, and conducted regular peer coding reviews to ensure that we could all learn from each other every day – I have always valued teamwork, and I believe that nobody is ever too experienced to learn something new. Following the design and development stages, my team also provided whole-life support for our clients and their systems. I value customer service very highly, and have gone above and beyond to ensure that our clients' vital systems remain as good as new wherever possible.
I am confident that my experience of both development and system support will serve me well at Apple. Your focus on staying ahead of customer needs speaks to me, and I know I have what it takes to fulfill that mission.
My resume is attached. Thank you so much for your time, and I hope to hear from you!
Best wishes,
Shani Walker
Apple Store Cover Letter Example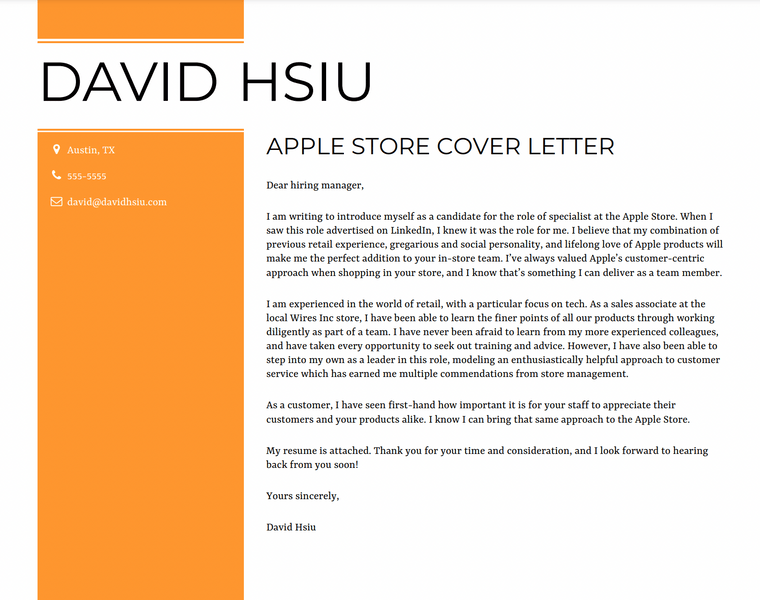 Dear hiring manager,
I am writing to introduce myself as a candidate for the role of specialist at the Apple Store. When I saw this role advertised on LinkedIn, I knew it was the role for me. I believe that my combination of previous retail experience, gregarious and social personality, and lifelong love of Apple products will make me the perfect addition to your in-store team. I've always valued Apple's customer-centric approach when shopping in your store, and I know that's something I can deliver as a team member.
I am experienced in the world of retail, with a particular focus on tech. As a sales associate at the local Wires Inc store, I have been able to learn the finer points of all our products through working diligently as part of a team. I have never been afraid to learn from my more experienced colleagues, and have taken every opportunity to seek out training and advice. However, I have also been able to step into my own as a leader in this role, modeling an enthusiastically helpful approach to customer service which has earned me multiple commendations from store management.
As a customer, I have seen first-hand how important it is for your staff to appreciate their customers and your products alike. I know I can bring that same approach to the Apple Store.
My resume is attached. Thank you for your time and consideration, and I look forward to hearing back from you soon!
Yours sincerely,
David Hsiu
Apple Software Engineer Resume Example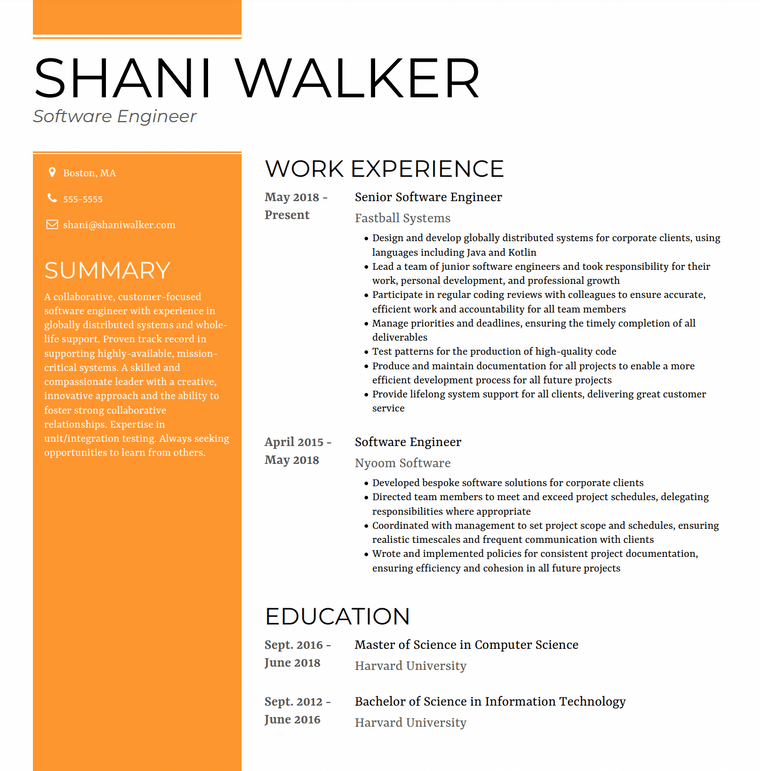 Summary
A collaborative, customer-focused software engineer with experience in globally distributed systems and whole-life support. Proven track record in supporting highly-available, mission-critical systems. A skilled and compassionate leader with a creative, innovative approach and the ability to foster strong collaborative relationships. Expertise in unit/integration testing. Always seeking opportunities to learn from others.
Work Experience
Senior Software Engineer Fastball Systems
Design and develop globally distributed systems for corporate clients, using languages including Java and Kotlin
Lead a team of junior software engineers and took responsibility for their work, personal development, and professional growth
Participate in regular coding reviews with colleagues to ensure accurate, efficient work and accountability for all team members
Manage priorities and deadlines, ensuring the timely completion of all deliverables
Test patterns for the production of high-quality code
Produce and maintain documentation for all projects to enable a more efficient development process for all future projects
Provide lifelong system support for all clients, delivering great customer service
Software Engineer Nyoom Software
Developed bespoke software solutions for corporate clients
Directed team members to meet and exceed project schedules, delegating responsibilities where appropriate
Coordinated with management to set project scope and schedules, ensuring realistic timescales and frequent communication with clients
Wrote and implemented policies for consistent project documentation, ensuring efficiency and cohesion in all future projects
Education Master of Science in Computer Science Harvard University
Bachelor of Science in Information Technology Harvard University
Skills
Java
Kotlin
MySQL
Windows, macOS, and Linux
Software engineering
Software design
Data analysis
Algorithms
Communication
Leadership
Problem-solving
Apple Store Resume Example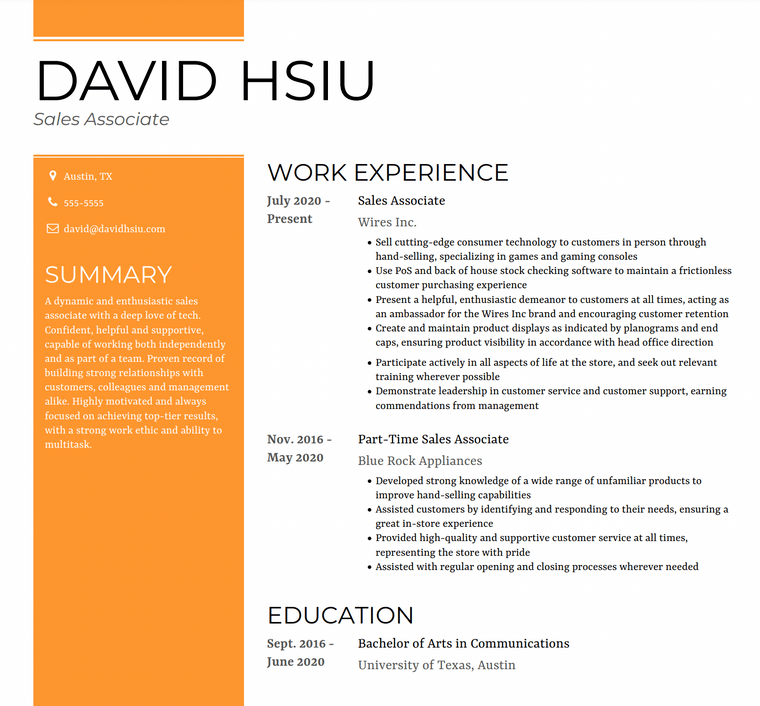 Summary A dynamic and enthusiastic sales associate with a deep love of tech. Confident, helpful and supportive, capable of working both independently and as part of a team. Proven record of building strong relationships with customers, colleagues and management alike. Highly motivated and always focused on achieving top-tier results, with a strong work ethic and ability to multitask.
Work Experience
Sales Associate Wires Inc
Sell cutting-edge consumer technology to customers in person through hand-selling, specializing in games and gaming consoles
Use PoS and back of house stock checking software to maintain a frictionless customer purchasing experience
Present a helpful, enthusiastic demeanor to customers at all times, acting as an ambassador for the Wires Inc brand and encouraging customer retention
Create and maintain product displays as indicated by planograms and end caps, ensuring product visibility in accordance with head office direction
Participate actively in all aspects of life at the store, and seek out relevant training wherever possible
Demonstrate leadership in customer service and customer support, earning commendations from management
Part-Time Sales Associate Blue Rock Appliances
Developed strong knowledge of a wide range of unfamiliar products to improve hand-selling capabilities
Assisted customers by identifying and responding to their needs, ensuring a great in-store experience
Provided high-quality and supportive customer service at all times, representing the store with pride
Assisted with regular opening and closing processes wherever needed
Education Bachelor of Arts in Communications University of Texas, Austin
Skills
Customer service
Product knowledge and research
Commercial awareness
Teamwork
Leadership
Communication
PoS and back of house software