Besides love, your career is the most important contributor to your happiness.
A 10 minute investment in getting your resume perfect could be the difference between an interview and the trash pile. And that job you land because you invested those 10 extra minutes to go above and beyond could lead to unimaginably great opportunities.
Recruiters spend on average 6 seconds reviewing a resume. And out of dozens of resumes, only 1 person will get that job. If your resume blends in with the others, you'll get passed by without a thought.
VisualCV is here to help you stand out. Whether you're actively looking for a job, testing the waters, or looking for freelance clients - we have the right profile for you.
Don't take our word for it - here are direct testimonials from proud VisualCV users.
How it works
Using VisualCV is simple. Choose a design, add your content, and publish. The end result is a stunning resume that can be used in multiple ways.
As an online resume with a unique URL
As a PDF for traditional job applications
VisualCV users swear by it. They link their social media profiles. They include it in their email signature. They send it to potential clients, networking contacts, and employers.
No other service allows you to create a detailed profile in which you are in full control of your data, your privacy, and your design.
Try it for free today - we're confident you'll love it.
VisualCV Designs
You are unique, and your resume should be too. With stylish and professional resume templates, VisualCV provides a variety of options for showing off your skills.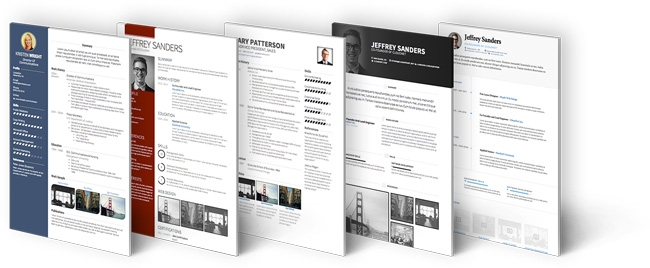 We know that a standout resume is just one step in the process of building your best career. That's why we launched business level marketing tools to help you get visibility to your VisualCV.
You can share your VisualCV via trackable email - and get a notification when it's opened so you know when to follow up. It's like having your own personal marketing tools, complete with in-depth visitor tracking and resume analytics.
VisualCV is for professionals looking for more from their career.
For the average job seeker - there are options out there. Here they are:
Microsoft Word resume templates
CVMKR (It's totally free!)
LiveCareer (beware, they'll charge you $40/month after the first week)
We want to work with professionals who are different. Who stand out from the crowd. Who aren't afraid to show a little color and do things differently.
The starter plan includes 1 resume design to get you ready for the job search.
The Professional plan includes all of our premium templates, unlimited resumes, and in-depth analytics.
For $36, you'll get access to all those features for 3 months.
If you're not over-the-moon with VisualCV Pro, send us an email within the first month and we'll refund your account - no questions asked.