Are you planning to rework your CV? Are you wondering how to find the right template to suit your needs? If you're considering a simple CV template, we're here to help you find the right one.
Let's start with 5 Simple CV Templates that you can use.
5 Simple CV Templates
Now that you've decided to use a simple CV template, it's time to choose the specific template you want! To give you a head start, we've picked out some of our favorites from our pool of CV templates.
Remember, all of VisualCV's Simple CV templates are designed by professionals and capable of getting past ATS software. They're also heavily customizable, so that if you want to, you can make each design your own! Take a look through our template catalog and choose the design that suits you best.
ATS Simple CV Template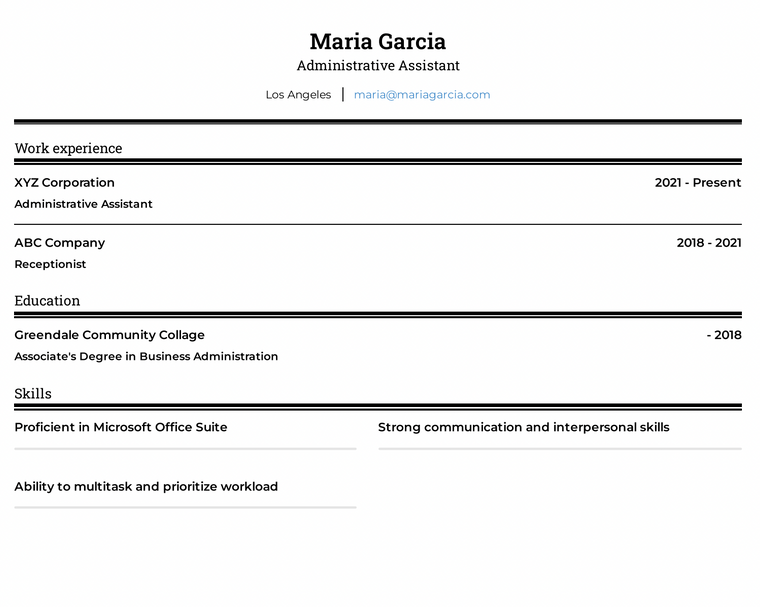 When to Use This Simple CV Template
ATS might just be our simplest CV template yet! It's designed for online applications, with a specific focus on being as readable as possible for ATS software. But a great side-effect is that it's also easy for humans to read—even hiring managers in a serious hurry to move on.
This straightforward, streamlined template uses classic fonts and neutral colors, so that the focus is squarely on the content of your CV. Each section is clearly divided, so the hiring manager will always know what they're looking at. And depending on where you are in your career, you can adjust the order of the sections, so you're always putting your best foot forward.
Air Simple CV Template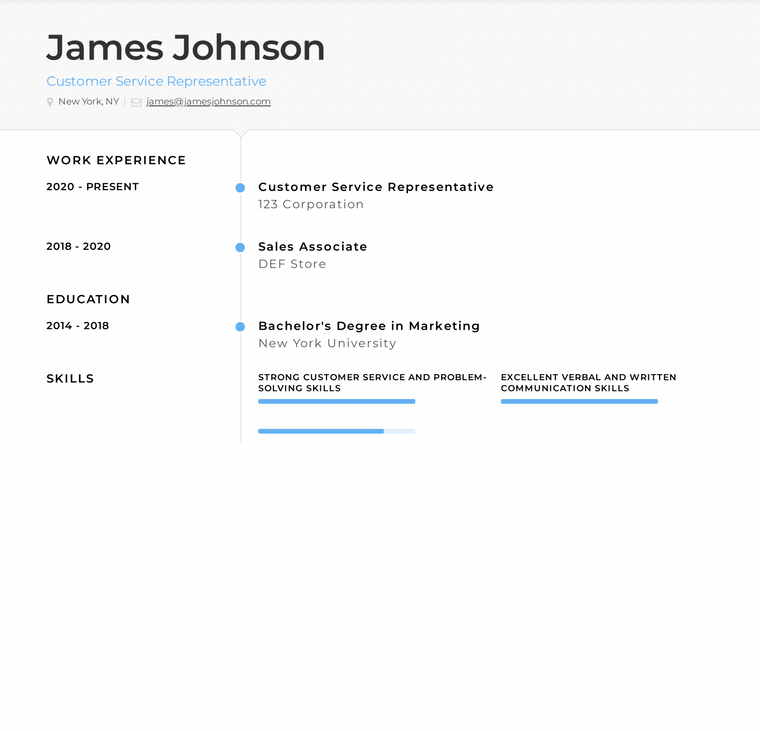 When to Use This Simple CV Template
Air is a perfect example of simplicity that doesn't compromise on elegance. It uses a few subdued design features, such as the divider between the CV's two columns. But crucially, those features work to support the content of your CV, rather than distracting from it.
Like most of the other templates in this list, Air uses simple sans-serif fonts for easy readability. It uses a classic two-column layout that will be instantly familiar to hiring managers, so you'll make a great impression from the very first glance. And as a bonus, it includes room for a headshot photo, if you're in the kind of industry where that's a necessity.
Corporate Simple CV Template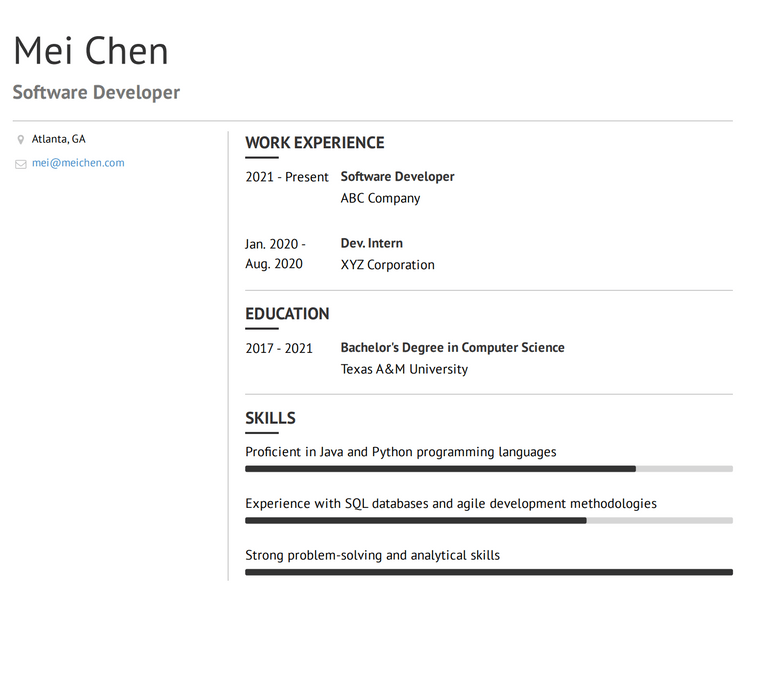 When to Use This Simple CV Template
As you might expect from the name, Corporate is designed for candidates looking for corporate positions. That informs every aspect of its design, from the readable sans-serif fonts to the classic two-column layout. It's a standard CV template in every respect, featuring a neutral color palette and a strong focus on information over design.
This is a great template to use if you're hoping to work in a particularly conservative business environment, where you'll be expected to show an understanding of professional norms. But it has other uses, too! If you're looking for a simple, effective template that screams professionalism, Corporate is hard to beat.
Monte Simple CV Template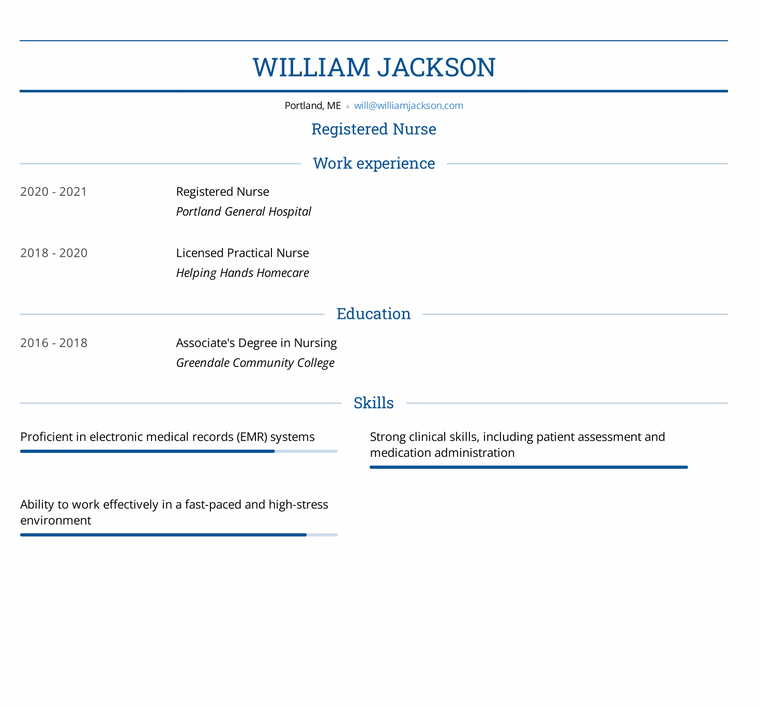 When to Use This Simple CV Template
Like Air, Monte makes striking use of a few touches of color and design. But everything else, from the layout to the font choice, carries the hallmark of a simple CV template. It's a great compromise for those who want the professionalism of a simple template, while still keeping a little personality and individualism.
Monte is extremely easy to read, with plenty of spacing between sections. It's easy to tell each section apart, thanks to the serif font used in the headers. And it's totally adjustable depending on where you are in your career, so you can move each section into whatever position you need.
Standard Simple CV Template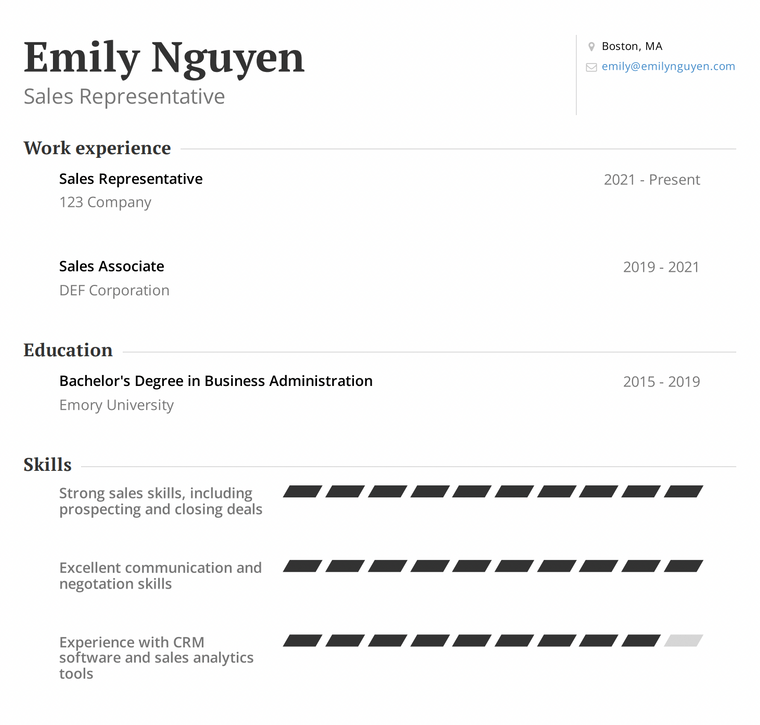 When to Use This Simple CV Template
Standard is for the candidates who know they don't need flash to stand out from the crowd. It's a simple, clean template with a classic single-column layout—easy to read, and impressively professional. Like ATS and Corporate, it's a perfect choice for anyone hoping to work in a conservative industry, where industry norms are paramount from the very beginning.
It uses classic, readable fonts and a neutral color palette, so that hiring managers can focus on the content of your CV. There are no complicated tables or gimmicks, so the ATS software will be able to read it without any issues. You can trust this template to get you exactly where you need to go, no matter your industry or your professional goals.
When to Use a Simple CV Template
So why should you consider using a simple CV template? If you're wondering whether it's the right move for you, read on! Here are some of the most pertinent reasons to consider a more simple layout for your CV. Keep it Professional When you use a more intricate CV template, you need to make sure that it's the right fit for the industry where you want to work. Believe it or not, the wrong type of template in the wrong kind of industry can give hiring managers a really bad first impression of you. It might give them the sense that you aren't aware enough of the norms in your industry to make an informed choice about the way your CV looks.
You're unlikely to run into this problem with a simple CV template. That's because these templates are classics—they rely on long-established standards for what makes a good CV, without any bells or whistles that might be off-putting. Whatever industry you want to break into, you'll find that a simple CV template is widely recognized as a good fit.
When to Not Use a Simple CV Template
Of course, there are industries where a more intricate template is a better fit! In creative industries, for example, it's a good idea to use a less simple template to show off your sense of design. But even in that situation, a simple resume is unlikely to deter hiring managers—it's a great baseline default that will set you up for success. Beat the ATS Software ATS software is helpful for hiring managers, but it can be a real pain for applicants. Nobody wants to put hours of work and effort into a CV, only to have it set aside before a human being has even glanced at it. If your CV template isn't optimized for machine reading or online submission, you could run into that problem even if you've taken care to include as many key words from the job description as possible.
Fortunately, simple CV templates usually avoid this problem. Their simple layouts make them easy for the ATS software to read, so you can trust that they won't fail at the first hurdle after submission. All you have to do is ensure that the content is optimized for the ATS software—your template will take care of the rest.
Even if you're not sure that a simple CV template is right for you, you don't have to worry about ATS software when you work with VisualCV! All of our CV templates are professionally designed to be legible by ATS software—even the ones with intricate, multi-column layouts. While you'll still need to make sure that the substance of your CV is ready for an ATS screening, you can be confident that any template you choose will be a help, not a hindrance, to your application.
Best Industries for a Simple CV Template
As we've mentioned, there are some industries where a simple CV template won't be the best fit. If you want to work in a creative field, it's better to submit a CV that shows a little creativity. And if you're hoping to work in tech, a more modern CV template is likely to be a better choice.
But some industries will be very interested in your ability to adhere to established professional norms—and that's where the simple CV template comes in. We've put together this quick guide to some of the fields where a simple CV will serve you well. If you're hoping to work in one of these industries, a simple CV template might just be the perfect pick! Finance Of course there are exceptions here—financial technology (fintech) companies, for example, might be more interested in more flavorful CV templates. But in general, the world of finance skews pretty conservative, and hiring managers are likely to appreciate a respect for the classics. A simple CV template will allow you to foreground your achievements without any distractions, and showcase your understanding of professional norms within the industry.
Simple CV Template Example for Administration
Most companies need some degree of administrative functionality—and depending on the specific culture of the company you want to work, you may want to consider a more vibrant template instead. But generally speaking, admin is all about professionalism, and there are very few CV templates more professional than the simple ones. Think of a simple CV template as a form of office-appropriate dress—it's a way to signal that you know exactly what you're showing up to do.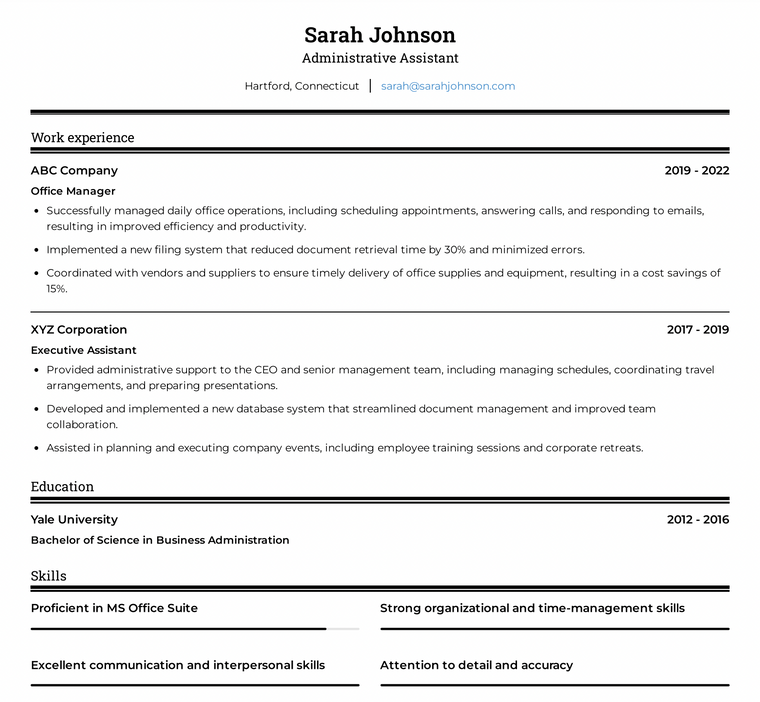 Simple CV Template Example for Government
Government hiring processes are pretty regimented, which means hiring managers are seriously pressed for time. That means you'll want to give them every advantage when it comes to reading your CV—otherwise, you may risk having your application put to one side before you've shown off the best you have to offer. A simple CV template is a great way to make a hiring manager's life easy, and to foreground substance over style in the process.