Cover letters don't have to be long. Even if it's only a few paragraphs, a short cover letter can be enough to sell yourself to a hiring manager.
When you write a cover letter, your goal is to pitch yourself to the company. All you need is a few skills, accomplishments, or qualifications that showcase why you are a great pick for the job you're applying to. Keeping your cover letter short ensures that you stay focused and efficient, making your application credible and quick to read.
With the short cover letter samples, steps, and tips below, you'll have your application ready in no time.
How to write a short cover letter
A short cover letter will have these sections:
Greeting
Intro
Body
Signoff
To write a short cover letter, it's best to start at the beginning:
Step 1: Greeting
Greet the hiring manager. If you know them by name, be sure to address them that way. If you don't know who will be reading your application, you can address your cover letter to the team or department who you are applying to.
Step 2: Intro
Briefly introduce who you are and why you are writing. You should mention explicitly what role you are applying to, in case your cover letter gets mixed up with other open positions. You may also want to mention where you saw the job posting and a few key skills or attributes that make you a strong fit for the position.
I'm Dave, a cashier and recent graduate seeking a part-time role in a retail environment. I am writing to apply for the open Floor Manager position at your establishment.
Step 3: Body
In the body of your short cover letter, highlight some key accomplishments or skills that make you a great candidate for the role. Try to think of specific examples of our achievements, whether they are in sales numbers, customer happiness scores, or the size of the teams you have experience managing. Concrete examples of your abilities are a great way to impress hiring managers.
I have a high school diploma, foodsafe certification, and more than than five years of experience working in a retail environment. In my previous roles, I gained experience in merchandizing, cash handling, customer service, scheduling, and working with Point of Sale systems. I have a friendly and outgoing personality, and I am dedicated to ensuring all customers get the great shopping experience they deserve.
Step 4: Signoff
To end your short cover letter, invite the hiring manager to contact you so you can discuss the opportunity further. This might go without saying–of course the company will contact applicants they are interested in–but a call to action never hurt anyone.
Finish with your name and contact details.
I know that my skills and experience would make me a valuable member of your retail team. I would love to schedule an interview so we can discuss this opportunity further. Please let me know if you have any questions.
Regards, Dave Wen
Short Cover Letter FAQs
With the modern job market changing as fast as it does, it's fair to have some questions about cover letters. Here are some common questions about writing a short cover letter, answered:
Do I really need a cover letter?
Yes, you do need to learn to write a cover letter. A great cover letter can be the thing that gets a hiring manager to read your resume. It can even be the thing that gets you the job. Even if the job portal says that a cover letter is optional, you should always write one.
While your resume has all of your most relevant skills and experience, your cover letter is where you can use those qualifications to tell your story. It's where you can really show your personality, and demonstrate in your own words why you're right for this position.
These days, employers probably have access to your portfolio and social media profiles, in addition to your application materials. A cover letter can seem like extra work that the employer might not bother to read. And in many cases, this could be true; the company might use an Applicant Tracking System (ATS) to sort resumes and never bother reading cover letters at all. Many applications will even say in the application requirements that a cover letter is optional.
Even if it's optional, however, you should include a short cover letter in your job application. You don't want to create a situation where the hiring manager has to choose between you and another candidate, and they choose the other one because they have a cover letter and you don't.
Why write a short cover letter?
Hiring managers are always in a hurry. They are typically looking for candidates in addition to their other duties, and they want to spend as little time reviewing applications as possible. You should make your cover letter and resume as easy-to-read as possible.
The best way to keep your cover letter readable is to keep it short, with short paragraphs and a simple structure. This way you can sell yourself and tell your career story, without boring the hiring manager.
How short is too short?
Typically, a cover letter has three paragraphs: An introduction, a body paragraph, and a closing paragraph. Some cover letters can run longer than this, with multiple paragraphs describing different experiences or reasons the applicant should be hired, but this is rare.
When you write a short cover letter, three paragraphs is enough, and each paragraph only needs a few sentences. Cover letters don't need to be long to be effective.
If your cover letter is just a sentence or two, however, you may need to add some details. Even a short paragraph should be close to half a page, or somewhere between 200 and 350 words. If it is shorter than that, it will look like something you typed out carelessly, without any consideration for the company you are applying to.
How do I keep my cover letter short?
The best way to keep your cover letter short is to stay focused on the skills and experience most relevant to the position you are applying to. If you can cut any extraneous details from the cover letter, it will be shorter, more focused, and more effective.
This means it's important to customize your cover letter for each application.
To do this, study the job posting carefully. It will have specific details about the job requirements and duties, as well as the type of employee the company is looking for. Use this information to inform how you write your cover letter. It should demonstrate that you have all the qualifications needed for the job, using the same terms.
If you really want to make sure your cover letter is perfectly tailored, research the company outside of the job posting as well. Find the company's accounts on social media, and look through the company website for the company's mission statement or company values. Since your cover letter is a place where you can express your own values, this is an opportunity to show that in addition to bringing the right skills, you will fit right into company culture.
When you have finished researching the company, you will know exactly what they are looking for in an employee, and you will be able to cut your resume down to exactly the right details and nothing extra.
What is the best short cover letter format?
Your cover letter should use the same format as your resume. This is true for both design and file format.
The application might ask specifically for a resume in PDF or Word. Your cover letter should use the same format.
If you are applying through email, not an online portal, you may choose to write your cover letter in the body of the email. This is acceptable, but it is best to include an attached copy as well, so the company's hiring manager can keep it on file. They may also want to run it through an ATS.
A great way to make sure your cover letter matches your resume is to use a resume builder to create a cover letter. VisualCV, for example, offers several cover letter templates that perfectly match resume templates, ensuring that your cover letter and resume share a coherent style.
Cover letter samples
Coming up with a short cover letter from scratch is no easy task. It can help to work from a cover letter template or cover letter sample when you get started. Once you have a sample, you can customize the wording to suit your own voice and experience.
With that in mind, here are some short cover letter samples to inspire you:
Short cover letter template
Hi [name of hiring manager],
My name is [name]. I am writing to apply for the [job title] at [company name], which I found listed on [job board]. I have worked in this field for more than [number of years] years, including experience with [job-related skill] and [job-related skill]. I am [attribute] and passionate about [career-related issue].
I believe that [company] is an impressive organization whose values I share. I believe in [company mission] and I know that I have the skills, experience, and attitude to contribute to the [department] team.
I would appreciate the opportunity to meet with you and discuss this role. I can be reached at [email] and [phone number].
Thanks, [name] [email address] [phone number]
Short cover letter sample: no experience
Dear Mr Simpson,
I am excited to submit my application for the Retail Merchandiser position at your company. I am a high-school student looking for flexible, entry-level seasonal work and I believe I have exactly what it takes to excel in this position.
I am highly organized and self-motivated, with strong time-management skills and the ability to juggle different priorities. I was awarded a Perfect Attendance award in the last two academic terms, and I am always at my desk and ready to work as soon as the bell rings. I have been called "dedicated" by the dean of students, and I will bring this dedication to my role at your store.
With my strong work ethic and friendly attitude, I know I can provide good work in your store and a great experience for customers. Please contact me when you have a moment so we can discuss this role further.
Thank you, Thomas Crambell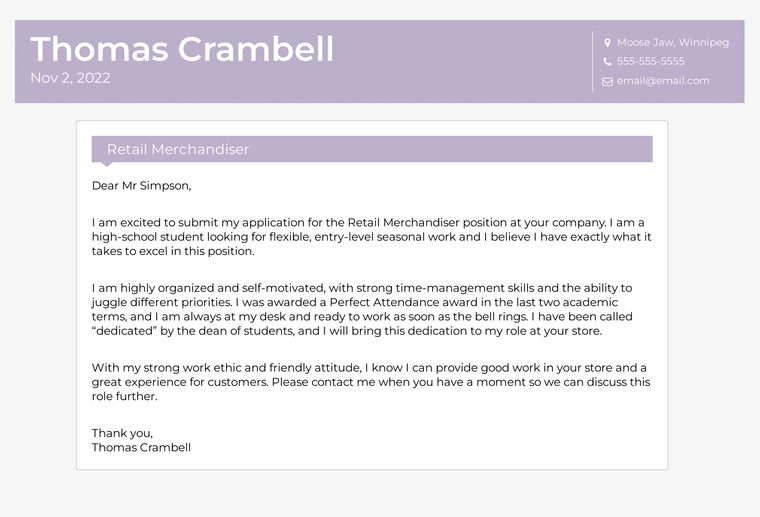 Short Cover Letter Sample: Communications Specialist
Dear Ms Simon,
I am writing to apply for the Communications Specialist role at PowerTrain Industries. I am a writer and communications professional with more than 5 years of experience creating software documentation, customer communication, and marketing copy.
In my previous communications roles, I gained experience developing and implementing plans for software documentation. I worked directly with engineers and designers to create help files that give customers a seamless self-serve customer support experience. I know how to study the audience and deliver documentation that will serve them exactly what they are looking for as efficiently as possible.
I have also developed email marketing campaigns, customer surveys, and online ad copy. I am able to write in different voices for different audiences, and I am able to work with quickly-paced tasks and competing priorities. With these skills I know I can excel in the Communications Specialist role at PowerTrain.
Please let me know if you have any questions.
Best, Jordan Morgan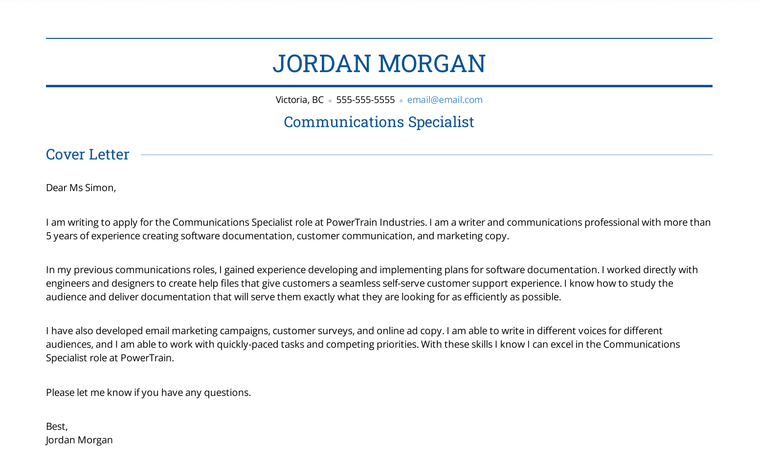 Short Cover Letter Sample: Web Developer
Dear Dev Team,
I am writing to apply for the open Junior Web Developer position listed on your careers page. I recently graduated with honours from State University with a bachelor's degree in computer science, where I learned to build web applications and other software.
In pursuing my degree, I gained experience working with many web dev tools, including:
HTML
CSS
Javascript
React
Node
MongoDB
I am passionate about software, and I have worked with teams and independently to create useful, user-friendly web apps. In my final year at State, I designed and developed a music-sharing app that won first prize at the CS department's hackathon.
This is the creativity and dedication I will bring to your organization. I look forward to speaking further about the Junior Web Developer opportunity.
Thank you for your consideration, Sam Mackenzie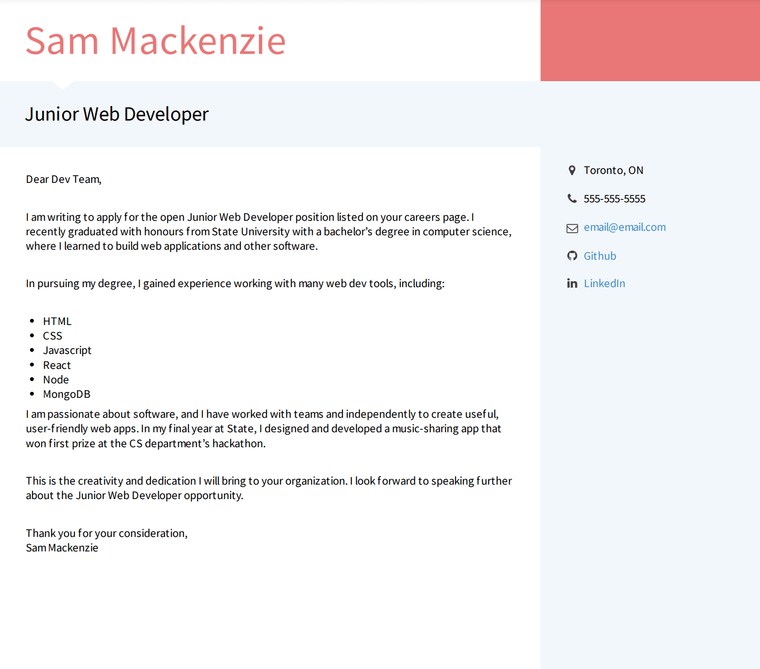 Short Cover Letter Sample: Mechanic
Dear John Coyle,
Please accept this application for the open auto mechanic position that I saw listed on a local job board. I am a skilled automotive mechanic with more than five years of experience working on cars, trucks, and other vehicles. I have a strong track record of automotive technical expertise, reliable repair work, and friendly customer service that will make me a great addition to your shop.
In my previous positions, I developed a reputation for quick problem diagnosis on all types of vehicles, and the ability to reassure customers that they were in good hands. I have experience performing all kinds of automotive work, including oil changes, engine and transmission repair, tire rotations, brake repair, alternators, and more.
When I am in the shop, customers know they are getting the best service possible. I work quickly, reliably, and I am skilled at setting priorities and managing multiple tasks at once.
Please let me know when we can discuss this opportunity further. I can be reached at 555-555-5555.
Regards, Robert Sim